By Dr. TRACY MOUNTFORD, MBBS MBCAM
Double chins are a big issue for a lot of people. They can make us look prematurely old, overweight and both men and women of all ages can have concerns about their heavy, thick jawlines.
Thanks to recent innovations in non-surgical treatments, there now exists a range of solutions to help patients get rid of double chins without surgery or downtime.
What can cause a double chin? 
Some of the main causes that could influence the appearance of a double chin are: 
Genetics – if your family has a history of poor skin elasticity, is it more likely that you will develop a double chin.     

 

Age – As our bodies age, our skin starts to lose elasticity which can lead to sagging skin and contribute to the appearance of double chins.    

 

Posture – A poor posture can weaken your neck muscles. Overtime, this may cause a double chin.   

 

Weight and diet – although this doesn't always contribute to the appearance of a double chin it can be one of its causes. High calories, unhealthy fats and processed foods can influence weight gain which could cause a double chin.

 
How to get rid of double chin fast
When it comes to getting rid of a double chin, a person can take several steps to reduce the fat layers. Submental fat can form in the chin area for a variety of reasons, including genetics and lifestyle habits.
Adopting a healthy diet and using special facial exercises that target the chin are often great starting points to lose double chin fat stores. But for those who want effective results here's how to remove double chin without surgery, with our non-surgical double chin removal treatments. 
One of the most popular double chin treatments at The Cosmetic Skin Clinic is CoolSculpting. This simple procedure freezes fat cells in order to remodel and reduce the fat pad under the chin. Coolsculpting's innovative new 'Cool Mini' applicator has completely revolutionised the way we treat faces. In the below video, Dr Tracy Mountford explains the benefits of the procedure.
We place the applicator right under the jawline to freeze double chin fat. If someone has a slightly bigger or wider face, we will often use two applicators for best results. This reduces and remodels the jaw beautifully.
CoolSculpting Double Chin Results
From beginning to end, double chin removal results can be seen in eight weeks. You'll look younger and your face will look slimmer, tighter and more rejuvenated. CoolSculpting is a very simple treatment, and the result is long term; you'll never have to worry about your double chin again! Explore our CoolSculpting before and after page to see more amazing results from our patients.
Double Chin Fat Removal Before and After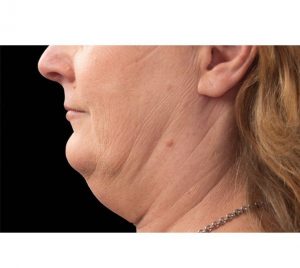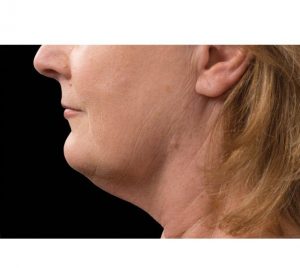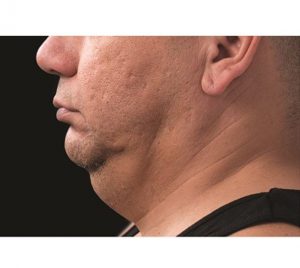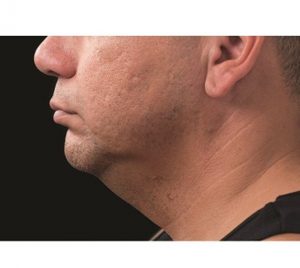 If you're looking for the best treatment to lose chin fat and you're interested in giving CoolSculpting a try, contact our clinics in London and Buckinghamshire on 0330 433 2175 or email [email protected] for more information, and be sure to follow my Q&A videos on YouTube for more insider advice!
How to find our CoolSculpting Clinics in London and Bucks
Our CoolSculpting Clinic in London is located near to Harley Street and within easy walking distance of Oxford Circus, Bond Street and Baker Street tube stations. It is also quick to reach by train via Paddington and Kings Cross St Pancras Train Stations.
Our CoolSculpting Clinic in Stoke Poges, Buckinghamshire is near to Gerrards Cross – Chiltern Railway, Slough's – First Great Western station. It also has great transport links via the M25, M4, M40 and A40 roads, making the clinic very easy to reach from Wembley, Richmond, Kingston upon Thames and the Surrey area.
For more information about our clinic's locations and the best ways to reach us by train, bus, car or by foot, please take a look at our dedicated pages.