By Dr. TRACY MOUNTFORD, MBBS MBCAM
This week we are featuring a filler treatment for a patient in her fifties as part of our guide to anti-ageing treatments for different age categories.
Jackie came to The Cosmetic Skin Clinic for advice on how to address the signs of ageing across her face. In this video, Dr Joanna Christou carried out a comprehensive assessment and treatment plan for Jackie, identifying her areas of volume loss while using restorative HA dermal fillers to treat them. These fillers restore lost volume, elasticity hydration and skin health to help make it look less tired and drawn. They are specifically developed with facial movement in mind to give you naturally flattering expressions.
Treating a patient in their 50s with fillers – Dermal Fillers 50s Treatment Plan 
To demonstrate how we can refresh and rejuvenate the facial features of a person in their 50s, Dr Joanna divides a patient's face into 3 treatable zones for maximum impact. Watch how she does this in the comprehensive treatment assessment below:
Upper face assessment
In the top third of Jackie's face, volume loss is noticeable, particularly in the temple area. When we lose structure and support in this area, it allows the brow to droop. By restoring the temple hollows with filler, it provides lift and elevation which opens up the eye to make it look brighter. Jackie also experienced volume loss underneath the eye, which made her eyes look tired and drawn. By applying micro-amounts of dermal filler strategically in the hollowing underneath the eye, (known as the 'tear trough'), we are able to smooth and re-contour this area to open up the eyes for a brighter and more youthful look.
Mid face assessment
In the mid area of the face, Dr Joanna identified mid-cheek hollowing at the front and back of her cheeks. This gave the patient a drawn-in look which emphasised the bony part of her face. By putting filler back into these areas, it softens the shape of the face to achieve a healthier appearance.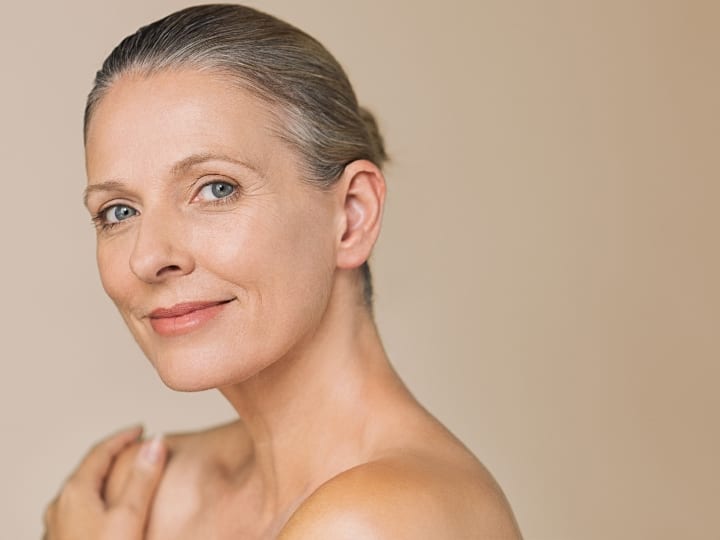 Lower face assessment
In the lower part of the face, Jackie has lost volume just underneath her mouth and towards the back of her jaw. She has also lost volume just in front of her ear which gives way to a jowl. By putting support in the back of the jaw using chin fillers, we can create pullback to redefine the jawline. We can also support it anteriorly in the marionette area of the mouth.
The overall effect in each third of the face is that no one treatment will drastically alter her face. But by using dermal fillers in combination across these key areas, it helps Jackie to achieve a softer, more refreshed and youthful appearance.
Cheek Filler before and after Treatment Results for over 50s
After having her dermal filler facial treatment with us, Jackie was impressed by the revitalising and lifting results. Here, she discusses her reaction to the treatment immediately after having it done:
"I'm very happy with the results. When I came today, looking at my face in the mirror beforehand, you could see that it was a lot hollower and sunk… the volume has been completely restored and it looks softer as a result, so I am very happy with it!"
Explore our guide to anti-ageing treatments for different age categories.
If you would like to have a full treatment plan assessment or just interested to find out more about facial rejuvenation in general, you can call us on 0330 433 2175 (London clinic and Buckinghamshire clinic).