By Dr. TRACY MOUNTFORD, MBBS MBCAM
At The Cosmetic Skin Clinic, our team of experts have 20 years of collective experience and have performed 50,000 treatments. So you will be in the very best hands when you opt for a chin treatment with us.
CoolSculpting for the chin is a non-surgical fat reduction procedure that eliminates subcutaneous fat cells. It does this through an advanced fat freezing process that destroys fatty deposits under the chin in a highly targeted way. This gives double chin sufferers a game-changing solution to re-sculpt their chins in a flattering way, without the need for invasive surgery or downtime.
What is CoolSculpting Fat Freezing?
CoolSculpting® is an FDA-approved non-invasive fat reduction procedure. Also known as cryolipolysis, it targets and reduces stubborn fat cells with long-lasting results and zero downtime. Using the most advanced  CoolSculpting machine, it applies controlled cooling energy to gently target and destroy fat cells.
CoolSculpting under chin
At The Cosmetic Skin Clinic, the majority of our CoolSculpting patients are looking for a non-invasive way to reduce their double chin. This facial feature often occurs with weight gain, when layers of fat collect under the chin. Ageing can also cause the skin to sag as we lose bone and collagen stores. 
Our advanced CoolSculpting practitioners can use CoolSculpting to freeze the sagging pockets of skin by targeting the left, side and front of a double chin. Patients are given a more smoothly-defined chin from every angle.
Fat removal in the chin is more challenging to address through standard exercise programmes or weight-loss diets. Specific areas of the body cannot be treated in isolation using typical weight-loss regimes. This is where fat freezing technologies can help, as they can focus on the chin area in a precise way to remove the build-up of fatty tissue that leads to the dreaded double chin.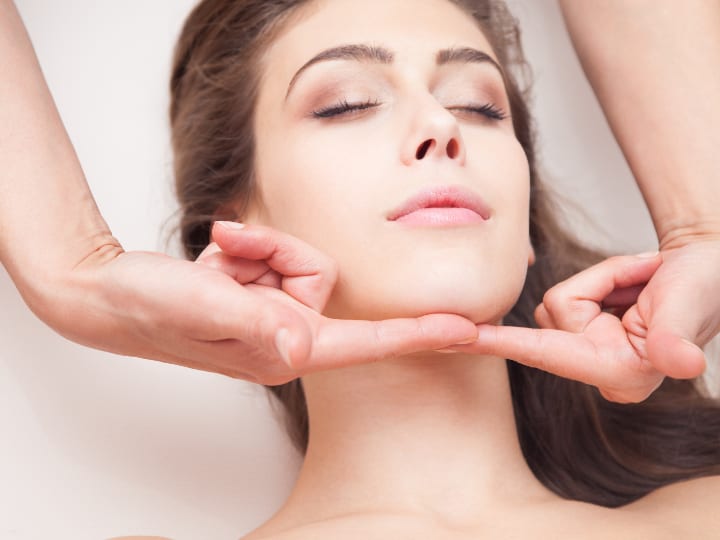 Why is CoolSculpting good for double chin?
CoolSculpting excels as a fat removal solution for the chin area. When the CoolSculpting device is applied to sagging skin under the chin, a cooling process causes the fat cells in the double chin to crystallise, before they naturally shrivel away and die.
Book a consultation with our experts at our CoolSculpting clinics in London and Bucks
What does a CoolSculpting 'under chin' treatment involve?
The CoolSculpting fat freezing chin treatment involves the application of a special gel pad to the underside of the chin area. The CoolSculpting device is then applied to the gel pad before a freezing process is initiated to disrupt and break up the fat cells. The body then disposes of these unwanted fat cells naturally.
Chin CoolSculpting treatment time
A typical chin fat freezing treatment lasts between 35-60 minutes and up to 27% of the fat cells in the chin area will be removed in the process. This gives the chin a more contoured appearance by tightening up sagging skin while removing the pockets of fat that cause a chin to unnecessarily protrude.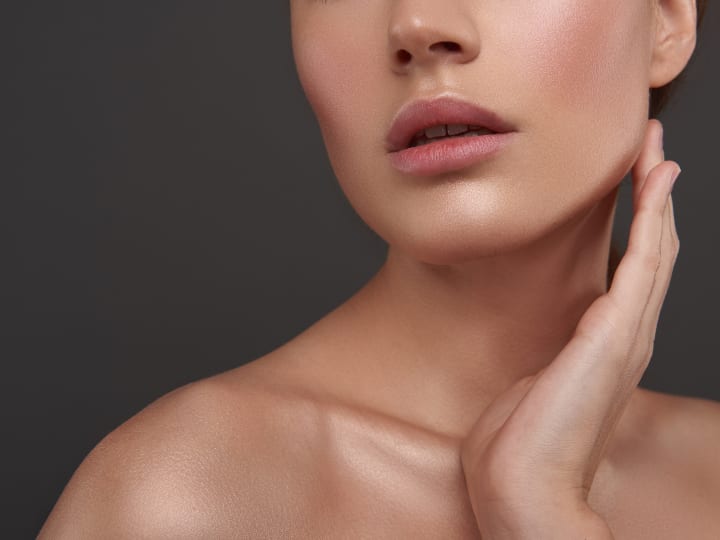 Non surgical chin fat removal with CoolSculpting
Learn how we helped BBC Radio 4 Presenter Jenny Murray to freeze away her double chin. Or view Jenny's CoolSculpting chin before and after pictures below: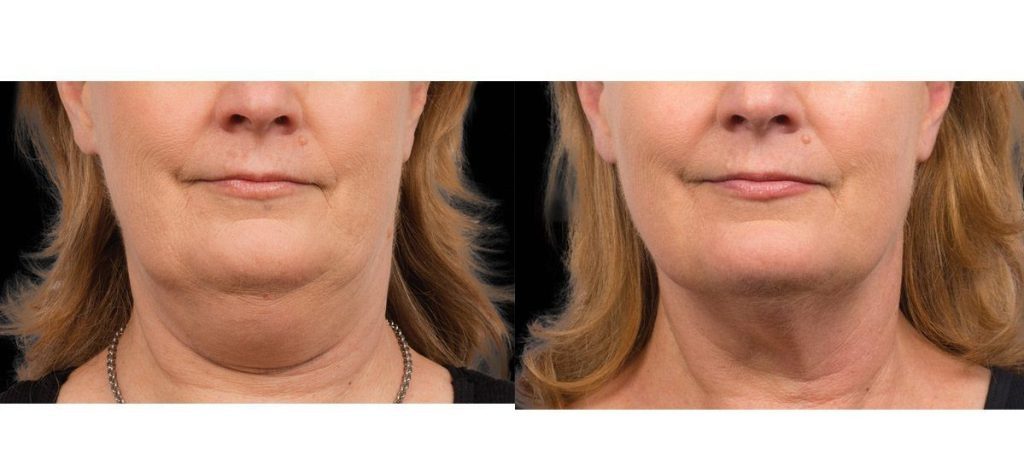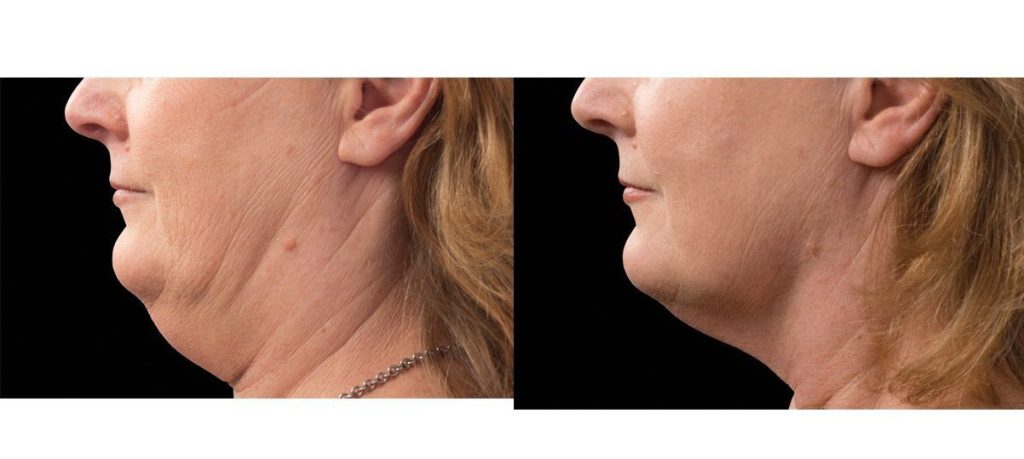 Other areas that we can treat with CoolSculpting Fat Freezing include:
Take a look at our Coolsculpting before and after page to see more results from multiple areas that we treated for our patients.
Fat freezing in Bucks and London – Book Today
CoolSculpting for chin results
Visible results will begin to appear around 6-8 weeks following treatment. This is because your body will continue to flush out the fat cells after they have been treated. The best results are usually noticeable around 14-16 weeks.
CoolSculpting Chin Reviews
5 stars – "Cool Sculpting
I recently had Cool Sculpting at the Stoke Poges clinic on my chin area as part of my treatment plan. In the initial consultation, Ria gave me realistic expectations of what results could be achieved and answered all my questions regarding the treatment process, leaving me very reassured. Although I had read that the treatment can be quite uncomfortable, I was pleasantly surprised that I found it absolutely fine and the only slightly uncomfortable part is the massage at the end which is over very quickly! Again, Ria couldn't have been more reassuring throughout the treatment and I felt that I was in safe hands. I have had two follow up appointments in which we compared the before and after photographs and I am extremely pleased with the results of the treatment. I would definitely recommend both Cool Sculpting and Ria and wouldn't hesitate to use her services again." – LT, January 2022
5 stars – "From entering the clinic I knew I was…
From entering the clinic I knew I was with Professional people a friendly buzz all around Magda my therapist explained the procedure for chin area with Cool Sculpting I was still not sure what to expect, a miracle was not on my mind! Wow brilliant result some discomfort at first but no pain and so much gain, my review today was excellent and I have booked for my knee fat !! My face is 10 years younger. Magda and team are special the premises are excellent I am 💯 happy thank you all especially Magda." – Ann Lloyd, September 2021
Explore The Cosmetic Skin Clinic' Trustpilot Profile to read more reviews from our patients.
Our #1 CoolSculpting for Chin Treatments
The Cosmetic Skin Clinic has an unsurpassed reputation for exceptional CoolSculpting treatment results. As the number 1 CoolSculpting clinic in the UK, we've completed over 50,000 treatments, with a 96% patient satisfaction rate. As a leader in innovation, we also continually strive to offer the best fat freezing treatments. To book a CoolSculpting consultation, fill out our consultation form. Alternatively, call our London clinic and Buckinghamshire clinic on 0330 433 2175.
How to Find our CoolSculpting Fat Freezing clinics in London and Buckinghamshire
The Cosmetic Skin Clinic in London is very near to Oxford Circus, Bond Street and Baker Street tube stations. You can take the train from the Paddington and Kings Cross St Pancras Train Stations to reach our clinic. You can also easily reach our clinic from: Kings Road, Mayfair, Primrose Hill, Soho, Highgate, South Kensington, West End, Fulham, Hampstead Green Park, Marylebone, Victoria, Islington, Chelsea, Holland Park, St Johns Wood, Knightsbridge, Earls Court, West Brompton, Bayswater, Fitzrovia, Westminster, Battersea, Notting Hill, Hyde Park, Regents Park and Belgravia. 
The Cosmetic Skin Clinic in Buckinghamshire is located in Stoke Poges and very close to Gerrards Cross – Chiltern Railway, Slough's – First Great Western station.  M25, M4, M40 and A40 roads are also conveniently located, making the clinic very easy to reach from Wembley, Richmond, Kingston upon Thames and the Surrey area. Other nearby areas include: Wallingford, Slough, Thame, Uxbridge, Windsor, Rickmansworth, Sunningdale, Hazelmere, Headington, Beaconsfield, Chalfont St Giles, Aylesbury, Chalfont St Peter, Chesham, Chinnor, Chorleywood, High Wycombe, Little Chalfont, Maidenhead, Marlow, Princes Risborough, Wendover, Weybridge, Cookham, Cowley, Gerrards Cross, Great Missenden, Haddenham, Harrow, Hayes, Amersham, Ascot, Henley-on-Thames, Woking, Watlington, Oxford and Wembley.