By Dr. TRACY MOUNTFORD, MBBS MBCAM
We open the doors into The Cosmetic Skin Clinics patient couple Stacy and Ryan's CoolSculpting experience. They talk about their treatment, from their concerns, before and afters and their experience with our Senior Medical Aesthetician, Ria Murch. We dive into their 8-week post treatment review and how happy they are with the body contouring results. Read below for more insight into how an experience at the No1 clinic for CoolSculpting in the UK really is.
What are Ryan and Stacy's concerns with their body?
For Ryan and Stacy, factors such as time and lifestyle and new additions to the family have affected their bodies.
Having been together for 12 years, they both said you "get comfortable" which led to those love handle and stomach fat they were concerned about. In addition to this, for Ryan he was working out but had hit that wall with his stubborn fat simply not budging from his love handles and waist
For Stacy, she had two children. After her 2nd child, her abdomen didn't bounce back naturally like she did after her 1st child.
They both turned to CoolSculpting to help contour their bodies and reach their goals, and here are their results.
Ryan and Stacy's CoolSculpting results
After their treatment with Ria, our Senior Medical Aesthetician. They came back in for their 8-week review. Here are both their before and afters.
Ryan's CoolSculpting Before and After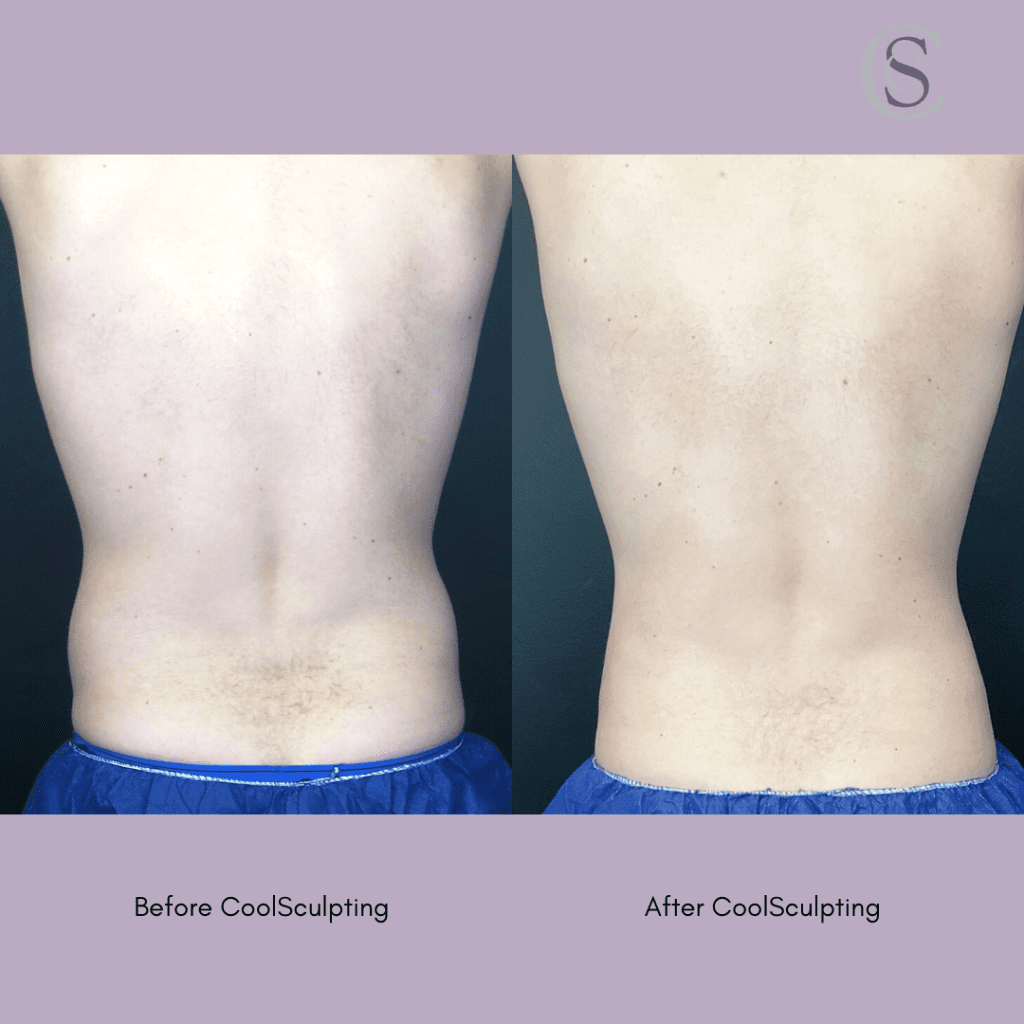 Stacy's CoolSculpting Before and After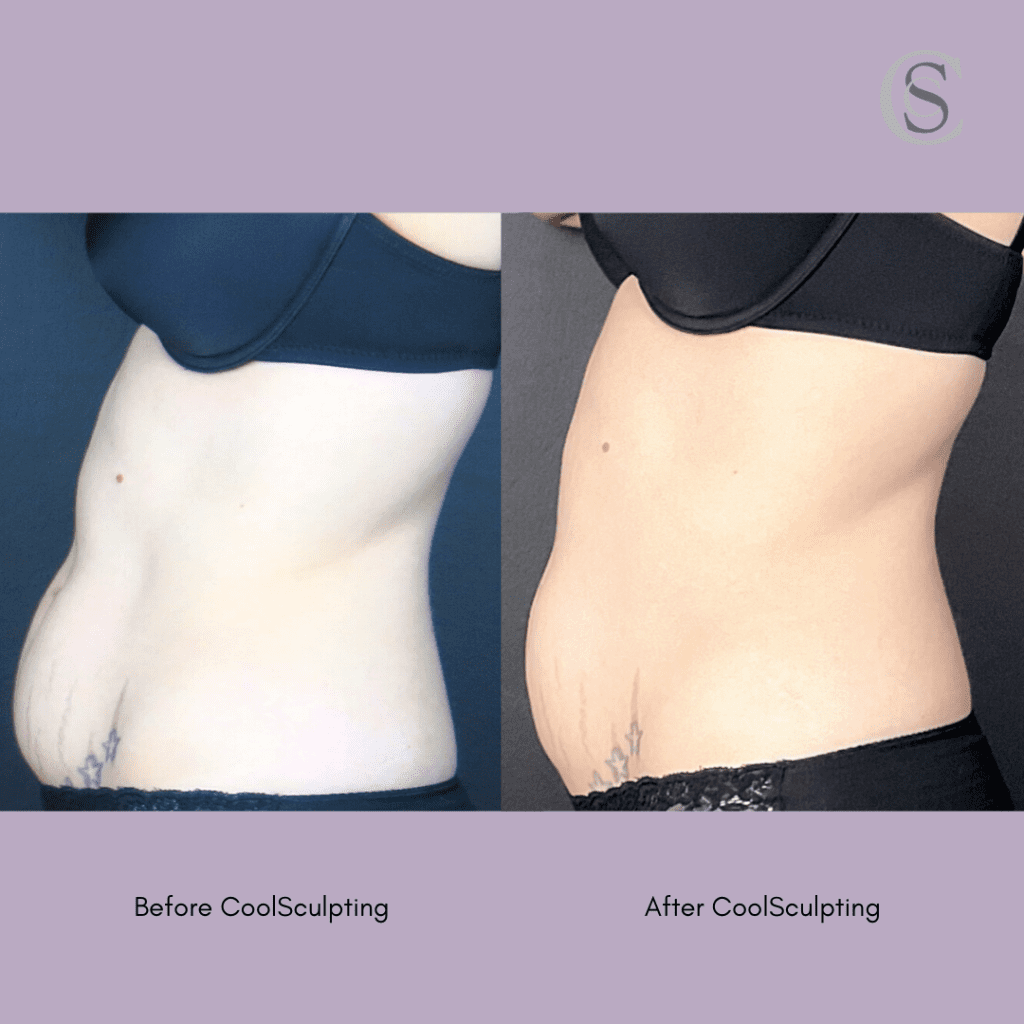 What's the verdict on Ryan and Stacy's fat freezing results?
Ryan is happy with his results! He says you can "see from my pictures, just how much of an effect it had on my love handles and stomach."
After a year of working out and hitting a wall, his CoolSculpting results have given him that extra boost he wanted.
Stacy is just as happy with her and Ryan's results. Stacy says she is "definitely happy looking in the mirror now and seeing my waist is now really defined." After having her 2nd child, the bouncing back didn't come naturally, but after having CoolSculpting done, she says it "really helped to bring my body back to where it was before, even before I had my first" child.
What effect has their CoolSculpting treatment had on their lives?
CoolSculpting has had a great effect on Stacy's life. She happily reveals that "CoolSculpting has made me feel really happy in my myself and with my body now. It's given me the confidence to – when I look in the mirror – I feel confident in myself, which is nice. It's a nice feeling to have."
Stacy is also impressed with Ryan's results and the effect it has had on him. She says she can "see in Ryan that he has really slimmed down, quite a fair amount which is really nice. And I can see his confident in himself now which is nice."
Ryan feels that the treatment has really helped to give him an extra boost. He says:
"The treatment has definitely given me, sort of rejuvenated me. Everyone hits that wall where you've been working out for a long time and now the results are a lot more visible again. And it's just given me that boost to keep going. I've been exercising a lot more. Recently, I've been back out running 10k every other day. I've now got a personal trainer because I want to maximise the results as much as possible now that I've got rid of that unwanted fat on my stomach and waist.
Watch how Ryan and Stacy speak for themselves about their CoolSculpting experience:
How was their experience with our Senior Medical Aesthetician, Ria Murch?
Stacy found Ria to be amazing, saying, "she is such a lovely, lovely person. She made both of us feel so comfortable." She says, with CoolSculpting "this treatment is such a personal thing to have done" and Ria never made them feel uncomfortable or self-conscious in any kind of way.
Ryan says that even though they only met her at their initial consultation and treatment. When they came for their review, it felt like they were meeting their long-lost friend.
What did Ria think of Stacy and Ryan's CoolSculpting results?
When Stacy and Ryan came in for their review, Ria was delighted!
For Ryan's results, Ria says you can see "Ryan has visibly narrowed on his sides. So, you're giving a much more v shaped figure."
Ria was particularly pleased with how Stacy's "skin has retracted. She looks much neater, sleeker. Very natural but very obvious to her in her clothes. More than anything, on an everyday basis she sees her results and looks very nice."
Book a complimentary consultation
CoolSculpting reviews
With Ryan and Stacy having had such a great experience with our expert CoolSculpting team, you may be curious to know about our other patients. We've pulled together a snippet of CoolSculpting reviews.
5 stars
"Coolsculpt with Madga was FANTASTIC!
I initially went into the London clinic for the EmSculpt treatment and had a consultation with another technician. When I went in on my treatment day, Magda said she did not think I would be happy with the EmSculpt results based on my needs. She recommend CoolSculpting even though it was 3x cheaper as she felt this was the right choice for me.
She was extremely knowledgeable and honest and prioritized my needs over making money for the clinic! I ended up proceeding with CoolSculpting and could not be happier. The whole experience with Magda and the organization of the clinic was great.
I would 10/10 recommend and definitely return for another treatment again :)"
ED
5 stars
"I had CoolSculpt done at the Stoke…
I had CoolSculpt done at the Stoke Poges clinic by Ria with an aim of trying to tackle two areas of fat (on my hip and stomach) which I've never been able to reduce through diet and exercise. 8 weeks post treatment I cant believe quite how much difference there is! I was a little sceptical of the scale of results that could be achieved but I am so impressed I've booked to have another session on my mid-abdominal area! Ria was lovely and gave me all the information i needed and wasnt at all pushy or 'salesy' during the consultation. She was very professional during the treatment and nothing was too much trouble to make sure i was comfortable. I did have more tummy swelling than i expected post treatment, and the area was sore for a couple weeks after, but seeing the results, some level of discomfort was definitely worth it! Its not the cheapest place to get this treatment but location was really convenient for me and its worth paying for quality service at somewhere you know will look after you and know what they are doing."
Sasha Budzynski
5 stars
I only write reviews if I'm either delighted or disgusted and once again CSC exceed expectations. I visited the clinic for Coolsculpting on pockets of fat on my back. I am relatively slim and work out regularly but these stubborn little areas refused to disappear. The new machine is effortless or so Ria made it seem, as it sucked up these pesky pockets whilst I had a 'skinny latte' and watched Netflix! And now? Yes they are still there but not as pronounced and I'm hoping as the weeks progress and the coolsculpting does it's work it may improve further.
N Thomas
5 stars
I decided to have coolsculpting on the stubborn areas where I could not lose fat. I am 47 and have had 2 children. I exercise regularly and eat very healthily but I still could not get rid of fat in certain areas.
I am so glad I went ahead, as the results are amazing! In fact better than I inspected. I have my waist back and my stomach is so much flatter. I feel like I've got my young body back and I can now fit into clothes that I've not been able to wear for years.
I would thoroughly recommend anyone with stubborn fat they cannot lose. Full results in just 12 weeks.
I feel like a new person with the confidence boost it has given me!
Thank you so much to Ria Murch for making me feel so comfortable and answering any questions I had with ease!"
Melanie Duggan
5 stars
"From entering the clinic I knew I was…
From entering the clinic I knew I was with Professional people a friendly buzz all around Magda my therapist explained the procedure for chin area with Cool Sculpting I was still not sure what to expect, a miracle was not on my mind! Wow brilliant result some discomfort at first but no pain and so much gain, my review today was excellent and I have booked for my knee fat!! My face is 10 years younger. Magda and team are special the premises are excellent I am 100% happy thank you all especially Magda."
Ann Lloyd
5 stars
"The wonderful Magda literally melted away my fat…
I have had a number of Cool Sculpting treatments with Magda and can't recommend her highly enough. Extremely professional and lovely – a very easy manner that makes you feel comfortable and secure that you are receiving the best treatment.
She offers an honest opinion and will tell you what she thinks will work and what won't. And my results have been amazing – why didn't I do this years ago? Magda warned the treatment can be a little uncomfortable to start with, but it is less uncomfortable than a cool pack. The only weird feeling is a few days later when the area under the skin that has been treated goes a bit dead…. but then the fat soon melts away. What a genius treatment.
I feel in safe hands at the clinic. Honest, professional advice and a lovely environment. I have also had botox under my arms to stop sweating which is another game-changer."
LJH London
5 stars
The most amazing results. I attended the Clinic 6 weeks ago for cool sculpting with Ria and I am over the moon with my results. After losing 6 stone I had a little stubborn fat on my lower abdomen and my love handles which I could not shift. I work out 5 times a week and follow a healthy life style with my food. I am so happy to share my before and after results with you all I'm sure the Clinic shall use it on their social media and website as I gave my consent. Not only was Ria professional and knowledgable she is the most warming therapist and I felt so safe and so at ease with her during my treatment and following for my follow ups. She has something that can not be taught and I 100% will be returning. The team from Katie on reception to Dr Mountford her self provided the highest level of service throughout all of my visits. I could not recommended this clinic and staff enough. Please do not hesitate book yourself an appointment today, this treatment not only has little (if any) downtime , minimal pain but it has life changing results. All I can say is a massive THANK YOU"
ACX
To see more, check out our dedicated CoolSculpting review page.
CoolSculpting at The Cosmetic Skin Clinic
Having performed over 50,000 fat freezing treatments at our London and Stoke Poges, Buckinghamshire clinics, you can trust that your fat freezing treatment is in the safest and most experienced hands.
The Cosmetic Skin Clinic is the No1 CoolSculpting clinic in the UK. Our patients love our expert team, the body contouring results we achieve and the journey. At our state-of-the-art clinics, we have a range of CoolSculpting applicators to help tackle the different areas of the body. Whether it's a larger or small area, our applicators include CoolSculpting Mini, CoolAdvantage and CoolSculpting Elite. We can also target multiple areas at the same time.
How to get to our London and Buckinghamshire CoolSculpting clinics
Our London CoolSculpting clinic can be found at: 8 Devonshire Place, London, W1G 6HP
You can easily get to this clinic from the surrounding areas:
Kings Road, Mayfair, Primrose Hill, Soho, Notting Hill, Hyde Park, Highgate, South Kensington, West End, Fulham, Hampstead Green Park, Bayswater, Fitzrovia, Westminster, Battersea, Regents Park and Belgravia,  Marylebone, Victoria, Islington, Chelsea, Holland Park, St Johns Wood, Knightsbridge, Earls Court and West Brompton.
The nearest tube stations to our London clinic.
Our Stoke Poges, Buckinghamshire CoolSculpting clinic can be found at: 84 Rogers Lane, Stoke Poges, SL2 4LF
You can easily get to this clinic from the surrounding areas:
Wallingford, Beaconsfield, Chalfont St Giles, Richmond, Watlington, High Wycombe, Aylesbury, Chalfont St Peter, Chesham, Chinnor, Chorleywood,  Weybridge, Cookham, Cowley, Haddenham, Marlow, Princes Risborough, Harrow, Gerrards Cross, Great Missenden, Hayes, Amersham, Ascot, Henley-on-Thames, Woking, Slough, Thame, Uxbridge, Windsor, Rickmansworth, Sunningdale, Hazelmere, Headington,  Kingston upon Thames, Little Chalfont, Maidenhead, Wendover, Oxford and Wembley.
Directions to our Stoke Poges, Buckinghamshire clinic.
*All reviews and testimonials are based on the personal experiences of our patients and represent individual body shapes and results. Results may vary from person to person. All testimonials are voluntarily provided by our patients. Reviews have not been altered in any way.