By Dr. TRACY MOUNTFORD, MBBS MBCAM
Achieving a cheek lift with fillers is one of the most popular beauty treatments of the moment. Just look to Google Trends data for the evidence. Searches for cheek fillers have sky-rocketed tenfold in the UK, as more people seek to achieve the lifted and sculpted cheekbone look.
Patients are often being inspired by the flawless high cheekbones of well-known British stars like Naomi Campbell and Kiera Knightly.
Cheek fillers are a great cheek lift surgery alternative that can help anyone to gain striking cheekbones with minimal downtime. By adding volume to the cheek area and contouring the shape of your cheek, you can visibly lift your cheekbones while filling out fine lines and wrinkles in the process. Discover how to achieve this flattering cheek lift in this one-stop cheek filler guide:
What are Cheek Fillers?
Cheek fillers are the non-surgical tools relied upon to lift and sculpt the cheekbones. These injectable dermal fillers restore cheek volume to give the cheeks greater definition and lift. They comprise hyaluronic acid, a natural sugar compound that exists in our skin's connective tissues. Its main function is to retain water, helping our skin to stay plump and hydrated. When strategically injected into the cheeks, it improves their dimensions by giving them greater volume and symmetry.
How to lift Cheeks with Filler?
Cheek fillers achieve lift by making your cheekbones more prominent, pronounced and perfectly shaped. Full cheekbones are a sign of youth, but as we age, our supportive fat, collagen and elastin stores deplete in the cheeks, causing them to sag and droop. Weight loss in the face can also contribute to a lack of definition.
Hyaluronic acid replenishes lost moisture levels while filling and smoothing out sagging or hollow skin. This serves to lift the entire face. As a result, the sunken look of the cheeks disappears. With cheekbones looking more cushioned and defined, the face is rebalanced while the gaunt look caused by weight and fat loss is eradicated.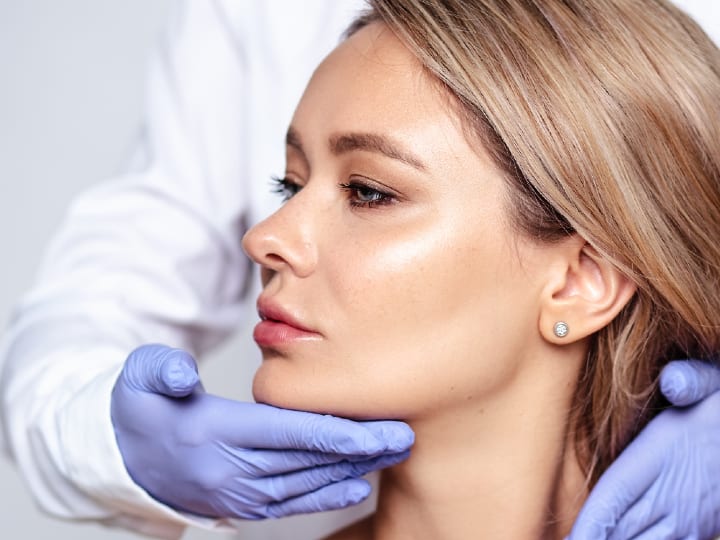 Who should consider Cheek Fillers?
Good candidates for a dermal filler cheek lift are those patients who want to contour their cheeks with greater definition. We often see many patients who have suffered cheek volume loss due to ageing or significant weight-loss. Dermal fillers are the perfect solution to restore lift and support in these cases in particular. If you have flat, sagging or sunken cheeks you could also benefit greatly from a cheek lift treatment.
Contact our expert practitioners for a bespoke consultation
What does a Cheek Lift with fillers involve?
Hyaluronic acid fillers achieve a cheek lift when injected under the skin of the cheekbones. For most patients, the treatment is completely painless as the cheek dermal fillers contain an in-built anaesthetic. However, some patients may opt to have a numbing cream applied to the cheeks before their treatment takes place. In this instance, your cheek lift practitioner will begin injections after 5 to 10 minutes of the cream's application.
Depending on your personal needs, which will be explored in your consultation, your practitioner can inject your cheeks in several areas to achieve the lift you are looking for. Strong definition is often attained when dermal cheek filler is applied above the cheekbones. But it can also be inserted into the fat pads of the submalar and anteromedial regions below the cheek edge to replenish volume in depressed areas and flatten out nasolabial lines.
Typical treatments last between 20 and 30 minutes and the cheek lift will be instantly visible. It will take a day or two for the filler to completely settle, so you may wish to avoid any strenuous activity during this time.
The best fillers for a Cheek Lift – Cheek Filler Injection Points
Many fillers are available to lift the cheeks, but only some offer optimal results. At The Cosmetic Skin Clinic, we use safe biodegradable FDA-approved fillers from Juvéderm® and Restylane®, like Juvéderm VOLUMA™ and Restylane Lyft. These fillers stand out for their long-lasting effects and their strength. They offer a superior lift thanks to their higher viscosity, which is something that should always be prioritised when treating cheeks. Their thickness gives cheekbones greater scaffold and support, creating a well-defined structure, while still generating a soft, subtle and natural appearance. This contrasts to higher-strength fillers which can sometimes create a stark and exaggerated angularity to the cheeks.
At The Cosmetic Skin Clinic, we favour airbrushed results, giving you an enhanced yet understated look that captures the essence of natural beauty. Discover how we achieved this natural, lifted look with one of our valued patients below:
Book a bespoke facial assessment at our clinics in London and Buckinghamshire
Do Cheek Lift Fillers require downtime?
There is little to no downtime with a cheek filler treatment, and patients will be able to resume normal activities straight away.
What results can I achieve with Cheek Lift Fillers?
Fillers that lift the cheeks will bring back balance and harmony to your face by giving your cheeks definition. This difference will be noticeable immediately after the cheek filler has been applied. The fillers we use are also long-lasting, giving you a visible cheek lift for 6-12 months after treatment. Explore the results in detail in our before and after photos page.
Find out if you are a suitable patient for cheek fillers.
Contact our clinics to book a consultation
Cheek Lift before and After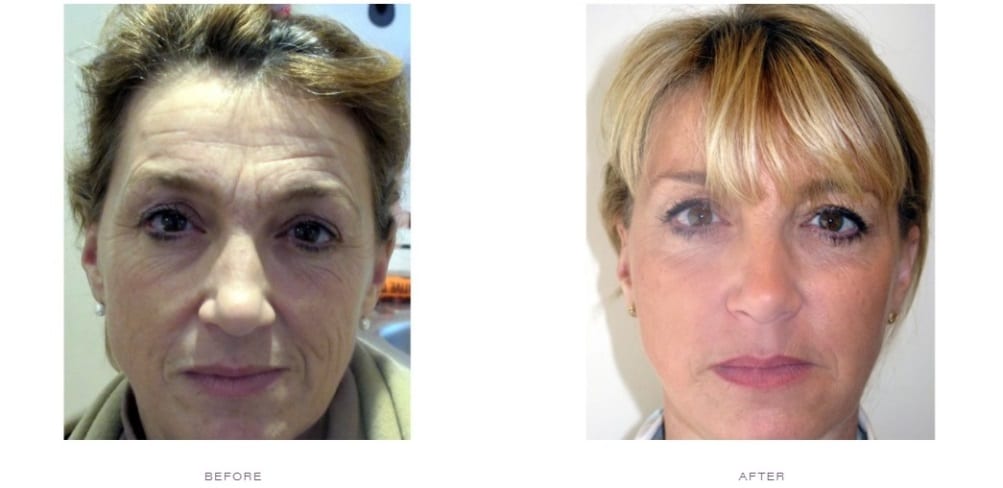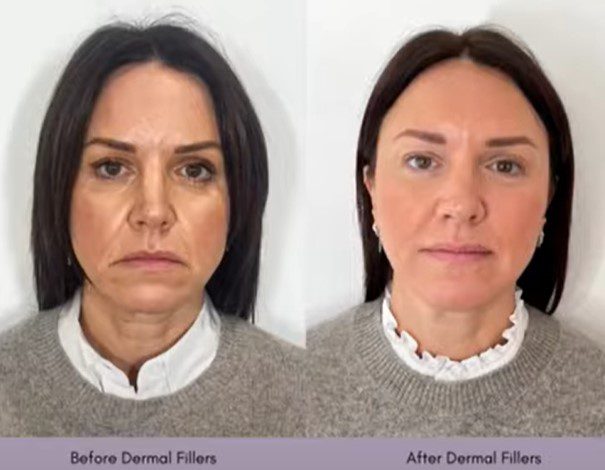 Dermal Fillers Reviews
5 Stars – "Dr Melissa Fitzgerald
I am really pleased that I came across The Cosmetic Skin Clinic. I've been now for more than a year in Dr. Fitzgerald's hands with the results exceeding expectations. My skin is beautiful and plump, ageing signs disappeared, my cheeks are slightly lifted, natural features of my face accentuated … no exaggeration, no fake mask effect. I trust Melissa's recommendations and choice of treatments. I feel good in my skin – confident, fresh and definitely younger than I am. Add to this Melissa's wonderful personality, professionalism, kindness, warmth and charm! I really couldn't find anyone better…so grateful to be in Melissa's hand (AKA "Leonardo Da Vinci" in aesthetics cosmetic world)." Marta K, November 2022
5 Stars – "Refreshed and Rebooted
After hitting 50 and losing just under 5 stone, my face was showing a lot of life experience! Rachael listened when I explained what I did and didn't want, I had no wish to look frozen or like someone else. I look fuller in the cheeks and smoother and refreshed. I am so pleased with the results from my tweakments and so grateful to Rachael and The Skin Clinic for a professional and personal tailored experience with wonderful results." – Customer K, July 2022
5 Stars – "I contacted the Cosmetic Clinic Stoke…
I contacted the Cosmetic Clinic Stoke Poges after searching online and reviewing for professionalism and distance. I felt I was starting to age and my appearance looked tired (I'm 57). I knew very little about treatments. Tara was amazing, she made me feel comfortable, listening to my concerns. She suggested fillers, which I only knew as big cheeks and pouting lips, not too impressed!! Tara explained the procedure would lift and enhance and wouldn't look false. I was amazed, no one noticed, it was so natural, but I did look younger and people commented on how good I looked, but they never knew I had any intervention. It was perfect. Tara was amazing and I could not have been happier with the results. Thank you so much."– Cheryl, July 2022
For more reviews on fillers and other treatments available at The Cosmetic Skin Clinic, please visit out Trustpilot profile.
Cheekbone Filler in London and Buckinghamshire
To learn more about our cheek filler treatments, request a consultation with our expert practitioners at one of our clinics in London, Birmingham, Buckinghamshire or Leeds. Alternatively, call our London and Buckinghamshire clinics on 0330 433 2175.
How To Find Us – Cheek Fillers near me
The Cosmetic Skin Clinic in London is within convenient walking distance of Oxford Circus, Bond Street and Baker Street tube stations. It is also conveniently located near Paddington and Kings Cross St Pancras Train Stations and within a short train ride away from any of these stations.
The Cosmetic Skin Clinic in Stoke Poges, Buckinghamshire is near to Gerrards Cross (Chiltern Railway), Slough's (First Great Western) station. It also has great transport links via the M25, M4, M40 and A40 roads, easily connecting the clinic to Beaconsfield, Marlow, Wembley, Windsor, Richmond, Kingston upon Thames and the Surrey area.