By Dr. TRACY MOUNTFORD, MBBS MBCAM
Minimally invasive wrinkle relaxing treatments like BOTOX® are used to tackle dynamic wrinkles and lines caused by muscle movement. A popular area our patients want to relax and smooth out is the area around the eyes.
There isn't a thing wrong with having laugh lines and under eye wrinkles when smiling. But for many, over time those lines get deeper and more noticeable, and they take away from natural beauty points of focus on our face like our mouths, eyebrows, and eyes.
How does BOTOX around the eyes work?
The lines that appear between our eyebrows, under eye wrinkles through to crow's feet lines when we smile, talk or laugh can be reduced. Botox injections around the eyes work by relaxing the muscles t reducing the nerve signals from reaching the muscle so they don't contract as often as they normally would. Giving you smooth skin without the deep creases.
Book Botox treatment at our clinics in London and Buckinghamshire
What are the benefits of BOTOX for eyes?
BOTOX works
Frown lines (the wrinkles between the brows) and crow's feet are difficult to treat using home methods. BOTOX ® has shown to be very effective for facial wrinkles and is the go-to treatment for eye wrinkles and lines for a reason.
Botox Downtime
A positive point about BOTOX is that there is no downtime, and it works within 5 days. See our Botox pre-treatment and aftercare FAQs to learn more.
Doesn't eat your free time up
Getting BOTOX ® doesn't take a lot of time. It's even called the lunch time treatment, because you can get it during your lunch and be done within 30 minutes. You can get back to work without anyone being any the wiser. On the small chance you bruise, you can cover it up with make-up.
What other areas near the brow and eyes does it treat?
We already know that BOTOX ® can do wonders for taking the depth out of our lines and wrinkles around the eyes. It also:
Softens the appearance of crow's feet
Is great for adding balance to your face
Corrects asymmetric eyelids and eyebrows
Corrects droopy eyelids
The Botox Before and After results for under eye wrinkles are fast
It only takes 5-7 days for crow's feet and botox for under eye wrinkles treatment to work, so you won't have to wait long to see great results. At The Cosmetic Skin Clinic, we pride ourselves on being able to provide a high standard of results that keep you looking natural yet subtly lifted.
Under Eye Botox Before and After Results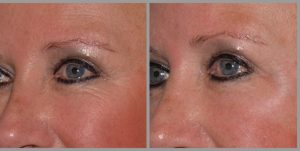 Botox Frown Lines Before and After Results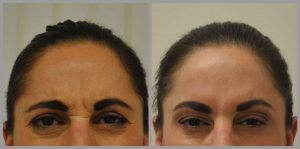 Explore our Botox before and after gallery to see more results from real patients.
Book Botox treatment at our clinics in London and Buckinghamshire
Non-surgical
Non-surgical as a benefit really speaks for itself. If you're not comfortable with surgical procedures, don't want the extra downtime or deal with special preparations before but want smooth subtle results, then this is the perfect non-surgical treatment.
Say goodbye to the scary frozen face look stories
At The Cosmetic Skin Clinic our expert practitioners won't give you a frozen look, they can give you a natural yet youthful appearance around the eyes. Taking away the depth of those lines but still leaving you in control to create natural movement around your eyes but without the advanced signs of ageing.
Botox Cost 
BOTOX prices start from £250 at our UK clinics. Book your consultation and our experts in London and Buckinghamshire will assess your needs and let you know what your bespoke BOTOX treatment will be.
At The Cosmetic Skin Clinic, our practitioners are trained and experienced in delivering great Botox results. Check out our 5-star Trustpilot reviews.
Botox Side effects
Eye BOTOX is a relatively safe treatment, but it should only be administered by a qualified and experienced medical professional.
It is unlikely, but you may experience temporary slight swelling, pain sensitivity or bruising at the injection site or temporary muscle weakness.
It should be noted, that if you are pregnant or nursing, Botox is not recommended for you.
Why have BOTOX at The Cosmetic Skin Clinic?
The Cosmetic Skin Clinic founder, Dr. Tracy Mountford, has handpicked the clinic team and trained them to a high standard, making them experts in Botox and dermal filler treatments. The BOTOX treatments in our London and Buckinghamshire clinics have been rated as one of the best in Tatler's annual Cosmetic Surgery guide.
Our team of experienced doctors and nurses are ready to answer all questions you have and get you booked into your bespoke Botox treatment. Book a consultation at our Botox London or Buckinghamshire clinic today. Call us on 0333 220 4606.