By Dr. TRACY MOUNTFORD, MBBS MBCAM
In this week's Q&A, I'm discussing something that's the bane of most of my patients' lives; a wrinkly neck. This common condition affects many of us as we age. Also known by its less glamorous term "turkey neck" or "neck bands," here I explain what the condition is, and how patients can get rid of turkey necks with non-surgical treatment solutions. 
What is Turkey Neck?
This much-maligned skin condition is a really big issue for many individuals in the 40-70 age range and above.
Turkey necks form primarily because of the ageing process. As the years go by, the skin in our necks loses its natural support and elasticity. Collagen and elastin stores deplete along with fatty deposits which provide structure and firmness to our skin. This process eventually leads us to a having wrinkly neck. It shows the signs of ageing like no other. But thankfully, there are some simple non-surgical turkey neck treatments to help tighten and redefine a wrinkled neck.
How to get rid of Turkey Neck
Depending on how old you are, there are some highly effective and straightforward treatments available that are efficient alternatives to turkey neck surgery and that can help you to get rid of a wrinkly neck .
Turkey neck treatments explained:
Ultherapy® is the only FDA-cleared, non-invasive and revolutionary technology device for lifting the skin on the neck and chin. It uses ultrasound technology to deliver heat to the deeper layers of the skin right down to the neck muscles (platysmal muscles). This stimulates remodelling and tightening of collagen. The skin then lifts and tightens improving the jawline too. Results are very effective because your practitioner can ensure the ultrasound energy is precisely targeted to where it is needed most. 
Thread Lifting is a 30-minute procedure that everyone is talking about – celebrities have had it done and this results in a refined, lifted and natural appearance without resorting to surgery. We place fine threads just under the surface of the skin with local anaesthetic in little tiny points to lift and tug up the tissue in the area you need it most. This gives added oomph to the neck making it look smoother, younger and fresher. Results last approximately 18 months
In recent news, Judy Murray, mother of tennis star Andy Murray threw light on the issue by revealing to the world that she has had a non-surgical facelift to target her own turkey neck. 
Turkey Neck Treatment Before and After Photos
Discover how you can redefine the shape and structure of ageing skin around your neck with our turkey neck before and after pictures below.
Reducing folds and sculpting the jawline: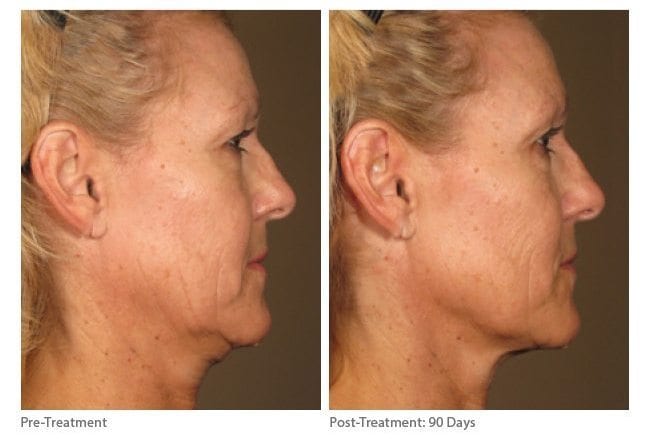 Boosting collagen to tighten the skin: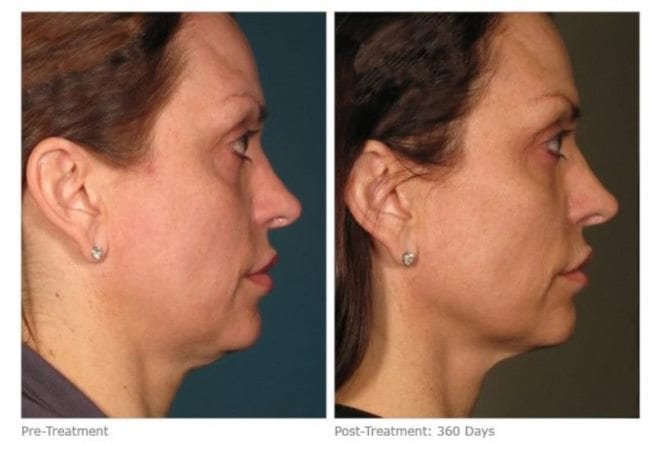 Minimising the appearance of wrinkled neck skin: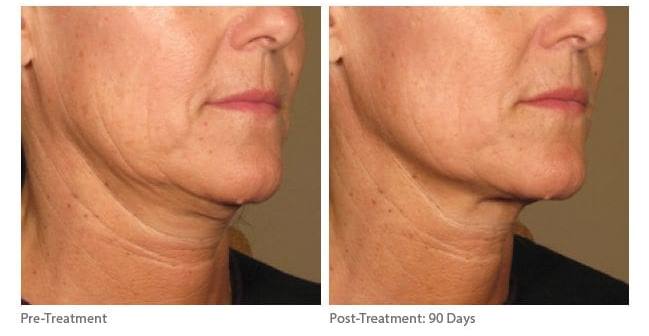 Turkey Neck Treatment UK
If you have any concerns about your neck and you prefer non-invasive treatments than a turkey neck surgery, book a consultation to discuss this concern, drop an email to [email protected] or call our clinics in London and Buckinghamshire on 0330 057 9047.
Also be sure to follow our Q&A videos on YouTube for all the advice and information you need.