By Dr. TRACY MOUNTFORD, MBBS MBCAM
When we think about facelift, you might instantly think of full-on surgery. However, that's not the case anymore. The world of aesthetic treatments has come a long way. The non-surgical facelifts are now a possibility without going under the knife.
We explain the most popular non-surgical facelift treatments that are in demand and the best aesthetics clinic with experienced skin doctors in Buckinghamshire to visit. From the results you can see, to combination treatments, we will explain how you can achieve the results you want.
Ultherapy
Ultherapy uses FDA cleared ultrasound technology to lift the face in a single treatment to tighter, firmer, and better-fitting skin in less than an hour.
How does Ultherapy work?
Ultherapy uses micro-focused (also known as MFU-V) energy to stimulate new collagen production and elastin within the skin. This micro-focused ultrasound generates a thermal effect in the deeper layers of the skin without damaging the skin's surface. What this does is it jump starts the skins repair process to produce new collagen and elastin and strengthens current collagen. These natural occurring proteins put structure back into your skin, thanks to collagen acting as the skins scaffolding to keep it plump and young.
What Ultherapy results can I look forward to?
This Gold-standard treatment for skin lifting and tightening is a market leading collagen booster that will give you the following results:
Tightens and firms skin texture
Regenerates natural collagen and elastin stores
Creates a fresh, natural, and rejuvenated appearance
It is the perfect treatment that can give these results to your full face, or lift your brow, jowls, eyelids, or smooth out that wrinkly decolletage, turkey neck or general sagging skin. With a Ultherapy face lift, you can achieve a refreshed and lifted appearance.
Ultherapy before and afters: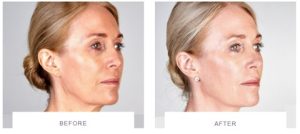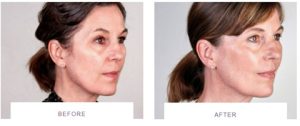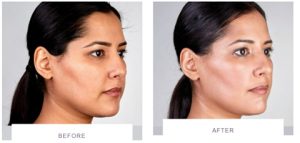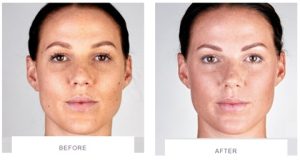 When will I see results?
After your Ultherapy treatment, patients have said they see an initial lift. The real full results can become more apparent over a 3–6-month period. During this time, new collagen builds which gradually adds lift to the skin.
How long do Ultherapy results last?
The best news about Ultherapy results is that patients treated at our London or Buckinghamshire clinic, still have fresh collagen even after a year!
Each patient is different and medical practitioners will provide all the advice you need to know your outcome. The ageing process cannot be stopped, therefore Ultherapy touch up treatments are recommended when you need them to keep rebuilding collagen.
Morpheus8
Remodel and contour your face with Morpheus8, also referred to as a collagen induction treatment. Through combining microneedling and radiofrequency, Morpheus8 packs twice the punch giving you great results for your face.
How does Morpheus8 work?
At the head of the Morpheus8 device is 24 coated microneedles. When applied to your skin, it awakens the body's natural healing response to produce more collagen and elastin. Simultaneously, the radiofrequency energy heats the tissue to tighten, moulds the fat to lift and firm's contours. This leaves you with the appearance of smooth, sculpted and rejuvenated skin.
What Morpheus8 results can I look forward to?
Simply put, Morpheus8 is worth the time and money because the results truly speak for themselves. Results of Morpheus8 include how it:
Contours, lifts and tightens the face
Is effective on loose skin
Promotes collagen production
Reduces the appearance of fine lines and wrinkles
Improves and smooths uneven skin texture
Reduces skin irregularities
Fades acne scarring
Improve hyperpigmentation
Morpheus8 can also be used on darker skin tones (skin type VI). This is thanks to its advanced colour-blind technology which means there is minimal risk of post-inflammatory hyperpigmentation (PIH).
Morpheus8 before and afters: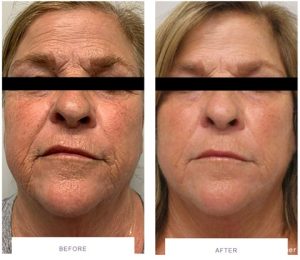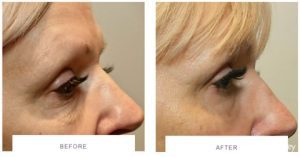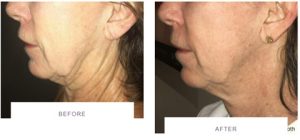 When will I see results?
With just a few days, you can see visible skin tightening results. After three weeks, you will see more noticeable results appear. Over a period of 3 months after the Morpheus8 treatment, improvements will continue.
How long do Morpheus8 results last?
Great news is that results can last up to 12-18 months. Annual follow up treatments may be required depending on the patient's maintenance routine being affected by lifestyle factors.
At The Cosmetic Skin Clinic, our practitioners will let you know if any maintenance sessions will be required to help you maintain long term skin tightening results.
Dermal Fillers
Refresh and restore your facial appearance and with the safe and expert led dermal filler treatment.
How does Dermal Fillers work?
As we age, our hyaluronic acid levels diminish. Hyaluronic Acid dermal fillers work by replacing the skin's own natural supply of hyaluronic acid. They can be used across several facial areas as a non-surgical facelift to fill out fine lines and wrinkles including:
Upper face for your forehead lines, tear troughs, crow's feet
Midface for your nose to mouth lines, nose, cheeks
Lower face for your lips, chin, jawline, marionette lines
What are the benefits of Dermal Fillers?
Effective at smoothing out wrinkles
Rejuvenates facial features
Can easily be removed if necessary
Minimal discomfort and downtime so you can get back to your routine
Results are long, lasting but not permanent
Safe and biocompatible
Dermal Fillers before and afters: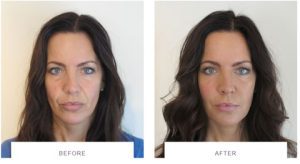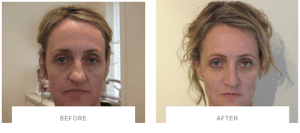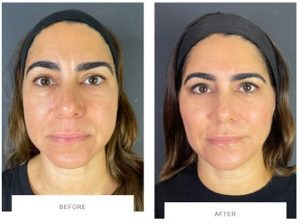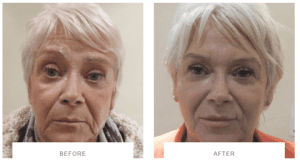 How long do Dermal Fillers results last?
Dermal fillers are not permanent. At The Cosmetic Skin Clinic, we use hyaluronic acid based dermal fillers, which break down after 9-18 months.
Thermage
Thermage uses highly advanced radiofrequency technology and is clinically proven to smooth, recontour and tighten your skin.
How does Thermage work?
It tightens the skin by generating a thermal effect deep under the skin to heat the collagen. This in effect, remodels the existing collagen and stimulates new collagen production.
The safe, non-invasive treatment is comfortable thanks it to the cooling effect on top of the skin which also protects the surface layers of skin. Once the heating portion of the treatment is done, it finishes with a flash of cryogen to cool the dermis down.
What Thermage results can I look forward to?
Thermage treatment is an effective non-surgical facelift treatment as it will leave you with:
Renewed contouring thanks to the remodelling abilities of Thermage
Smoother and younger looking skin
Tightened skin and reduced lines
Improved jawline
Eyes that are brighter and lifted
New collagen to keep your skin plump and renewed
Thermage before and afters: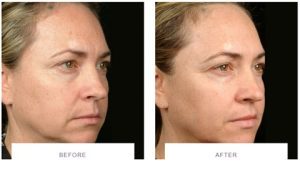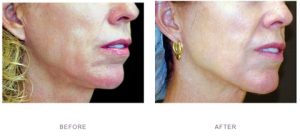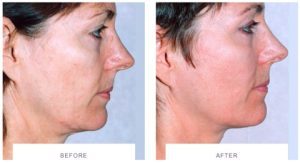 When will I see results?
Some Thermage results are immediately visible, with others improving over time as your body regenerates collagen. Most patients see tightening and contouring results 2-6 months after their first single Thermage treatment session.
How long do Thermage results last?
Depending on your age and other skin factors, Thermage results can last for years!
Silhouette Soft Thread Lift
Silhouette Soft Thread Lift is a non-surgical facelift that gives unique double lifting and regenerated effect. You will be left with contoured, lifted and restored natural appearance results.
How do Thread Lifts work?
This non-invasive skin tightening procedure works by targeting fat that has sagged and pulling it back into place. Using a very fine needle, the suture threads (which are re-absorbable) are gently run through the fat layer which has no nerve endings. The sutures have tiny, re-absorbable bidirectional cones to keep them in place providing a lifting and regenerative effect.
What Thread Lift results can I look forward to?
Lifted and regenerated facial skin
Stimulates natural collagen production which eliminates wrinkles
Smoother appearance and youthful looking skin
Immediate but natural lift effect
Progressive volumizing action over 18 months
Silhouette Soft Thread Lift before and afters: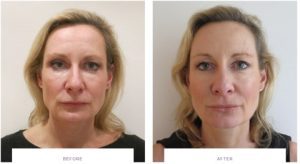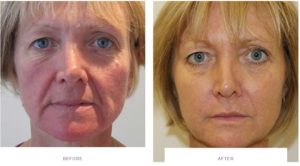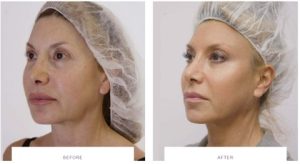 When will I see results?
You will see immediate results of a natural lift effect. In addition, you will also see a progressive volumising action over 18 months.
How long do Silhouette Soft Thread Lift results last?
The effects from the Silhouette Soft Thread Lift treatment can last up to you 18 months – 2 years, depending on your skin laxity and age.
The Cosmetic Skin Clinic method
Our ethos is to create a bespoke treatment plan that is focused on natural rejuvenation. We deliver great results through our experienced practitioners knowing how to create naturally understated yet long-lasting results. Our method is focused on creating synergy and we do so by customising a clever combination of treatments. To create results that have an impact but remain undetectable to others, we combine treatments such as Botox, Dermal Fillers, Morpheus8, Ultherapy and Thermage and even Silhouette Soft Thread Lifting. Our practitioners will pick the best suited treatments to give your face a full refresh, without going under the knife.
The Cosmetic Skin Clinic for a non-surgical facelift
When it comes to considering a non-surgical facelift treatment, understandably you will want to go to a skin clinic that can deliver safe results.
The Cosmetic Skin Clinic in Buckinghamshire have the experience and track record to achieve great results. Our aesthetic doctors are skilled in non-surgical facelifts and will thoroughly explain every step to you. Using safe, high-quality treatments, we will ensure you get an expert led non-surgical facelift experience.
Book your consultation via our enquiry form today or give our Buckinghamshire clinic a call on 0333 920 7762.