As we age there is a steady progressive loss of facial volume. The old saying was that a woman had to choose between her figure or her face. The idea being, that a fuller figure would also have a fuller face, ensuring the face was plumped up with volume and younger looking. Therefore a slimmer cut to the figure would show volume loss in the face and highlight the ageing process.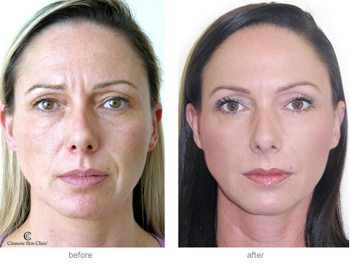 These days there are a number of facial treatments that can increase volume to the areas affected by the ageing process. Most typically volume loss occurs in the cheeks, below the eyes, the chin and in the temples. The ideal treatments for the replacement of lost facial volume are dermal fillers and collagen stimulating treatments such as Sculptra.
Dermal fillers come in a variety of densities to suit the various indications of volume loss on the face and come in the form of clear gels which are injected under the skin. These dermal fillers are mainly HA based (hyaluronic acid) which is a naturally occurring component of our skin. When injected into the skin hyaluronic acid volumises, softens and hydrates the skin. It also stimulates collagen and elastin production underneath the skin to restore facial volume and improve the integrity of your skin.
Dermal fillers are used to:
Smooth away wrinkles and folds around the mouth and nose
Define and restore lost volume to the cheeks and temples
Soften and reduce lines across the forehead and around the eyes
Shape and re-contour to remove visible signs of ageing
Define and enhance lips naturally
Overall the use of dermal fillers gives an immediate result that can last up to 12months depending on the treatment area. There is little or no downtime resulting from the treatment and you can return to your normal activities.
The most important aspect to consider, of this anti-ageing treatment, is to ensure the look and results are a natural enhancement of your features. When considering dermal fillers always look at your practitioners before and after photographs to get a sense of their ability to create a natural looking result and achieve a genuine improvement.