By Dr. TRACY MOUNTFORD, MBBS MBCAM
The Nefertiti Neck Lift
We can work as hard as we can to look after our bodies, by maintaining a fit and healthy lifestyle. We can eat well and get plenty of beauty sleep, but there are certain things that will give away our age no matter what we do. One area is our neck, which loses collagen as we age, making the skin start to sag and look 'crepey'.
There are beauty regimes you can follow to help improve the tone, condition and skin laxity of your neck and décolletage. The skin in these areas is as delicate, if not more so, than that on your face.
Exercise
There are specific exercises you can do to try and help tighten the skin. You can try jutting out your chin and moving your lower jaw forward and repeating this movement numerous times. Or try pressing your tongue against your palate, holding it then and then releasing. You should be able to feel a stretch in your neck muscles when doing these types of movements, but be careful not to overdo it and end up with cramped muscles!
Moisturise & Nourish
Nourish your skin by cleansing and exfoliating the neck and décolletage regularly. Apply a moisturiser in an upward motion from chest to chin to help stimulate circulation.
Protect
Protect your skin using a product with a high SPF, as you would your face, to help prevent sun damage..
The CSC Nefertiti Neck Lift
As well as your beauty regime, you can give Mother Nature a helping hand by opting for a non-surgical cosmetic treatment. Here at The Cosmetic Skin Clinic, we offer the 'CSC Nefertiti Neck Lift'. This treatment is named after Queen Nefertiti, who reigned alongside her husband, Pharaoh Akhenaten from 1353 to 1336 B.C.
"The beautiful one has come…"
The sandstone bust created in her image has become a global symbol of feminine beauty and power. The painted figure features a slender neck, sculptured jawline and gracefully proportioned face.1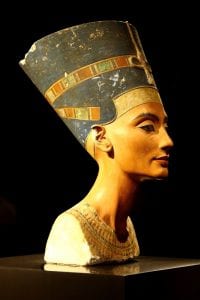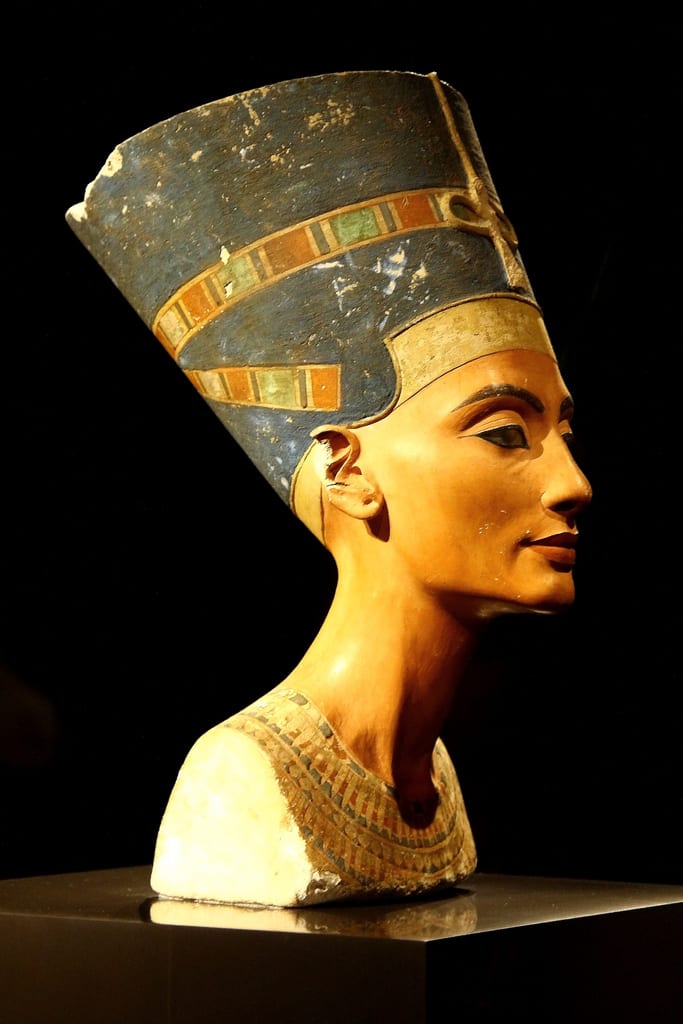 We also have a modern-day Nefertiti in Angelina Jolie, who shares the same beautiful, swan-like neck and elegant jawline.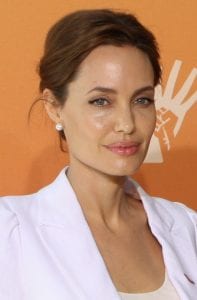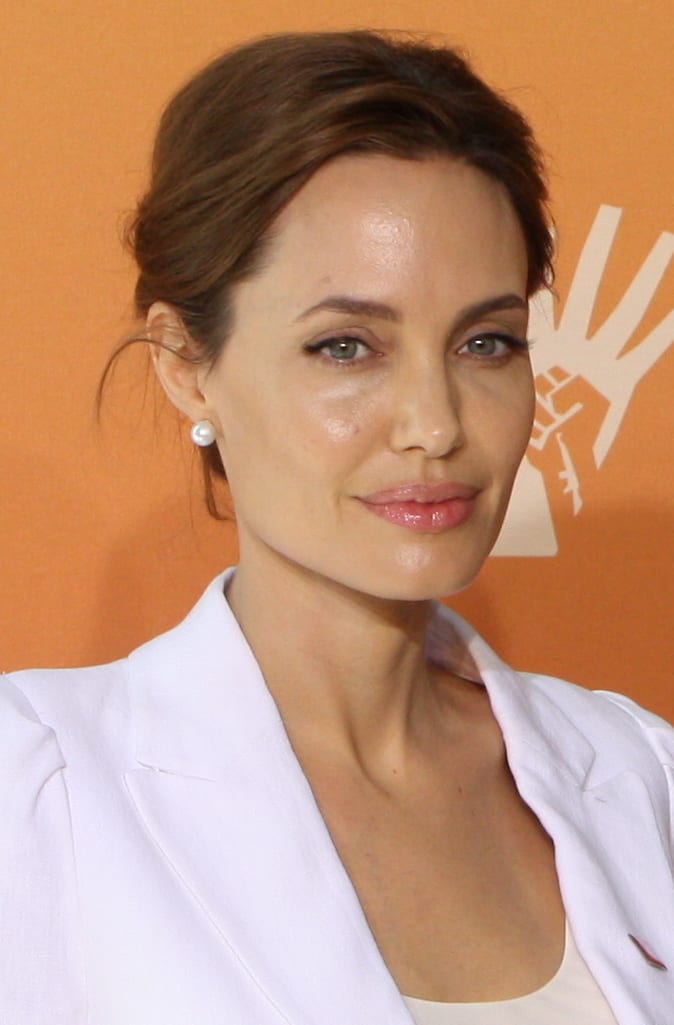 To achieve the 'Nefertiti Neck', there are several treatments available, none of which require you to 'go under the knife'. And what's even better is that they all have little or no downtime:
Muscle-Relaxing Injections
Botulinum toxin (or more commonly known as Botox) is a naturally purified protein that works as a muscle relaxant. *Botox injections are used to tighten and redefine the jaw line and provide 'lifting' in the neck area with small doses being injected into the lower jawline and down the side of the neck along the platysma muscles.
Thread Lifting
Silhouette Soft thread lifting has a unique double lifting and regenerating effect. *Re-absorbable poly-L-lactic acid sutures are inserted just below the skin's surface and the treated area is then compressed, lifting the skin tissue. The biodegradable suture thread will be naturally absorbed by your skin over the next 18-24 months. As a result, this treatment stimulates the body to produce its own collagen so that skin continues to rejuvenate.
Ultherapy
*Ultherapy is the only FDA-cleared, non-invasive treatment for lifting the skin on the neck and chin by using ultrasound technology to gradually strengthen your skin from deep within. *This technology essentially 'jump starts' a repair process by strengthening existing collagen and producing new collagen and elastin to help put structure and volume back into the skin. *The procedure takes approximately 60-90 minutes and you can expect to see real results over 3 to 6 months as the new collagen builds.
The Cosmetic Skin Clinic were pioneers of the Nefertiti Neck Lift and it's still as popular with our patients today as it was when it was first launched.
So, banish those roll-necks and scarves from your wardrobe and embrace your inner Egyptian queen!
As featured in The Daily Mail's Nip & Tuck column on 6th March 2017!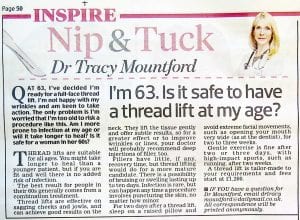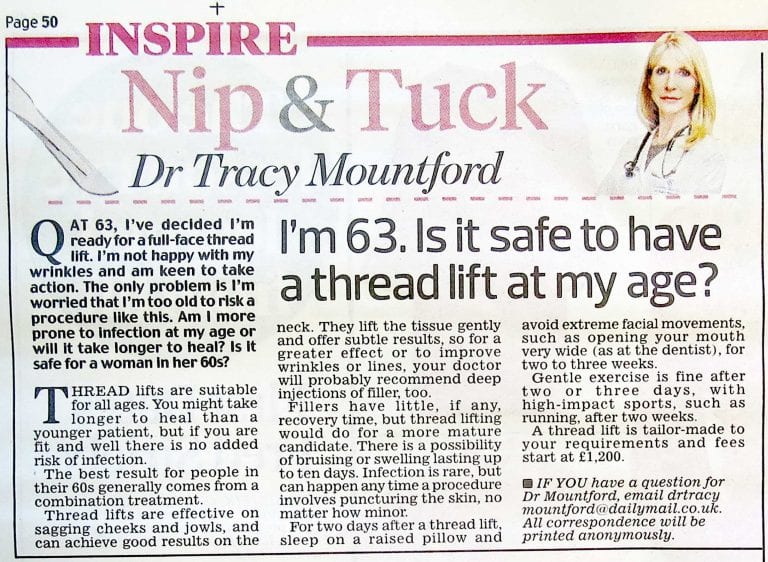 1 http://www.history.com/topics/ancient-history/nefertiti