By Dr. TRACY MOUNTFORD, MBBS MBCAM
We all want to tighten our skin but without the surgery. The Cosmetic Skin Clinic are at the top of the game when it comes to non-surgical treatments including laser skin tightening.
To help you navigate the skin tightening world, we explain the three major methods, what our top treatments are and how they work and some great before and afters.
Collagen is a natural protein that keeps skin firmed, toned and therefore youthful. As you get older, collagen loses strength and its ability to stand up to the effects of gravity that pull the skin downward leading to skin laxity. Enter laser skin tightening treatments.
What are the three major methods of laser skin tightening treatments?
Before we dive into our top three skin tightening treatments available at The Cosmetic Skin Clinic, we need to explain the three major methods. When it comes to doing your research on the best skin tightening treatment, you will come across several brand name laser treatments. During all this, you should know these laser treatments broadly fall under three major categories, radiofrequency, ultrasound, and radiofrequency microneedling.
THERMAGE
What is Thermage?
Thermage is a unique and highly advanced radiofrequency treatment that is clinically proven to help smooth, re-contour and tighten the skin.
How does it work?
Thermage uses radiofrequency technology to safely heat the deep, collagen rich layers of your skin with a smooth, flat-tip hand piece. The radiofrequency energy kick starts the body's own natural renewal process. It combines both heat energy and cooling effects to treat deep tissue whilst protecting the skin's surface. For maximum ease, Thermage has Comfort Pulse Technology which gives gentle vibrations and interspersed cooling.
The heat helps tighten existing collagen (aka remodelling the collagen) and stimulates the formation of new collagen over time. This reduces sagging and renews contours so that wrinkled, crepey or sagging skin looks smoother and therefore younger.
What are the benefits of Thermage?
Reduces lines
Tightens skin
Renews contours with the heat remodelling the collagen
Improves jawline
Brighter and lifted eyes
New collagen formation
Skin is left looking smoother and younger
Can treat wrinkles, sagging or crepey skin, turkey neck, bingo wings, tired looking eyes, jowls, dark circles, and crow's feet.
When will I see results and how long do they last?
Some Thermage results are immediately visible and only get better as they improve over time as your body rebuilds collagen. For most of our patients, after a single treatment session, measurable tightening and contouring results gradually appear in a two-to-six-month time frame.
Thermage results are loved for the fact that it can take a single treatment to get results compared to other procedures that require four or more sessions. Thermage results can last for years, but as always, the longevity of results is dependent on skin quality, age, skin condition and more.
Thermage Before and afters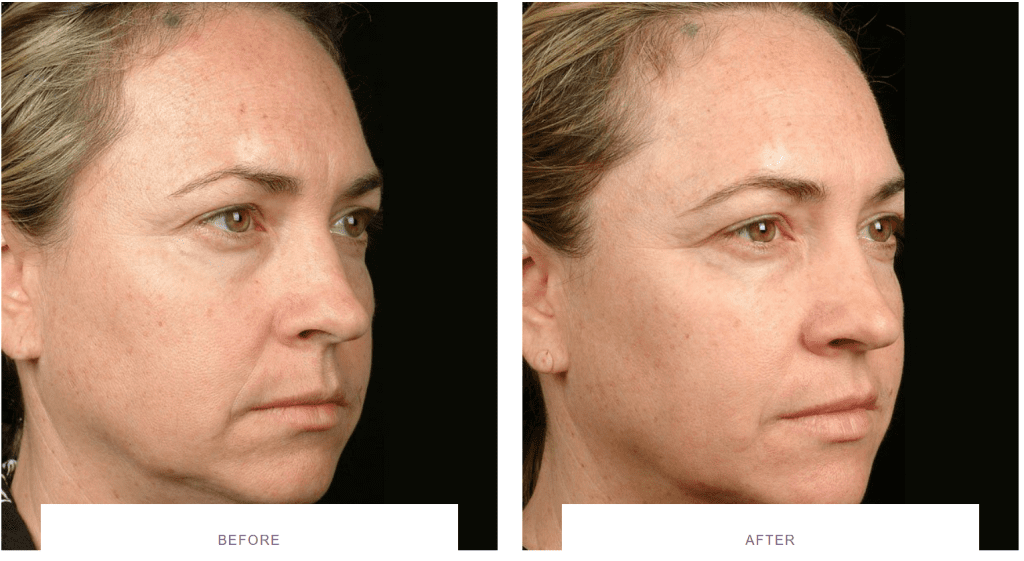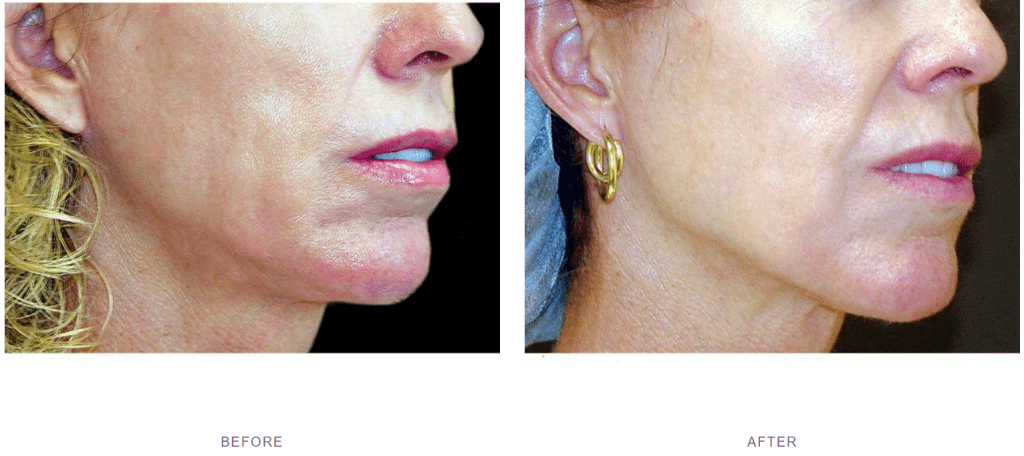 Explore our Thermage before and after Gallery page to see more results.
MORPHEUS8
What is Morpheus8?
Morpheus8 combines microneedling and radiofrequency energy to tighten skin laxity and remodel and contour the face and body. With FDA approved fractional technology, skin can be tight, smooth, and radiant again.
How does it work?
Morpheus8 gives revitalised results through using advanced radiofrequency technology and microneedling. At the head of the innovative device, there is 24 coated microneedles. These stimulate a healing response from the skin, where the elastin and collagen production increases keeping us looking youthful.
While the microneedling is happening, the radiofrequency energy is heating the tissue under the skin. So, this is simultaneously tightening the skin, whilst moulding the fat to lift and firm the contours. This results in the skins appearance being smooth, sculpted and rejuvenated.
What are the benefits of Morpheus8?
Promotes collagen production
Effective on loose skin as it contours, lifts, and tightens
Can be used on darker skin tones (skin type VI)
Has speciality colour-bling technology, so there is minimal risk of post-inflammatory hyperpigmentation (PIH)
Reduces the appearance of fine lines and wrinkles
Reduces the appearance of stretch marks
Fades acne scars
Reduces skin irregularities
Improves hyperpigmentation and smooths uneven skin texture
When will I see results and how long do they last??
With Morpheus8, visible skin tightening results can be seen within just a few days. However, more noticeable results usually appear after three weeks. After your treatment, over a period of three months, improvements will continue.
Morpheus8 is extremely popular due to the fact that results can last up to 12-18 months. In order to maintain these great results, our practitioners will talk you through any potential maintenance sessions to keep your skin tight and firm for longer.
Morpheus8 Before and afters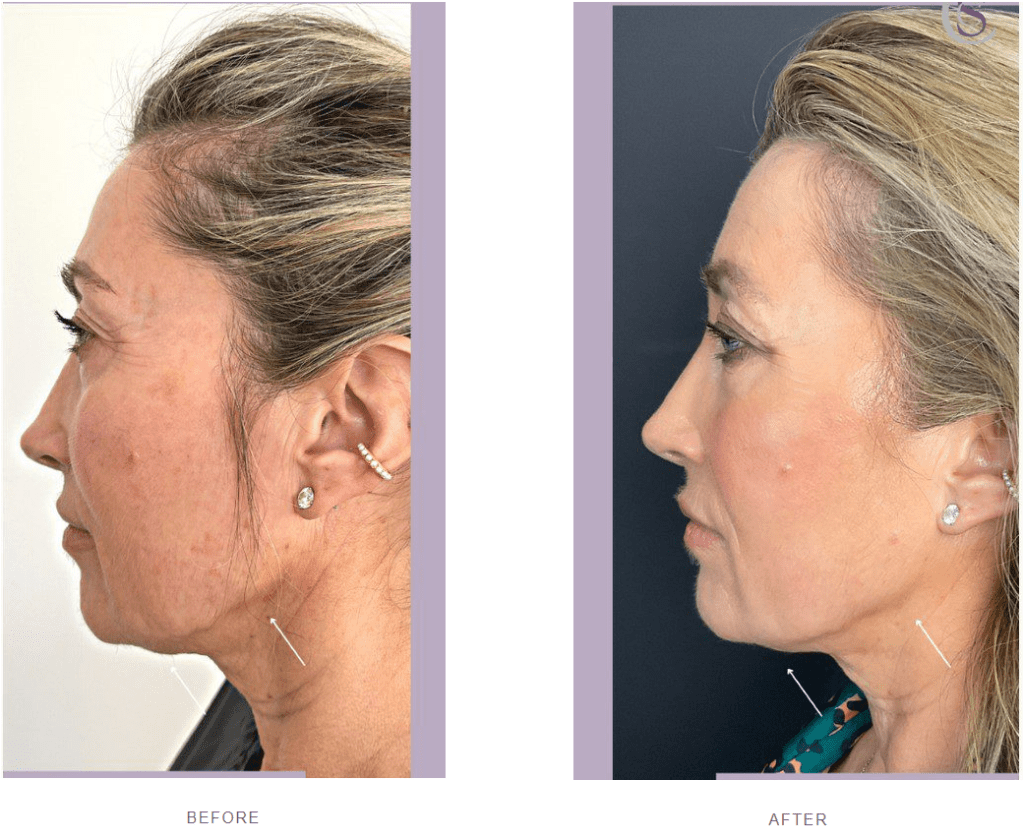 Our patient had a full face Morpheus8 treatment. Morpheus8 Jawline Before and After

Morpheus8 was performed on our patient's neck to treat the wrinkles.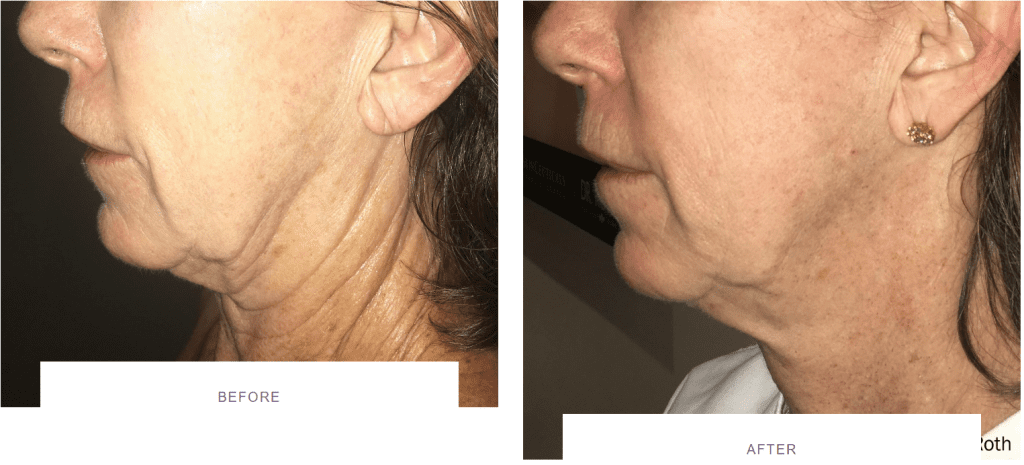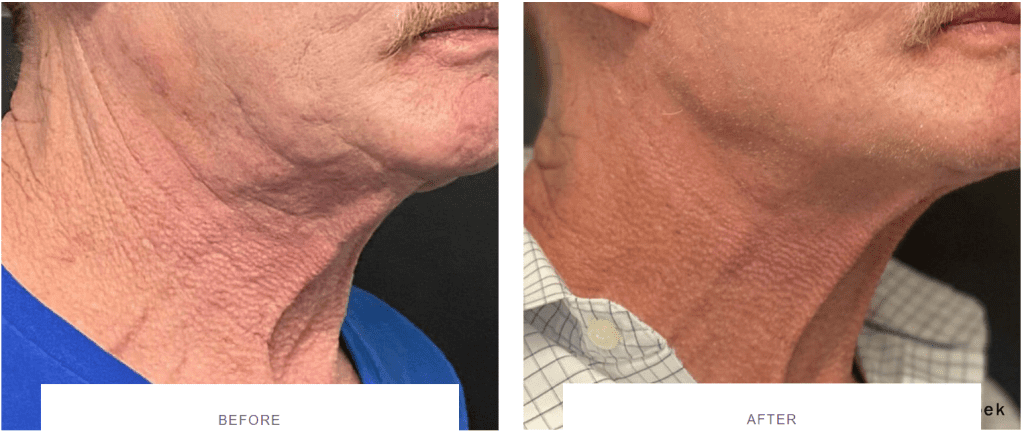 Explore our Morpheus8 before and after gallery to see more results.
ULTHERAPY
What is Ultherapy?
Ultherapy® is a non-surgical skin lifting and tightening procedure for the upper and lower face, neck, and décolletage. It stimulates the production of new collagen and elastin which can reverse the signs of ageing.
How does it work?
Ultherapy uses non-surgical ultrasound technology to stimulate new collagen and elastin production. The micro-focused ultrasound (MFU-V) energy targets the deeper layers of the skin without damaging the skin surface. By generating a thermal effect under the skin, it essentially jumps starts a repair process. It strengthens existing collagen and produces fresh, new collagen, putting structure back into your skin.
What are the benefits of Ultherapy?
The benefits an Ultherapy treatment include:
Tightens and firms skin texture
Lifts sagging and drooping skin
Regenerates natural collagen and elastin stores
No downtime or recovery time
Completely non-invasive and non-surgical so no injections or scarring
Creates a fresh, natural, and rejuvenated appearance
No need for general anaesthetic
Can treat sagging skin, jowls, skin laxity, turkey neck, lines, and wrinkles on a crepey decolletage, sagging bottoms and drooping eyelids.
When will I see results and how long will they last?
Ultherapy patients can see an initial lift after their treatment. Ultherapy patients usually feel an immediate lift in the treatment area. This is followed by more noticeable improvements over a three to six month period post treatment. These results can last from a year up to 18 months.
Ultherapy Before and afters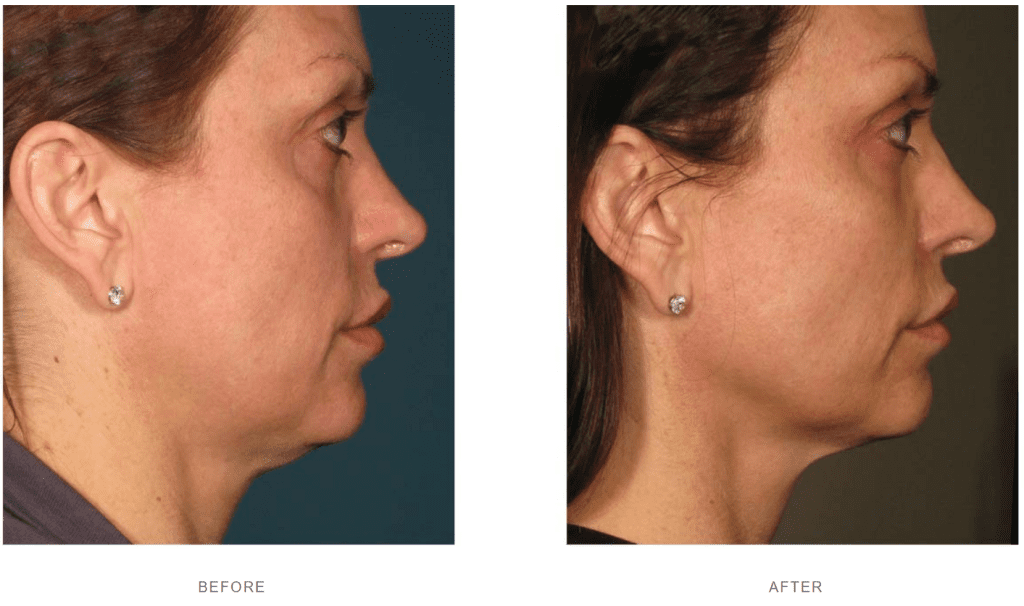 Treatment: Ultherapy® ultrasound skin lifting and tightening to redefine jaw line and lift neck.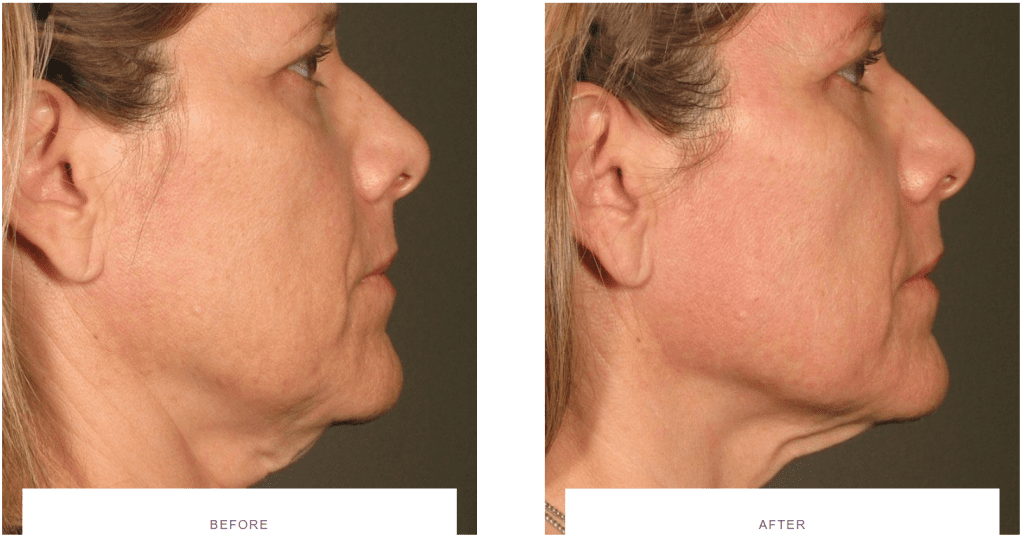 Our patient had an Ultherapy treatment to redefine her jawline.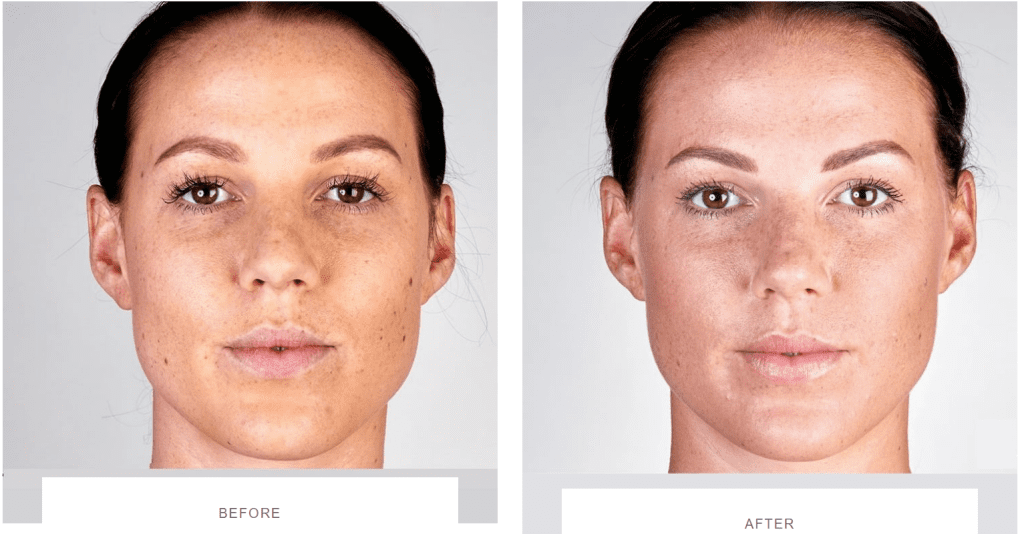 The full face, neck and decolletage was lifted, sculpted, and tightened with Ultherapy at The Cosmetic Skin Clinic.
At The Cosmetic Skin Clinic, our patient had her full face, neck and decolletage lifted, sculpted, and tightened with Ultherapy.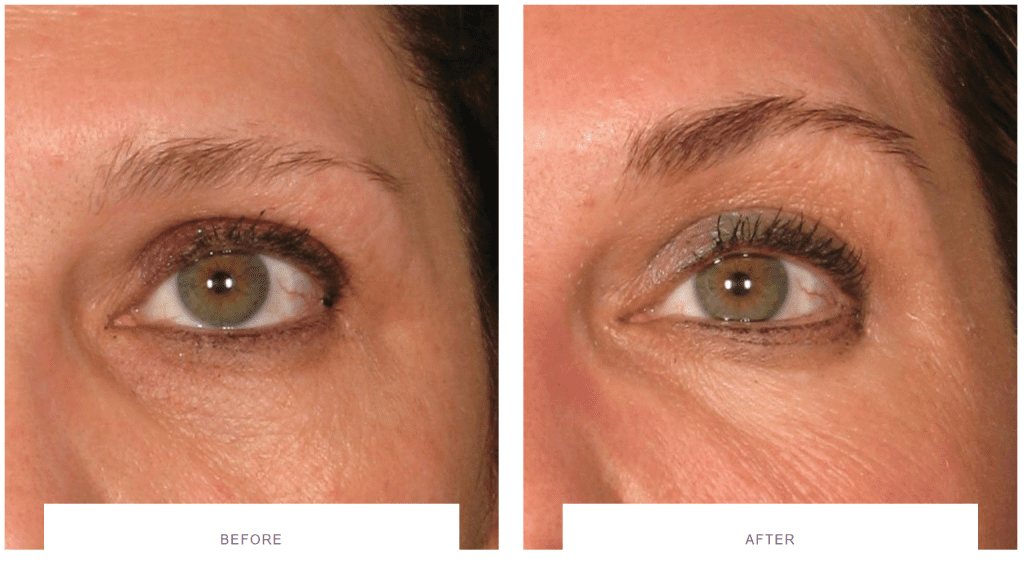 An amazing brow lift with Ultherapy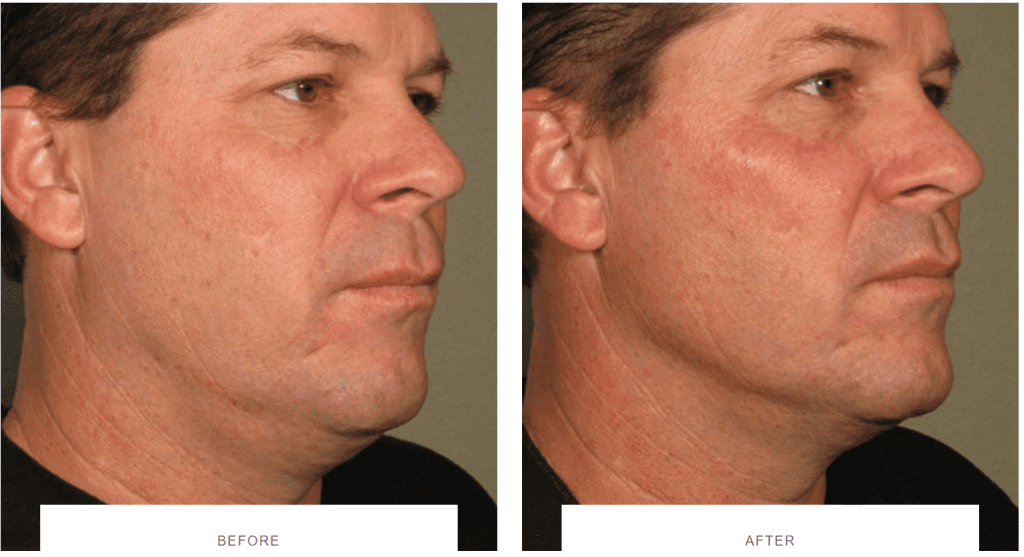 Redefined jawline and lift the neck with Ultherapy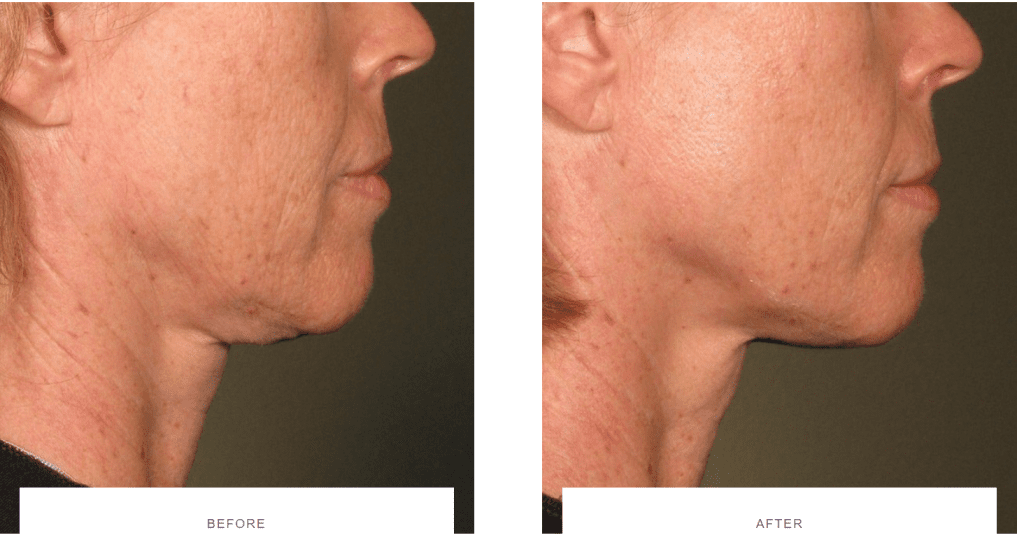 Ultherapy ultrasound skin lifting and tightening to redefine the jawline and lift the neck.
Explore our Ultherapy before and after gallery to see more results.
Laser skin tightening treatments at The Cosmetic Skin Clinic
We are a multi-award winning, CQC registered medical clinic known for providing impeccable service and skin tightening results. Our experienced team in London and Stoke Poges, Buckinghamshire are trained to the highest level and are ready to create your perfect bespoke skin tightening and lifting treatment plan. Our industry leading practitioners know our skin tightening treatments inside out, ensuring they will get great results.
No matter which treatment you choose, we will be with you every step of the way. From consultation, to follow up calls, you are our top priority. Our excellent service and care are why so many of our patients return to us for top up appointments or to try something new.
To begin your laser skin tightening treatment, request a consultation at one of our clinics. Or you can easily give our London or Buckinghamshire clinic a call on 0330 127 7256.
Disclaimer: Patient experience and results may vary. These are dependent on a number of factors such as lifestyle, age and medical history.