By Dr. TRACY MOUNTFORD, MBBS MBCAM
Heavy thighs are something that a lot of my patients are quite self-conscious about. In the past, unfortunately, the only option to slim your thighs was a surgical procedure such as liposuction, involving a general anaesthetic and lots of downtime.
But nowadays, there are some very good non-surgical alternatives to help patients slim down their thigh fat. In this week's Q&A, I explore a range of non-surgical treatments that help slim various areas around the thigh.
How to slim down thighs
Patients with thicker thighs or stubborn pockets of fat around their thighs can now slim down their thighs fast, without any surgery or downtime. We offer a range of treatments that not only minimise the size of the thighs, but also improve skin texture and quality.
CoolSculpting
CoolSculpting is a thigh reduction technique that freezes fat cells and to slim down the thigh area. When we freeze a fat cell, it is naturally destroyed and depleted from the body, resulting in permanent thigh fat loss results*. CoolSculpting is the only FDA-cleared, non-surgical fat reduction treatment that delivers proven results without surgery, anaesthesia or downtime. This non-invasive, fat freezing (cryolipolysis) treatment is a body contouring method that reduces fat cells in inner and outer thigh fat with results that are long-lasting and noticeable.
EMSculpt
Another popular treatment is EMSculpt, which as the power to burn through thigh fat while also building up muscle tone. EMSculpt does this through its advanced electromagnetic treatment that contracts muscles in a much faster way than a standard gym session. With just one 30-minute treatment, patients will experience up to 20,000 muscle contractions in the thigh area. This helps patients to target fat stores in this area while giving the thighs a leaner, more contoured and toned appearance.
Both methods can be used to slim down the thighs in a variety of different ways: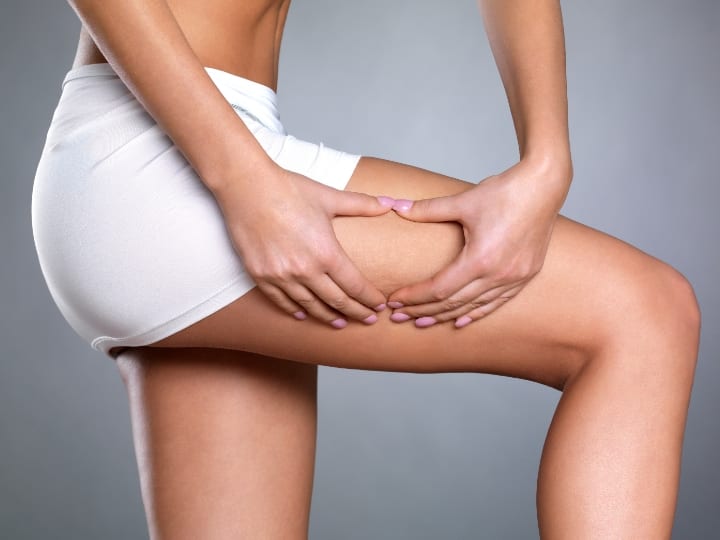 Slimming inner thighs
Inner thigh fat bulges can cause pain and discomfort when the thighs rub together. Inner thighs are also more difficult to target with workout exercises. CoolSculpting can destroy fat in this zone, helping patients to rid themselves of the thigh rubbing effect.
Slimming outer thighs
Outer thigh fat builds up in the form of 'saddlebags,' which can look out of proportion with the rest of the body. But CoolSculpting and EMSculpt can be applied to the outer thigh area to freeze this built-up fat while toning up and firming the skin.
Slimming the thigh circumference
If patients need to give their thighs a complete sculpted and toned look, then our 'Round the World' CoolSculpting treatment is ideal. This treatment uses fat freezing technology to target and dispose of fat stores around the entire thigh circumference. It's ideal for patients who are suffering excess thigh weight across all areas of their thighs, including the side areas, inner thigh and outer thigh.
Another key area of concern with thighs is not just the physical bulk of thighs, but also the skin quality. As we get older, the quality of our skin begins to deteriorate. We can lose firmness and tautness in our thighs in particular. Skin can therefore look uneven and unbalanced, with pockets of cellulite. 
A lot of patients ask, "Is there something I can do about this?" Luckily, the answer to this question is yes! We can use skin tightening treatments to remodel and tighten collagen stores in the tight area. This helps to bring back structure and support to thigh skin, so that it looks smooth, youthful and fresh. Treatments like Thermage and Ultherapy can firm up the skin while stimulating our body to rebuild collagen stores in the thighs. 
CoolSculpting can also improve the quality of thigh skin using a very specific applicator called CoolSmooth. For those of you who suffer from bumpy / uneven skin, this treatment is an ideal rebalancing solution. Additionally, we also offer CoolSculpting Elite, a newly improved system of dual applicators with upgraded cooling energy. Patients can now target their thigh fat while treating a different area of the body at the very same time thanks to this major improvement. 
Find out more
So if you're looking for a way to treat unwanted thigh fat in 2021, these procedures may be a good fit for you! For more information or to book an appointment, drop us an email to [email protected] or fill out our contact form. Alternatively, call our London clinic and Buckinghamshire clinic on 0343 253 8240.