By Dr. TRACY MOUNTFORD, MBBS MBCAM
Having a fat neck is a common issue for a lot of people. Men and women of all ages can suffer from the problem, and it can make us look overweight or older than we really are. Here, we discuss the causes of a fat neck, and how to get rid of neck fat effectively using the latest non-surgical technologies.
Causes of a fat neck
Neck Fat is caused by the build-up of fat layers just below your chin. This fat is technically known as submental fat and is often associated with weight gain. Often, a fat neck is known as a double chin, which describes the layers of neck fat rolls that typically appear when someone has this condition. However, you do not have to be overweight to have a double chin or fat neck.
Genetics can cause us to store too much fat around our necks. Ageing is also a culprit, as it can cause our skin to loosen and sag in the neck area. This can make us look as if our neck is fatter, as the skin no longer has enough support from collagen and elastin to maintain its contoured and streamlined appearance. Instead, the skin sags down and protrudes, making our neck area look bigger and more pronounced. But this look can be reversed by adopting a range of cosmetic and lifestyle strategies.
How to get rid of neck fat
Losing neck fat is a process that can often be kickstarted by adopting healthy lifestyle changes. Anecdotal evidence suggests that neck and chin exercises can help us to minimise layers of neck fat, while exercise and a healthy diet can help us to lose weight around this area.
We can also rely on non-surgical cosmetic solutions to help lose neck fat. At The Cosmetic Skin Clinic, we offer two clinically proven treatments that are designed to remove neck fat while tightening and lifting stubborn sagging skin across the neck. CoolSculpting is designed for neck fat removal, while Ultherapy can tighten and lift drooping neck skin.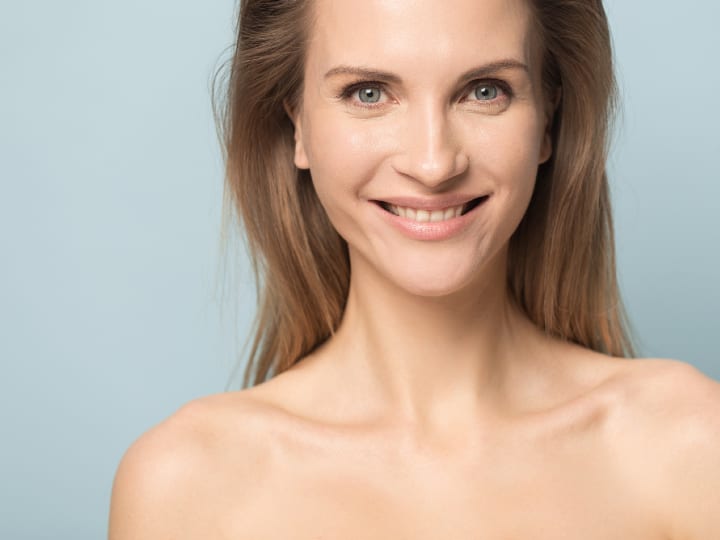 How to lose neck fat: CoolSculpting
CoolSculpting neck fat treatment freezes submental fat across the neck and double chin. It's FDA-approved and takes just 35-60 minutes to complete with impressive results. Patients can:
Reduce neck fat by up to 27% in the treated area
Minimise the appearance of neck fat rolls
Tone and recontour the shape of the neck
Achieve permanent fat removal results
No surgery or downtime needed
During the treatment, a clinician will apply cooling energy to targeted deposits of neck fat using a specialised applicator. This applicator will then freeze submental fat cells to force them to crystalise and break down. CoolSculpting's 'CoolMini' applicator has been specially designed to fit around the neck for maximum efficacy. After the treatment, neck fat will disperse gradually over 3 to 6 months as the body naturally metabolises the destroyed fat cells. This will leave the treated patient with a slimmer and more sculpted neckline once results start to show through after just 8 weeks. Dr Tracy Mountford explains this procedure in detail in the video below:
How to tighten neck fat: Ultherapy
Once neck fat has been strategically targeted and destroyed with CoolSculpting, Ultherapy can be used to maximise visible results. This non-invasive treatment is the only FDA-approved procedure to lift and tighten the skin around the neck and decolletage area. It works by using proven ultrasound technology to rebuild neck skin strength from deep within. Patients can:
Tighten sagging skin across the neck
Reduce skin laxity in the neck
Replenish neck collagen and elastin stores
Contour and streamline the shape of the neck to reduce signs of a double chin
No surgery or downtime required
During the treatment, the Ultherapy ultrasound applicator is applied to the neck to boost natural collagen and elastin production. Micro-focused ultrasound energy is sent through the skin to reboot the production of these essential structural proteins, which help keep our skin taut, toned and lifted. Over 3 to 6 months, these proteins will naturally replenish themselves, leaving the skin around your neck firm, toned and more youthful-looking. When combined with CoolSculpting, it is the perfect way to treat the appearance of a fat neck thanks to its skin tightening and lifting effects. Say goodbye to sagging or drooping neck skin and embrace a more streamlined and trim shape.
Neck Fat Ultherapy Before and After
Tightening and lifting sagging skin for a smoother and more defined neck: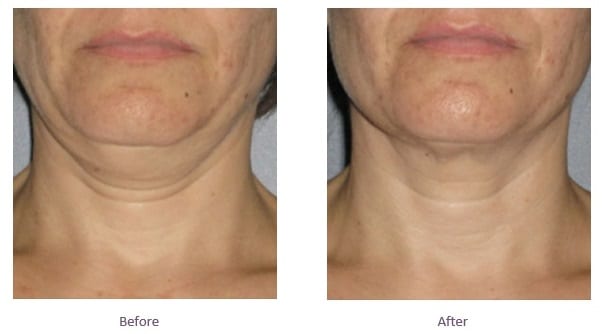 CoolSculpting Neck Fat Before and After 
Eliminating fat neck rolls using fat freezing:

How to Reduce Neck Fat with CoolSculpting and Ultherapy
When it comes to both CoolSculpting and Ultherapy neck treatments, our practitioners have over 20 years' experience and are renowned for their expertise. As a multi-award-winning clinic, we have been performed over 50,000 treatments and have been voted as the number 1 CoolSculpting clinic in the UK for six consecutive years, while being recognised as the number 1 Ultherapy 'Centre of Excellence' for 9 years in a row. Our valued patients have consistently commended us for our professional results by giving us a 5-star Trustpilot rating. So you can trust us to treat your fat neck in a way that drives visibly noticeable results.
How To Find Us – Fat Neck Treatments at The Cosmetic Skin Clinic
The Cosmetic Skin Clinic in London is within easy walking distance of Oxford Circus, Bond Street and Baker Street tube stations. You can also reach The Cosmetic Skin Clinic by train via Paddington and Kings Cross St Pancras Train Stations.
The Cosmetic Skin Clinic in Buckinghamshire is situated in Stoke Poges and it is near to Gerrards Cross (Chiltern Railway), Slough's (First Great Western) station. It also has convenient transport links via the M25, M4, M40 and A40 roads, linking the clinic to the Surrey area, Wembley, Beaconsfield, Windsor, Richmond and Kingston upon Thames.
To find out more about our non-surgical neck treatments and how to lose neck fat, book a consultation with our expert team. Or call our clinics in London or Buckinghamshire on 0330 057 2326.