By Dr. TRACY MOUNTFORD, MBBS MBCAM
Losing definition around our jawlines and the appearance of jowls is a common issue as we age.
The supportive compounds that keep our faces looking sculpted, like elastin and collagen, start to diminish and we can lose fat in the cheeks and temples, causing our chin and neck to lose its form. Our skin also tends to become drier and thinner, making it less resilient and more vulnerable to the effects of gravity. Sagging skin can therefore develop around the chin and jawline, creating a jowl-like appearance that ages our overall look. Thankfully, The Cosmetic Skin Clinic has a range of treatment options available that work to specifically target sagging skin on the jowls.
How to Get Rid of Jowls: Our Top Jowls Treatments
When it comes to treating jowls, injectable options like dermal fillers are ideal for restoring facial volume, while ultrasound treatments like Ultherapy are effective when it comes to stimulating the growth of new collagen supplies to directly reduce the sagging effect of jowls. The Cosmetic Skin Clinic also offers advanced fat-freezing and radiofrequency (RF) technologies like Morpheus8 that help to recontour, smooth and tighten the skin around the chin and jawline for long-lasting results. Each treatment has its own unique advantages and our specialists can help you to select the perfect procedure for your own skin needs, but our most popular treatments are detailed below.
Dermal Fillers for Jowls
Jowl filler a top treatment choice when it comes to fixing jowls as they revolumise the skin while helping to recontour sagging chins and jawlines. Fillers for jowls work by rebooting the skin's natural supply of hyaluronic acid, a key substance responsible for delivering and maintaining moisture and nutrient levels in our skin cells. This miracle substance diminishes as we age, but when reinjected into targeted areas like jowls, lost hyaluronic acid is suitably replenished, giving the skin a much more refreshed and rejuvenated appearance.
Individuals can maximise visible results by opting for a combination treatment that targets wrinkles while also restoring volume. Anti-wrinkle injections can be utilised to relax muscles in the neck, preventing them from contracting and forming wrinkles, while dermal fillers work to plump out the area to restore a contoured and youthful look. By using these non-invasive methods, patients can achieve impressive results that are similar to a surgical jowl lift without any need for surgery or downtime. Results can also be instantly visible by the end of a treatment session, making this the go-to choice for a fast-acting jowl treatment that is easy and effective.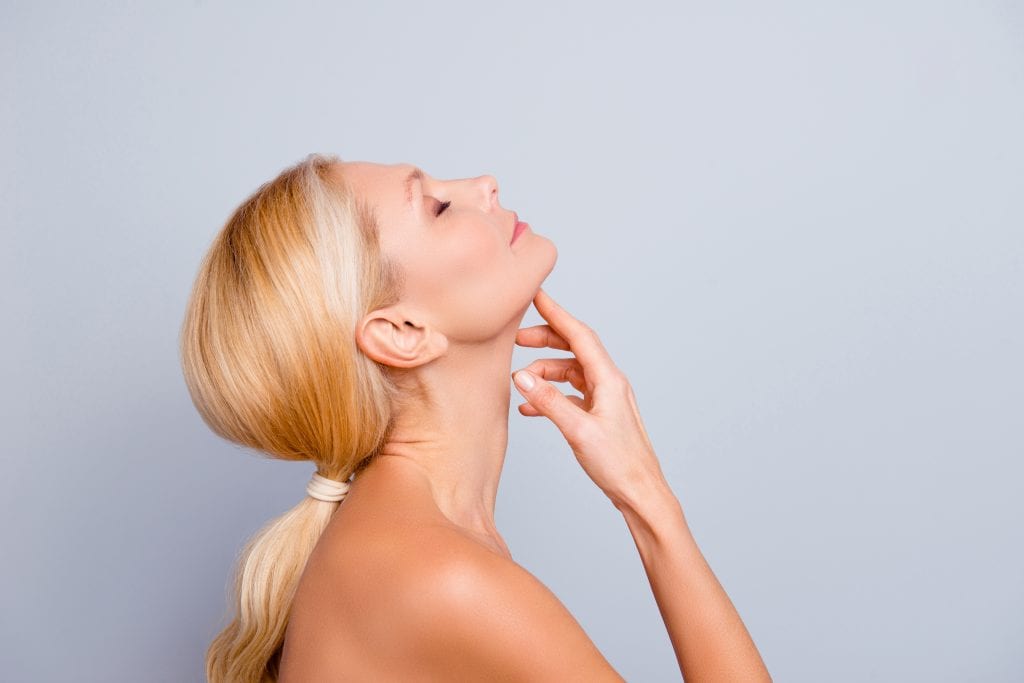 How to Get Rid of Jowls with Fat-Freezing
Fat-freezing is another non-invasive technique for lifting, tightening and firming jowls. This technique works particularly well for getting rid of chin jowls by removing unwanted fatty tissues and targeting the saggy and droopy skin that jowls are most well-known for. Coolsculpting Mini is a great example of this specialist treatment, as it's specially designed to treat smaller areas of fat bulges like those around the chin. Using a specialist applicator, the treatment can be used to target, cool and reduce unwanted fat cells in the chin and jawline areas by causing them to crystalise and shrivel away naturally, with noticeable long-lasting results. Much like filler injections, one of the primary benefits of this process is how fast and easy the treatments can be. The process causes little to no discomfort and entails virtually zero patient recovery downtime, with visible results noticeable as early as four to six weeks after your treatment.
Ultherapy for Sagging Jowls
Non-surgical ultrasound procedures are also highly effective when it comes to targeting sagging jowls. These procedures revitalise the skin by stimulating the production of new collagen and elastin supplies to put structure and definition back into your skin for a lifted and tightened look. Ultherapy is the leading procedure in this field, which uses tried-and-tested ultrasound technology to gradually strengthen your skin from deep within. Ultherapy helps jowls specifically by jump-starting a skin repair process in the jowls area that strengths existing collagen while boosting new collagen production. Some patients see an initial lift after just one session, but real results tend to become more apparent over a three-to-six-month time frame as new collagen ramps up. Unlike a surgical facelift, Ultherapy has no downtime, meaning you can return to your normal activities directly after treatment.
Radiofrequency (RF) Technologies for Jowls
In addition to fat-freezing, fillers and ultrasound procedures, many other types of treatment exist to target sagging skin and jowls, including laser treatments, thread-lifting and non-surgical peels. While dermal fillers, CoolSculpting and Ultherapy are The Cosmetic Skin Clinic's most popular jowl treatments, we also offer several radiofrequency (RF) technologies like Pelleve, Thermage CPT, Thermage FLX that help to stimulate natural collagen production through advanced heating and energising actions. RF technologies like Thermage use RF energy to kickstart the body's own natural skin renewal process, delivering a constant supply of heat-building energy where the skin and fat layer meet. It feels rather like having a warm massage. This heating process then works to tighten existing collagen supplies while stimulating the formation of new collagen over time. The effect helps to reduce skin sagging while recontouring the jowls so that wrinkled, crêpey or sagging skin looks smoother and therefore younger.
Morpheus8 for Jowls
Morpheus8 combines microneedling and radiofrequency energy technology to successfully tighten skin laxity and remodel contours of the face, including jowls. Morpheus8 works to tighten and smooth the jowls with FDA approved fractional technology. The microneedling aspect triggers the skins healing response, so elastin and collagen production increases to keep the skin looking youthful and fresh. The radiofrequency energy simultaneously heats the tissue under the skin. This heat moulds the fat to lift and firm the contours. Morpheus8 treatment gives smooth, sculpted and rejuvenated results with jowls minimised.
Sagging Jowls Before and After Result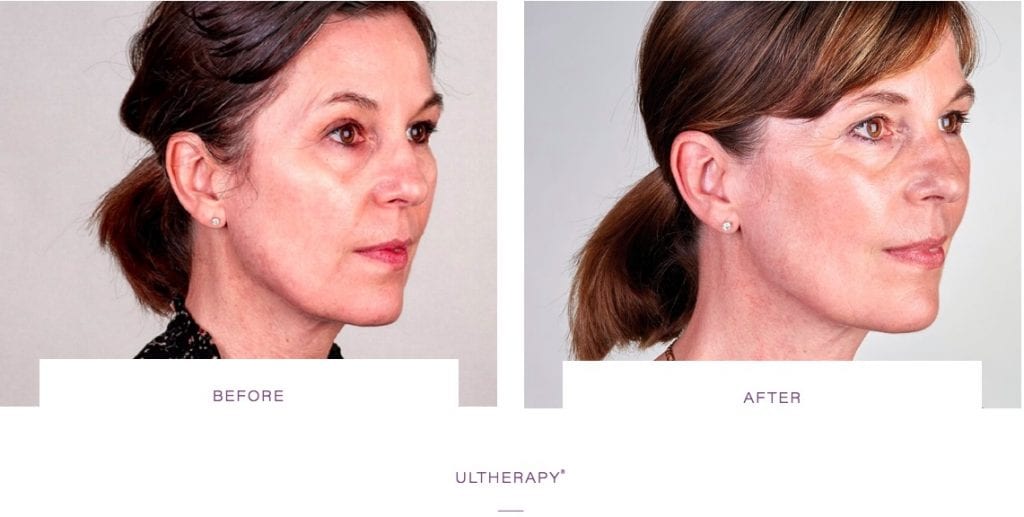 Picking a Jowl Treatment that's right for you
Getting rid of sagging jowls is all about matching your unique desires and needs to the benefits of each jowl procedure. This is why we always recommend seeking out a private consultation with one of our specialist, who can carefully listen to your own situation before advising on the best course of action to treat your jowls and enhance your overall look. Contact us today on 0330 433 2175 for a private consultation at one of our clinics in London and Buckinghamshire and we'd be happy to help.
How To Find Us – Best Treatment for Jowls near me
The Cosmetic Skin Clinic in London is within a short walking distance of Oxford Circus, Bond Street and Baker Street tube stations. We're also near to Paddington and Kings Cross St Pancras Train Stations so you can easily reach our clinic via train.
The Cosmetic Skin Clinic in Buckinghamshire is located in Stoke Poges and it is close to Slough's (First Great Western) station and Gerrards Cross (Chiltern Railway). It also has great transport connections with the M25, M4, M40 and A40 roads, linking the clinic to Wembley, Richmond, Kingston upon Thames and the Surrey area.
For more details about our clinic's locations and the best ways to reach us by train, bus, car or by foot, please take a look at our dedicated pages.