By Dr. TRACY MOUNTFORD, MBBS MBCAM
The CoolSculpting® procedure could be the answer to enhancing your body shape, eliminating stubborn fat, or simply feeling more comfortable in your clothes again. Find out more about this FDA-approved popular fat freezing treatment and where you find it in Buckinghamshire.
What fat freezing treatment do we offer?
At The Cosmetic Skin Clinic, we offer the only FDA-approved, non-surgical fat reduction (cryolipolysis) treatment that is CoolSculpting. It effectively reduces unwanted stubborn pockets of body fat, with lasting results.
What will happen at my initial CoolSculpting consultation?
At your initial consultation, our practitioner will have a talk with you about what areas are a problem. They will assess the body areas you want to target and their suitability to be treated with CoolSculpting. Our expert practitioners will create a bespoke treatment that is centred on achieving results you want.
What will happen on treatment day?
On the day of your treatment, you will be advised to wear comfortable or loose clothing for your comfort. Once you are settled in, our practitioner will apply a gel pad to the treatment area. This is to protect your skin. The CoolSculpting applicator is carefully placed on the gel pad area and once initiated, will deliver a vacuum pressure and then a cooling sensation to the target fat area. At first, you will feel a cold and tingling sensation, but this area will soon become numb.  You won't feel anything for the remaining treatment time.
The vacuum pressure and size applicator mean stubborn fat bulges are targeted and with CoolSculpting technology fat cells are cooled and then destroyed. After the procedure, the practitioner will remove the applicator from the area and will perform an after-treatment massage. This lymphatic style massage may feel temporarily slightly uncomfortable, but it is vital we massage it to stimulate blood flow which will speed up and encourage great results.
What types of CoolSculpting do we offer?
At The Cosmetic Skin Clinic, we are the No1 CoolSculpting clinic in the UK who have performed over 50,000 fat freezing treatments for a good reason. We stay tuned to what our patients need and offer a variety of applicator options, as we champion that "one size does not fit all".
To cater for area size or even number of areas, we offer the below state-of-the-art applicators:
DualSculpting – we offer two machines to simultaneously perform two CoolSculpting treatments.
CoolSculpting Mini – it is easy to deduce from the name, the CoolSculpting Mini targets smaller areas. It has been specifically designed to precisely and safely target fat in the chin area.
CoolSculpting Elite – as a 2 in 1 that can save your time, is an enhanced dual applicator. These are 18% bigger than the original applicators. With a larger surface area, it improves the cooling distribution during treatment.
CoolAdvantage – With CoolAdvantage, our expert team can dually sculpt two areas in an average of 35 minutes, making CoolSculpting more efficient and comfortable.
CoolAdvantage Petite – In addition to targeting fat pockets in the upper arm, CoolAdvantage Petite can be used to target fat pockets in other smaller areas. A well rounded and natural shape is created by the two interchangeable contours that are designed to safely and effectively treat the unique shape of the upper arms.
The advantages of CoolSculpting at The Cosmetic Skin Clinic in Bucks is extensive, from offering a variety of applicator options that make your visit more comfortable, effective and efficient, to our championed fat freezing experience and our practitioners expertise. With CoolSculpting, we can offer our patients long-lasting body fat reduction without downtime that is associated with surgical treatments.
CoolSculpting areas we treat
Most areas of the body can be sculpted and reshaped with CoolSculpting®, including:
In our Bucks clinic the most popular CoolSculpting fat removal areas are the abdomen, thighs, love handles, arms and chins.
CoolSculpting before and after photos
See our Buckinghamshire CoolSculpting patients before and after photos: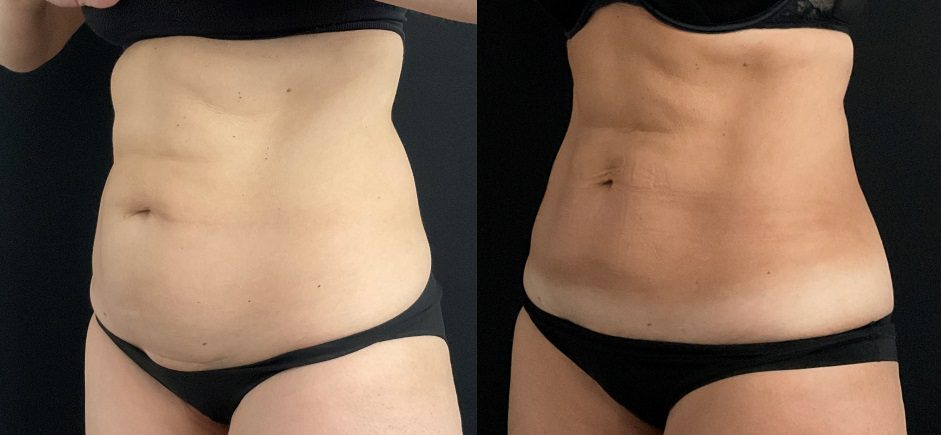 Fat freezing to the Abdomen and Flanks, Hips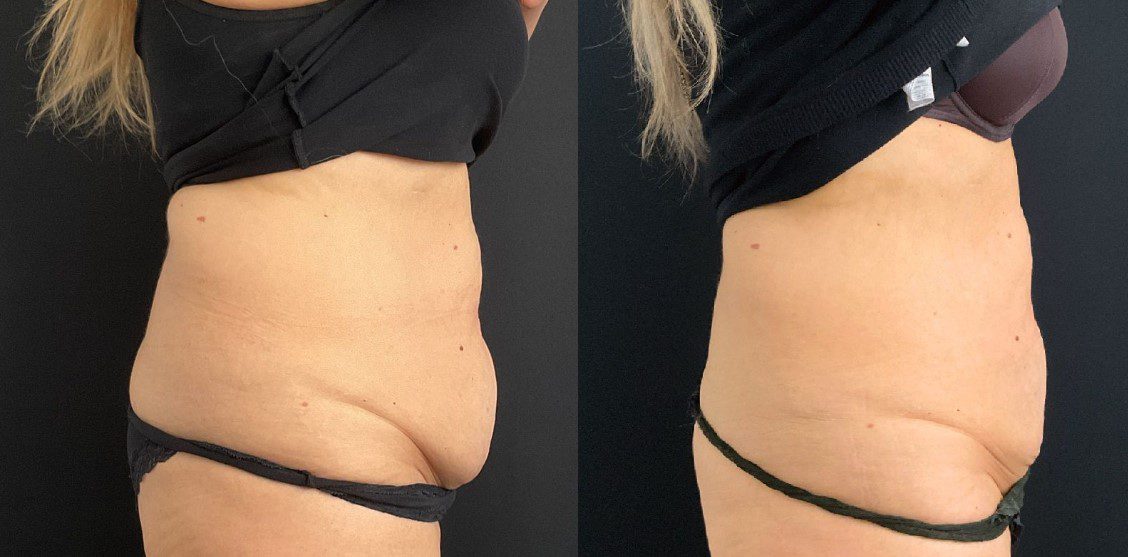 Fat removal targeting Belly fat, Tummy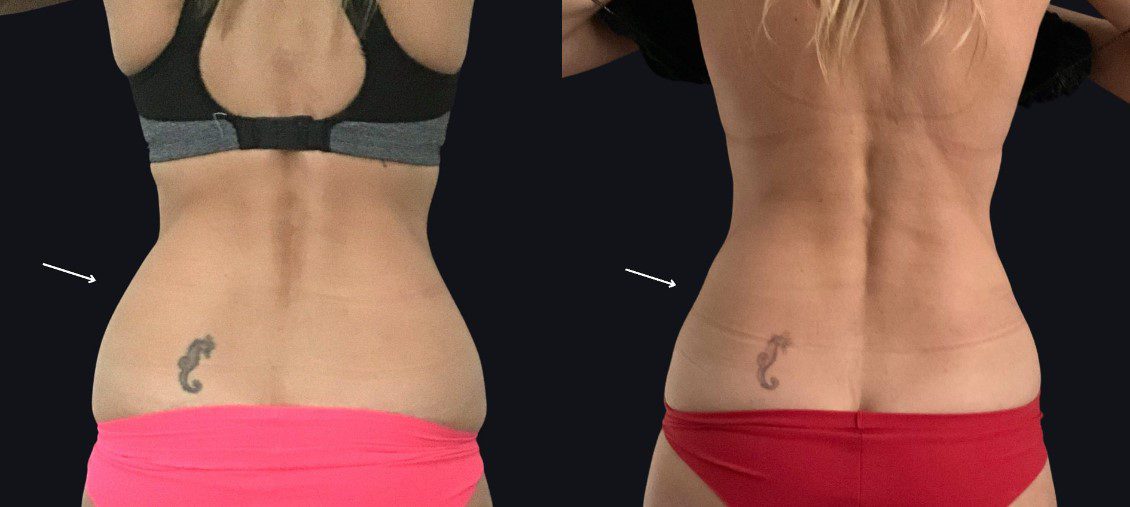 Fat Freezing Love Handles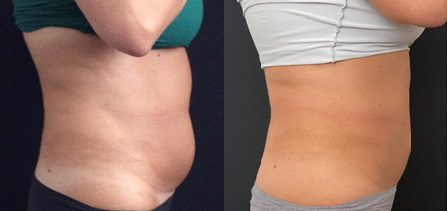 Fat removal to the Tummy, Flanks and Waist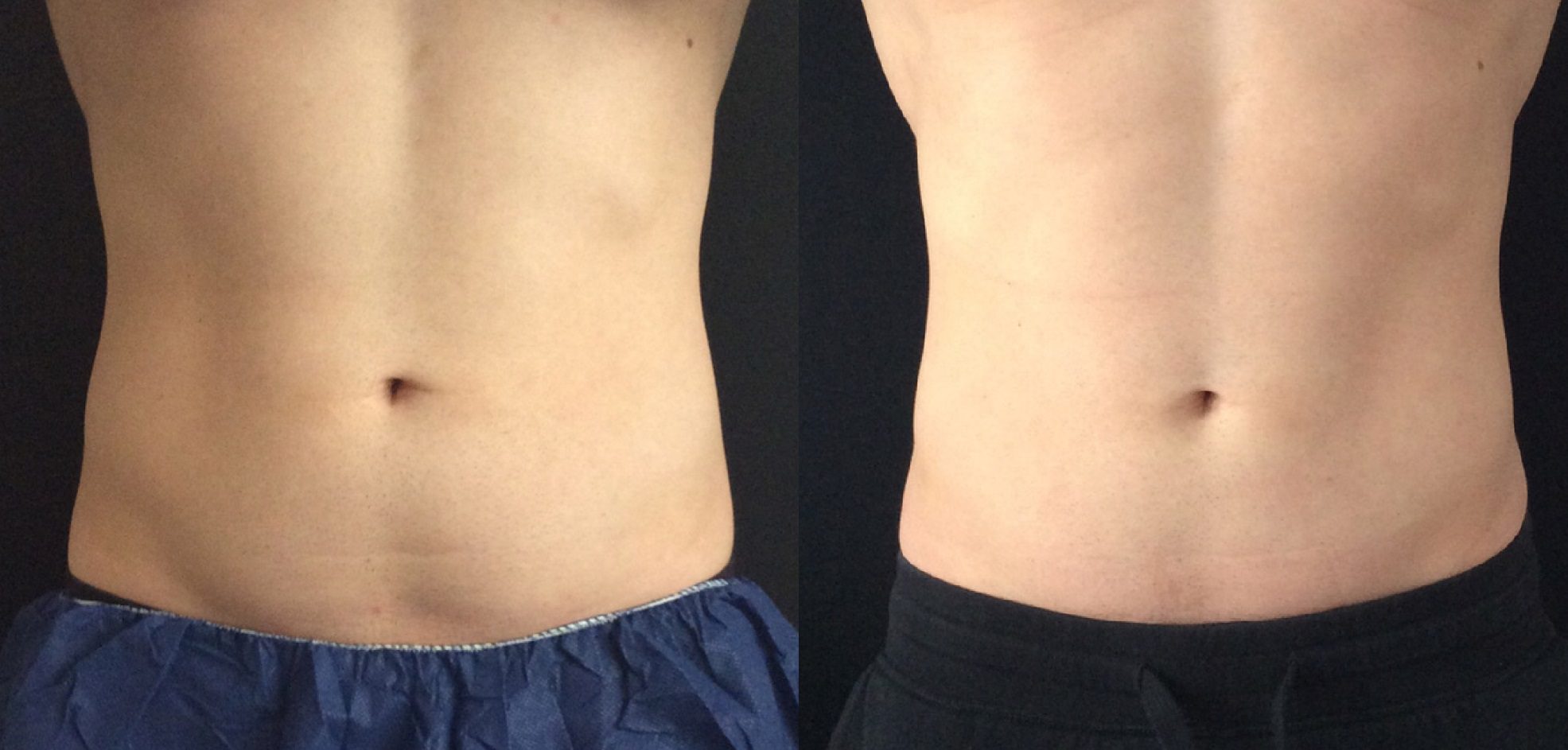 Fat freezing to the Abdomen
Read about our patient couple, Ryan and Stacy and their CoolSculpting experience? Both Stacy and Ryan wanted to body sculpt their love handles and stomach.
Why choose The Cosmetic Skin Clinic with your fat freezing journey?
Our clinic was established in 1999, and our CoolSculpting practitioners have extensive experience, ensuring outstanding results. The Cosmetic Skin Clinic CoolSculpting practitioners are among the best and experienced in the country, with over 50,000 treatments to date under their belt. Each body contouring package is tailored to meet the needs of our patients, as one size does not fit all.
How to get to our Buckinghamshire CoolSculpting clinic
You can find our Stoke Poges, Buckinghamshire CoolSculpting clinic at: 84 Rogers Lane, Stoke Poges, SL2 4LF
Our clinic can easily be reached from the following surround boroughs: Windsor, Gerrards Cross, Ascot, Marlow, Beaconsfield, Chalfont St Giles, Amersham, Aylesbury and further afield.