By Dr. TRACY MOUNTFORD, MBBS MBCAM
When it comes to cosmetic procedures, it is always important to know what to expect.
Now there are more cosmetic options available than ever before, and with more options trending than in previous cosmetic treatment history, it can feel a bit overwhelming to research each and every one of them to choose the perfect procedure for yourself.
But, regardless of what is the most popular trend, or is the most in-demand treatment amongst celebrities, it is almost certain that the most prevalent procedures will all focus on the same thing, to reduce the appearance of wrinkles and to give the skin a smoother, plumper, fuller look.
Is it possible to achieve this without undertaking a long and costly procedure?
Yes, it is! Non-surgical options are increasing in popularity, due to their cost, accessibility and of course, their striking results. If you want to refresh the appearance of your skin, the easiest way to do so is with a non-surgical facelift in Buckinghamshire.
At The Cosmetic Skin Clinic, we will always provide you with the highest standard of care during your non-surgical facelift in Buckinghamshire, and ensure that you are always completely aware of every part of the process. We will endeavour to answer all of your questions in jargon-free language, so you will have a clearer idea of what this treatment entails.
But, to save some time, what are the most common questions that our team is asked about non-surgical facelifts in Buckinghamshire?
What treatments are used in this process?
Our team at The Cosmetic Skin Clinic is able to customise your facelift to your specific requirements, so simply put, we will use one or a few treatments that can be adopted to refresh your appearance.
Depending on your bespoke treatment plan, our team may use one or a combination of Botox, dermal fillers, Profhilo, Thermage, Ultherapy, collagen stimulators or thread lifting:
Botox and dermal fillers
Anti-wrinkle injections can work to lift the face when combined with dermal fillers. The smooth out wrinkle pockets of skin by relaxing the muscles, resulting in firmer-looking skin that has more structure to it. Dermal fillers add lost volume back to the skin, so when we combine the approaches together, we can lift and replenish the skin in a range of different areas to achieve a visible lift without surgery.
Ultherapy
Ultherapy is one of the leading skin lifting and tightening treatments, loved by celebrity fans including Tess Daly. It lifts the skin around the face using advanced ultrasound technology which naturally reboots collagen stores deep inside the skin.
Profhilo
Profhilo is an injectable hyaluronic acid treatment that is one of the most intense on the market. Thanks to its specialised formulation, it stimulates the natural renewal of collagen and elastin to generate a hydrating, tightening and smoothing effect. The great thing about Profhilo is that it can be used across different areas including the hands, neck and knees.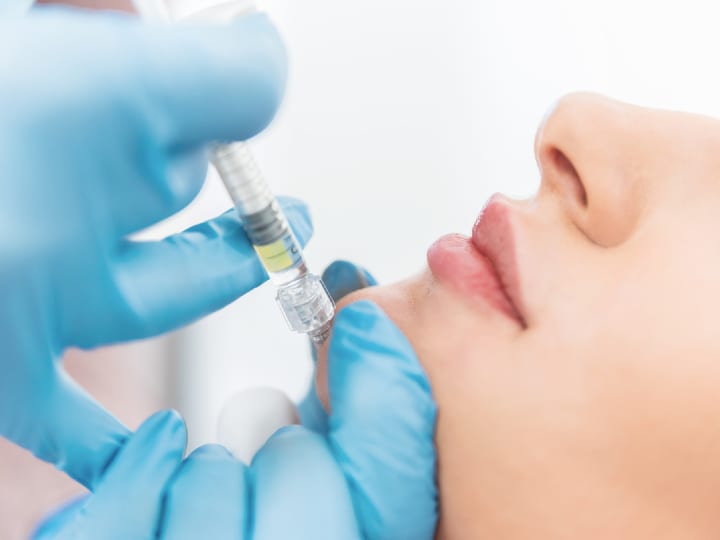 Is it suitable for everyone?
As long as you are over the age of 18, you can undertake this cosmetic option of a non-surgical facelift. Though non-surgical facelift is more common for a patient in their late 40's upwards.
There is no upper limit on age in relation to this treatment, so whether you are 48 or 78, our team will be happy to rejuvenate your skin's appearance. This is something open to most age ranges.
Can it be completed in one session?
The number of sessions required to complete the lift will depend on factors, such as how you want the finished result to look and how deeply set your wrinkles are. This is also what will guide us to the decision as to which treatments will be used
What is the recovery time?
As mentioned earlier, one of the reasons that non-surgical options are so popular is because they have no downtime!
No anaesthetic will be required and so, once our team has finished the treatment, you can get on with your day.
How soon will I see the results?
This will depend on which treatments were chosen; some options, such as the dermal fillers, will offer an almost instantaneous visual difference to the smoothness of your skin. However, other options that our team may choose, such as Botox, may take a few days to work in relaxing the muscles. The Ultherapy treatment, which rejuvenates a patient's own natural collagen stores using ultrasound technology, achieves lifted and firmer skin at about 3 months after the treatment, so takes a little while longer than others, but the final results are often impressive.
This has been highlighted recently by the much-loved TV personality and Strictly Come Dancing presenter Tess Daly, who has used the treatment to maintain and enhance her naturally beautiful face. Read more about Tess Daly's Ultherapy treatment journey in our dedicated blog post, or her interview in The Telegraph.