By Dr. TRACY MOUNTFORD, MBBS MBCAM
CoolSculpting at The Cosmetic Skin Clinic – over 50,000 treatments performed to date
When it comes to body image, many men can also be affected by negative stereotypes; 'dad bod' and 'man boobs' commonly known as 'moobs', are just some of the comments made about men and their bodies. While it is certainly considered that more women seek out non-invasive cosmetic treatments to tackle fat, the same options are open to men who may be struggling with certain areas of stubborn fat that just won't move. Men are welcome at The Cosmetic Skin Clinic for CoolSculpting in London for those looking to achieve a healthy body image by restructuring their frame.
Autumn Packages are Available. Enquire Today.
CoolSculpting Man Boobs
Aesthetically speaking many men prefer to have well-defined pecs and if you are one of them, then training those muscles will get the desired result. However, what if you're suffering from a case of man boobs? Muscles are forming and growing, but there is still a layer of fat covering them.
Scientifically speaking, 'man-boobs' or gynecomastia is an official medical condition that not only affects the fatty tissue of the male chest area, but also the glandular tissue in the area. This is something that needs to be treated by a doctor. However, pseudo gynecomastia is when there is only a proliferation of the fatty tissue and the glandular tissue remains normal. Usually, this is the case when someone has gained excess weight due to poor diet choices, but it can be treated with CoolSculpting in London.
CoolSculpting Dad Bod
Does that jiggly tummy and your love handles get in the way of you fitting into your best pair of jeans? Want to get a headstart on sculpting a six-pack worthy of the beach? You may want to consider getting a little contouring done on your trunk, not only for aesthetic purposes but for health reasons too.
Carrying too much weight around the belly can slow the production of testosterone in your body, and while CoolSculpting attacks subcutaneous fat, you need to be taking care of the visceral fat you may have accumulated. CoolSculpting in London will help you define the aesthetics of your appearance while you take better care of your health.
Target stubborn fat areas with CoolSculpting 
How many of you have been doing the chest press for months or endless crunches and are still struggling with excess fat? While men typically need less body fat than women and statistically carry less of it when at an ideal BMI, body fat is still subject to your diet and habits. Getting into the right habits like healthy eating and regular exercise will help you get closer to your goal weight, whilst CoolSculpting, over time ,continues to get rid of the unwanted body fat to help you to achieve these goals.
By controlled cooling of the fatty area, in a scientific process called cryolipolysis, the fat cells are frozen, making them no longer a viable energy source for the body, your body then begins to move the fat from the area and process it through the liver in order to expel it from your body.
Areas of the body that can be treated with CoolSculpting include:
Here are some amazing CoolSculpting Fat Freezing before and after results achieved for our patients. To see more, please explore our CoolSculpting before and after Gallery page. To learn more about Benefits of CoolSculpting for men, take a look at our comprehensive blog. If you would like to book a consultation with one of our expert CoolSculpting practitioners, please call our clinics in London and Buckinghamshire, on 0330 057 2965.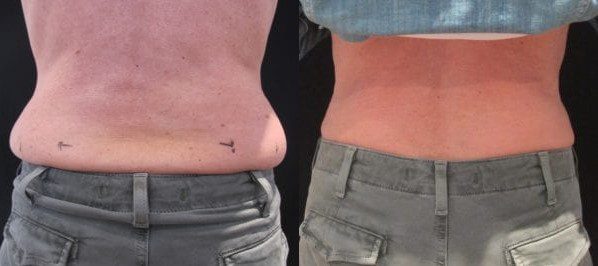 How to find our CoolSculpting Clinics in London and Buckinghamshire
The Cosmetic Skin Clinic in London is near to Harley Street, Oxford Circus, Bond Street and Baker Street tube stations. Nearby trains stations: Paddington and Kings Cross St Pancras Stations
The Cosmetic Skin Clinic in Buckinghamshire is located in Stoke Poges and it is close to Gerrards Cross – Chiltern Railway, Slough's – First Great Western station.  If you're travelling via the M25, M4, M40 or the A40 roads our clinic is easy to reach from Wembley, Kingston upon Thames, Richmond, and Surrey.