Testimonial of the month!
This is Linda, a patient of The Cosmetic Skin Clinic who is so thrilled with her non-surgical face lift of natural cosmetic enhancement (using Botox®, volumisers and dermal fillers). She wanted us to show you how impressive and appealing the end result is without changing her natural features in any way, just enhancing what was already there……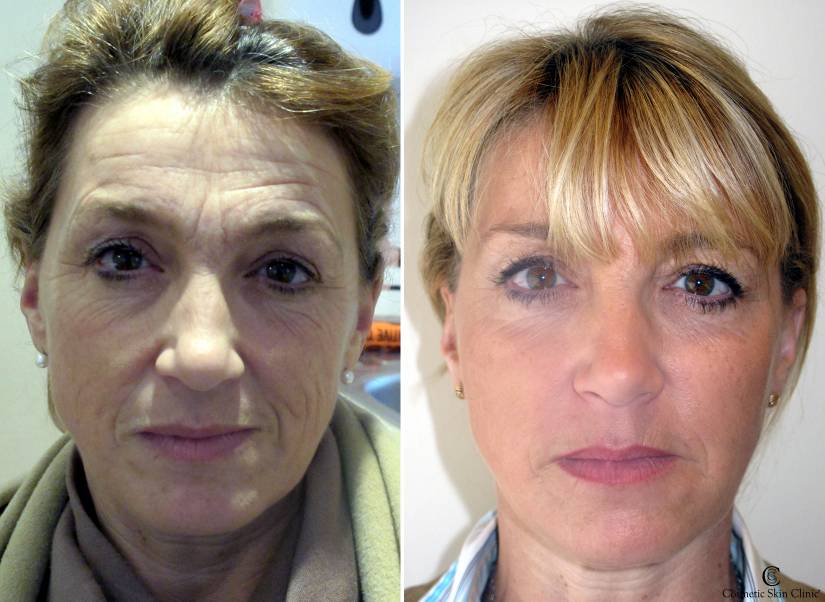 Linda had gradual cosmetic enhancement incorporating:
Baby Botox® to the crows feet and brow area.
Juvederm® Voluma® to the temples, cheeks and naso labial folds
Juvederm® Ultra® to soften and smooth the area around the mouth
Linda says….
"I am 43 years old and I cannot begin to describe how I felt when I heard that – each time I would think "well, I am not tired, I feel fine" but I simply couldn't hide what was on the surface and what people saw when they looked at me. Drawn cheeks and hollow eyes, when I looked in the mirror I saw a woman 20 years my senior – the reflection always shocked me.
After much investigation on the Internet it was a very lucky day when I found The Cosmetic Skin Clinic website.  I was impressed by the breadth of testimonials from famous and not so famous.  I gave the clinic a call and I am so glad now that I did.
After a lot of thought I booked a consultation appointment with their Snr Aesthetic Practitioner Janine Scott.  At our first meeting Janine held up the mirror and asked me to look into it – I was loathe doing so, and she asked me what I saw.  I replied "an old woman" – she told me she saw someone with "good skin tone and pretty eyes".  I almost broke down there and then.  Janine went through with me what she would recommend – it was going to be a journey and not something to be achieved overnight.
The first step would be baby Botox to the forehead and eyes. Then my next appointment was for a Y lift (cheek enhancement) – the results were amazing immediately.
My journey continues and I am so pleased I can rely on the expertise of Janine and the other members of staff at The Cosmetic Skin Clinic; I cannot recommend them highly enough.
Linda Blay
Dr Tracy Mountford (Founder and Medical Director of The Cosmetic Skin Clinic) says;
"Our ethos is enhancement of natural beauty without altering features, the images above say it all"
For more information on the above treatment options please call 01753 646 660