Silhouette Soft – The Puppet Facelift is here. As seen recently on This Morning, Silhouette Soft is taking the UK by storm. This is a relatively new procedure now widely available in the UK.
Silhouette Soft is a non-surgical facelift which has a double lifting regenerating effect, through the action of reabsorbable sutures with bidirectional cones.
The Silhouette Soft procedure is non-invasive and gives natural yet discreet results.  Silhouette Soft can be used to treat different parts of the face: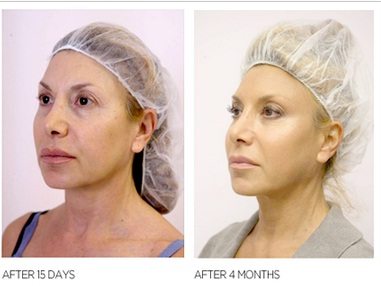 Facial contour –  Is redefined, the cheeks look firmer and the skin regains its firmness.
Lower Jaw – The volume of the cheeks are redefined and the facial contour regains a defined shape
Cheek and cheekbones – The Cheek and cheekbones look fuller and the nose to mouth lines are diminished
Eyebrows – The outer edge of the eyebrow is raised and the eyes are more open
Neck – The skin on the neck regains its tone and looks smoother
How does Silhouette Soft work?
Silhouette Soft combines two effects lifting & regenerating, which is immediate and discreet. It is a result of elevating and compressing tissue at the time of adjusting the suture. After inserting the suture, the practitioner applies delicate pressure on the treated area. The practitioner then reshapes the surface of the skin and makes it visibly smoother.
How long does Silhouette Soft take?
This is a relatively quick procedure and takes about 30 minutes
Can I use Silhouette Soft in conjunction with dermal fillers and botulinum toxin?
Silhouette Soft can be used as a single treatment as well as in combination with dermal fillers & botulinum toxin
Does it hurt?
A small local anaesthetic is used at the point of entry so you shouldn't feel a thing.
Is Silhouette Soft Safe?
Silhouette Soft is a natural component, biocompatible and fully absorbable. The natural substance of SILHOUETTE SOFT® – polylactic acid ( or PLA ) – has been used for many years in various pharmaceutical and medical applications such as suture thread, orthopaedic pins, screws and nails for bone fractures, etc. Polylactic acid is also a main ingredient of Sculptra a collagen stimulating filler that we have performed for many years at The Cosmetic Skin Clinic. (Sculptra is a polylactic acid which occurs naturally and which helps to stimulate the body's own production of collagen).  
Visit our Silhouette Soft, thread lifting treatment page or call our reception team on 01753 646 660