By Dr. TRACY MOUNTFORD, MBBS MBCAM
Every year, there are millions who are looking to reduce frown lines, sagging skin and the appearance of wrinkles and lines. In that quest, the search for a non-surgical cheek lift option is constantly at the top of the list. So, you are not alone.
Non-surgical cheek lifts are also known as non-surgical mid-facelift. The results are just as effective as a surgical option but with more benefits. Let's look into the benefits of different non-surgical cheek lift rejuvenation treatments.

 
Core key benefits of a non-surgical Cheek Lift 
There are many reasons why patients choose to go the non-surgical route over surgical. Before we reveal the top 5 non-surgical cheek lift treatments, here are some non-surgical benefits worth noting: 
Affordability.

Non-surgical or minimally invasive treatments are a fraction of the cost of surgical mid facelifts. 

 

Time efficient

. The majority of non-surgical treatments take less than an hour to complete, compared to surgical treatments.

 

Discomfort levels.

Non-surgical treatments normally have minimal aftercare. Any discomfort during and after treatment is easily manageable with over-the-counter pain medication. In comparison, surgical treatments require more heavy-duty pain medication.

 

Fewer risks

. The risks involved with non-surgical cosmetic treatments are fewer as they don't involve the need for large incisions or general anesthesia.

 

Reduced recovery time.

The recovery time with non-surgical treatments is significantly less than with surgical treatments. You can get back to work or your normal day-to-day activities on the same day. Whereas with certain surgical treatments, the downtime can be extensive, and some can include a hospital stay. 

 
Combining non-surgical cheek lift with other non-surgical treatments 
In addition to a non-surgical cheek lift, a non-surgical and non-invasive treatment can help to create 360 facial balance. Alongside a non-surgical cheek lift, a non-surgical treatment can effectively target: 
Skin tone

 

Wrinkles and deep lines

 

Skin texture

 
Achieving a Cheek Lift: Our Top 5 Treatments 
Cheeks are the scaffolding for the mid-face. Unfortunately, they can be affected by sagging skin and volume loss. By supporting this area, we have the positive domino effect of truly addressing concerns of the mid and lower face too. We've put together the top 5 treatments that could be the answer to giving you that Cheek Lift. We explain how each treatment works for the cheeks, benefits, expected downtime, side effects and time it takes to see results. We cover it all. 
Ultherapy for sagging Cheeks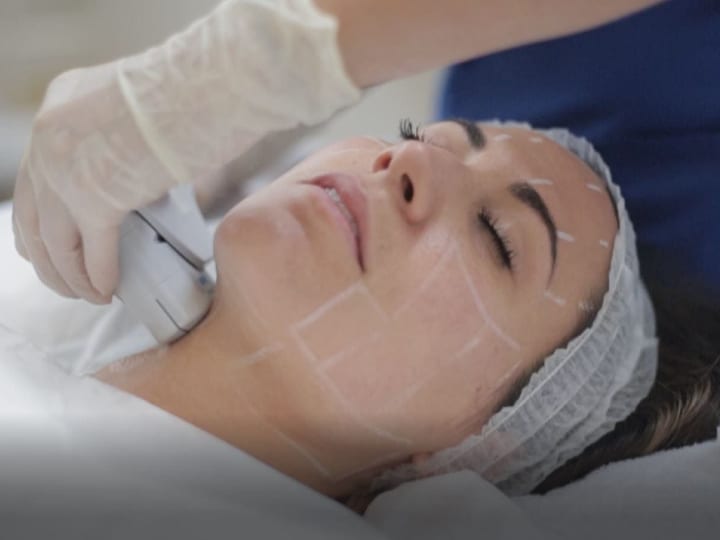 How it works?  
Ultherapy is a very popular FDA-approved non-invasive lifting and tightening technique. It delivers ultrasound heat energy to lift and tighten the skin. Using precise micro-focused ultrasound technology, it reboots the skin repair process to stimulate the natural renewal of collagen and elastin. This results in lifted and tightened skin in the cheek area.  
Ultherapy Benefits  
Under the surface it regenerates natural collagen and elastin stores  

 

On the surface it tightens and firms skin texture 

 

Lifts sagging and drooping skin 

 

Creates a natural, fresh, and rejuvenated appearance 

 
Ultherapy downtime and side effects  
Compared to a surgical facelift, an Ultherapy "facelift" has no downtime. During the treatment, there is no need for a general anaesthetic. You can return to your usual activities directly after treatment.  
Result time  
After the Ultherapy treatment, patients see an initial lift. Further real results become more apparent from 3 months. During this period, new collagen is built which gradually lifts the skin. These great results can last over a year or more.
The Cosmetic Skin Clinic is the UK's No1 Ultherapy treatment provider for 8 consecutive years!
Dermal Filler to target volume loss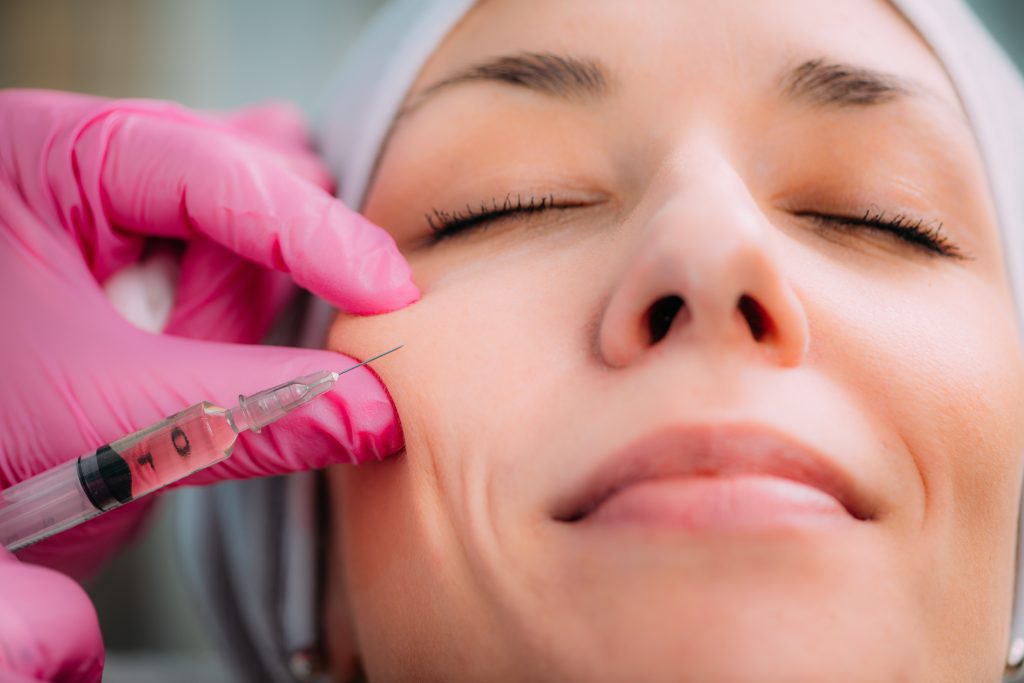 How it works? 
The cheek area can be subject to volume loss. Hyaluronic acid dermal fillers act by immediately restoring nutrients and lifting skin. Pertaining to the cheek, dermal filler will minimise the appearance of drooping skin and sagging. Whilst giving your cheeks a lift, dermal filler also addresses any hollowing or wrinkle formation that has occurred. This could be due to bone, fat, or collagen loss.  
See how our patient Claire's face is transformed after her cheek filler treatment!
How long is the treatment? 
Best part of it all, the treatment only takes roughly 30 minutes! 
Dermal Filler Benefits  
There are many benefits to using Hyaluronic Acid Dermal Fillers such as: 
Their effectiveness in smoothing out wrinkles

 

Are made from Hyaluronic Acid, a natural component of our body and skin

 

Long-lasting results, but not permanent

 

Allergic reactions are unlikely

 

Their effectiveness in rejuvenating facial fillers

 

Biocompatible and safe

 

Minimal patient discomfort and downtime

 

Adverse reactions are uncommon

 
Dermal Filler downtime and side effects  
There is little to no downtime required after your treatment. Normally, you can resume your usual activities right away. After your treatment, there is a small chance of very minor swelling. This can be easily camouflaged with makeup. 
Result time 
Dermal Filler results are immediate. At The Cosmetic Skin Clinic, we use Hyaluronic Acid Dermal Filler which breaks down after around 9 to 18 months.
With some of the most experienced injectors in the country and a focus on natural looking results, you're in good hands at The Cosmetic Skin Clinic.
Morpheus8 for contouring and lifting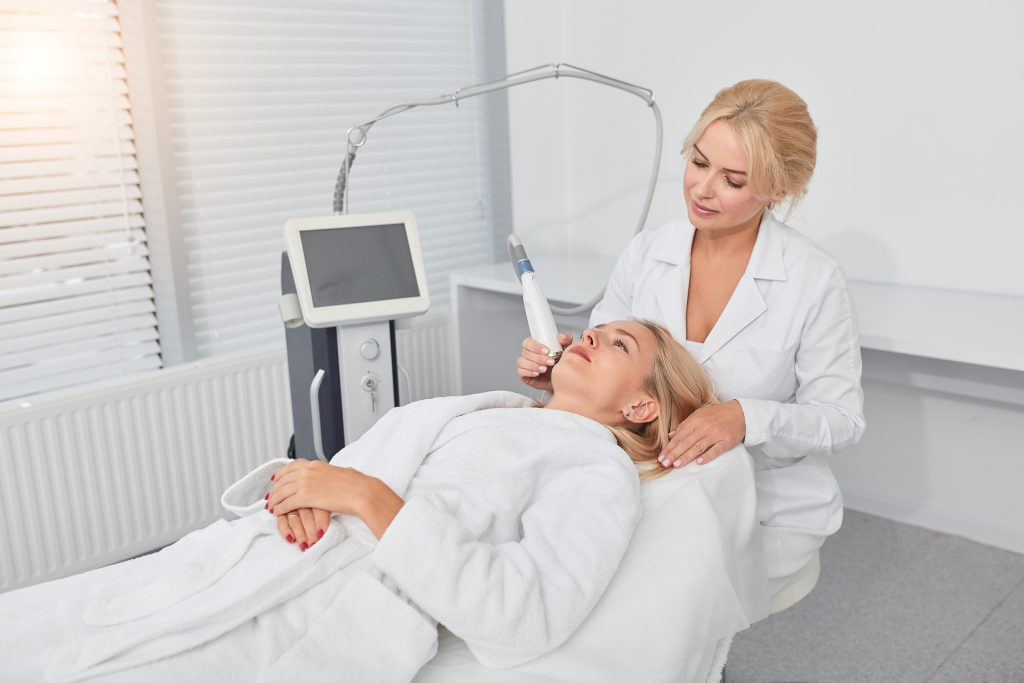 How it works? 
Morpheus8 uses FDA approved fractional technology that combines microneedling and radiofrequency (RF) energy. This works to remodel skin, tissue, and collagen, giving a lifted appearance.  
At the head of the device, there is 24 coated microneedles which stimulate a healing response which increases the elastin and collagen production in our skin. Simultaneously, the radiofrequency energy heats the tissue beneath the skin. This tightens connective fibres and moulds the fat to lift and firm the contours making it an ideal treatment for a cheek lift. 
Morpheus8 Benefits 
As a two in one treatment, Morpheus8 can offer a wide variety of benefits for aesthetic concerns including: 
Effectively contours, lifts, and tightens loose skin on the face and body

 

Reduces the appearance of fine lines and wrinkles

 

Improves and smooths uneven skin texture

 

Reduces skin irregularities

 

Improves skin tone and hyperpigmentation

 

Fades acne scarring

 

Helps to reduce the appearance of stretch marks

 

Promotes collagen production in the underlying dermis layers

 

Thanks to its specialty colour-blind technology, it can be used on darker skin tones (skin type VI)

 

Minimal risk of post-inflammatory hyperpigmentation (PIH) for skin type VI

 
If you're looking to improve skin texture and tone as well as achieve an overall lift, Morpheus8 could be just right for you. Why not watch Linda Lusardi's Morpheus8 experience with our Dr Matthew Jarvie-Thomas?
Morpheus8 downtime and side effects 
The downtime required is minimal. Downtime is dependent on the patient's sensitivity levels and treatment areas sensitivity. Any required downtime must factor in the patient's general standard of health and wellbeing at the starting point. 
Temporary after effect is some potential redness and miniscule pinprick bruising. The Cosmetic Skin Clinic practitioners will recommend you avoid touching the treatment area to avoid aggravating the skin. To avoid risking infection, we also recommend not wearing any make-up on that area for 24 hours. 
Result time 
Within just a few days, visible skin tightening results can be seen. However, more noticeable results tend to take three weeks to fully appear. Over a period of three months after treatment, improvements will continue. 
Morpheus8 results can last up to 12-18 months. Maintenance of these results are dependent on the patient's lifestyle factors (i.e. smoking, drinking, sun exposure). 
Dependent on the patient's end goal for their Morpheus8 results, follow up maintenance sessions may be suggested at month 4 for long term skin tightening results.
Thread Lifts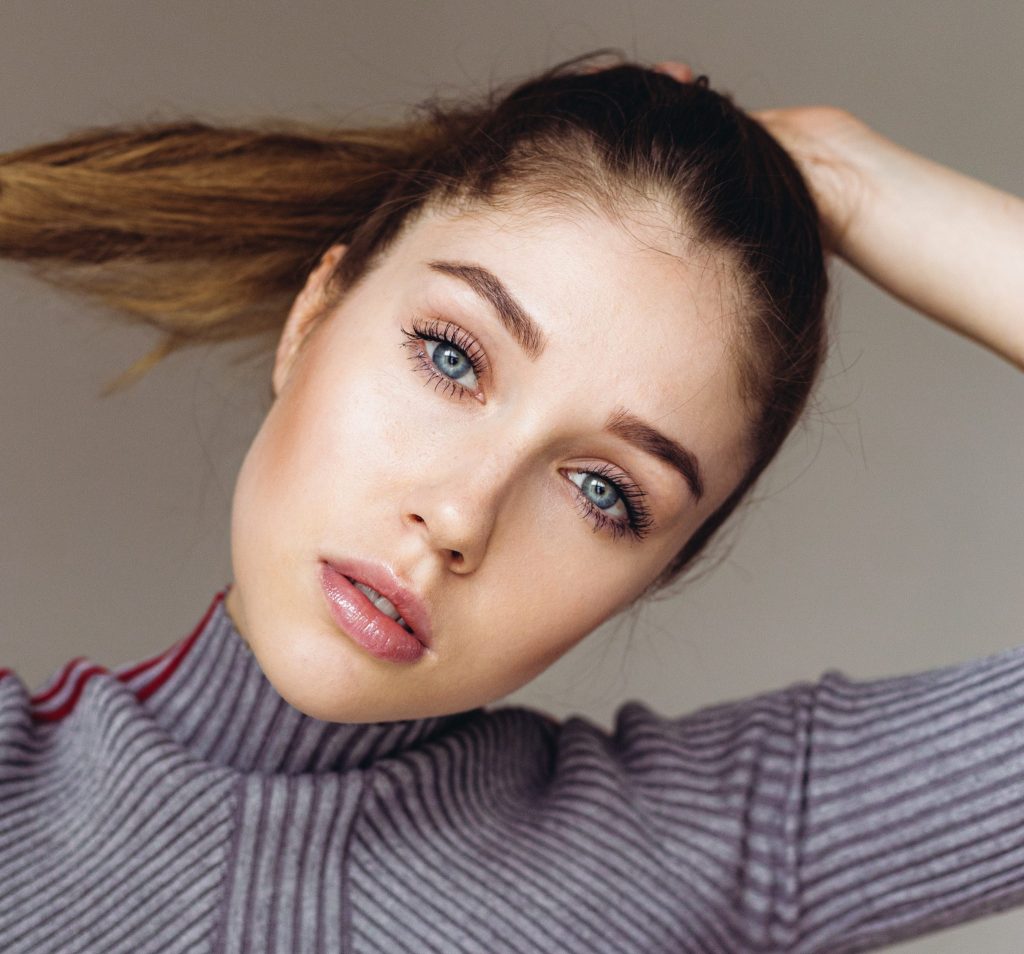 How it works? 
This non-invasive skin tightening procedure will immediately give your cheeks redefined, restored, and volumised results. Silhouette Soft Thread Lifts are great for refreshing the triangle of youth (defined jawlines, high cheekbones, and full cheeks), making it the go to treatment for an impressive cheek lift, without the surgery downtime. 
The Silhouette Soft Thread Lift non-invasively repositions sagging fat by pulling it back into place. With re-absorbable suture threads that have re-absorbable bidirectional cones, we can lift and contour the cheeks. Gently threaded through the fat layer, re-absorbable suture threads (PLLA) add definition and lift the cheeks. 
How long is the treatment? 
The treatment takes roughly 30–45 minutes. 
Thread Lift Benefits 
Thread lifts can give the appearance of fuller and more defined cheeks. Further benefits of a thread lift treatment include the below: 
Stimulates natural collagen production

 
Eliminates wrinkles, giving an overall smoother appearance and youthful-looking skin

 

Immediate but natural lift effect

 

Double effect for skin by lifting and regenerating facial skin

 

Natural and gradual results

 

Fast recovery 

 

Immediate and long-lasting results

 

Progressive volumising action continues over 18 months

 
Thread Lift downtime and side effects 
There is no downtime because this is a non-invasive treatment with no necessary incisions. 
After your Thread Lift treatment, there can be side effects of a small amount of swelling, but this should subside by day two. Other common side effects include redness and bruising. At The Cosmetic Skin Clinic, we suggest the following aftercare tips: 
Lightly apply ice to the treated area to reduce swelling 

 

Do not wear makeup for the first 12 hours after the procedure 

 

You can apply a gentle antibiotic cream to aid your skins healing process 

 

Make sure you attend your follow up appointment after your treatment 

 

Avoid facials in the first 10 days after your treatment 

 

Avoid intense workouts 

 

Do not sleep on your side or your stomach after the treatment 

 

Avoiding alcohol and smoking in the first 14 days since treatment

 
Result time 
With Thread Lifts, there is an immediate but natural lift effect. It progressively continues to restore a shapeliness to your cheeks for 18-24 months after treatment. This length of time is dependent on your age and skin laxity. 
"Dr Pamela Benito's superb Silhouette Soft thread lifts are rife in south-west London" Tatler
Thermage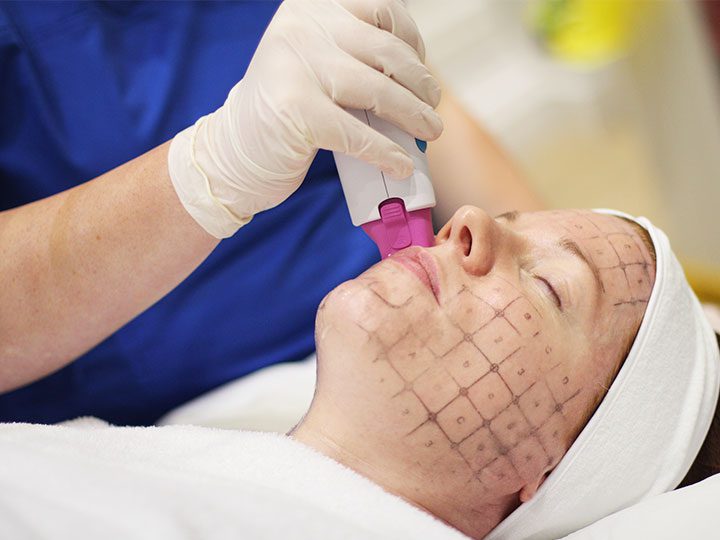 How it works? 
Thermage can lift and tighten the skin on the cheeks. Using highly advanced radiofrequency technology, Thermage heats the deep, collagen rich layers of your skin. What does this do? It remodels the existing collagen and stimulates the production of new collagen. This has the effect of improving the smoothness and texture of the skin. It lifts sagging skin on the cheek giving you a lift. 
To protect the surface layers of skin, the treatment starts with a cooling effect. The radiofrequency energy penetrates and heats the targeted areas to remodel the collagen. Then there is a final delivery of cryogen to cool the epidermis down. 
Thermage Benefits 
Thermage treatment has multiple benefits including: 
Lifts sagging skin

 

Tightens uneven skin

 

Create tighter, smoother looking skin

 

Stimulates collagen production

 

Tightens and recontours the skin using RF energy

 

Soften the appearance of fine lines and wrinkles, and forehead lines

 

Reduce the appearance of jowls, scowl lines and deep-set pores

 

Minimise the appearance of crow's feet

 

Reduce acne scars

 

Contour the shape of the jawline

 
Thermage downtime and side effects 
A great aspect of Thermage treatment is there is no downtime. You can resume your normal activities that same day. In terms of temporary side effects, at most you may experience minor redness after the treatment, but this typically subsides within 24 hours. 
Result time 
Some patient's experience immediate visible results and these improve over time as the body goes through the natural collagen rebuilding process. For the majority of patients, following a single treatment session, measurable contouring and tightening results gradually appear over a period of 2-6 months. 
Cheek Lift in London and Bucks at The Cosmetic Skin Clinic
At The Cosmetic Skin Clinic, we put our patients needs first. With years of experience of treating patients for a Cheek Lift, we will always steer you in the right direction to get the best results with the best treatment for you. Your Cheek treatment will be carried out by our expertly qualified doctors and nurse practitioners in a safe medical environment that is Care Quality Commission registered. 
From tightening, to smoothing over, to lifting and plumping, our expert practitioners are here for you. With our variety of treatments, we can address your Cheek concerns, all done at the hands of experienced and advanced aesthetic doctors.  
Our clinic team are trained to a high level and can get the perfect cheek lift treatment for your concerns. The Cosmetic Skin Clinic team are ready to take you through every step. From consultation, treatment day, aftercare and check-up, we are with you. Start your cheek lift treatment journey and book your consultation today via our enquiry form. Alternatively, why not give our London or Buckinghamshire clinic a call on 0333 920 1505.