By Dr. TRACY MOUNTFORD, MBBS MBCAM
Thermage is a non-surgical treatment that smooths and tightens the skin while restoring its youthful luminosity.
If you need a treatment that brings back rejuvenation in a subtle but transformational way, then Thermage is a leader in the field. Here, we demonstrate the beautifying benefits of the treatment in our Thermage before and after pictures, while exploring how you can maximise results.
Thanks to its advanced radiofrequency technology, it three-dimensionally contracts and stimulates collagen stores deep within the skin, without any surgery, needles or downtime. After one short treatment, the thermal effects of the radiofrequency technology boost collagen production deep within the skin's dermis.
By empowering your body to renew its own collagen stores, it generates a natural and long-lasting lifting and plumping effect that can last for years after. This long-lasting, natural result has made it an anti-ageing choice for a host of celebrities and influencers alike.
Maintaining your Thermage Results
Unlike many other treatments, Thermage has long-lasting results. This is thanks to its unique ability to stimulate natural collagen production in the skin over long periods of time. Results vary from patient to patient. But with the right maintenance regime, you can maximise results for as long as possible:
Maintain a healthy lifestyle: eating a nutrient-rich diet filled with vitamin C and amino acid sources helps skin to maintain collagen levels. Individuals should also avoid excessive nicotine and alcohol consumption, which both inhibit the body's ability to renew skin cells. Reducing your sun exposure will also protect your skin from external UV damage.
Apply medical-grade collagen-boosting skincare products: High-quality topical skincare products can also help to boost continued collagen production when applied regularly.
Embrace top-up or combination treatments: Combining Thermage with other skin rejuvenating treatments like Profhilo or dermal fillers can help boost your skin's vitality. Patients can also top-up their Thermage treatments each year to achieve continual skin improvement and consistent results.
Thermage Skin Tightening Results
Thermage stimulates existing collagen stores by safely heating the deeper layers of the skin where collagen is produced. Once the treatment has been applied, some patients notice immediate visible results. As a non-invasive treatment, patients can head straight back to their normal activities without any downtime.
However, most patients experience a gradual and progressive improvement in skin tightness and smoothness as collagen slowly rebuilds. Noticeable improvements typically show after one to six months post-treatment.
Depending on your skin condition and maintenance regime, your single treatment results have the potential to last for a few years or more.
Thermage Skin Tightening Before and After
Discover how Thermage has contoured and tightened the skin of our patients in our Thermage before and after photos below. Thermage can restore collagen, lift the skin and produce anti-ageing results across multiple areas of the face and body. It is also able to address key skin issues like turkey necks, bingo wings and crepey 'orange peel' skin.
Thermage Before and After Face
Lifting and recontouring the full face: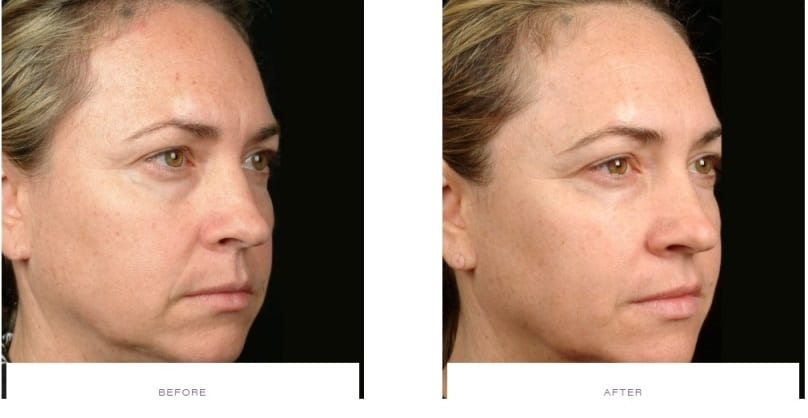 Thermage Arms Before and After
Firming up skin across the triceps and biceps:

Thermage Eyes Before and After
Improving skin elasticity and firmness around the eyes with Thermage Eyes:

Thermage Before and After Cheeks
Firming the cheeks and mid-face: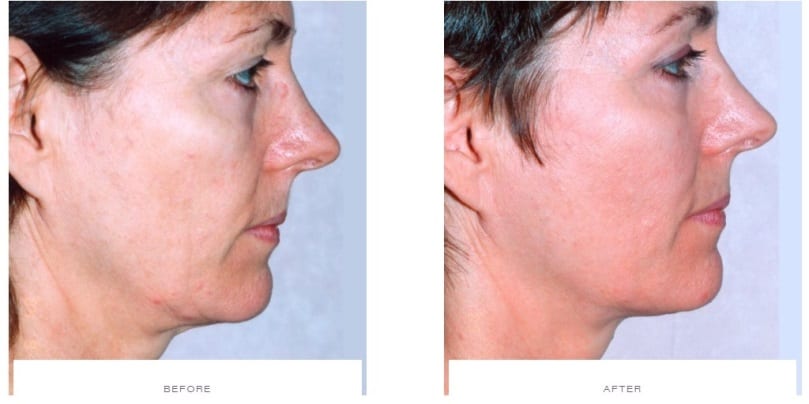 Thermage Before and After Neck
Toning and firming the neck and jawline: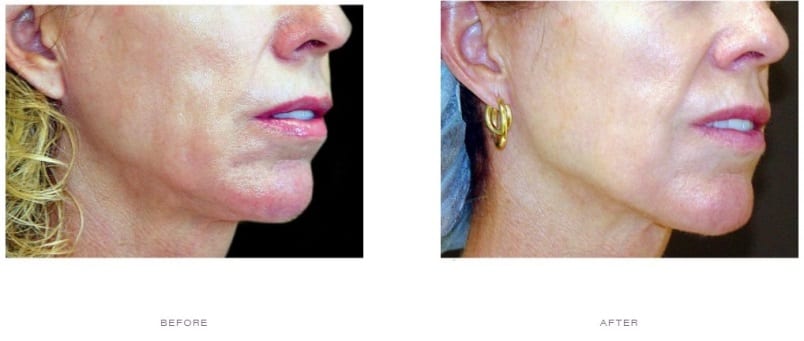 Thermage Skin Tightening Before and After Stomach
Tightening abdominal skin and improving surface texture: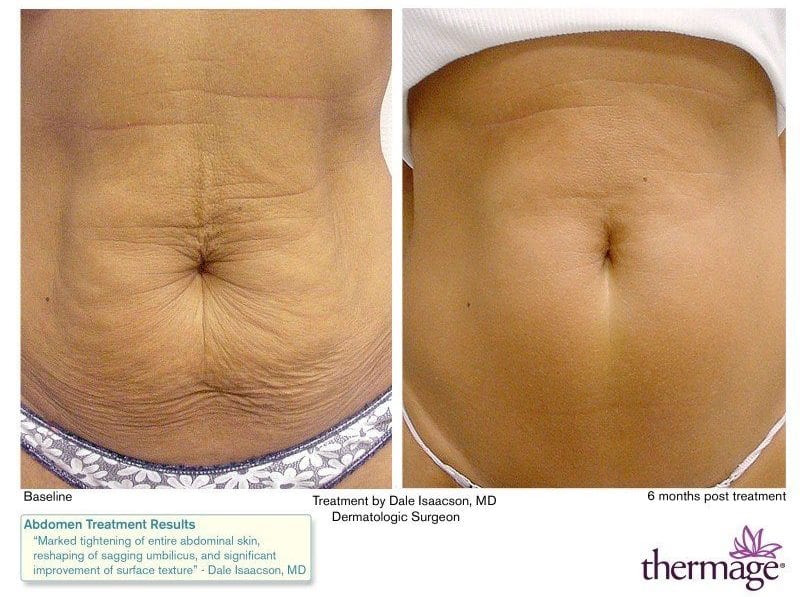 Thermage Reviews
Many of our patients are most impressed by the subtly beautifying effects of Thermage. Rather than creating an over-lifted or overtly dramatic result, Thermage benefits patients by restoring a healthy and radiant look to the skin that captures health and vitality. This is why celebrities like Gwyneth Paltrow have given the Thermage treatment such rave reviews. Dr Mountford explains:
"I think they turn to something like Thermage because it's a very natural look. They've gone from that really overdone enhanced look to a very understated look. Thermage is appealing because it three-dimensionally contracts the collagen in the skin very naturally, causing that lovely, refreshed look. It makes the face more rejuvenated, firmer and lifted, but it doesn't alter the look and I think that is what is so appealing to the celebrity world…" Dr Tracy Mountford
Vanessa, a patient of The Cosmetic Skin Clinic has also championed Thermage's ability to lift loose and sagging skin in a soft but impactful way:
"Before I had it done, I had lots and lots of loose skin, but now my skin is taut, my lines are much finer than they were, and I've been amazed by how my eyebrow line has lifted considerably. I'm really delighted and it's made me feel a lot better." Vanessa, Thermage patient, The Cosmetic Skin Clinic
Thermage Side Effects
During a Thermage treatment, radiofrequency waves heat the deep skin tissues, while a cooling effect is delivered as well to protect the skin's surface. A brief cooling effect is felt when the device is applied, which then subsides to a heating sensation and then a cooling sensation after. This process can feel strange for some, but certainly not painful. Most patients return to their normal activities straight after treatment, without any side effects.
Thermage Skin Tightening at The Cosmetic Skin Clinic
The Cosmetic Skin Clinic is one of the most experienced Thermage treatment clinics in the UK. With our 95% patient satisfaction rating and our 5-star Trustpilot score, you will benefit from our leading industry expertise and our unrivalled reputation for high standards.
Learn more about our world-class Thermage treatments by getting in touch with our friendly team today. We can tailor your treatments to enhance areas that you care about most, whether this means hooded eyes, cellulite or dimpling on the stomach or sagging arms. 
To read more about Thermage as well as other available treatments, take a look at our blog where we talk about the best skin tightening treatments.
Book a consultation with our expert team to find out more using our contact form. Alternatively, call our clinics directly on 0330 057 9047 (London and Buckinghamshire).
How to Find Us – Thermage near me
Our London clinic is near Harley Street, located within a short walk from Oxford Circus, Bond Street and Baker Street tube stations. Trains from Paddington and Kings Cross St Pancras Stations are available.
Our Clinic in Bucks is situated in Stoke Poges and it is near to Gerrards Cross – Chiltern Railway, Slough's – First Great Western station. It also very good transport links with M25, M4, M40 and A40 roads, making our clinic very easy to reach from Kingston upon Thames, Wembley, Richmond and the Surrey area.