By Dr. TRACY MOUNTFORD, MBBS MBCAM
The cosmetic industry is constantly expanding and needs to be regulated to ensure safe practice for all patients.
On 1st March 2022, the Government confirmed they intend to introduce licensing for non-surgical cosmetic procedures including Botox and Dermal Filler. 
A proposed amendment to the Health and Care Bill was discussed in parliament and the changes would allow the Secretary of State for Health and Social Care to implement a licencing scheme. The full details of the new proposed scheme are still being discussed and still requires further research and public consultation before being finalised.
What would this license for non-surgical cosmetic procedures mean? 
This license would mean that it will be illegal for providers who are not registered with the Care Quality Commission (CQC) to carry out specific non-surgical cosmetic procedures without a specific licence. This is in the hopes of putting an end to unsafe practices that are putting patients' health and safety at risk. 
Health and Social Care Secretary, Sajid David said: "While most of those in the aesthetics industry follow good practice when it comes to patient safety, far too many people have been left emotionally and physically scarred after botched cosmetic procedures. I am committed to protecting patient safety by making it an offence for someone to perform these cosmetic procedures without a licence." 
What will this licensing scheme cover? 
As part of the licensing scheme, therapists providing non-surgical cosmetic procedures will be required to meet certain standards, including hygiene and safety standards for facilities. 
Certain aspects of the scheme, such as the exact parameters of treatments covered by it, are yet to be determined. However, a government statement has revealed that it will target "those cosmetic procedures which, if improperly performed, have the potential to cause harm, such as Botox and fillers." 
 Is this licensing scheme the only current safeguarding regulation being worked on? 
As well as the new licensing scheme, the Medicines and Healthcare products Regulatory Agency (MHRA) is exploring the possibility of bringing certain devices, such as dermal fillers, under the scope of medical device regulation. 
What does the licensing scheme mean for aesthetic clinics/ businesses? 
CQC registered providers would not be subject to the licensing scheme. However, it is currently unclear how aesthetic treatments will be regulated in these environments. 
Practitioners who offer aesthetic treatments including Botox and Dermal Filler and are not registered with CQC or subject to their regulation, will be required to have a license. As the proposed legislation makes it an offence to administer injectable treatments without one. These practitioners will need to provide evidence that they now meet the new required standard of education training and competence. 
What other standards will the licensing scheme include? 
With this licensing scheme, practitioners will need to make sure that they are able to provide evidence that they meet the new set of required standards including: 
Education and training

 

Premises and infection control

 

Use and supply of products

 

Advertising and social media

 

Insurance and the publication of accurate information about the benefits and risks of treatments

 
What about training requirements? 
Under the licensing scheme, all training requirements will be in accordance with the Health Education England framework.1  
This licensing scheme targets practitioners administering Botox and/or dermal filler and they will be required to have a level 7 qualification.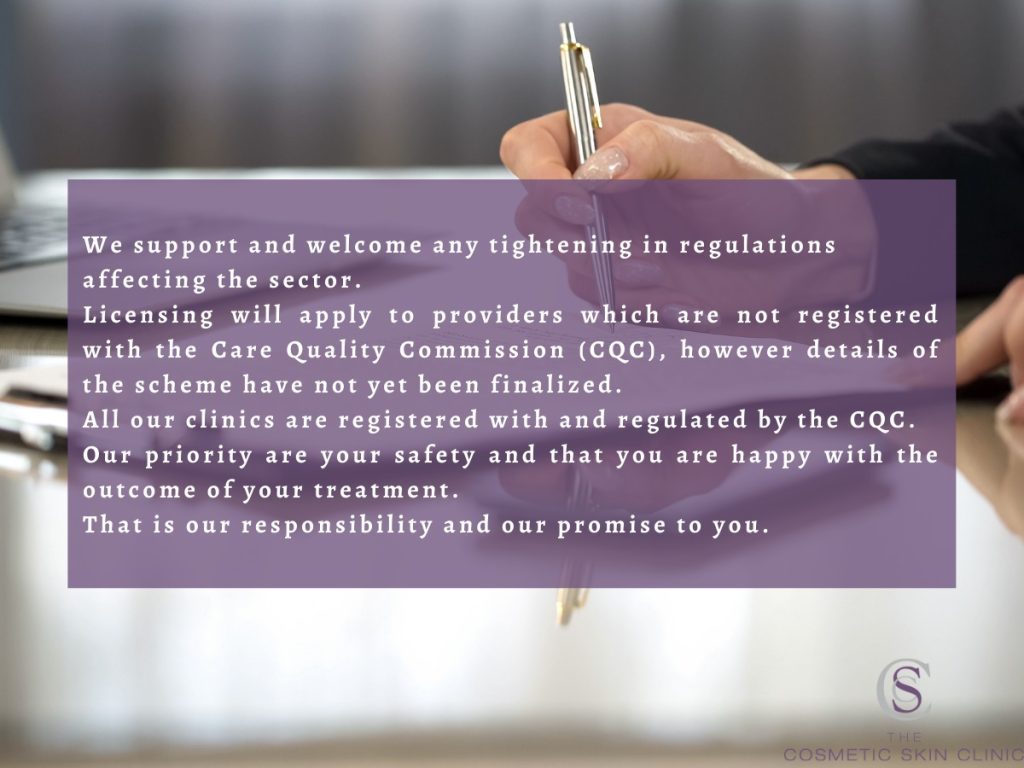 The Cosmetic Skin Clinic 
At The Cosmetic Skin Clinic, both our London and Buckinghamshire clinics are CQC registered, and our team of expert doctors and nurses are all highly qualified and proficient in injectable treatments. The new licensing scheme is a welcome step, and we hope that it will ensure safe and quality aesthetic treatments for all patients in the future. The Cosmetic Skin Clinic supports steps that continue to make the aesthetic industry safer for all.  
"On 1st March 2022 the Government confirmed its intention to introduce licensing for non-surgical cosmetic procedures – including Botulinum Injections and Fillers. We support and welcome any tightening in regulations affecting the sector.
Licensing will apply to providers which are not registered with the Care Quality Commission (CQC); however, details of the scheme have not yet been finalized. All our clinics are registered with and regulated by the CQC.
Our priority are your safety and that you are happy with the outcome of your treatment. That is our responsibility and our promise to you. "
– Valentina Petrone, Group Managing Director The Private Clinic Group, The Cosmetic Skin Clinic is part of The Private Clinic Group.
To find out more about the new licensing regime for non-surgical cosmetic procedures click here.