By Dr. TRACY MOUNTFORD, MBBS MBCAM
Silhouette Soft Thread Lift treatment is the perfect answer for facial rejuvenation needs. Whilst allowing your face to retain full mobility, it also, when done by an expert like The Cosmetic Skin Clinic's Dr Pamela Benito, can avoid that look of over-tight and had 'work' done look.
Dr Pamela Benito says: "Thread lifting with Silhouette Soft sutures is minimally invasive treatment with a dual effect: immediate lifting and deep collagen regeneration. The results? A refreshed, more youthful version of yourself!"
Silhouette Soft Thread Lift treatment results
From the USA, this innovative technology Silhouette Soft has made a positive impact in the aesthetic world. It has a unique double effect of regenerating and lifting facial skin to give gradual and natural results. Patients experience a lifting effect where the treatment area looks redefined and volume added through the body producing its own collagen. Even after you have had your treatment, collagen will continue to be produced.
Benefits of Silhouette Soft Thread Lift
Minimally invasive
Immediate lifting
Stimulates deep collagen regeneration
Gradual and natural results
Lifts and regenerate's facial skin
Eliminates wrinkles for an overall smoother and youthful looking appearance
Fast recovery time
Long lasting results
Continuous collagen production
Silhouette Soft Thread Lift before and after pictures
Disclaimer: Patient experience and results may vary. These are dependent on several factors such as lifestyle, age and medical history.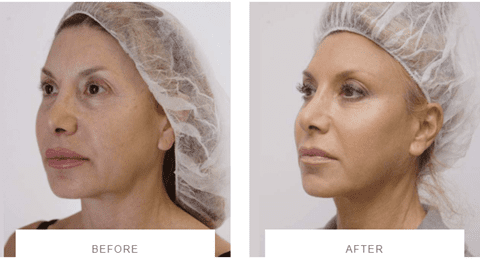 This patient has had Silhouette Soft Thread Lifts to tighten and lift the jawline and the mid-face.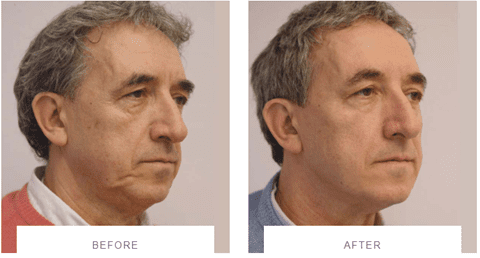 This patient had Silhouette Soft Thread Lifts to tighten and lift the jawline and the mid-face.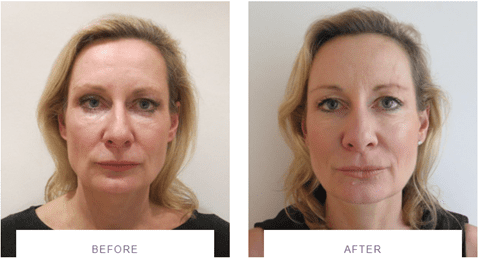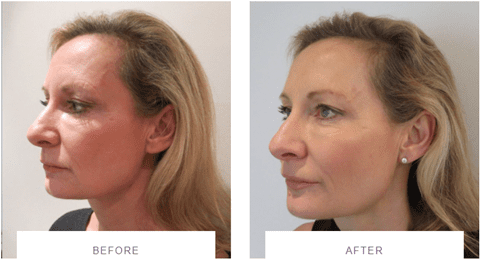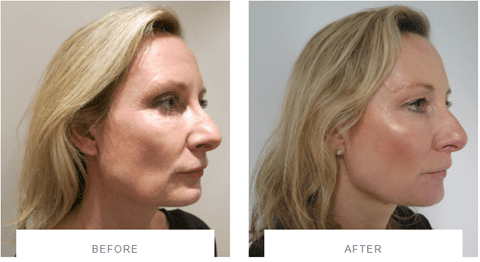 Our patient was treated at The Cosmetic Skin Clinic with Silhouette Soft Thread Lifts to tighten and lift the jawline and the mid-face.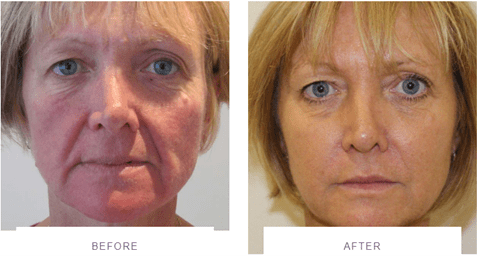 Treated at The Cosmetic Skin Clinic, our patient had Sculptra collagen stimulating treatment in combination with Silhouette Soft Thread Lifting (applied to jawline, mid face).
After Silhouette Soft Thread Lift treatment
After your 30–45-minute treatment, there can be side effects of a bit of swelling, but this should subside by day 2.  The skin will have fully recovered within 7-10 days. Other common side effects can include redness and bruising.
The suture threads are absorbed by the body over a 19–24-month period. As Silhouette Soft Thread Lift is a non-invasive treatment the recovery time is very fast. Some aftercare tips include:
Lightly apply ice to the treated area to reduce swelling
Do not wear makeup for the first 12 hours after the procedure
You can apply a gentle antibiotic cream to aid your skins healing process
Make sure you attend your follow up appointment after your treatment
Avoid facials in the first 10 days after your treatment
Avoid intense workouts
Do not sleep on your side or your stomach after the treatment
Avoiding alcohol and smoking in the first 14 days since treatment
Maintaining your Silhouette Soft Thread Lift results
To maintain your results, many patients ask whether they can have other tweakments to complement and help support the treatment area. The answer is yes. We recommend that after your thread lift has settled, you can finalise your overall look with fillers or Profhilo to enhance your skin quality.
Silhouette Soft Thread reviews
Here's a short snippet of our Silhouette Soft Thread Lift treatment reviews:
5 star
Silhouette soft and lip enhancement
"Extremely happy with the results and the face that friends and family have commented on how well I look without realising I have had any cosmetic treatments. Would thoroughly recommend The Cosmetic Skin Clinic."
Susan Beckwith
5 star
Totally recommended
"I originally found the CSC by researching online… if I was going to try any cosmetic treatments I wanted to make sure that I went to the best!! I've been visiting Tracy Mountford for nearly 3 years now… I have tried Sculptra, Fillers and Thread Lifting. My results are amazing… they look very natural yet have made a real difference to my confidence and the way I feel about myself. I trust the CSC completely and would recommend it to anyone."
Diane
Silhouette Soft Thread Lift near me in London and Bucks
Silhouette Soft can only be performed by a doctor who has been trained and certified on Silhouette Soft sutures. At The Cosmetic Skin Clinic, our practitioners have many years' experience to safely achieve your lifting results. During your consultation, your practitioner will answer your questions so you feel comfortable in the results you can look forward to. From the consultation, through the treatment and follow up check ins, our focus is you. Begin your Thread Lift journey with our experienced practitioners at our CQC registered, multi-award-winning clinic.
Silhouette Soft Thread Lift treatment are available at our London clinic (8 Devonshire Place, London, W1G 6HP) and Stoke Poges clinic (84 Rogers Lane, Stoke Poges, SL2 4LF).
How to find us
Our London Silhouette Thread Lift clinic is easily commutable from the following surrounding areas: Battersea, Hampstead, Notting Hill, Primrose Hill, Regents Park, Soho, South Kensington, St Johns Wood, Victoria, West Brompton, Highgate, Holland Park, Hyde Park, Islington, Bayswater, Marylebone, Mayfair, Westminster, Earls Court, Fitzrovia, Kings Road, Knightsbridge, Fulham, Green Park, Kensington, Belgravia, Chelsea and West End.
The nearest tube stations to our London clinic.
Our Stoke Poges Silhouette Thread Lift clinic is easily commutable from the following surrounding areas: Amersham, Ascot, Marlow, Rickmansworth, Sunningdale, Slough, Thame, Uxbridge, Wallingford, Gerrards Cross, Great Missenden, Haddenham, Harrow, Hayes, Wembley, Wendover, Chalfont St Peter, Chesham, Beaconsfield, Chalfont St Giles, Aylesbury, Little Chalfont, Maidenhead, Chinnor, Chorleywood, Cookham, Cowley, High Wycombe, Kingston upon Thames, Weybridge, Hazelmere, Headington, Oxford, Princes Risborough, Richmond, Henley-on-Thames, Watlington, Windsor and Woking.
Directions to our Stoke Poges, Buckinghamshire clinic.
Book your expert practitioner consultation here or give our London or Stoke Poges, Buckinghamshire clinic a call on 0330 057 2326.