By Dr. TRACY MOUNTFORD, MBBS MBCAM
The Cosmetic Skin Clinic was featured in The Times 'Body & Soul' this weekend, in an article where beauty expert Olivia Falcon founder of The Editors List described her Profhilo® treatment as a "Moisturiser in a jab" and as "the most flattering Instagram filter on your skin". Here, we explain what it is and how it can treat skin laxity.
Profhilo's high-intensity hyaluronic acid
Profhilo® is a new, beneath the skin, hyaluronic acid moisturising treatment which nourishes dermal cells and activates skin receptors to improve and restore firmness of the skin. One of the highest concentrations of hyaluronic acid on the market, Profhilo® not only boosts and hydrates the skin, but also remodels ageing and sagging tissue.
The high molecular weight hyaluronic acid in Profhilo® counteracts skin laxity whilst remodelling the face, resulting in an immediate tightening effect. Here, Dr Tracy Mountford explains the benefits of the treatment and how it directly targets the skin laxity issue:
Profhilo treatment areas
Profhilo® can be used on numerous areas such as the face, neck, hands and chest. We can even use it on the inner arms and inner thighs. By precisely injecting ultra-pure hyaluronic acid, Profhilo® acts in a way that filler may not, stimulating collagen and elastin and attracting water in the deeper layers of the skin. Results include the improvement of the skin's texture, firmness and radiance in addition to the wrinkle-smoothing results.
Ideal Profhilo Patients
Profhilo® is a versatile dermal treatment offering benefits to patients of all ages. It is the perfect choice for patients who are looking for a youth boost without dermal fillers or muscle relaxants. It's also a great 'first step' treatment when used in combination with additional aesthetic treatments. It acts directly on skin laxity and can also improve uneven skin tone, pores and dull pigmented skin as part of an overall bespoke skin programme.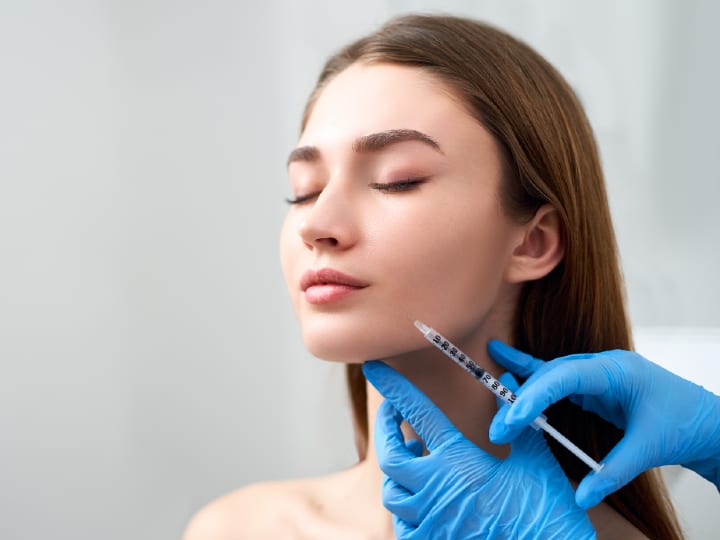 Profhilo Treatment Schedule
Profhilo® consists of two treatments 2 – 6 weeks apart. Over a few weeks following treatments, a gradual tightening result will appear and can last up to 6-9 months.
To find out more about the Profhilo treatment at The Cosmetic Skin Clinic, fill out our enquiry form. Or contact our clinics directly by phone: 0203 319 3637 (London) or 01753 646 660 (Bucks).