By Dr. TRACY MOUNTFORD, MBBS MBCAM
In an effort to achieve a perfectly toned butt, many women have been seeking out surgical Brazilian butt lifts to tone, lift and plump their behinds. But non-surgical Brazilian butt lifts (bum lifts) are now available to help you attain the look in a safer and less invasive way. In this article, we compare the similarities and differences of these butt enhancement procedures, detailing how you can achieve the same results of a Brazilian butt lift non-surgically.
What is a Brazilian Butt Lift?
First off, let's delve into what we mean by the Brazilian butt lift. Many celebrities from Kylie Jenner to Amber Rose are admired for their sculpted and toned buttocks. This has certainly helped to boost demand for the Brazilian Butt Lift treatment. This surgical buttock augmentation procedure (also known as a surgical BBL) helps patients to achieve this much-desired hourglass shape by transferring fat to the buttocks to make them full and plump. A fat graft is performed under local anaesthetic using liposuction to transfer fat from areas like the hips, stomach or thighs to the buttocks. These extracted fat stores are then purified and reinjected into your butt to maximise volume and fullness.
The result is a full and plumptious-looking bottom that wouldn't look out of place in a bikini on the sun-drenched shores of Ipanema or Copacabana beaches.
But there is a downside. As it is a surgical procedure, there is a list of side effects attached to the procedure, including scarring and potential infections. It has been noted by the American Society of Plastic Surgeons to be one of the riskiest cosmetic procedures out there.
Can you get a non-surgical Brazilian Butt Lift?
The answer to this frequently posed question is Yes! Patients can now achieve the same lifting and volumising benefits of a Brazilian butt lift without going anywhere near a scalpel. Body contouring technologies can efficiently build muscle in the buttocks to firm them up, while non-surgical skin lifting technologies can achieve tighter and more lifted skin. The result is a firmer, more curvaceous and defined bum without any sagging or banana rolls. Our founder Dr Tracy Mountford discusses this non-surgical butt lift in her Q&A video below:
What is the difference between a surgical and Non-surgical Brazilian Butt Lift?
The main difference between the two procedures is procedure recovery time. It can take up to 6 weeks for swelling to subside after having surgical liposuction BBL procedure. Patients must also avoid sitting for long periods of time for up to 3 weeks after their surgery. This can cause a lot of discomfort and inconvenience for the patient when compared to the non-surgical approach.
The other main difference is the treatment time. Surgical BBL's typically require one single treatment. However, a non-surgical Brazilian butt lift usually involves 4 sessions scheduled 2-3 days apart for maximum results. The beauty of a non-surgical butt lift is that there is zero downtime. So you can return to your normal activities straight away.
Why have a Non-surgical Brazilian Butt Lift?
With a non-surgical butt lift, we can create a more naturally defined and contoured bum by minimising sagging pockets of fat, tightening the skin and toning up the gluteal muscles:
Shape, sculpt and firm your buttocks for a better body silhouette
Minimise the appearance of banana roll fat (the layer of fat that sits between the buttock and the top of the thigh)
Tighten and lift saggy butt cheeks
Build and strengthen your glutes
No need for invasive surgery or injections
Zero downtime or recovery time needed
The Non-surgical Brazilian butt lift
We achieve a non-surgical butt lift using 3 main body sculpting technologies at The Cosmetic Skin Clinic. These are all designed to tone, sculpt and uplift the buttock area in several unique ways:
Non surgical Butt Lift with EMSculpt
EMSculpt is a non-invasive procedure that builds up muscle while reducing stores of fat. When applied to the buttock area, it can build up your gluteal muscles while lifting and firming the skin. EMSculpt sends High-Intensity Focused Electromagnetic Energy (HIFEM) through the skin to cause our muscles to contract at a super intense rate. This equates to 20,000 physical crunches or squats in the gym. These intense contractions force your muscle tissues to remodel their inner structure. As a result of this process, your gluteal muscles become stronger while fatty deposits break down. This helps to make your butt pert and more defined, with a nicer shape and curvature. After just 2-4 weeks of treatment, patients will begin to see these amazing visual results.
Non-surgical Butt Lift with Ultherapy
Ultherapy butt lifts utilise non-invasive ultrasound technology to reboot the replenishment of natural collagen and elastin stores in your buttocks. As we age, these vitally important structural proteins deplete, leading us to the dreaded 'saggy bum' look. But with Ultherapy, these hydrating and nourishing proteins are encouraged to renew themselves. This can help to achieve a 1-1.5cm lift to the buttocks in less than an hour of treatment, without any associated downtime.
Non surgical Bum Lift with CoolSculpting
The CoolSculpting butt lift is ideal for patients who want to attain a perfect butt without the fat. As you try to get a pert and curved derriere, it can sometimes be obscured by a layer of fat that hangs between the edge of your buttocks and the top of your thighs. This crescent-shaped fat bulge is known as the 'banana roll' and can prevent your clothing from fitting properly. It also prevents your bum from having a round and peachy shape. In order to attain a more sculpted and sensuous bum shape, we can use CoolSculpting's fat freezing technology to crystalise and break up fat deposits across your banana roll. This can create better definition between your thighs and the start of your buttocks, particularly when viewed from a side angle.
CoolSculpting can also reduce skin laxity in this area to a degree. But when combined with a treatment like Ultherapy, we can tighten and lift the skin just above where we treated the banana roll, to give the buttock itself a greater and more prominent lift. Results should start to show through from 4-6 weeks post-treatment. After this time, the frozen fat begins to break down as Ultherapy ramps up your body's own natural collagen and elastin production.
Non-surgical Butt Lift results
While each of the above butt lift treatments are slightly different, we usually recommend 4 sessions in total. Repeating the technological treatments helps your butt to reshape and firm up as your fat breaks down, your muscles build up and your tissues start to replenish themselves. See an example of our EMSculpt butt lift treatment below to get a sense of these sculpted results:
Non-surgical Butt Lift Before and After
Improving muscle tone and reducing fat across the buttocks using EMSculpt: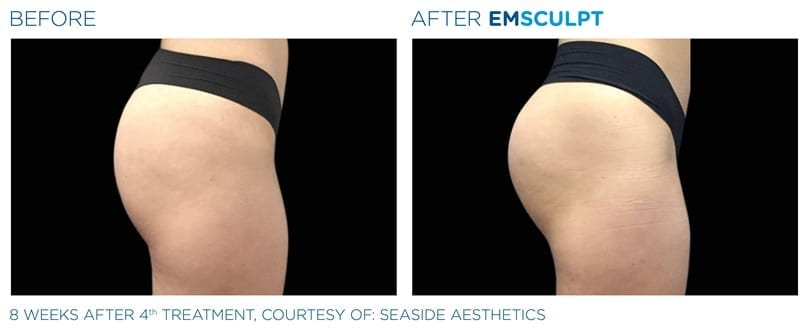 Your non surgical Butt Lift Consultation
When having a non-surgical bum lift, one of our expertly qualified practitioners will assess the shape of your buttocks while understanding your own body sculpting goals. Based on this assessment, we will then put forward a preferred treatment choice that will maximise results in line with your bespoke requirements. In contrast to surgical Brazilian butt lifts, our non-surgical procedures do not generate instant results. But they will lift and sculpt your butt in a matter of weeks and months, as your buttocks respond to the treatment. The benefit being that you will not have any scars or surgical risk. See below for an estimation of the expected results for each of our treatment options:
Ultherapy butt lift results: skin tightening and lifting results from 3 to 6 months after treatment, as collagen and elastin stores rebuild. Results last up to a year.
EMSculpt butt lift results: lifted and toned skin across the butt from 2-4 weeks after the final treatment session. Results can last up to a year.
CoolSculpting butt lift results: noticeable fat reduction after 4-6 weeks after the final treatment, with a progressive fat reduction over 14-16 weeks. Results last indefinitely as long as you keep to a healthy lifestyle.
To find out more about these non-surgical butt lift procedures, arrange a personalised consultation with us. Our butt lift procedures are available at both our London and Buckinghamshire clinics. Alternatively, you can call us directly on the following number: 0343 253 8240 (London and Buckinghamshire).