By Dr. TRACY MOUNTFORD, MBBS MBCAM
For many over the age of forty, the neck increasingly becomes an area of focus. The neck shows severe signs of ageing through loose, excess or crepey skin. This raises the questions of where does this loose skin come from and why does this happen to the neck and how can I stop it? An excellent neck treatment at The Cosmetic Skin Clinic is Ultherapy in Buckinghamshire. This treatment targets the neck to give you firmer, tighter, and more slender neck contour. We explain ageing factors that affect your neck and all you need to know about the revolutionary Ultherapy treatment.
The undeniable relationship between your neck and the process of ageing:
Did you know that the skin on your neck is even thinner than the skin on your face? However, the skin on your neck and the face goes through the exact same ageing as the years go on. The results can be more noticeable on the neck due to its thinness, and that it falls into the same trap as our hands and face, that it is usually exposed to the elements because of the neckline of our clothes.
The necks thin skin can be a victim of the natural process of ageing in which we lose collagen and elastin. Collagen and elastin are vital as they act as the scaffolding to youthful looking skin. Over the years, our levels decrease, making way to the appearance of sagging and wrinkles that can give away our age or even make us look older than we are.
Ageing is a concept we cannot escape but we can endure it gracefully with the help of ultrasound treatments that give natural results.
Preventative steps to protect your neck from rapidly ageing:
Protect it from UV rays

The sun is a leading factor in ageing. We should be wearing SPF every day, no matter if you see clouds and no sun, the sun's rays can still reach you. When you put on sun lotion on your face, include your neck too.

Use products that contain retinoids

When you next pick a neck cream, make sure it contains retinoids. Retinoids can help to reduce fine lines and wrinkles, repair sun damage and can stimulate collagen production. This works to give you the appearance of smoother skin.

Keep an eye on your posture

With all this technology, from our laptops to our phones, our posture is suffering. Sitting hunched has affected our neck muscles to contract and curve. This can create lines and coupled with decreasing collagen this will become deeper and more obvious. Fixing your posture won't be the complete answer to ageing skin on the neck, but it's a step in the right direction.
The above are preventative measures, but to tackle more progressive signs of ageing on the neck we need to go deeper. The appearance of the skin's surface can be improved but when the signs of ageing are more advanced, we need to go below the surface to fix it. This can be done with Ultherapy in Buckinghamshire.
Ultherapy
Accepting having a turkey neck is now no longer a feature you must live with as you age. You can continue to age gracefully, but without the turkey neck ordeal and without going under the knife. With no surgery or dramatic appearance reveal, Ultherapy in Buckinghamshire is the perfect answer.
What is Ultherapy?
Ultherapy is a leading FDA-cleared treatment for lifting and tightening the skin on the neck but also for the face, chin, brow, decolletage and more.
How does Ultherapy work?
Through using micro-focused Ultrasound (MFU-V) with visualisation, Ultherapy delivers energy to the same depth of skin targeted by surgeons performing a facelift. By targeting the root cause of the ageing problem, Ultherapy focuses on the breakdown of vital proteins underneath the surface. The ultrasound technology deeply penetrates three layers in the skin(dermis) right down to the muscle level to stimulate collagen production.
Ultherapy gives your skin the chance to fight back against collagen loss and sagging or crepey skin. When the neck is treated
Ultherapy benefits
This treatment leads the aesthetic market as a collagen booster and is known as the Gold-Standard treatment for skin lifting and tightening. It works to stimulate the natural renewal of collagen and elastin to give rejuvenating results. Key Ultherapy benefits are how it:
Creates a fresh, natural, and rejuvenated appearance
Doesn't require general anaesthetic
Regenerates natural collagen and elastin stores
Tightens and firms skin texture
Is a completely non-invasive and non-surgical treatment
Has no downtime, recovery time, scarring or injections
When do you see Ultherapy results?
Patients see an initial lift after their first treatment, but the full results of your bounced back skin will become more obvious over a 3–6-month period.
How long does Ultherapy last?
Patients treated with Ultherapy at our Buckinghamshire clinic have seen their results last for over a year. The ageing process of losing collagen unfortunately continues, so we always recommend spacing out a few touch-up treatments to keep rebuilding collagen.
Who is the ideal patient for Ultherapy?
At our clinic, we get men and women of all different ages for Ultherapy treatment. Dr Tracy Mountford says the ideal candidate for Ultherapy is anyone who is "beginning to get a little bit of laxity in the lower face or drop where it's not enough for surgical face lifting but it's certainly enough to be a concern."
Watch Ciara Janson, Holyoaks actress talk about why she chose Ultherapy to prep for her wedding
What do The Cosmetic Skin Clinic Ultherapy patients say?
"I really want to maintain, if not enhance what I have currently and invest in my collagen for the future," says Katie.
Tina says, "I work with a lot of models and actresses, Ultherapy was just the name that came up time and time again."
"It tightens the natural collagen in your skin, improves the elasticity and it's not invasive, it ticks all the boxes for me," says Belle.
Amale knows Ultherapy is about enhancing and not drastic change. She says, "You really just have to think about, just better version of yourself!"
See the amazing Ultherapy neck transformation
Treatment: Ultherapy ultrasound skin lifting and tightening to redefine jaw line and lift neck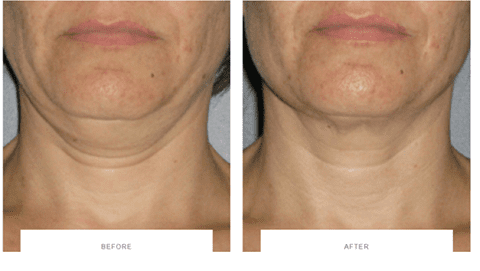 Treatment: Lift, Sculpt and Tighten the full face, neck and decolletage with Ultherapy.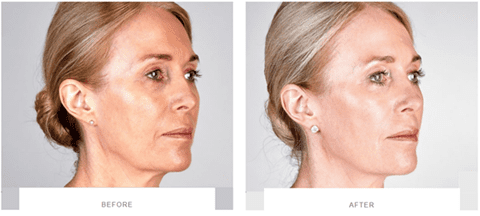 Treatment: Ultherapy skin lifting and tightening to redefine the jawline and lift neck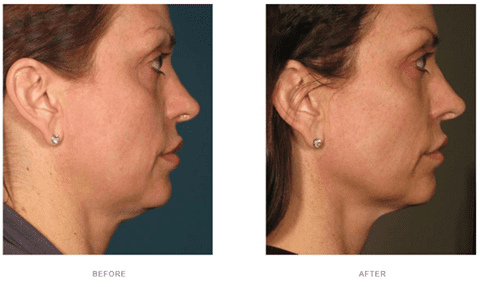 Treatment: Ultherapy skin lifting and tightening to redefine jawline and lift neck.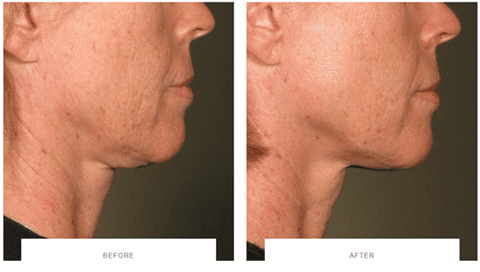 Treatment: Lift, Sculpt and Tighten the full face, neck and decolletage with Ultherapy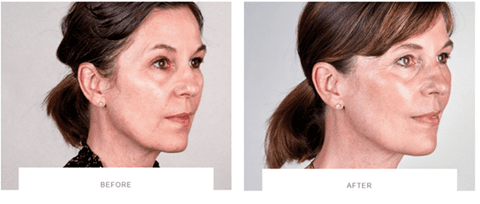 Treatment: Ultherapy skin lifting and tightening to redefine jawline and lift neck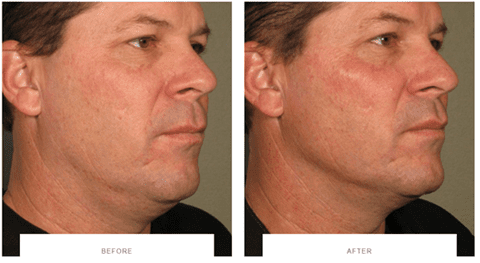 Treatment: Ultherapy skin lifting and tightening to redefine jawline and lift neck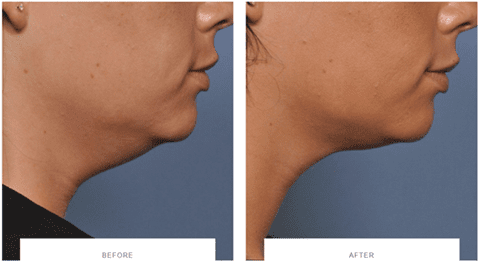 Treatment: Ultherapy skin lifting and tightening to redefine jaw line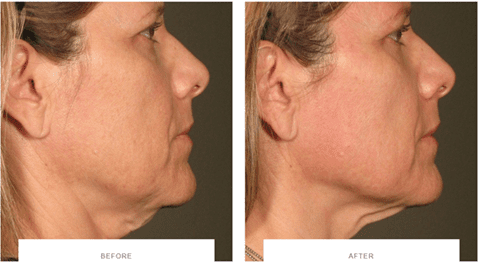 Disclaimer: patient experience and results may vary. These are dependent on a number of factors such as lifestyle, age and medical history.
Ultherapy with The Cosmetic Skin Clinic
In Stoke Poges, Buckinghamshire, our state-of-the-art clinic caters to your every skin lifting and tightening need. Our team of experts work hard to promote the Ultherapy benefits as they have seen first-hand the amazing results. As a result, The Cosmetic Skin Clinic are the No1 Ultherapy Ultra Premium Treatment Provider for the UK for the 9th year in a row as of 2022. Turn back the clocks on ageing and gravity and try Ultherapy and enjoy a high standard experience with results you want to shout about.
Find us:
Our Buckinghamshire Ultherapy clinic can be easily reached from nearby towns and villages including: Chalfont St Giles, Little Chalfont, Windsor, Maidenhead, Beaconsfield, Gerrards Cross, Ascot, Marlow.
Book your Ultherapy consultation or give our Stoke Poges, Buckinghamshire clinic a call on 0333 220 4501.