By Dr. TRACY MOUNTFORD, MBBS MBCAM
Skin laxity is a big issue for women in the 50-plus age range who are losing firmness and elasticity in their skin. It refers to the loose skin that occurs across the face and body as we age. Telltale signs of this ageing process reveal themselves most acutely across the neck, jawline, upper arms, decolletage, inner thighs and knee areas. 
In the past, there weren't any treatments or technologies that would address skin laxity well. One of the newest innovations today for this concern is a treatment called Profhilo. This advanced non-surgical treatment can improve skin laxity to enhance skin texture while tightening the skin.
How Profhilo works
Profhilo helps to minimise the signs of skin laxity by reversing the breakdown of collagen and elastin in our skin. These natural skin proteins act as key structural components to keep our skin firm and taut. But they slowly deplete through the ageing process, causing our skin to loosen and sag. 
Profhilo combats this process by rebooting the production of these proteins in deeper levels of our skin.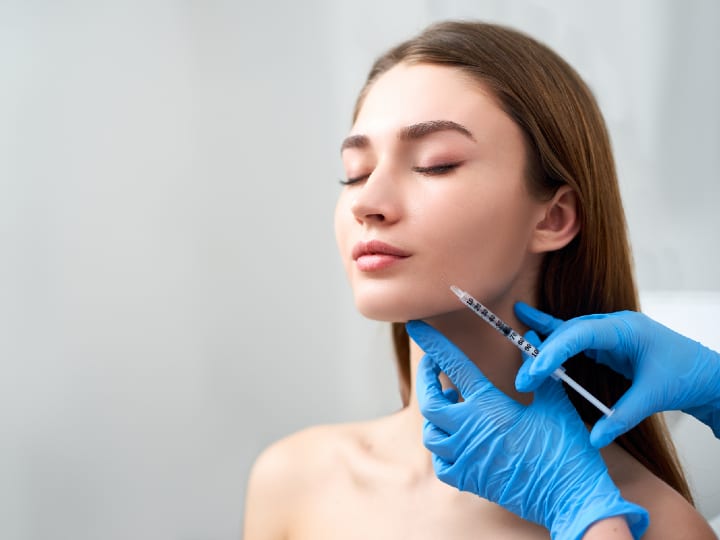 Treating Skin Laxity with Profhilo
Profhilo lifts and tightens skin when injected into strategic points. Upon injection, the product immediately starts spreading due to the high concentration of hyaluronic acid. At the point of injection, it raises a little 'bleb' that looks a bit like an insect bite. But this usually rectifies itself after just a few hours.
The treatment is usually performed over two sessions, taken about a month apart from each other. It stimulates four different types of elastin and collagen to refresh and renew the skin. Once settled, this results in a significant improvement to skin health. This is why the treatment has become known as the 'injectable lift.'
Combining Profhilo with Ultherapy and Thermage
Profhilo can be combined with other traditional skin tightening and lifting treatments such as Ultherapy or Thermage as well as dermal fillers to fully optimise results. Thermage is a firm celebrity favourite which contracts collagen in the skin using radiofrequency to further tighten and re-contour your skin.
Ultherapy, a thermal ultrasound technology has been voted as one of the best non-surgical skin tightening treatments and works wonders when combined with Profhilo thanks to its long-lasting tightening effects. 
Find out more about the Profhilo treatment itself in this week's Q&A video below:
If you have any questions about the Profhilo treatment, please call us on 0330 828 4660 (London and Buckinghamshire). Or you can email us via our online enquiry form.