By Dr. TRACY MOUNTFORD, MBBS MBCAM
A nice, pert bottom has been on many people's radar for a while. So with this in mind, in this week's Q&A, I'm answering a question that we are often get asked at the clinic….'How to get a nice perky rounded bottom without surgery'
I often see young women, who are between 30 and 40 and they have got nice figures. But what they really want is a pert bottom. They are certainly not looking for anything as extreme as surgery. They just want to enhance what they already have by making their bottom look perkier, nicer, and a little bit sexier when they wear their jeans.
Getting a Rounded Bottom without Surgery
In the video below, I explain some of the innovative non-surgical techniques that we can use at the clinic to help women get a perfectly defined butt, without the need for any surgery or downtime.
CoolSculpting and Ultherapy Butt Lifts
CoolSculpting bum lift
For women who want to tone and lift their butt, I recommend a treatment like CoolSculpting which freezes the fat to reduce the fat pad below the bottom area, also known as the 'double bottom' or banana roll fat. This can give the illusion of a perkier and more shapely looking bottom. CoolSculpting itself will also cause the skin to tighten a little as well, so you will get that nice little bit of lift.
For more mature ladies who want to still make the best of their figure, we can actually combine the CoolSculpting treatment with a skin tightening and lifting treatment like Ultherapy as well. 
Ultherapy bum lift
Ultherapy is an ultrasound skin tightening treatment that we use commonly on the face, neck, and decolletage, but it can be used on other areas of the body and one of those areas is the backside. If we actually treat the upper part of the thigh, all the way up to the buttock area we can get a very nice lift, and when we combine the two treatments together, you get a very nice improvement in your silhouette.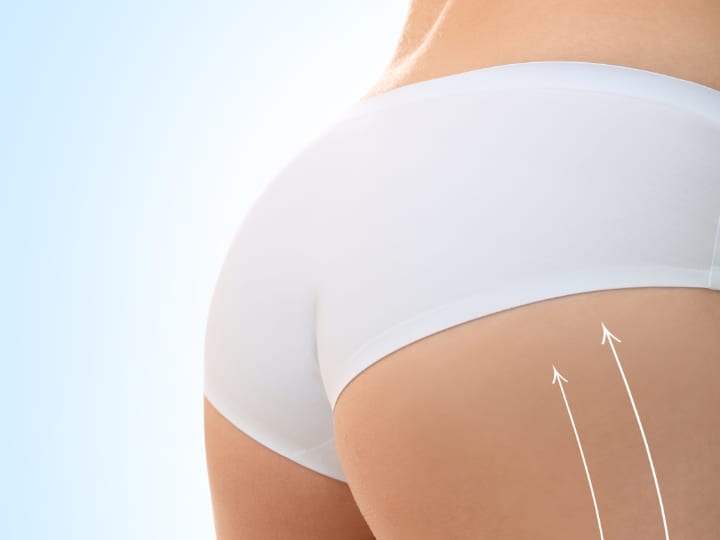 To learn more about achieving the bottom you've always wanted, watch this week's Weekly Wisdom video. 
Interested in trying CoolSculpting or Ultherapy? Call our clinics in London and Buckinghamshire on 0330 828 4661 or fill in our contact form. Be sure to follow my weekly Q&A's on YouTube for advice and information about our treatments!