By Dr. TRACY MOUNTFORD, MBBS MBCAM
Sometimes stubborn areas of fat accumulate across our bodies and can make us look or feel out of shape. One such area where fat can store is the area just below the buttocks and above the thighs. When fat builds up in this zone, it is called a 'banana roll' thanks to its crescent-looking shape. This pillow of fat just below the buttocks can make our butts look saggy and our gluteal muscles look untoned or ill-defined. If celebrities like Jennifer Lopez have inspired you with their toned and firm butts, and you want to achieve the same look, then banana rolls can literally get in the way.
They can stop you from achieving a curvaceous behind because they change the shape and curvature of the buttocks. Banana roll fat is particularly noticeable when seen from a side angle. It is also important to note that banana rolls aren't just a concern for people who are overweight. Genetics and lifestyle factors can make people in a healthy weight range susceptible to having them too. Thankfully, there is a range of proven techniques that get rid of banana fat rolls while firming up the butt. Here, we discuss some of these leading banana roll treatments, from physical exercises to non-surgical fat removal treatments.
What is banana roll fat?
Banana roll fat is a stubborn type of subcutaneous fat that builds up in the space between the lower buttocks and upper thigh. This wobbly type of fat sits just below the surface of the skin and is more difficult to remove than visceral fat, which sits deeper in the skin and tends to burn faster when you start a fat-targeting programme like diet and exercise. The key to get rid of banana roll fat effectively is adopting a comprehensive approach that combines nutrition and the right exercises to break down the banana roll fat stores. Non-surgical treatments can also assist with this process by helping to accurately target fat in this zone with expert precision, helping to get rid of it as fast as possible.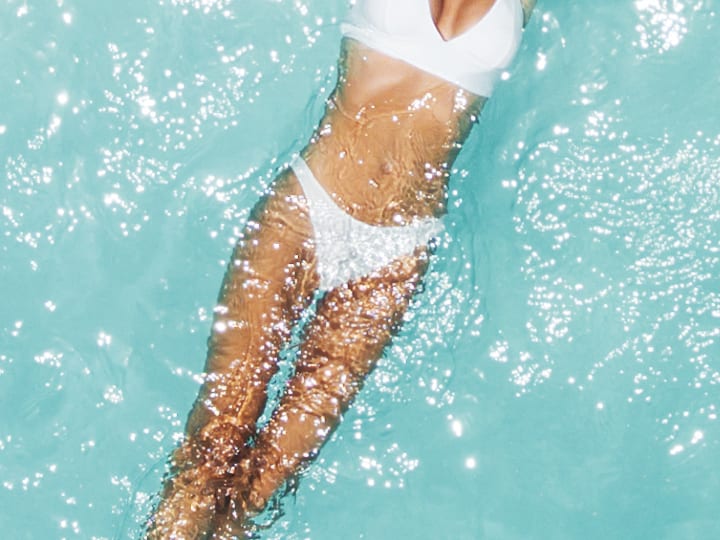 How to lose Banana Roll Fat
One way to reduce banana roll fat quickly is using a surgical approach like liposuction. This approach physically removes the fat from the banana roll, but it comes with potential side effects like scarring while also involving weeks of recovery time. This is why many people prefer the approach of using butt exercises to tone and sculpt the buttocks over time.
Banana Roll Exercise
Patients can use a variety of different exercises to reduce fat and build up muscle around the buttocks. Over time, this process results in bigger and more defined gluteal muscles, making the butt look plump and well-rounded. The fat pocket below the buttocks reduces in size as a direct result of doing these exercises, which contract the thighs and gluteal muscles, so they build back stronger. The following types of butt lift exercises are particularly helpful to follow when reducing the appearance of banana rolls:
Squats: tones up the quadriceps and gluteal muscles
Donkey kicks: tones your gluteus maximus as well as your shoulders and core
Hamstring curls: also known as leg curls, they tone up the hamstrings while also firming up skin around the thighs
Bridge walks: improves muscle definition across the hips and lower back
Swivel Raises: works the outer thigh and gluteal muscles
Deadlifts (using a barbell): works the gluteal muscles in addition to the hamstrings and quadriceps
It is also important to combine butt toning muscle exercises like squats with cardiovascular sessions. This will help to ensure that you are burning enough calories to see visible results across your banana rolls. Most personal trainers recommend carrying out 3-to-4 muscle strengthening and cardiovascular exercises each week to maximise your gains and fat loss across your banana rolls. Cardio sessions line running and swimming stimulate blood flow to your buttock muscles while maximising fat loss. Muscle toning exercises on the other hand serve to sculpt the butt so that it builds back bigger and stronger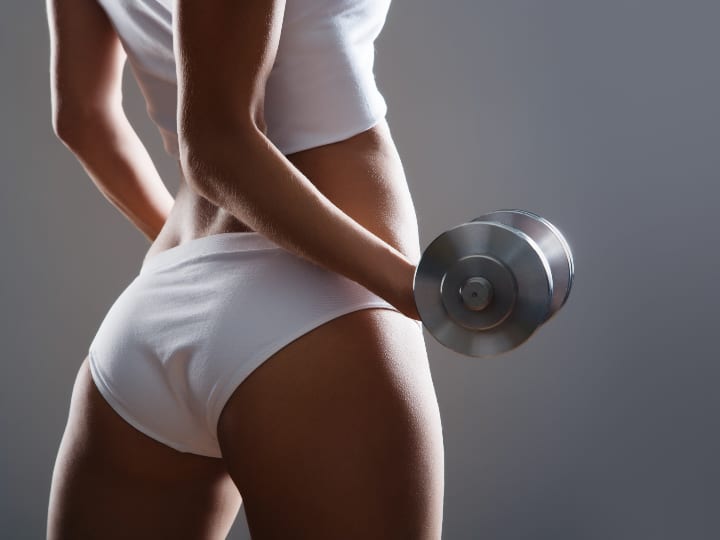 How to get rid of Banana Rolls naturally
It is important to follow a healthy dieting regime when doing these anaerobic and cardiovascular exercises. This ensures that you are in a calorie deficit to maximise fat loss results. Choose a diet that is low in saturated fats and high in protein to maximise muscle recovery and avoid excess calories.
Eat fewer carbohydrates and more protein to remain fuller for longer. Also exclude unnecessarily sweet or fatty foods. Replace these with fruit and vegetables to ensure that you are also benefiting from enough essential nutrients to help your body recover successfully from exercise. Over time, this diet and exercise strategy will reap impressive natural results. Your banana rolls may even disappear completely as a result.
Non-Surgical Banana Roll Fat Treatments
For those of you who need a little extra help to reduce your banana rolls, or if the diet and exercise programme sounds too intense to follow, then non-surgical cosmetic procedures can help. Patients can tone up the area underneath their buttocks or blast through subcutaneous fat stores using two leading body-sculpting techniques that have been FDA-approved for their fat burning and muscle toning efficacy. We offer EMSculpt to rapidly contract and tone buttock muscles while using CoolSculpting to break down excess fat stores across a person's banana rolls:
EMSculpt for Banana Rolls
EMSculpt is a leading non-invasive body-shaping procedure that builds up muscle tone while reducing fat stores at the same time. When applied to a person's banana rolls, the machine can both remodel and firm the gluteal and thigh muscles to tone them up. This process also reduces the visible signs of fat underneath the buttock area. The technology works by using high-intensity electromagnetic (HIFEM) energy to cause muscles to contract at a rapid rate. One 30-minute session equates to 20,000 manual squats or crunches in a gym.
In as little as 4-6 weeks post-treatment, patients will notice a marked reduction in the size of their banana rolls. They should also notice a firmer and more toned physique around their thighs and buttocks. It generates a 16% average increase in muscle mass and a 19% reduction in fat in as little as 2-4 weeks. This gives banana roll sufferers rapid gains in much less time than dieting or gym efforts. When combined with these techniques, the results can be truly outstanding.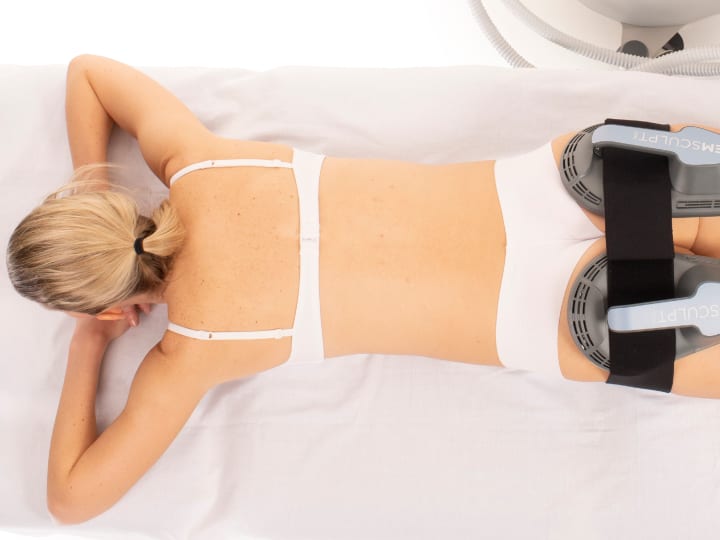 CoolSculpting Banana Rolls
Fat freezing, or cryolipolysis, was developed by Harvard University scientists. It crystalises subcutaneous fat tissues, causing them to completely dissolve and break down naturally in the body. CoolSculpting is the brand name for this world-class body sculpting procedure, which has been clinically proven to reduce stubborn fat stores by up to 27%. When applied to banana rolls, it freezes the fat tissues to permanently destroy them, and they won't return as long as the treated patient follows a healthy diet and lifestyle. In just 4-6 weeks post-treatment, banana rolls will appear visibly reduced.
The procedure is ideal for patients with larger banana rolls, as fat reduction is more intensive. This makes it great if you have sagging or enlarged banana rolls. For trimmer patients with a toned physique, EMSculpt is likely to be the more preferable treatment to go for.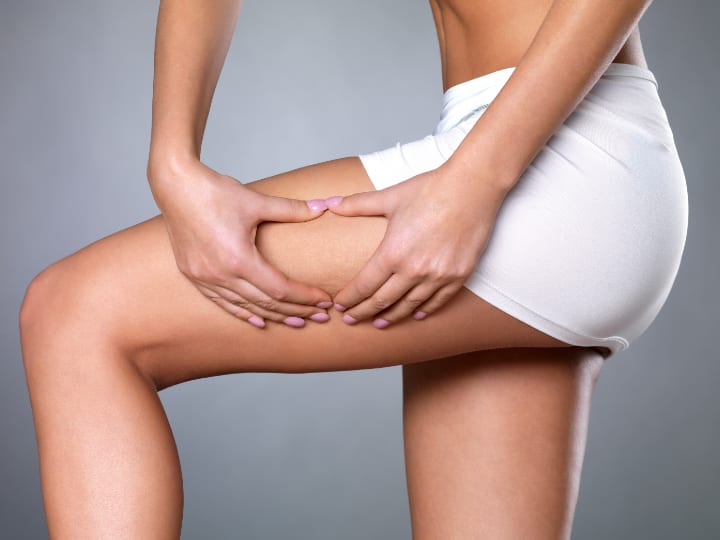 Banana Roll Fat Removal at The Cosmetic Skin Clinic
By taking a personalised consultation with us, we can assess your banana rolls to determine which type of treatment is best for your own needs. We can also combine techniques using our specialised non-surgical butt lift to attain maximum results that will minimise the rolls themselves while defining, sculpting and lifting your buttocks. Watch the video below where Dr Tracy Mountford explains the benefits of this butt lift in more details:
As a multi-award-winning clinic, we have been named as the UK's no 1 CoolSculpting clinic for six consecutive years, as well as being recognised as a best-practice EMSculpt clinic. Our highly skilled practitioners have over 20 years' experience and have performed over 50,000 CoolSculpting treatments. Fill out our online enquiry form to request a consultation and to find out more about our banana roll treatments. Alternatively, you can contact our treatment centres directly in London and Buckinghamshire on the following number: 0330 057 9047.