By Dr. TRACY MOUNTFORD, MBBS MBCAM
What is a lip flip?
A Botox lip flip treatment involves precise placement of a small amount of Botox at the corners of the mouth and near the cupids bow targeting the upper lip muscle. The goal is to relax tension in the orbicularis oris muscle and 'flip' the lip outwards to make more of the upper lip visible resulting in a fuller and plumper upper lip.
Where to inject Botox for Lip Flip?
During a lip flip treatment, your practitioner will carefully and strategically administer small quantities of Botox across the top lip (cupids bow, corner of the mouth).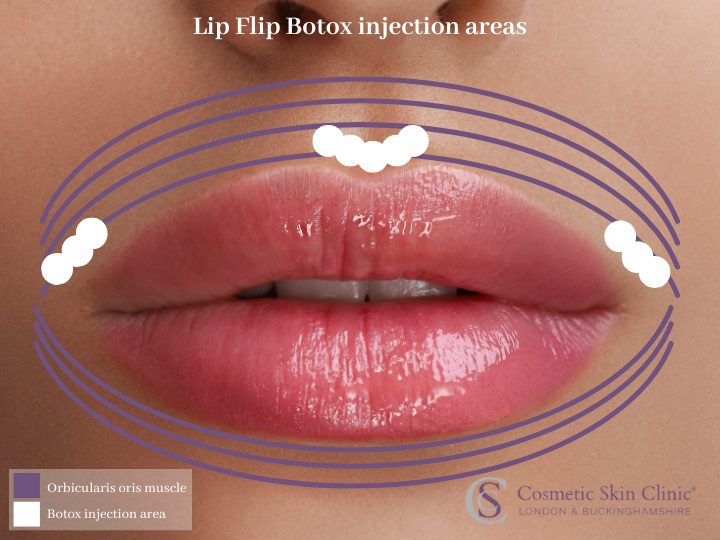 Once injected, Botox gets to work by relaxing the orbicularis oris muscle specifically the portion over the upper lip. This relaxation causes a subtle upward rolling of the lip, creating the illusion of increased volume. Additionally, these carefully targeted injection points can temporarily diminish vertical fine lines and wrinkles around the mouth.
What is the difference between Botox Lip Flip and Lip Filler?
Lip Flip with Botox and Lip Filler are two different treatments. Lip filler uses dermal filler to add volume to the lip whereas Lip Flip Botox treatment instead relaxes the muscle of the lips to change the positioning of the upper lip to give the appearance of a fuller pout.
Is Botox Lip Flip better than Dermal Lip Filler?
It would not be possible to compare both treatments as they both achieve different results. The best treatment for lip enhancement will depend on what the patient wants to achieve from treatment.
Benefits of Botox Flip Lip vs Dermal Lip Filler
Achieve a more subtle plump to the upper lip
Ideal for making the upper lip more prominent
Can help with gummy smile
Ideal for patients who want fuller looking lips but don't need added volume
Temporary treatment (2 months)
Benefits of Dermal Lip Filler vs Botox Lip Flip
Can treat the upper and lower lips
Best for creating fuller lips by adding volume
Can also reduce the appearance of vertical lip lines
More control over the overall lip shape and symmetry
Longer lasting results (6-12 months)
Our experts at The Cosmetic Skin Clinic will be able to best advise on which treatment is going to give you the results that you desire. In some cases, a combined treatment may be offered to both increase volume and lift the lip for a more defined shape.
When can I see the results of Botox Flip lip?
Botox treatment does not often give instant results and patients will need to wait around 2-3 days before starting to notice the effects flip lip treatment.
The best lip flip before and after results from Botox are seen after 10 days.
How long do the results of a Botox Lip Flip last for?
On average, Botox lip flip treatment results will last for around 2 months. Whereas Botox treatment to other areas of the face such as the forehead may last longer, we actually move the orbicularis oris muscle more than any other facial muscle during the day from talking, eating, and drinking. The constant movements will therefore mean shorter results.
Does a lip flip hurt?
Typically, when having dermal lip filler treatment the numbing solution lidocaine is often found within the hyaluronic acid meaning that patients feel minimal if any pain during treatment and the hours following.
Whilst topical numbing cream can be applied to the area ahead of treatment, no lidocaine is found in botulinum toxin treatment solutions so many patients are concerned about feeling pain during and after Botox Flip Lip treatment.
Overall, Botox Flip Lip should not be a painful treatment, patients may feel a sharp scratch at the injection points but overall, this is just described as minimal discomfort rather than pain. Patients may continue to feel mild discomfort after treatment, but this will fade over 24 hours.
Is there any downtime after Botox Flip Lip?
There is no downtime after Botox Flip Lip treatment, but some patients may experience swelling, bruising or redness at the injection site.
We advise that patients avoid exercise and sleeping face down for 24 hours post treatment.
Can a Botox Lip Flip go wrong?
A Botox Lip Flip can have potential complications. A Botox Lip Flip going wrong can end in uneven results, excessive muscle relaxation and complications from an inexperienced practitioner. These are just some of the risks. The skill and expertise of the professional administering the treatment play a crucial role in minimising the chances of adverse outcomes.
Managing expectations is also important, as the Botox Lip Flip is a subtle enhancement technique and not a substitute for lip fillers. Understanding the risks and choosing a qualified practitioner are essential for a successful Botox Lip Flip.
Botox Lip Flip at The Cosmetic Skin Clinic
Our team of expert-led fully qualified aesthetic doctors and nurses pride themselves on delivering patients the best advice and results when it comes to injectable treatments. We have the best rated cosmetic doctors for Botox in Bucks and London.
You can be sure that with every Botox lip flip treatment you have with us, you will be treated by experienced professionals who are known to be the best for botox and dermal fillers.
To find out more about any of our treatments, fill out our online enquiry form or contact our London and Buckinghamshire clinics directly by phone on 0330 127 1473.