By Dr. TRACY MOUNTFORD, MBBS MBCAM
If you have unwanted bulges of fat across different parts of your body, and you want to get rid of them effectively, then CoolSculpting could be the ideal solution for you. As a completely non-surgical body sculpting treatment, it can break down stubborn fat bulges in a similar way to liposuction, but without lengthy downtime. However, like all medical treatments, it does have some side effects and may not be suitable for every candidate. In this article, we explore the benefits of the treatment, while also examining the cons and downsides. This should enable you to decide if it is worth your time and money.
Find out about Body Transformation Package
What is CoolSculpting?
CoolSculpting is a completely non-invasive treatment that freezes away fat cells with an advanced cooling technology. It helps patients achieve a slim, sculpted and toned physique across diverse areas of the body. Think problem-prone areas like the stomach and thighs to love handles and double chins. A specialised applicator is placed on the targeted area of excess fat to break down subcutaneous fat tissues. The applicator sucks up the skin in a vacuum while applying cooling energy to the treatment area. This crystalises and breaks down the fat cells, taking just 35 minutes, and patients can leave the clinic immediately.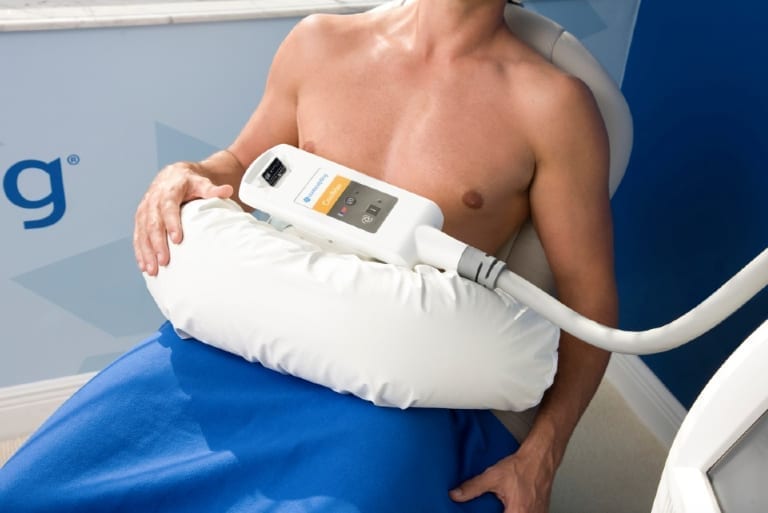 What are the pros and cons of CoolSculpting?
As with any medical procedure, there are pros and cons to consider when taking a CoolSculpting treatment. CoolSculpting is an FDA-approved procedure that has undergone a wealth of tests and clinical trials to verify its safety and efficacy. It is the only FDA-cleared non-surgical fat reduction treatment available in the aesthetics industry today. Its benefits have also been discussed in over 50 different medical journals and clinical reports. Here, we walk through the key benefits and advantages of the treatment, before reviewing the side effects and potential downsides.
The Pros of CoolSculpting
There are many standout reasons why CoolSculpting has become one of the leading fat removal treatments in the cosmetics industry. Over 17 million patients worldwide have had the treatment thanks to its ability to reduce fat by up to 27% in the treated area in just 1 session. The procedure is also highly versatile, having been approved to treat 13 different areas of the body. Think the stomach and bingo wings, and even the knees and 'cankles.' This makes it a highly useful treatment to reduce stubborn fat stores quickly without having to undergo a traumatic surgical procedure like liposuction. Such a procedure involves lengthy periods of recovery and potentially damaging side effects like an infection. This is why CoolSculpting has emerged as a super popular alternative.
Main Benefits of CoolSculpting – Is CoolSculpting worth it?
As the world's leading non-surgical fat reduction treatment, CoolSculpting has a range of fantastic benefits:
Ease and convenience: The treatment is completely non-invasive, involving no needles, incisions or surgery, so it can be performed quickly on an outpatient basis. Patients can even have it during their lunch breaks.
Diverse treatment areas: Reduce the size and shape of hard-to-shift fat pockets across 13 different body areas. This includes the inner thighs, outer thighs, stomach, arms, legs, back, knees, chin and ankles.
Zero downtime: The procedure requires no recovery time. This means that you can get straight back to carrying out normal activities, from work to exercise classes, immediately after having the procedure.
No pain: The treatment is relatively painless as it doesn't involve any surgical incisions. However, patients will feel a sucking sensation and cold temperatures while the procedure takes place. This can make it feel strange and uncomfortable, but not painful.
Permanent fat removal: The cooling temperatures cause subcutaneous fat cells to crystalise and die. So much like liposuction, it permanently removes treated fat from the body.
Impressive long-lasting results: It takes time for the body to naturally remove the broken-down fat cells. But this removal process takes 3 to 6 months. Once this has happened, the fat loss results will be permanent, as long as you stick to a healthy diet and exercise regime.
Book a complimentary consultation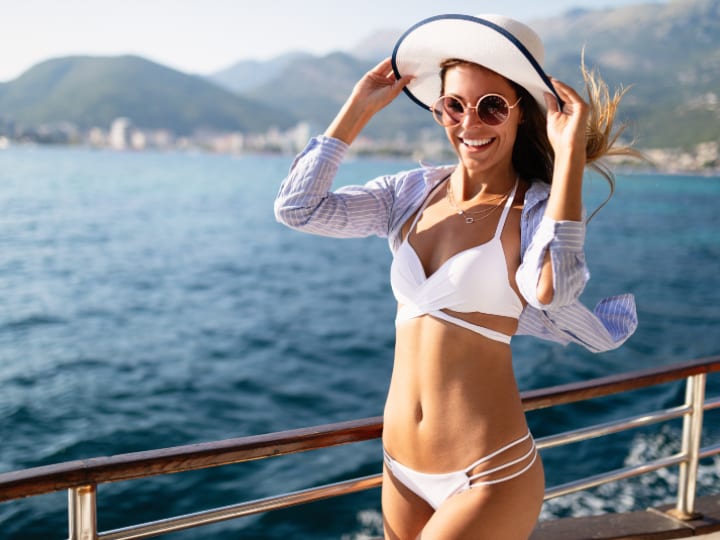 CoolSculpting before and after results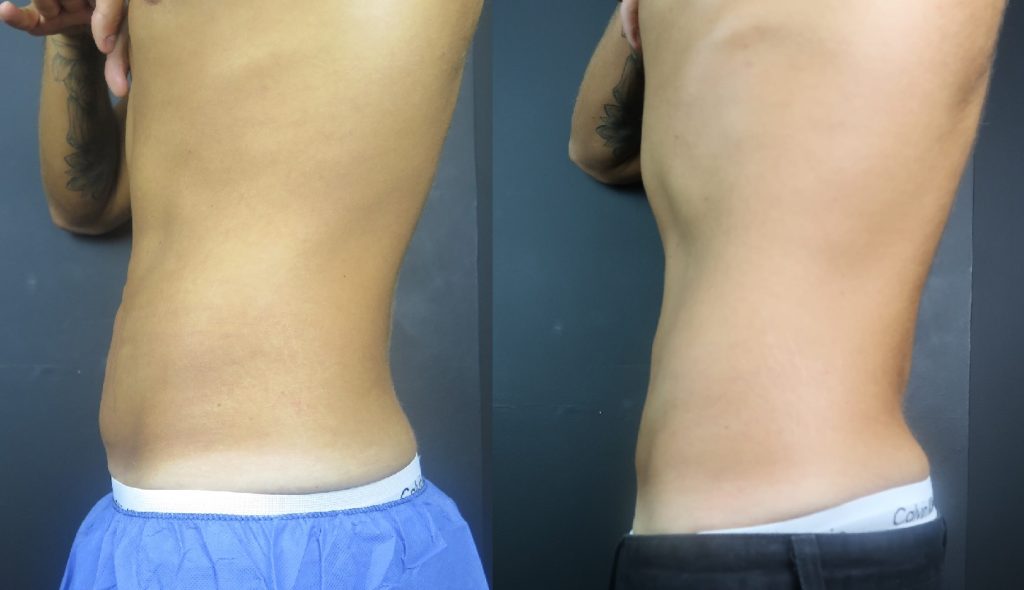 To see more amazing results from our patients, please take a look at our CoolSculpting before and afters page.
The Cons of CoolSculpting
CoolSculpting is an excellent choice for people who want to achieve a more toned, contoured and slim physique without having to rely on cosmetic surgery. However, patients must consider the drawbacks before deciding to take the treatment. Firstly, CoolSculpting is not a treatment to rely upon if you are severely overweight and need to reduce significantly large fat deposits across multiple areas of your body.
Weight loss and obesity
CoolSculpting does give patients the opportunity to medically reduce their fat deposits at a rate of around 27% in the areas being treated. We have also noticed that in many cases, patients can achieve visible fat loss reduction of around 40% in certain places like the love handles, thighs and stomach. However, CoolSculpting doesn't show good results if you have a BMI of over 30, or if you are clinically obese.
If you want to remove fat in these instances, then a treatment like surgical liposuction would be more appropriate, as up to 5 litres of fat can be removed with surgery. CoolSculpting does permanently destroy fat cells, but you also shouldn't give up on a healthy eating and exercise programme after having the treatment. This is because the fat cells could return. Keeping to a healthy diet will ensure that you achieve long-term fat loss results after having the treatment.
Time
It is also important to realise that CoolSculpting does not produce instant visible results. Unlike liposuction, which removes subcutaneous fat cells instantly, it takes time for CoolSculpting's cooling technology to break down the fat cells. After treatment, it can take patients from 4 to 6 weeks to start to see any visible results. This is because it takes time for the body to flush out the killed fat cells through the standard metabolic process. The body can continue to dispel the treated fat cells for up to 3 to 6 months after the first treatment. However, once this time period is complete, patients will be able to notice a more contoured and trim appearance around the treatment site. The key is to therefore be patient and expect gradual results, as CoolSculpting is not a quick fat loss fix.
Common CoolSculpting Side Effects
CoolSculpting is a 'no downtime' treatment, meaning that patients can instantly return to their normal activities immediately after the procedure. But there are some mild side effects that some patients may experience. Common side effects at the site of treatment include:
Redness
Swelling
Potential bruising
Numbness and a loss of feeling at the site of treatment
Side effects like redness and swelling may be bothersome. But they are often temporary, and usually, last only a few hours or a few days after treatment. The treatment does not harm skin cells or muscle tissues as it does not penetrate the skin with any invasive device. So there will be no permanent tissue damage or scars to the skin. Yet some patients may feel numbness or tingling at the treatment site after having the procedure.
This is simply caused by the nerve endings being inflamed during the cooling process. This strange sensation should dissipate quickly without any long-lasting effect. Around 2% of the patients we see may also develop some slight bruising, which we tend to see across the face or arms. However, this is a temporary side effect and also quickly disperses after just a few days or weeks in the vast majority of cases. Dr Tracy Mountford discusses these potential side effects in detail below:
How long will CoolSculpting side effects last?
The common side effects of redness and swelling usually occur right after the treatment has taken place. These side effects tend to last for a few days, or up to a week. Bruising is also a temporary side effect, which tends to last up to 10 days post-treatment. As for numbness, this sensation quickly disperses in most cases but can last for a few weeks. In the vast majority of cases, these minor side effects are not permanent and don't last long.
However, if you find that you are experiencing these problems for a longer period of time, then you can speak to us directly and we can help to alleviate your symptoms. During your first review period at 8 weeks post-treatment, we will assess the side effects and results to ensure that you are on track for achieving optimal results.
We will also discuss all of the potential side effects in detail during your initial consultation to ensure that we can minimise any adverse effects and provide a completely comfortable experience for you when you have the treatment in our clinic.
The importance of a good consultation
As CoolSculpting is an FDA-approved medical procedure, it is vital that patients have a proper consultation with a trained CoolSculpting practitioner in order to achieve exceptional results. While it is non-invasive, it is not risk-free, which is why you should choose a clinic that is CoolSculpting approved and verified as safe by the Care Quality Commission. At The Cosmetic Skin Clinic, we have a 5-Star Trustpilot rating and are renowned for our safety and expertise when it comes to CoolSculpting treatments. So you can be sure that you are in the safest professional hands when having a treatment with us.
CoolSculpting Leaders
As a leading UK CoolSculpting centre, we are proud of our exceptional reputation and outstanding patient results. We have over 20 years of collective experience and we've been named as the number 1 CoolSculpting clinic in the UK for six years in a row. Our clinicians are world-renowned for their expertise and knowledge in non-surgical fat removal. We have also carried out over 50,000 CoolSculpting treatments so far at our London and Buckinghamshire clinics, so are well versed in treating a range of different patients with different fat loss needs across diverse areas of the body.
Fill out our online enquiry form to find out more about the pros and cons of having a CoolSculpting treatment. Or get in touch with us personally over the phone on the following number, 0333 220 4501 for both our clinics in London and Buckinghamshire . We can't wait to hear from you.
Find our CoolSculpting Fat Freezing Clinics in London and Bucks
The Cosmetic Skin Clinic in London is within a short walk from Oxford Circus, Bond Street and Baker Street tube stations. You can take the train from the Paddington and Kings Cross St Pancras Train Stations. We're also easy to reach from other areas like: Kings Road, Mayfair, Primrose Hill, Soho, Highgate, South Kensington, West End, Fulham, Hampstead Green Park, Marylebone, Victoria, Islington, Chelsea, Holland Park, St Johns Wood, Knightsbridge, Earls Court, West Brompton, Bayswater, Fitzrovia, Westminster, Battersea, Notting Hill, Hyde Park, Regents Park and Belgravia. 
The Cosmetic Skin Clinic in Stoke Poges, Bucks within a short walking distance from Gerrards Cross – Chiltern Railway, Slough's – First Great Western station.  M25, M4, M40 and A40 roads are also conveniently located, making The Cosmetic Skin Clinic in Stoke Poges very easy to reach from Wembley, Richmond, Kingston upon Thames and the Surrey area. Other ideal locations to reach us from: Wallingford, Slough, Thame, Uxbridge, Windsor, Rickmansworth, Sunningdale, Hazelmere, Headington, Beaconsfield, Chalfont St Giles, Aylesbury, Chalfont St Peter, Chesham, Chinnor, Chorleywood, High Wycombe, Little Chalfont, Maidenhead, Marlow, Princes Risborough, Wendover, Weybridge, Cookham, Cowley, Gerrards Cross, Great Missenden, Haddenham, Harrow, Hayes, Amersham, Ascot, Henley-on-Thames, Woking, Watlington, Oxford and Wembley.