By Dr. TRACY MOUNTFORD, MBBS MBCAM
What is CoolSculpting for Thighs?
CoolSculpting for the thighs is a non-surgical fat reduction technique that reduces subcutaneous fat in the thigh area. It does this through an advanced fat freezing process that destroys thigh fat cells in a highly targeted way. Patients can achieve visibly slimmer thighs fast, without having to rely on invasive surgery or intensive gym sessions. At The Cosmetic Skin Clinic, we give patients the ability to reduce their entire thigh circumference with this game-changing technology.   
Find out about Body Transformation Package
CoolSculpting® is the only FDA-approved non-surgical fat reduction (cryolipolysis) procedure available on the market today. It is a non-invasive treatment that targets and destroys fat cells with long-lasting results. CoolSculpting uses controlled cooling to gently target and destroy fat cells beneath the skin. The treatment has little to no downtime, and the results are permanent.
CoolSculpting thighs
Stubborn areas of fat can often collect around the legs and upper thighs, even when patients adopt a rigorous exercise regime. Our CoolSculpting thigh treatment can help by reducing fat across the entire thigh circumference.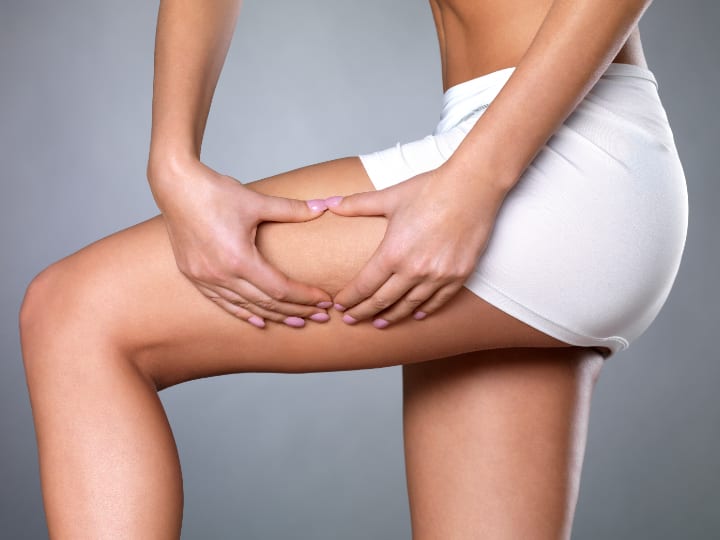 What does the CoolSculpting thighs treatment involve?
Before, we could only treat the inner and outer thigh. Now, thanks to our revolutionary 'Round The World' treatment, we can address the entire thigh circumference. This allows patients to still keep their curves while also producing a smooth and sculpted look. Ria, our CoolSculpting specialist, demonstrates how the 'Round The World' procedure works in our video below: 
Book a consultation with Ria at our CoolSculpting clinics in London and Bucks
CoolSculpting thighs treatment time
Treatment time for the thighs is variable depending on each patient's needs and thigh shape. Most patients receive a treatment that lasts between 35 to 60 minutes. For 'Round The World' treatment that targets the entire thigh circumference, the treatment takes a little longer. Your CoolSculpting practitioner will confirm your exact treatment time during your consultation. 
CoolSculpting outer thighs
Outer thigh fat, also known as 'saddlebags,' can look out of proportion with the rest of the body. But CoolSculpting works to reshape and redefine it with its advanced fat freezing approach. 
CoolSculpting inner thighs
Inner thigh fat can be problematic for many patients, as it can cause their thighs to rub together, leading to rashes and general discomfort. Plus, inner thighs are a hard-to-target area during workouts. Treating the inner thigh with CoolSculpting improves the situation by creating a small thigh gap. This helps patients to rid themselves of the thigh rubbing effect while helping them to enjoy a more sculpted look. 
CoolSculpting on the back of thighs
At the back of the thighs, cellulite can often gather, but the CoolSculpting treatment can be applied to this area to minimise the appearance of these troublesome fat pockets. This streamlines the look of the back of the thighs by smoothing out skin dimpling and giving the zone below the buttocks a more trimmed appearance. 
CoolSculpting outer and inner thighs
before and after
 results
Visible results appear in 6-8 weeks. You'll notice the biggest impact around 14-16 weeks post-treatment, as your body continues to flush out the fat. As long as you stay healthy, long-term results should remain stable over time and you will benefit from a slimmer appearance. 
CoolSculpting Inner Thighs Before and After 

Why is CoolSculpting good for 
outer thighs and inner thighs fat removal
?
The thighs are a very popular area to treat using CoolSculpting's advanced fat freezing technology. At our clinic, we see many different patients who want to reduce the size of their thighs, but many women in particular come forward to us with this need.  
CoolSculpting can eliminate these stubborn pockets of fat in all areas of the thighs in a targeted way by using cryolipolysis to freeze the fat cells. This controlled cooling process is delivered through a sophisticated device, which causes the thigh fat cells to crystallise before they naturally shrivel away and die. The body then dispels these frozen cells through a natural process.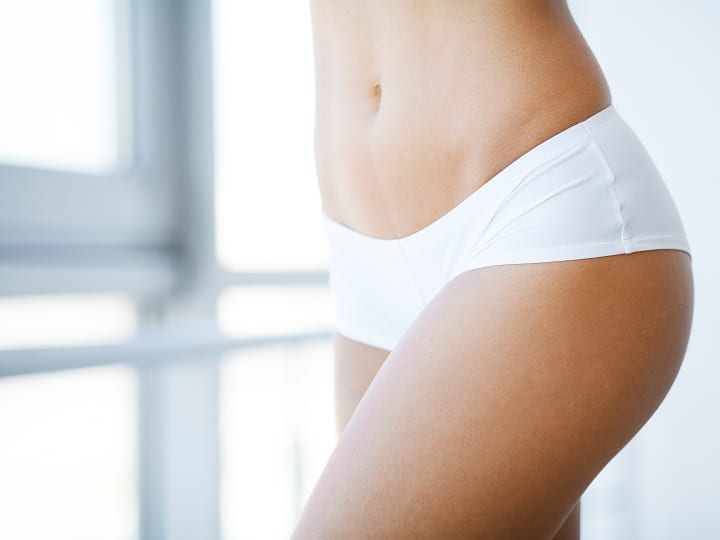 Our #1 CoolSculpting Thigh Treatments – over 50,000 CoolSculpting treatments performed to date
The Cosmetic Skin Clinic has been voted as the no1 CoolSculpting clinic in the UK for the seventh year in a row. We have over 20 years of experience and we've completed over 50,000 treatments, with a reputation for achieving the best patient results. 
To book a CoolSculpting thighs consultation, fill out our contact form. Alternatively, call our London clinic and Buckinghamshire clinic on 0330 433 2175. 
How To Find Us – CoolSculpting Thighs near me
The Cosmetic Skin Clinic in London is within easy walking distance of Oxford Circus, Bond Street and Baker Street tube stations. You can also easily reach us by train via Paddington and Kings Cross St Pancras Train Stations. You can also easily reach our London Clinic from: Kings Road, Mayfair, Primrose Hill, Soho, Highgate, South Kensington, West End, Fulham, Hampstead Green Park, Marylebone, Victoria, Islington, Chelsea, Holland Park, St Johns Wood, Knightsbridge, Earls Court, West Brompton, Bayswater, Fitzrovia, Westminster, Battersea, Notting Hill, Hyde Park, Regents Park and Belgravia. 
The Cosmetic Skin Clinic in Stoke Poges, Buckinghamshire is close to Gerrards Cross (Chiltern Railway), Slough's (First Great Western) station. It also has great transport links via the M25, M4, M40 and A40 roads, linking the clinic to Wembley, Richmond, Kingston upon Thames and the Surrey area. You can also easily reach us from: Wallingford, Slough, Thame, Uxbridge, Windsor, Rickmansworth, Sunningdale, Hazelmere, Headington, Beaconsfield, Chalfont St Giles, Aylesbury, Chalfont St Peter, Chesham, Chinnor, Chorleywood, High Wycombe, Little Chalfont, Maidenhead, Marlow, Princes Risborough, Wendover, Weybridge, Cookham, Cowley, Gerrards Cross, Great Missenden, Haddenham, Harrow, Hayes, Amersham, Ascot, Henley-on-Thames, Woking, Watlington, Oxford and Wembley.