By Dr. TRACY MOUNTFORD, MBBS MBCAM
Many of us have experienced those stubborn pockets of fat we simply cannot shift, and the stomach is a big problem area for many. CoolSculpting has gained popularity for its ability to tackle that stomach pouch, helping you achieve your body goals. Discover 7 reasons why CoolSculpting is the answer to losing belly fat.

 
How does CoolSculpting work on belly fat? 
CoolSculpting was designed to help reduce body fat by targeting visible fat bulges, including belly fat. The specialised cooling device is placed on your abdomen and begins the process of fat freezing. After the procedure is done, the fat cells will die, and the body naturally disposes of them through the kidney. A significant visible reduction can be seen in as little as 3 months, thanks to this clinically proven treatment. 
Find out about Body Transformation Package
Why is CoolSculpting beneficial for getting rid of belly fat? 
1. Only fat cells are targeted
You won't have to worry about surrounding tissue being damaged. CoolSculpting only targets unwanted fat cells reducing the risk of any damage to healthy and wanted tissue. 
2. It's a non-invasive treatment
This means you can avoid invasive treatments that require serious downtime like liposuction and tummy tucks. 
3. Proven to be safe
Over 17 million CoolSculpting treatments have been performed worldwide and the treatment itself is proven to be safe and effective. 
4. No lengthy downtime
The skin barrier isn't broken, and the treatment is non-invasive so it does not require you to take any time off work – which is perfect for people with busy schedules. 
5. The results are gradual
Gradual results mean your new contoured appearance will look natural over a period of 3 months. 
6. No pain
The CoolSculpting treatment is generally smooth, that many patients take this time to relax, nap, watch a show or read a book.  
7. Spot targeting for stomach fat
With exercise you cannot make a specific area lose weight, you just lose weight all over. With CoolSculpting you pick the area that needs that extra attention and let the device do the work. 
See how effective CoolSculpting is on belly fat 
CoolSculpting belly fat before and after results. To see more, please explore our CoolSculpting before and after gallery page.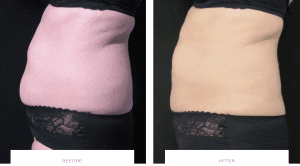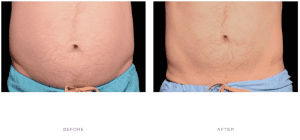 CoolSculpting Postpartum Belly Fat Before and After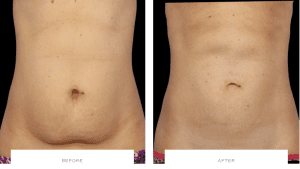 Book a complimentary consultation
Who was voted the number 1 CoolSculpting clinic in the UK? 
We were! The Cosmetic Skin Clinic is the number 1 CoolSculpting clinic in the UK for 6 consecutive years.  Our trained and qualified medical doctors and practitioners have over 20 years' collective experience and have seen hundreds of patients who want to reduce their belly fat with our non-surgical, FDA approved treatment option. We have performed over 50,000 treatments to date.
CoolSculpting treatment is in many ways considered to be an investment for personal health and body confidence. With an expert clinic team trained in fat loss expertise, you know you can trust and rely on our professional advice.  
So, why not find out more by booking a consultation and see if it's the treatment for you? Alternatively, you can contact our London clinic or our Buckinghamshire clinic at 0330 057 5425.