By Dr. TRACY MOUNTFORD, MBBS MBCAM
Friendship, family, relationship breakdowns, social media… all major influences on the lives of modern women, and particularly on their appearances, as many would attest. But at what age do each of these factors come into play, if at all? And what impact do the influences have on women's efforts to enhance their appearance?
The Cosmetic Skin Clinic asked 750 London women of all ages what would be the driving factor in their decision to have anti-wrinkle injections. Their responses produced some interesting findings…
Right now, what would be the driving factor in you getting anti-wrinkle injections?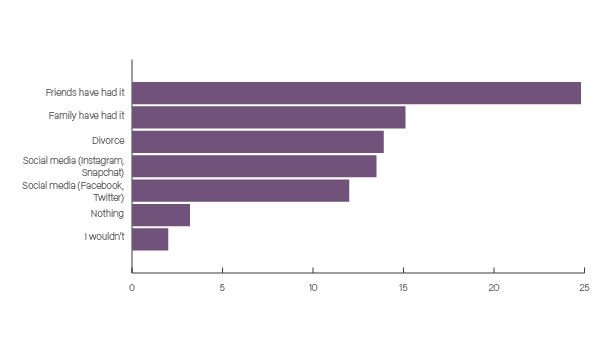 Forever friends
"Similarity begets friendship". So wrote the philosopher Plato in 360 BCE – and it's a notion that continues to apply centuries later according to the survey's overall findings, which show that women in the capital are most likely to have anti-wrinkle injections following friends who have had the treatment.
The reasons behind this are likely to be two-fold: that women who are currently considering or are likely to consider anti-wrinkle injections will have their confidence in the treatment reaffirmed by seeing successful results on a person they know well; and that the endorsement of somebody they trust, such as a friend, will further seal this opinion.
Looking across the age groups, it appears that women in the 35 to 44 bracket rated the 'friend factor' most highly.
'I would get anti-wrinkle injections because friends have had it': age group comparison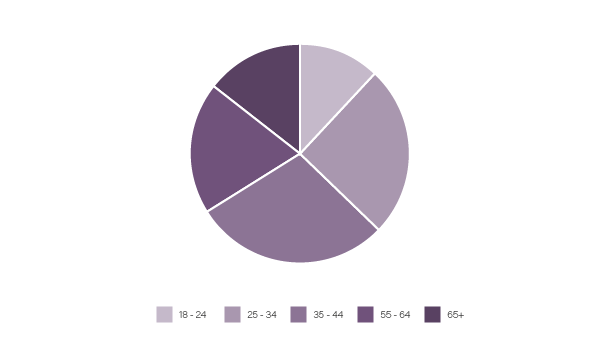 A similar trend was observed with family members, which emerged as the second highest influencing factor for London women's decision to have
anti-wrinkle injections
. Once again it was 35- to 44-year-olds that came out highest in claiming 'family have had it' to be a strong reason (20.4%).
A large number of 25 to 34s also appear to look to their family members: the fact that 18.6% in this age group chose this as a reason could be indicative of a rise among younger women opting for, or thinking about, the treatment as a preventative anti-ageing measure.
New beginnings
Divorce is perhaps an unsurprising trigger for both women's and men's desire to refresh and enhance their appearance – in our survey it was the third most influencing factor in London women's decision to have anti-wrinkle injections – but a closer look at the age breakdown for this factor was interesting.
By a small margin, the 55 to 64 group were at the top of the category who cited this (21.2%), which is perhaps expected as this is the age bracket in which many women get divorced; however, a comparatively high number of younger women also stated divorce as a reason for them to consider the treatment. This appears to reflect a relatively high number of marriage breakdowns among younger women – recent statistics show a rise in divorce rates among women aged 25 and 29.
Conversely, relatively few women over the age of 65 (11.5%) stated that divorce would prompt them to undergo the procedure; however, statistics show divorce rates among this age group are lower than for younger couples.
Divorce as a factor in anti-wrinkle injections decision: age group comparison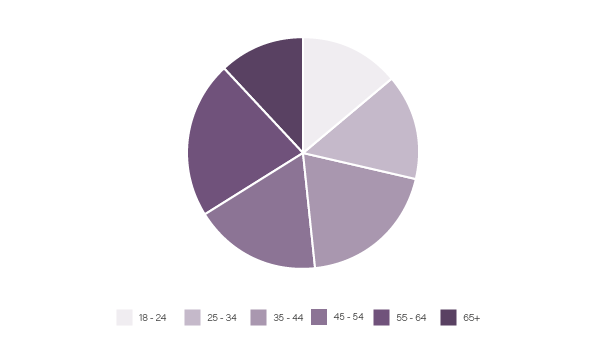 Snap happy?
The surge in social media's influence on our body image and beauty ideals, particularly in recent years, is undeniable. With heavily filtered selfies depicting immaculately made up faces (celebrities often indistinguishable from 'everyday' women) flooding image-centric apps like Instagram, it's little wonder that the girls and women who follow them strive to emulate the poreless skin, plump lips and toned bodies they see.
Notably, our findings reveal a substantial number of women in the 18 to 24 age group citing social media as their main motivation for considering anti-wrinkle injections, with the influence of Instagram and Snapchat appearing more pronounced than that of Twitter and Facebook.
Social media as motivation for anti-wrinkle injections: age group comparison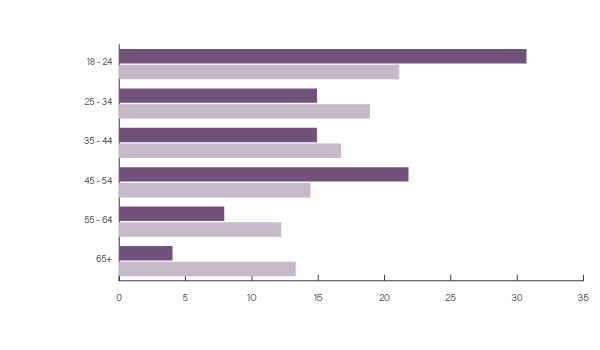 But the phenomenon is far from confined to the younger generations, as our findings suggest increasing numbers of London women in their 40s, 50s and beyond are recognising the influence of social media on their desire to enhance their appearance through cosmetic treatments. For example, a hugely significant proportion of 45- to 54-year-olds look to Instagram for appearance inspiration, with almost 22% stating they would be driven by these sites to have anti-wrinkle injections. And 13% of London women over 65 in our survey reported Facebook and Twitter as their biggest motivators to get the treatment.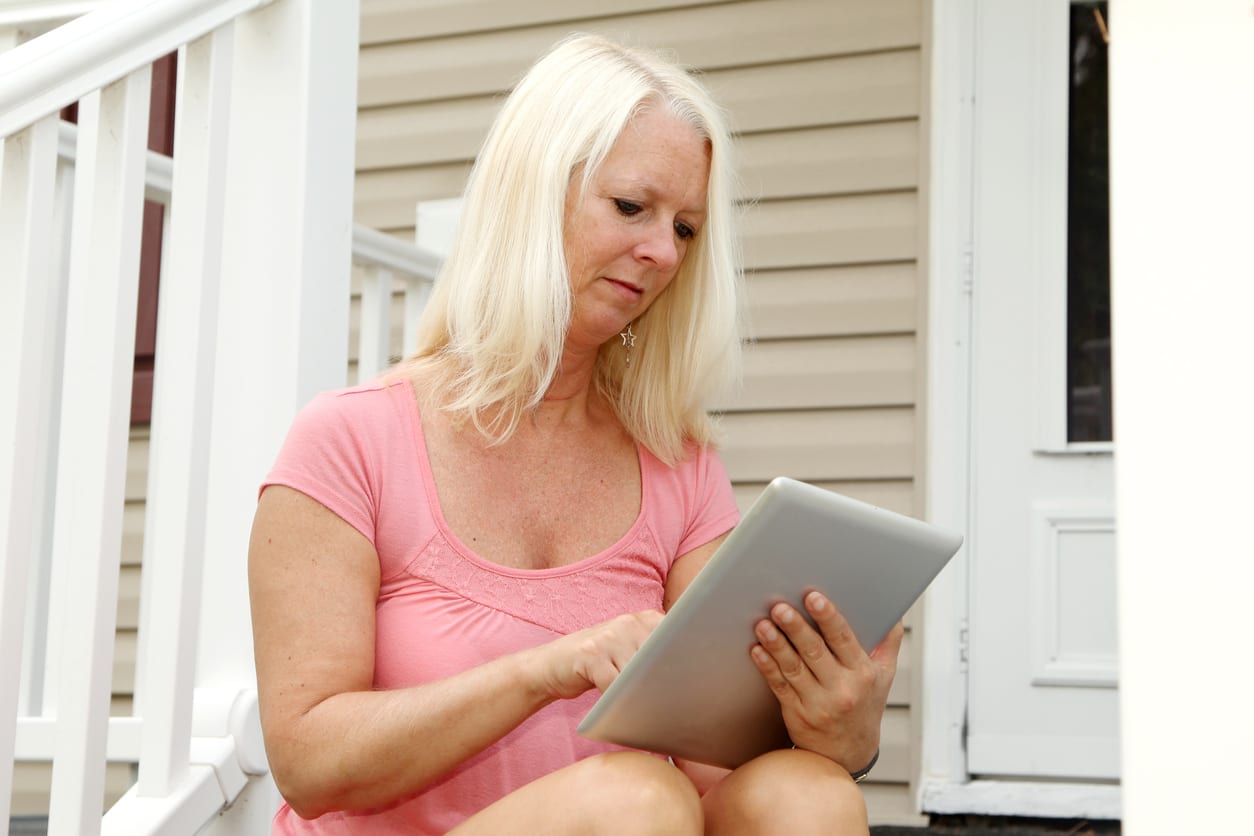 Quest for improvement
The possible implication of our findings is that, whatever your age, if you're a woman – and particularly if you're living in our cosmopolitan capital – you're constantly comparing. Whether you're looking to friends, family members, celebrities or social media influencers, other women are highly likely to be your primary source of inspiration when it comes to enhancing your appearance.
The rise of social media has been blamed for portraying unreachable beauty ideals and exacerbating low self-esteem, particularly among young women – the average age at which women seek cosmetic surgery has now dipped below 40, for example – and this has been widely reported as cause for concern. However, no reputable, experienced or professional cosmetic doctor or surgeon would agree to proceed with treatment of any kind if they believed the patient's motivations were caused by self-esteem or mental health issues, intense peer pressure or the desire to simply emulate a celebrity's look.
There is also evidence that major surgical cosmetic procedures are on the decline. Instead, it is non-surgical treatments, such as facial injectables and CoolSculpting – a completely non-invasive fat reduction procedure – that appear to be favoured by London women, as our findings show. This suggests a desire for natural-looking results that are, particularly in the case of anti-wrinkle injections and dermal fillers, reversible.
The availability of such treatments is a reflection of the significant advancements that have been made in cosmetic medicine. That women are now afforded the option to 'tweak' and enhance their appearance in discreet, reversible ways without undertaking the physical and financial toll of major surgery is a development that's clearly changing the face of aesthetics – at all ages – for years to come.
To learn more about why London women get Botox or any of our treatments call our Botox Clinics in London on 0330 828 4674. Alternatively to book a Botox appointment at our clinic in London, please fill-in our online enquiry form.
Find our Botox Clinic in London – Botox Near me
The Cosmetic Skin Clinic in London is within short walking distance of Oxford Circus, Bond Street and Baker Street tube stations. It is also very easy to reach us via train from the Paddington and Kings Cross St Pancras Train Stations.