By Dr. TRACY MOUNTFORD, MBBS MBCAM
2017 is set to be an interesting year. We've seen quite a shake-up over the last 12 months in politics and the wider world, but for many of us life goes on as normal. And for some, finding a successful balance between work and personal life continues to be a goal that transcends the varying fortunes of world affairs.
Achieving this goal isn't made any easier by an ever changing work/family dynamic and an increase in non-traditional dating opportunities such as internet dating. These can leave single women in their 50s confronted with a dating landscape that can seem difficult to navigate.
For those of you who are struggling to get back in the game, we asked six experts for advice on the best ways to re-enter the dating scene.
No time for mind games
One of the biggest changes for older women who are starting to date again is that years of life experience mean you will undoubtedly have a stronger, more developed sense of 'self' than when you were dating in your twenties.
Michele Paradise, Wellness Expert and Founder of Change Your Mind for Good explains: "I think rejection is difficult at any age. An older woman is usually better equipped as she has had years of getting to know herself and has accepted many of the things that held her back when she was younger, like how she looks, her education, her socio-economic situation and her sexual desirability."
Older women often have less need for external validation as they have reached and surpassed many of the goals they set themselves, says Michele. Priorities then shift to things that really matter such as love, friendships, family, memories and quality time on their own and with others.
This means that older women care less about what other people think, while younger women can become swept up in money, careers, buying things they may or may not need and seeking validation from peers, she adds.
"As we get older we have accepted that we're not 6 feet tall and built like a model or that we have curly hair instead of straight hair or that we're never going to be invited to sing at the Royal Opera House!"
Do you have the space for a new relationship?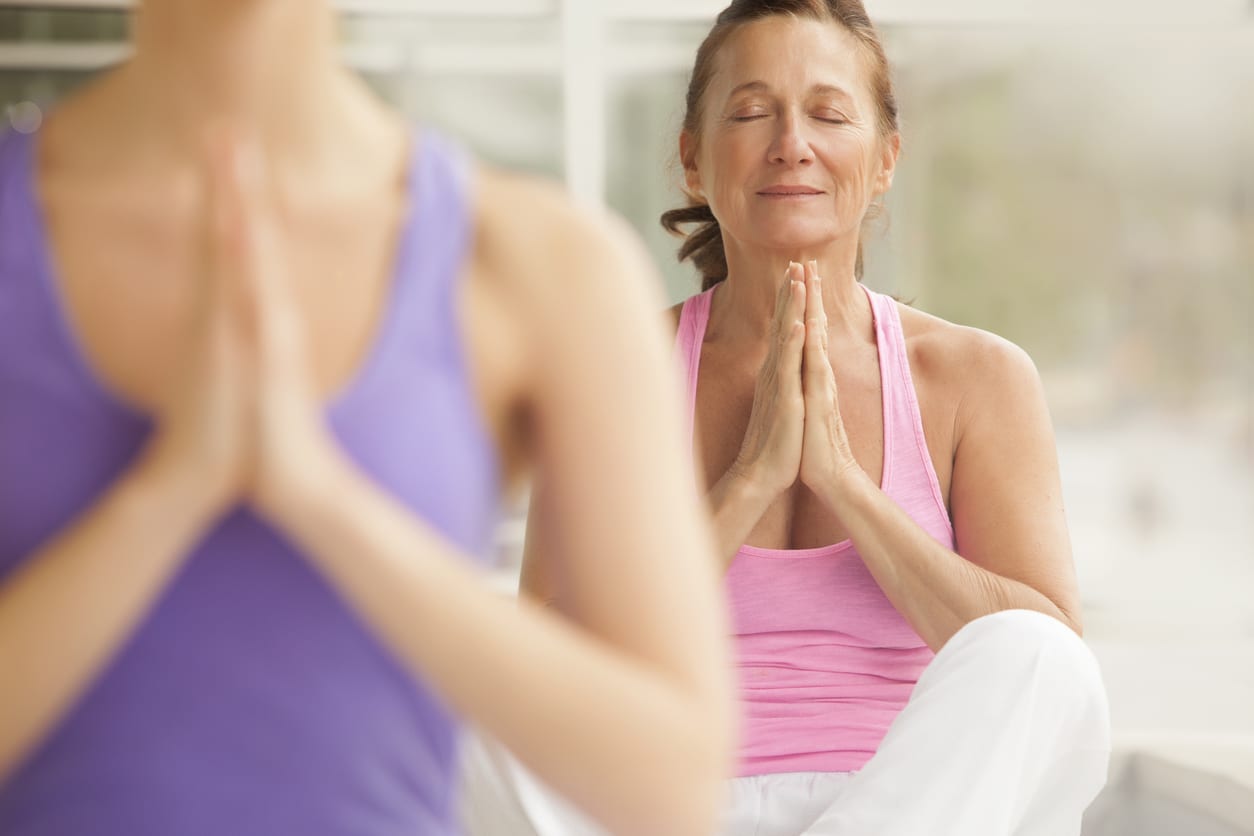 So it seems that having a fully rounded private life can be a boon for those facing the roller-coaster of a new relationship. But does this leave room for a new person in your life?
"Sometimes having a full and established life can get in the way of forming a new relationship because people simply do not have enough time and space to make room for a new relationship," says Michele.
"If we are divorced or widowed, we frequently throw ourselves into hobbies and join social groups to avoid feeling lonely, and when we find someone that we like, it can take weeks before we actually meet.
"I personally experienced this when I was dating. I would meet a man that was very busy with his job and travelled as well as being heavily involved with his children or grandchildren and had very little time for a relationship even though he wanted one. We literally spent weeks trying to find a mutually convenient date to meet for a coffee. We managed to arrange two meetings but the first one he had to cancel due to a family emergency and the second one I had to cancel due to work commitments.
"In the end, we never actually met! If we couldn't even manage to arrange a successful coffee date, how were we ever going to find time for a relationship? I'm not alone. I meet women every day who are in the same boat. Emotionally they want a relationship but realistically they don't have time."
However, Michele explains that this is only natural: "As we get older, we have more friends and family. We've collected children, in-laws, grandchildren and a network of friends that we enjoy spending time with because there is no pressure and we can be ourselves with them and have a laugh. Alternatively, dating can be exhausting."
If you're in this position, it could be best to change your dating priorities in line with your life changes. There's no point jumping headlong into an affair that may see you whisked off halfway around the world at the drop of a hat when you are not prepared to break your commitments at home.
Being clear about what you want from the start will allow your life to settle around the new addition to your routine. And if all goes well, it will only work to enrich your already full social calendar.
Matching your workout to your changing body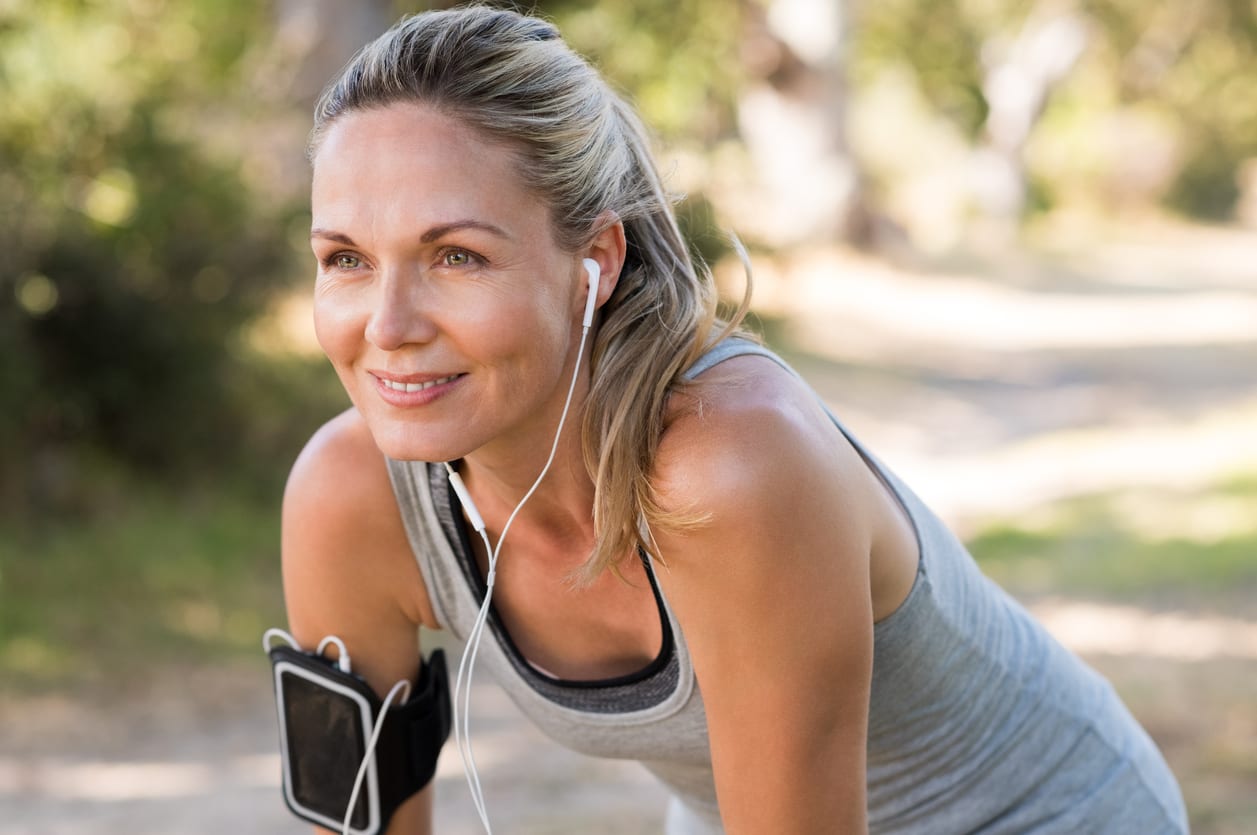 Confidence may come with experience but many women looking for love in later life will still feel self-conscious about their looks. At any age there are a host of factors that motivate us to be more active: fitness, weight, social, health — but are there any special consideration for women over 50?
Clare La Terriere, Personal Trainer, Pilates Teacher and Founder of Live in Fitness , says: "Women over 50 are exercising for different reasons. High blood pressure and high cholesterol can be lowered with exercise so this may be the motivation. New relationships can be a trigger and many women find exercise relives menopause symptoms. Often women realise after 50 that they have to take care of their bodies before it's too late."
We put a number of questions to Clare about exercising at an older age and what to keep in mind.
First, we asked if there was a type of exercise that best suited women over 50.
"The most effective exercise for women is raising the heart rate to boost metabolism, as well as weight bearing exercise which help to counteract the loss of bone density as we get older."
But that's all well and good for people with time on their hands. What about someone who only has limited free periods due to work or life commitments?
" If you are busy, you need to work harder for a shorter length of time. 'High intensity interval training' is the best exercise you can do. And you can do this anywhere, as you don't need any equipment."
Changing your exercise routine after 50
To avoid any injury, it is always best to take a realistic approach to ageing and the extra stresses it puts on your body.
Clare says the natural changes that occur after 50 are:
The menopause
Loss of muscle mass
Increase in body fat
Slowed metabolism
Loss of bone density
Stiffer joints
"Although you may be more prone to injury when you are older, many women are actually fitter after 50 than they were when they were younger. If you have always exercised and you don't have any pain, there is no reason to stop or change your routine."
Power dress for success?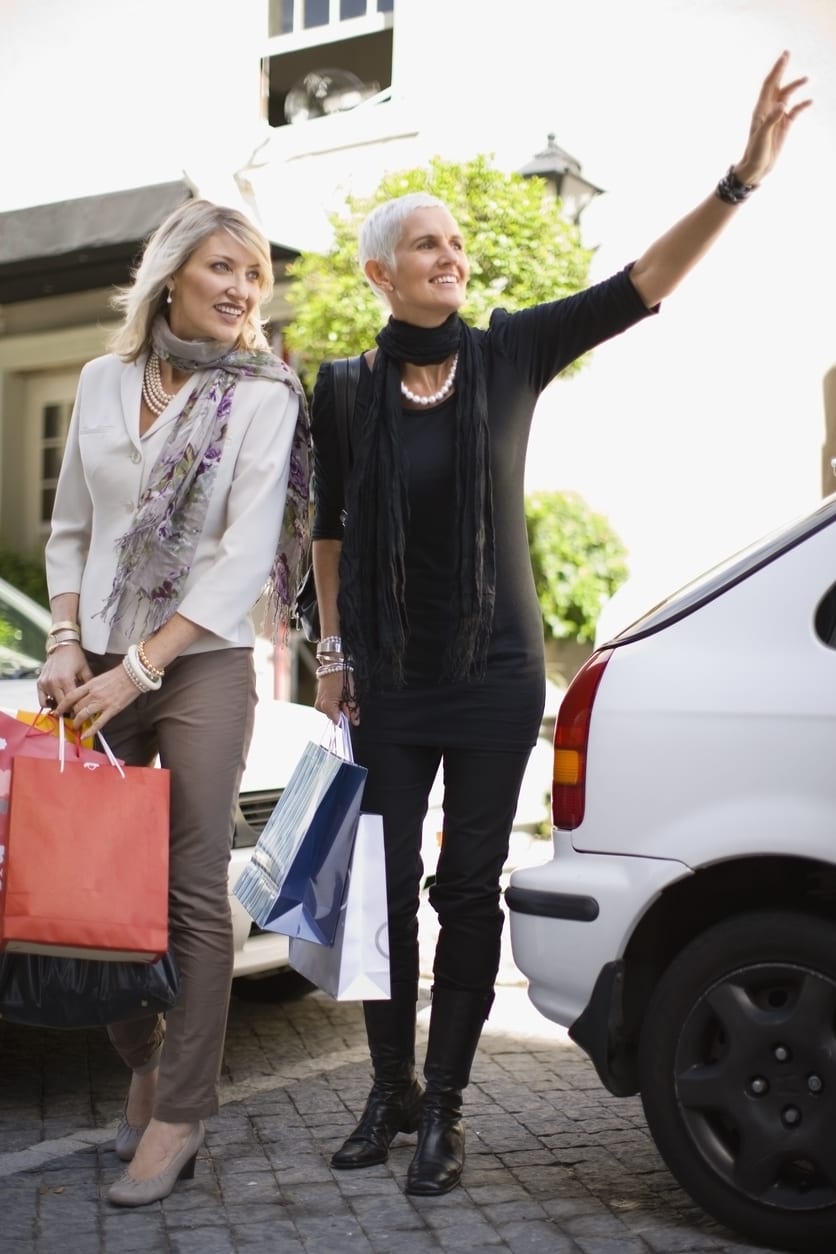 If you are a successful older women then by now you no doubt have found your 'signature style'. But it may be some time since you've put yourself and your fashion sense on the line to be judged by a prospective love interest. Trouser suits may work in the boardroom but they can seem 'uptight' on an informal date.
To help us look at what fashions work well and which ones should be consigned to history, we put the question to Lisa Talbot, Award Winning Fashion Stylist.
" For all women 'Style has no age limit', the seasonal trends can be used by women of all ages linking with their personality, lifestyle and body shape.
"Ladies will wear the trends that they feel comfortable wearing so will therefore, use brands that complement their signature style."
She says that popular fashion trends currently enjoyed by older women include "leather, suede, velvet and silk mixed together with jersey and elastane for comfort".
We asked what looks good, and what older women should steer clear of.
Lisa says: "This is a very difficult question to answer as the trends will be worn by women of all ages who will just twist them to suit their own personality, lifestyle and body shape."
| | |
| --- | --- |
| Age | Clothing |
| Early 20s | Ripped knee skinny jeans with frayed edges, cropped top, bomber jacket, Nike trainers |
| 30s | Ripped knee skinny jeans, sweatshirt, Converse baseball boots |
| 40s | Skinny/straight leg jean, coloured knit, quilted puffer jacket, ankle boots |
| 50s | Skinny/straight or boot cut jean, shirt (chiffon or fitted), camel mid-length wool coat, knee high boots |
Examples of how small changes make a certain style look better for different ages.
Ceri Wheeldon, Founder and Editor of Fabafterfifty.co.uk , says older women should focus on their strengths, particularly their ability to carry off 'glamour and drama' better than their younger counterparts.
"Wear statement jewellery to showcase your style personality. Dress to accentuate your assets and not your flaws. As body shapes can change as we get older be honest about what your shape is today and dress to highlight your best bits."
She suggests if you have great shoulders then go with the cold shoulder look, as long as you do it subtly. Alternatively, if you still have a curvy hourglass figure then choose clothing that showcases that killer waist. And if you are in any doubt, a dedicated session with a stylist can help you see what colours and styles work best for you.
But what about the all-important first date? We all know what they say about first impressions, so how do you make yours last for all the right reasons?
We put several possible first-date scenarios to Lisa and this is what she said:
| | |
| --- | --- |
| Type of date | Clothing |
| Casual meet up | Dress, plaid jacket and sandals or formal trousers (can be print or block colour) great fitting top maybe with a sheer inlay to complement and heeled ankle boot (snake print, patent, mixed fabric) |
| Restaurant/Theatre | Indigo jeans or a pencil skirt (print or block colour), top with detailing (dependent on body shape), heeled boot or sandals, knee length wool coat |
| Drinks | Coated black jeans, floral or leopard print chiffon shirt, black leather jacket and a patent shoe boot |
| Coffee | Print trousers, jersey, glitter thread top, tasselled poncho or leather skirt, casual dress (print or block colour), opaque tights and heeled ankle boot/knee high boots |
Ceri's advice is to wear the colours that are most flattering to your skin tone and always remember that is your top half that is on show when sitting across a dinner table, so keep that the focus.
For styles to stay clear of, she says the secret is to be brutally honest with yourself in the mirror. If it doesn't look 100% right, especially if it is a trend that you wore when you were younger, then change it.
However, the most important thing is to "wear what reflects your personality".
Banish the bad hair days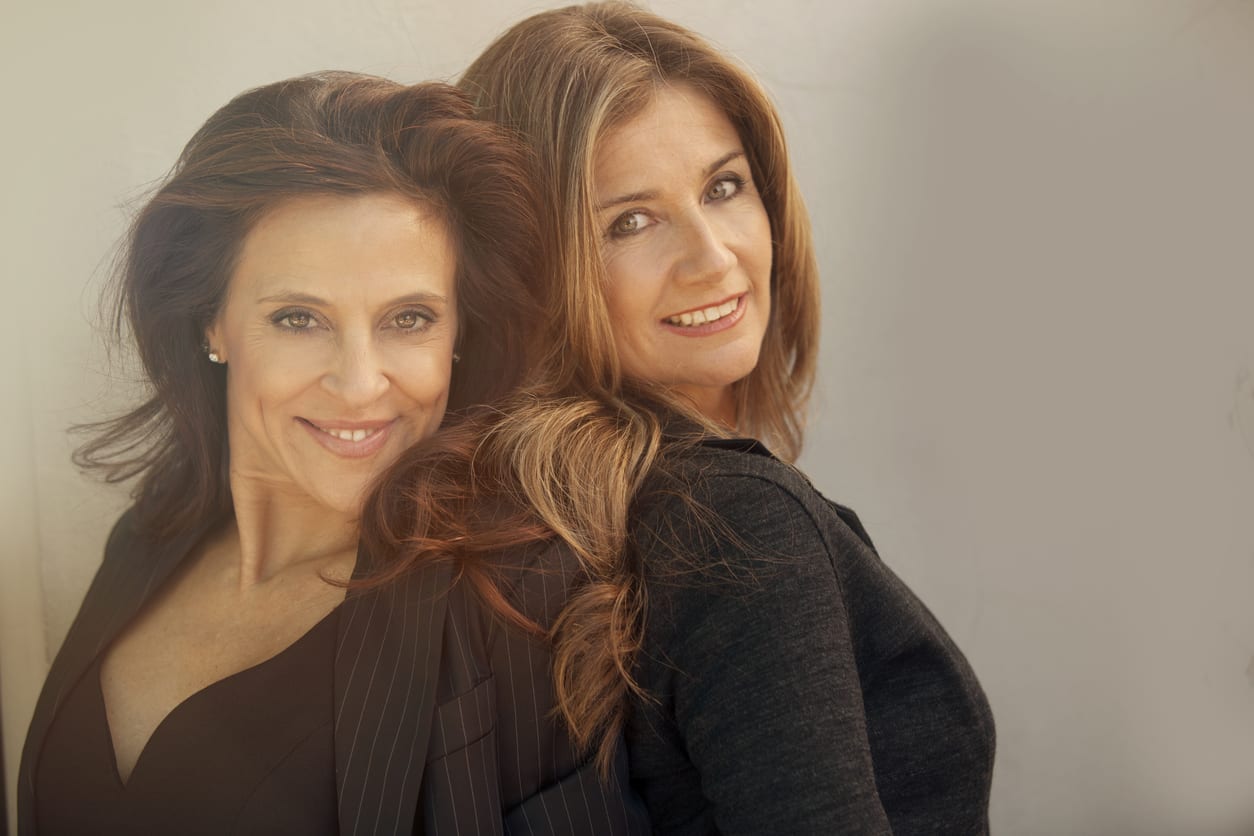 Every woman knows that one way to feel your most confident is by overhauling your usual hair and make-up routine.
Ceri from Fabafterfifty.co.uk says to ask yourself whether you feel stuck in a rut and need a lift. You may not need to do much, it might only take a few tweaks to your usual style to walk away with a fresher and more contemporary look.
"Many of us started to use makeup when we were trying to look older — and now we are looking to do the opposite. We can lose definition in our faces as we get older — eyes, lips, brows, cheeks and jawlines — applying makeup the right way can help us to add that definition back."
We are all aware that the tone and texture of skin change over time, but is there anything on the market that can mitigate these changes. And should anything be avoided?
Ceri says: "Avoid powder-based products that can have a drying effect on the skin. There are lots of new formulations aimed at mature skin — many nourish the skin as well as enhancing the face. Always start with a primer to create a good base before you start applying makeup itself."
Next, we turned to the thorny subject of greying hair.
In recent years the trend for dyeing hair to hide the grey has been bucked by women either embracing their grey locks or choosing to dye their hair grey. This isn't yet the norm though, so just how much of an emphasis is there for women to cover their grey up? For answers, we sought the expert advice of award winning hairdresser Martyn Maxey.
Martyn says: " There is still some pressure, though much of it is from women themselves. As the population is ageing differently, living longer and actively trying to become fitter and eat more healthily, we are tending to look a lot better as we age too."
He concedes that it is an unfortunate part of life there is an automatic assumption which equates grey hair with looking old.
"The basic fact is still though, that almost any woman with a decent haircut and hair colour will look visibly, instantly younger than without."
With this in mind, we asked what styles and colours are best for women who want to adapt to the natural changes in their hair's colour, texture and thickness.
"As women age you need to soften both the lines of the cut and the tones of the colour," says Martyn.
"You do not necessarily have to cut your hair short, but I would advise to soften hard lines where possible, and probably add some softer layers or graduation to create a much more forgiving and flexible hairstyle to live with."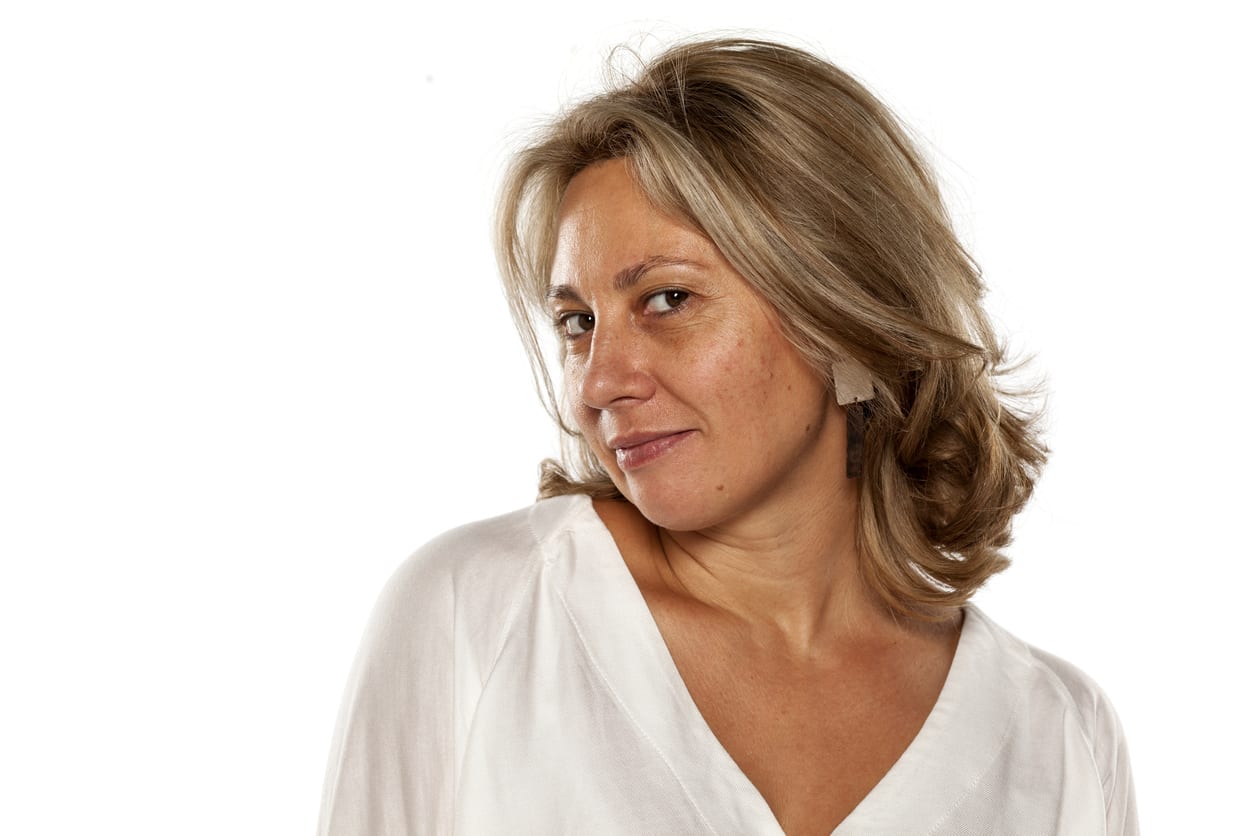 He recommends a colour somewhere between a mid-brown to blond depth, with softer less extreme tones.
Martyn warns that opting for 'very blonde' can be just as bad as very dark brown or black, with the former resulting in a look that can just appear grey.
"Most of our colouring for women over 50 would involve a semi-tint/tint, depending of the volume of grey, with a scattering of lighter tones around the face which both harmonises the hair colour and distracts the eye when the grey grows through again. Hair colour will instantly lose 5 years in age, and you could lose up to 15 years in age."
Refreshing the face
Whilst women over 50 may have a greater sense of self in terms of inner confidence and life experience, they can also be faced with feelings of being invisible and unable to compete with their younger counterparts. Age and experience tend to go hand in hand and whilst we all aspire to 'love the skin we're in', giving Mother Nature a helping hand can not only provide an instant and obvious lift to both body and mind but can empower many women to face the dating game with renewed confidence.
The rise in popularity of non-surgical anti-wrinkle treatments has been helped by the fact that most procedures can be performed in the space of a lunchtime, and in most instances those undergoing the treatment can walk away looking instantly fresher and rejuvenated, but without appearing like they have had anything 'done'.
This means that treatments such as Botox or dermal fillers like Juvederm have become as accessible as a manicure or haircut, and are now considered the norm by many women.
To find out about the right way to use anti-wrinkle treatments, we talked to one of the UK's leading cosmetic doctors, Dr Tracy Mountford MBBS MBCAM, founder and medical director of the multi-award winning Cosmetic Skin Clinic.
Assessment and artistry the key to cosmetic treatments
Dr Mountford revealed that the secret to impressive and sustainable results is to start with an indepth consultation and thorough analysis of the patient's face, and is reliant on the skills and expertise of the cosmetic practitioner who will be performing these treatments. It's about building a relationship of trust and confidence in your cosmetic doctor which is developed over time. This holistic approach to your consultation ensures that you get the best outcome from your treatments.
"Women today don't want a total transformation with bloated lips, over-stuffed cheekbones and frozen foreheads that they don't recognise. They want to look in the mirror and see an appealing, attractive, fresher version of themselves."
To get the most natural results, Dr Mountford says a practitioner should scrutinise the face from all angles before drawing up a personalised long-term treatment plan.
"Today, cosmetic treatments are much more sophisticated, it's no longer about chasing the lines, We strategically place dermal fillers in areas to support the ageing face, for maximum impact, which retains the natural facial expressions while remaining pretty undetectable. This is a unique aproach that considers how the the whole face looks from every angle ."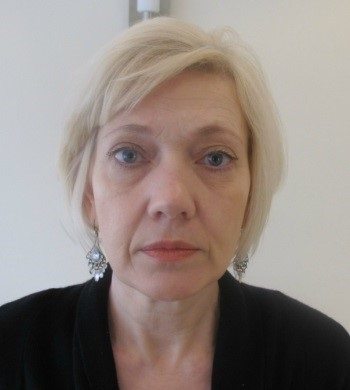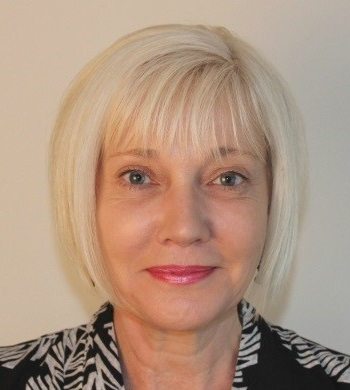 Non-Surgical Facelift – Treatment Performed by The Cosmetic Skin Clinic
Combined treatments create impressive yet undetectable result
Botox and dermal fillers are only a couple of a vast number of non-invasive treatments on the market. Techniques such as CoolSculpting, which harmlessly freezes and then banishes fat with long term results which is great for double chins, and Ultherapy, where ultrasound is used to lift and tighten the skin, are proving increasingly popular due their excellent long-term results.
Dr Mountford says: "I find the best results are usually by customising a clever combination of different treatments such as injectables and skin lifting and tightening treatments, such as Ultherapy, that work in synergy to suit an individual's needs."
When we asked Dr Mountford for the secret for a truly great-looking appearance, she had two key statements to say: "Superb visualisation on the part of the treating practitioner and understated high quality treatments."
"Successful cosmetic treatments are all about keeping people guessing has she or hasn't she? The only people that should know the answer to that question are your cosmetic doctor and you."
Dr Tracy Mountford
When to play the game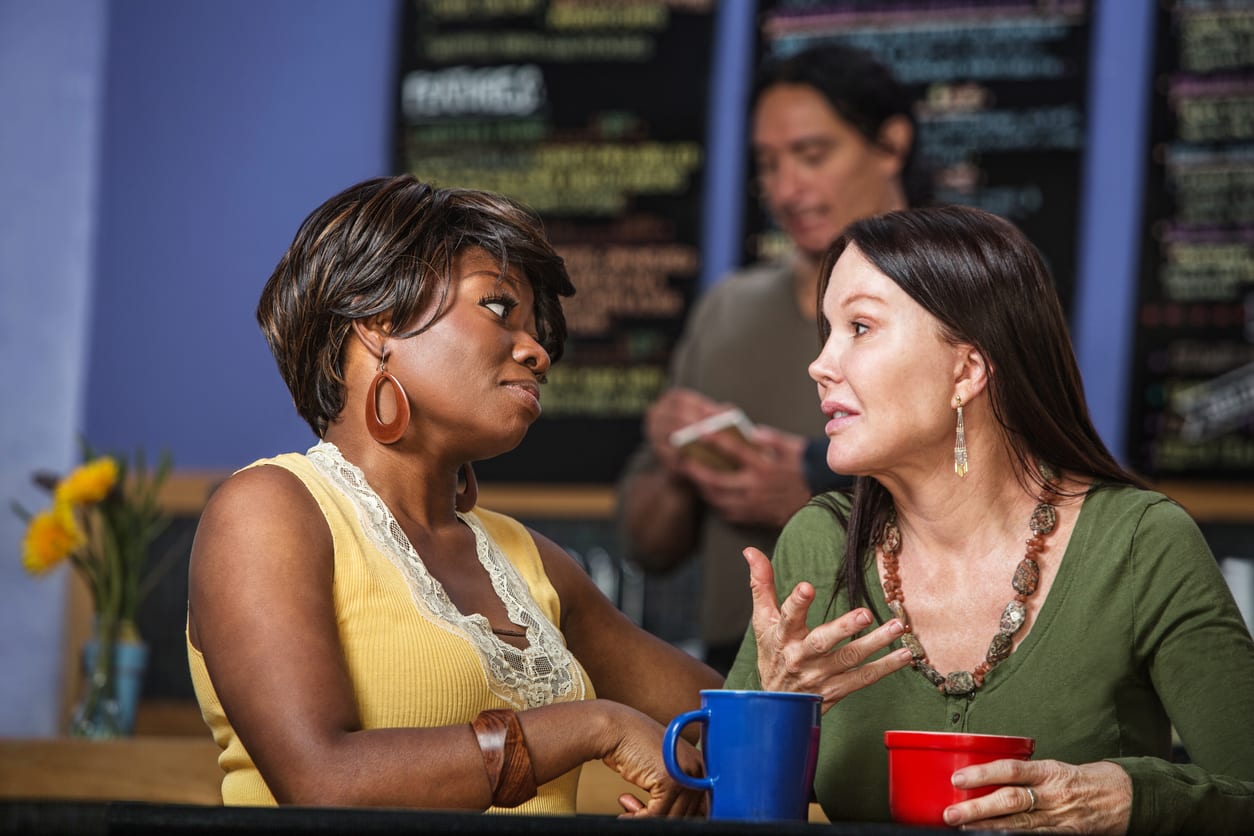 All this preparation could be for nothing if you fail to match your look with the location/venue of your date.
Choosing where to meet for the first time can be a minefield. You may not feel comfortable enough for a dinner date on your first meeting — fearing the two of you sitting in silence while watching each other eat.
Equally, noisy venues can kill conversation dead and leave you finding out almost nothing about the person opposite you.
Fortunately we have on hand the UK's top Dating Expert and Dating Coach, James Preece, to share his advice on choosing the right location for your first date.
Q. What does the choice of first date say about the person who choses it?
"Nobody is going to be themselves on a first date. You'll both be very nervous and hope things will go well. So if they take the time to choose somewhere you'll be comfortable and relaxed, it shows they are a caring person. If they'd rather take you somewhere noisy and expensive just to show off how much money they have then that demonstrates their insecurities. A good date is about making the other person feel good and putting them at ease."
Q. Is going out for a meal a good choice for a first date or does it cause unnecessary anxieties?
"I'd never suggest going for a meal on a first date. It just causes too much pressure and there's always the issue at the end regarding who is going to pay. If someone pays for it then the other might feel obliged to see them again, even if they aren't keen. The other big issues it that if you don't like them you're stuck with them for ages. It's much better to go for drinks on a short 90-minute date and then you can always have dinner next time."
Q. What are 'safe' subjects for a first date and which subjects should be avoided?
"Your goal is to find out lots about each other and discover mutual interests, ambitions and goals. Avoid talking about yourself too much or saying anything negative. Complaining is not attractive but showing you are passionate about something is essential. People like someone who likes them, so let them know you want to know what they have to say. It goes without saying that talking about your ex, politics or your horrible job are bad topics. The best ones are about travel, future plans, pop culture and your family."
Q. Should you avoid revealing any flaws or insecurities or is it best to show your true self from the start?
"While it's always best to be yourself on a date, you have to make sure it's the best version of you. This means being positive and presenting your best side. Nobody needs to see your weaknesses early on. If you get to know each other these will be revealed anyway but they'll be accepted much more easily as the person will already like you."
Q. Does game-playing work?
"By its very nature, dating is a game in itself. You want to attract the person you are interested in while making sure they believe you are worth getting to know in return. Unfortunately, some people try to be manipulative and take things too far, which doesn't work at all. For example, they might wait three days to return a text message just to give you the impression they are busy. Or they'll tell you lots of lovely things they don't really mean just to try and win you round. Honesty is always the best policy, especially when it comes to dates."
Q. What are the tell-tale signs that show whether your date is looking for a serious relationship or a casual fling?
"It's easy to tell this if you know what you are looking for. If they are respectful, polite and never leave you hanging then they are clearly interested in a long-term relationship. If they seem to always be busy and never make time for you, they are probably looking for easier options. If anyone tries to talk you into anything you are unsure about, cut off all contact."
The idea of returning to the dating scene at a later stage in life may seem like an effort you could do without, but nowadays there are readily available activities and expert advice out there that can not only make the journey easier, they can also make it exciting and worthwhile in and of itself.
So enter this new stage in your life with the confidence of experience, and conquer this challenge with the same resolve and determination that has seen you achieve all your life's accomplishments so far.