By Dr. TRACY MOUNTFORD, MBBS MBCAM
---
Summary of Content
Click on the links below to jump to each section:
Far from only offering aesthetic results, BOTOX® can be highly effective in treating a number of common medical complaints. In this guide we explore:
The conditions
What the treatment involves
The kind of results clients can expect
How to find out more and book a consultation
---
Chronic migraines
What is a migraine?
A migraine is characterised by an intense, throbbing headache accompanied by symptoms such as nausea, vomiting and increased sensitivity to bright light, noise or smell. It is thought to be caused by changes in chemicals in the brain – particularly serotonin – but migraines can also be triggered by hormonal changes, stress, physical triggers, such as teeth grinding (bruxism), and even certain foods.
How are 'chronic' migraines defined?
The National Institute for Health and Care Excellence (NICE) clinical guidance for treating chronic migraines with BOTOX® defines 'chronic' as headaches on at least 15 days of the month, of which eight of those are with a migraine.
How does BOTOX® help with chronic migraines?
BOTOX® was cleared and approved as a specific treatment for chronic migraines in July 2010 by the Medicines and Healthcare products Regulatory Agency (MHRA). This was after a number of people reported improvements in headache symptoms after having botulinum toxin injections. Clinical trials were then conducted to explore the effect of Botox on headaches. While evidence of general headache alleviation was inconclusive, there were signs that Botox could have a positive effect on chronic migraine sufferers. A number of theories have since been put forward as to how BOTOX® might relieve migraine symptoms.
Botox for Migraines – how it can help:
As BOTOX® relaxes muscles around the head, it reduces blood pressure within the brain
BOTOX® might inhibit the nerves' ability to send pain signals
BOTOX® might prevent the nerves from sending signals that trigger a migraine
Although it's not clear exactly what the mechanism is, there is significant evidence indicating that BOTOX® should be considered as a potential treatment for migraines. NICE looked at two large randomised controlled trials which suggested BOTOX® injections reduced the frequency of 'headache days' for chronic sufferers.
What sort of relief could I expect from BOTOX® injections?
NICE qualifies a person as 'adequately responding' to BOTOX® treatment if they have at least a 30% reduction in headache days per month after treatment cycles, and if the headache has changed from chronic to episodic migraine (defined as fewer than 15 headache days per month) for three consecutive months.
Excessive underarm sweating (hyperhidrosis)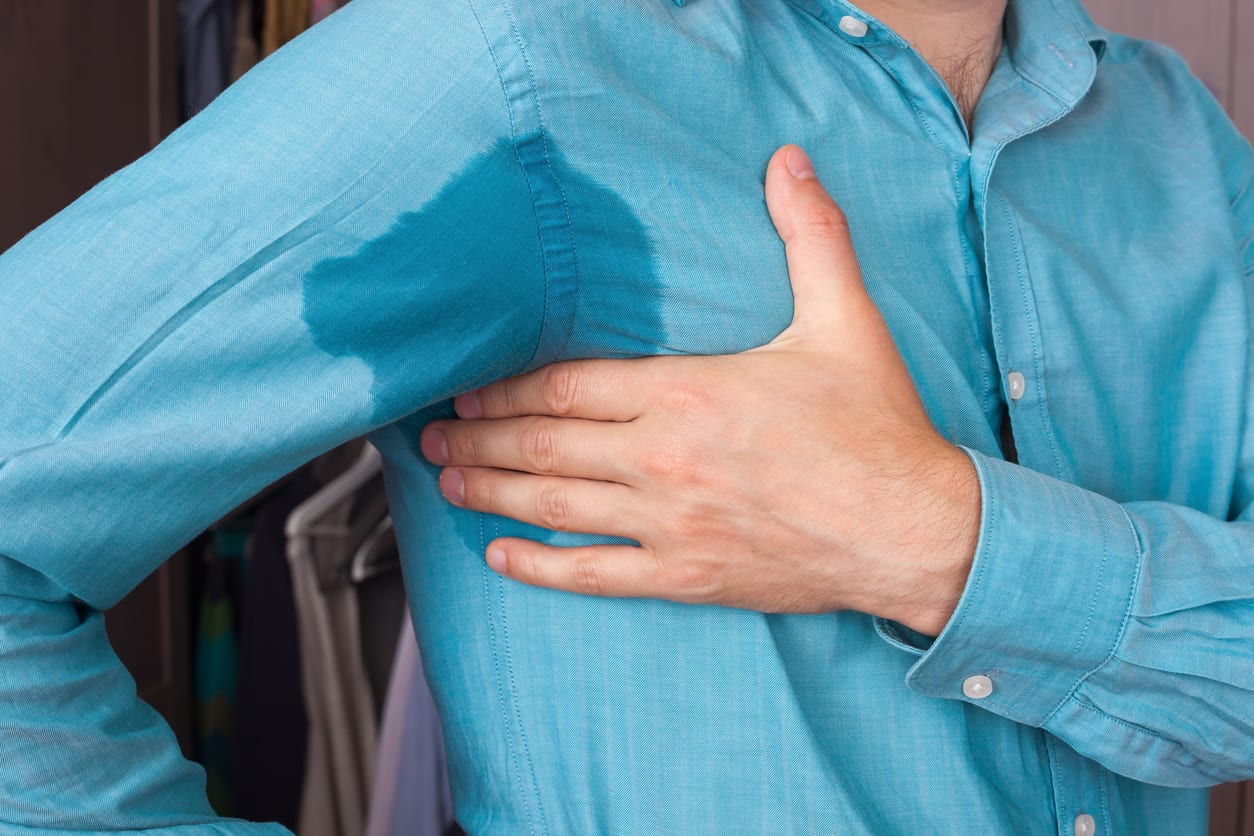 What is hyperhidrosis?
Hyperhidrosis is a common condition characterised by excessive sweating. Although there is no guidance to establish what 'normal' sweating is, if you feel you sweat too much and it interferes with daily life, it could be that you have hyperhidrosis.
Areas of the body that are commonly affected include:
Armpits
Face and chest
Palms of the hands
Soles of the feet
Groin
How does BOTOX® help with hyperhidrosis?
Botox has been proven to be effective at preventing excessive sweating as it temporarily paralyses the sweat glands. Treatment with BOTOX® for hyperhidrosis involves injections into the skin in areas of the body that are affected by excessive sweating. This helps to reduce sweating in these areas by blocking the signals from the brain to the sweat glands.
What does the treatment involve?
Typically around 15 to 20 BOTOX® injections are given in the affected area, which takes around 30 minutes. A typical treatment involves injecting Botox in areas that suffer a lot from excessive sweating, including the armpits, hands or feet. This clinically proven procedure stops excessive sweating in its tracks, giving patients dramatic and life-changing results without any need for surgery or downtime.
What sort of relief could I expect from BOTOX® injections?
The reduction of sweating in the injected areas usually lasts for up to 6 months, after which time the treatment can be repeated. You can expect up to 70% reduction in sweating.
To find out more about anti-wrinkle treatments, fill out our online enquiry form. Alternatively, you can also book a Botox consultation at our London and Buckinghamshire clinics directly on 0330 828 4674.
How To Find Us
The Cosmetic Skin Clinic in London is within convenient walking distance of Oxford Circus, Bond Street and Baker Street tube stations. It is also easy to reach us via train from the Paddington and Kings Cross St Pancras Train Stations.
The Cosmetic Skin Clinic in Buckinghamshire is situated in Stoke Poges and it is near to Gerrards Cross – Chiltern Railway, Slough's – First Great Western station. It also has convenient transport links with the M25, M4, M40 and A40 roads, making the clinic very easy to reach from Beaconsfield, Windsor, Marlow, Wembley, Richmond, Kingston upon Thames and the Surrey area.
For more details about our clinic's locations and the best ways to reach us by train, bus, car or by foot, please take a look at our dedicated pages.