Unless you've been hiding under a rock, it can't have escaped your attention that because of the ability to perform mans makeovers, men are looking more and more well groomed these days and it's because they are actually making a concerted effort! Perhaps you saw the Daily Mail's recent feature on brow threading for the boys by Jill Foster? http://www.dailymail.co.uk/femail/article-2574258/Fed-bushy-eyebrows-Tell-threaded-Its-eye-wateringly-painful-men-having-done.html Well, it appears that man-makeovers don't stop at eyebrow threading, waxing and man-icures…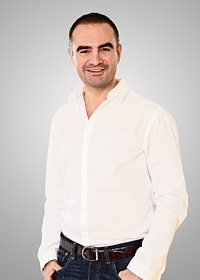 Recent stats from the US support what looks like a trans-Atlantic trend for men seeking facial perfection; a report by the American Society of Plastic Surgeons released this month has found that in 2012 men in the US opted for an increased number of injectable treatments such as muscle inhibitor and filler, with a rise of 6% recorded. 'Brotox' treatments, as they are quickly becoming known, are also catching-on across the pond here in the UK with more men seeking to look fresher, well-rested, more youthful and rejuvenated than before.
This is a trend that has also been noted here at The Cosmetic Skin Clinic, but in addition to muscle inhibitor and fillers for smoothing a furrowed brow and plumping lost volume, men are on the lookout for treatments that can go that bit further. The Cosmetic Skin Clinic now uses a high-performance, non-invasive ultra-sound treatment from the US called Ultherapy which can actually strengthen the look of, and further pronounce that classic strong jaw line that separates the men from the boys. Restoring lost definition between the jaw line and neck is a great way of staving off the tell-tale signs of ageing.
Men are starting to join the Cosmetic Skin Clinic's ever-increasing waiting list to benefit from this one-off firming and tightening treatment which has no downtime! Ultherapy bypasses the surface of the skin, specifically targeting the deep, structural skin tissue where collagen lives. Using ultrasound technology it encourages a lifting and tightening effect from the inside out in response to the energy delivered to this particular area of the skin. Within 3 -4 months of treatment you see the optimal, long-lasting results.
Last Year Saw A Rise Of 352% In Male Cosmetic Surgery!
Plastic Surgeon and President of the British Association of Plastic Surgeons comments: "Last year saw 4,757* men go under the knife for cosmetic enhancement which was a 16%* rise on the previous year (2013 versus 2012). Over the last 8 years there was a rise of 352%* in male cosmetic surgery underlining the surge in demand. Clearly the pressure to shape up and look young is affecting men as it previously has women for decades. Going under the knife is however not something to be taken lightly and it is essential that the public appreciate that these are medical procedures which have risks as well as benefits so a thorough consultation with your surgeon to understand the likely outcome, recovery and risks is essential."
For the best a man can get,  have a look at the new wave of non-invasive, effective treatment options available at the Cosmetic Skin Clinic.
Note: *Figures from the British Association of Aesthetic Plastic Surgeons – BAAPS
To find out more about our 'mans makeover' treatments please contact us at The Cosmetic Skin Clinic on 01753 646 660