'Everyone wants to maintain their looks': Linda Lusardi, 62, reveals she is open to having 'tweakments'
Daily Mail
May 2021
The Daily Mail's Sean O'Grady reports on how TV presenter and model Linda Lusardi has embraced tweakments to maintain her looks. In an exclusive photoshoot for Best Magazine, the former glamour model revealed how she often feels 'self-conscious' about her looks from time to time. But with a little help from non-surgical treatments, she is full of confidence and still feels sexy at 62.
In the photoshoot, she looked sensational as she posed for Best Magazine in an angelic figure-hugging body shoot which showed off her toned physique and smoothly sculpted skin. Reflecting on the natural process of ageing and her own sense of confidence, she explained:
"'There is nothing worse than sitting outside a pub having a drink and thinking, "Are they looking at my bad skin?" If you can do things to make you more confident, I say why not?!'"
Ultherapy and Dermal Filler Tweakments
After having Covid-19, she is grateful for being healthy and well while still "looking OK" for her age. With a little help from cosmetic treatments like skin-tightening Ultherapy and dermal fillers at The Cosmetic Skin Clinic, she has looked after her looks "without going under the knife." She believes that "moderation is key when it comes to looking after yourself," as this can help you to achieve a look that is natural and authentic.
She comments: "You don't realise how many people have had things done, because they don't look like they have!" Having fully embraced this naturally uplifting route, she likens "spending money on non-invasive surgical procedures to buying a new handbag, joking she would rather spend the cash on getting rid of the bags under her eyes."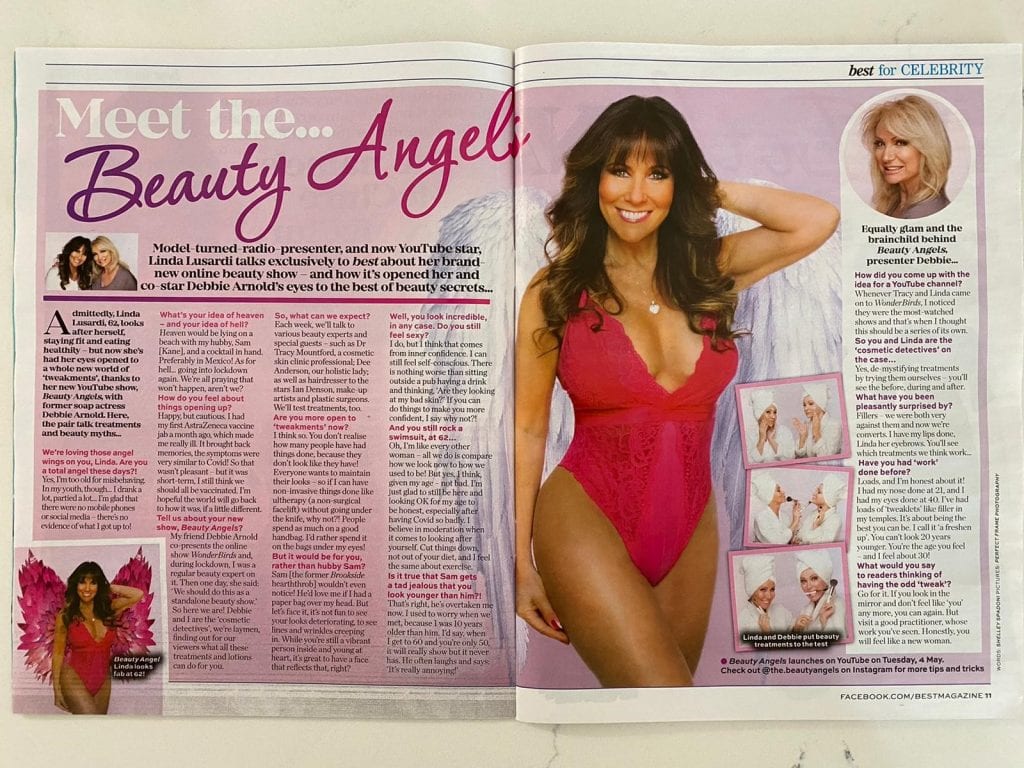 Beauty Angel
Linda is the co-founder of a new online show called the 'Beauty Angels' and a regular contributor to the incredibly popular 'Wonderbirds' show, which also features our very own Dr Tracy Mountford. Linda has become an advocate for non-surgical treatments, explaining how they can benefit both men and women who want to age gracefully. She comments:
"Each week, we'll talk to various beauty experts and special guests – such as Dr Tracy Mountford, a cosmetic skin clinic professional; Dee Anderson, our holistic lady; as well as hairdresser to the stars Ian Denson, make-up artists and plastic surgeons. We'll test treatments, too.'"
To find out more about the treatments mentioned in this article, fill out our online enquiry form. You can also contact our skincare experts in our London and Buckinghamshire clinics on the following phone number: 0343 253 8240.