By Dr. TRACY MOUNTFORD, MBBS MBCAM
WRINKLE RELAXING TREATMENTS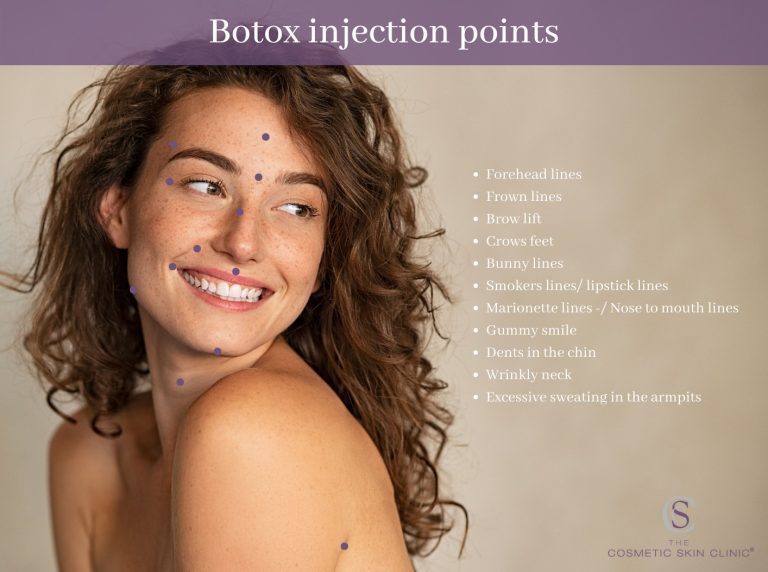 Highly trained doctors and nurses with experience in administering BOTOX® injections

 

The ultimate bespoke wrinkle relaxing treatment

 

Soften dynamic lines and wrinkles but without the frozen look

 
Being able to show facial expressions is great, but sometimes being over-expressive can result in lines forming especially forehead wrinkles. Over time these lines can get deeper becoming wrinkles. Smooth the wrinkles with our FDA-approved BOTOX® wrinkle relaxing treatment. The Cosmetic Skin Clinic team are experts and medically qualified in BOTOX® injections to give you a fresher look in which you can still be expressive, just without the deep wrinkles. 
Frequently Asked Questions about Wrinkle Relaxing Treatments
What areas can Botox treat?
We all know Botox can be used to reduce the appearance of our facial wrinkles. However, they can also be used for very specific medical conditions including: 
Eyelid spasms

 

Prevent chronic migraines

 

Excessive sweating in your hands, feet and armpits (hyperhidrosis)

 
How long will the Botox last?
Your Botox should last around 3-4 months but you might need a repeat wrinkle relaxing treatment every 3-4 months over a 12-month period. These minor touch-up treatments will make sure you keep your appearance looking soft and natural without any deep lines. 
Clinical trial reports have illustrated that a few patients who did have Botox treatment over 12 months, only required extra treatment once or twice in that period. To put your mind at ease, your medical practitioner will provide you with all the advice you need to make sure you have a transparent understanding and expectation of your wrinkle relaxing treatment. 
How long will it take for me to see the results?
It normally takes 5-7 days to work. At The Cosmetic Skin Clinic, we want your Botox injections, brow freezing and/or crow's feet freezing treatment to look as natural as possible. With a light touch, our team will give you just that in a subtle way and believe you can those results after just one treatment. 
Is there any downtime or recovery time?
Absolutely no downtime is required. You could pop out during your lunch break, have this 20-minute treatment and head back to work with no one knowing any better.  
You can get back to your day-to-day activities straight away, but there is a very small chance that there might be a little bruising however this can be easily covered up with makeup.
Should I be scared because of the bad Botox stories out there?
We've all seen the Botox stories when it comes to celebrities' faces being frozen or a wayward eyebrow that constantly arched and out of place with the rest of the face. This is not the story for everyone. It's really down to how experienced your practitioner is. 
No matter what you want to be treated, you always need to find a clinic you can trust, that puts safety and experience above everything else. The Cosmetic Skin Clinic does just that, making it the perfect clinic for you.  
Our founder, Dr Tracy Mountford, known for her light-handed sprinkle approach, has handpicked and trained our expert practitioners to give you natural-looking results you will be happy with. 
Your satisfaction and comfort are a high priority for us, all concerns or questions about the process you have can be answered by our practitioners. 
Does Botox hurt and is it safe?
Our medical practitioners administer gentle and exacting injection techniques to minimise any discomfort. Many people who have had Botox say they don't feel pain.
Botox when administered by fully qualified practitioners are safe. Wrinkle relaxing treatments have been safely done with over 2.5 million users to date across the UK, Italy, Spain, Germany and France. With the safety of Botox injections along with our experienced practitioners, you are in good hands. 
DERMAL FILLERS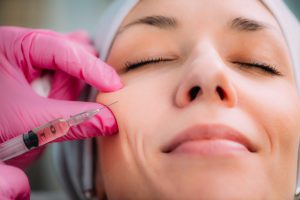 Highly trained and experienced clinical Dermal Filler experts 

 

Maintain and get back your smooth skin

 

It's not a one treatment fits all, so get bespoke dermal filler advice
Wanting but not being able to have young looking, plump and smooth skin is now a thing of the past. Enjoy smooth and fresh-faced skin with our dermal fillers at our Stoke Poges clinic. With Hyaluronic Acid Dermal Fillers, trained and experienced clinical experts will smooth any wrinkles and fine lines, from your nasolabial, forehead and even eyes. Enjoy flawless yet natural results. 
Frequently Asked Questions about Dermal Fillers
What are dermal fillers?
Simply put, dermal fillers contain clear hyaluronic acid gels. These gels very closely simulate the natural hyaluronic acid that is in our skin. Hyaluronic Acid is an important ingredient for the skin because it adds volume, softens and moisturises the skin. Once injected under the skin's surface, it promotes collagen and elastin to smooth wrinkles and fine lines. 
At The Cosmetic Skin Clinic, we use the most effective yet safest FDA-approved, naturally biodegradable dermal filler. 
How long will the dermal fillers last?
The effects of dermal fillers do not last forever, and they in fact break down in the body over time.  
The Cosmetic Skin Clinic uses dermal fillers made of hyaluronic acid. Hyaluronic acid is a component that is naturally found in our body and skin, so it naturally and safely breaks down within our body after 9-18 months. 
Your medical practitioner will advise you through all of this and what you need and what your dermal filler journey will look like. 
With so many bad press stories, how can I be sure it will be okay for me?
We always say it is of the utmost importance that you pick a clinic that is medically experienced and qualified to do these treatments. Our team provides a high standard of care and are hand-selected by our founder, Dr Tracy Mountford. The team has been trained to a high level, with years of experience and expertise in giving the results you want. 
Are there any benefits of Hyaluronic Acid Dermal Fillers?
There are so many effective benefits to using Hyaluronic Acid, such as: 
Effective for smoothing wrinkles out

 

Great for reviving the face

 

Add volume

 

Often called the non-surgical facelift

 

Minimal patient discomfort

 

Near to zero downtime

 

If necessary, they are easily removed

 

Biocompatible and safe

 

Long-lasting results

 

Allergic reactions are unlikely

 

An adverse reaction is very uncommon

 
Reviews
Elizabeth – 5 stars – "I have been coming to the Cosmetic Skin Clinic for 11 years, both in Stoke Poges and London, and although I have to travel from the Kent coast, I wouldn't go anywhere else. When it comes to your face you have to have the utmost trust in both the advice and treatment, which I have. I wouldn't hesitate to recommend them to anyone." 
Mandy – 5 stars – "I have been going to CSC in Stoke Poges on and off for a number of years and I would not go anywhere else. From the moment I walk in I am always greeted by the warm the friendly receptionist Clare. I had treatment with Tara I was unsure on exactly what I needed only that I didn't like my sagging jowls. Tara is extremely knowledgeable, and I totally trust her advice so I ended up having filler and Botox to achieve a natural and refreshed look I am very happy with the results. 100% recommendation CSC I have never been disappointed." 
Mandy – 5 stars – "I travel 2 hours to come to the London clinic and it's so worth it! I would never go anywhere else. The receptionists are always very helpful and friendly, offering refreshments. A special thank you to Bianca and Dr Joanna for my treatments you have done wonders to my face and confidence." 
Where can I have a wrinkle relaxing treatment or dermal filler treatment near me?
Wrinkle Relaxing and Dermal Filler treatment appointments available at our clinic in Buckinghamshire, near Marlow, Beaconsfield, Windsor . Visit us at: 
Buckinghamshire: 84 Rogers Lane, Stoke Poges, SL2 4LF 
Our Stoke Poges dermal filler clinic is easily commutable from the following surrounding areas: Amersham, Ascot, Beaconsfield, Gerrards Cross, Marlow, Windsor and further afield.   
Directions to our Stoke Poges, Buckinghamshire clinic. 
Book your botox and fillers consultation
If you live in Marlow, Ascot, Gerrards Cross, Beaconsfield, Windsor or surrounding areas, book your consultation here or give our Stoke Poges, Buckinghamshire clinic a call on 0333 305 4829.
The Cosmetic Skin Clinic in Stoke Poges, Buckinghamshire
We are a CQC registered and multi-award-winning medical clinic. Safety is a top priority, so all our clinic practitioners are qualified, experienced and have the correct medical training in order to carry out any wrinkle relaxing or dermal filler treatments. 
Our treatments create an authentically natural yet younger look with premium FDA approved Botox for wrinkle relaxing treatments and established and trustworthy dermal filler brands such as Teosyal, Juvéderm and Restylane. 
Our team are ready to discuss and assess your suitability for the treatment. All will be explained in full detail so on the day of your treatment you can be at ease and confident with your choice. We're ready to deliver expertise and the ultimate patient satisfaction.