By Dr. TRACY MOUNTFORD, MBBS MBCAM
We all want to banish saggy skin and wrinkles and lines, and now you can with the popular Morpheus8 treatment. Morpheus8 enhances your skin and builds collagen to contour, lift and tighten the face. The best location for it in London and Bucks is The Cosmetic Skin Clinic. Our clinic has been established since 1999, with an expert team positively known for bespoke treatment combinations that give impressive results. We reveal just how Morpheus8 can give you youthful results for your skin and body and more.

 
Back to basics with: What is Morpheus8?

 
Morpheus8 is the ultimate two in one skin tightening treatment that uses FDA approved fractional technology. The award winning Morpheus8 device combines both the advanced technology of microneedling and radiofrequency energy. It delivers revolutionary results to contour, lift and tighten the face and body. Morpheus8 has become very well-known and booked up thanks to its visible results. 
How does Morpheus8 work?

 
Using fractional technology, Morpheus8 remodels skin, tissue and collagen by activating the anti-ageing process.  At the head of the device is 24 coated miniscule microneedles. These very tiny needles stimulate the skins healing response which increases elastin and collagen production. How is this vital for the results? Collagen and elastin are the scaffolding to the building blocks for plump and youthful looking skin. 
At the same time, the radiofrequency energy is tightening the connective fibres, moulding the fat to lift and firming the contours by heating the tissue under the skin. You can expect results of smooth, rejuvenated and sculpted skin. 
What issues does Morpheus8 treat?

 
Morpheus8 is a versatile treatment that can be used on the face or body. A number of conditions can be treated with Morpheus8: 
Skin laxity

 

Uneven skin tone and skin texture

 

Fine lines and wrinkles

 

Acne scars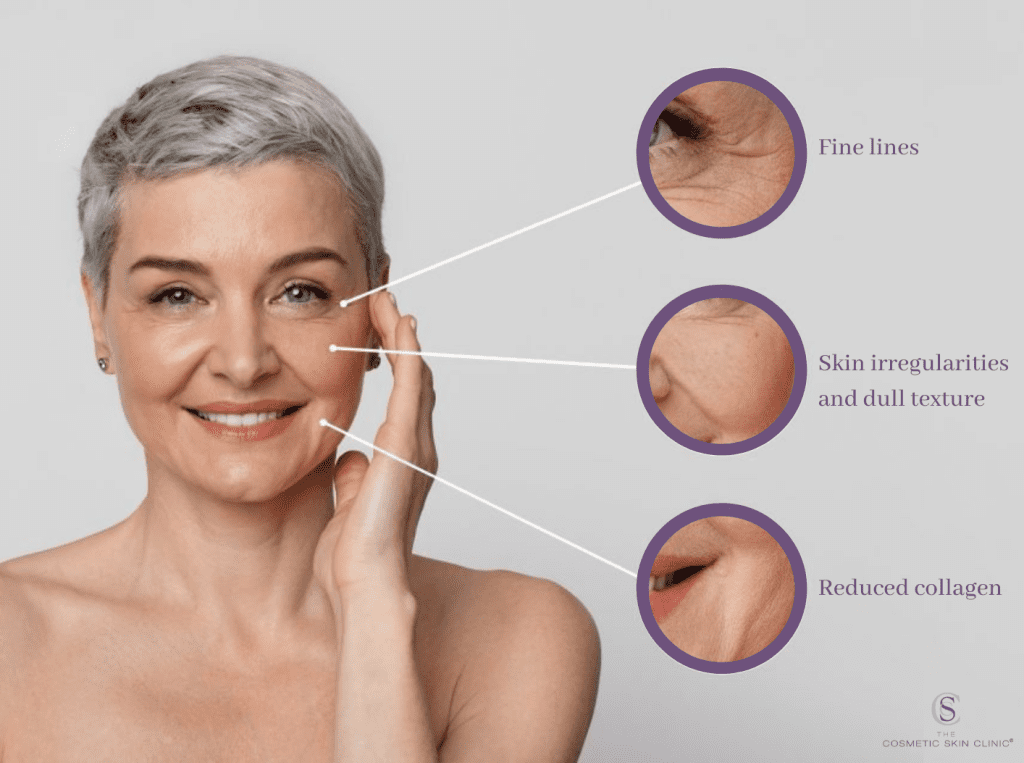 What areas can be treated with Morpheus8?

 
Morpheus8 offers vast benefits with its ability to be used on both the face and body. There are a number of areas of the body that can benefit from resurfacing and renewing the subdermal layer of the skin with this procedure. Common areas that are treated with Morpheus8 are the face, neck and jowls. However, there are several areas of the body that have effective results with the Morpheus8, including the abdomen, thighs, buttocks, legs, and periorbital region. 
The effectiveness of Morpheus8 can be seen in the following treatment areas: 
FACE  
BODY  
Thighs 

 

Abdomen/Stomach 

 

Buttocks 

 

Chest 

 

Arms 

 

Legs

 
Morpheus8 benefits and effects

 
Among the benefits of a Morpheus8 treatment are: 
Promotes collagen production in the dermis layers

 

Effective on loose skin to give contoured, 

lifted and tightened skin

  

 

Reduced the appearance of 

fine lines and wrinkles

 

 

Improves and smooths uneven skin texture 

 

Helps to reduce the appearance of stretch marks 

 

Morpheus8's colour-blind technology allows everyone to enjoy its results

 

Improves 

hyperpigmentation

 

 

Fades 

acne scarring

 

 

Reduces skin irregularities 

 
Morpheus8 before and afters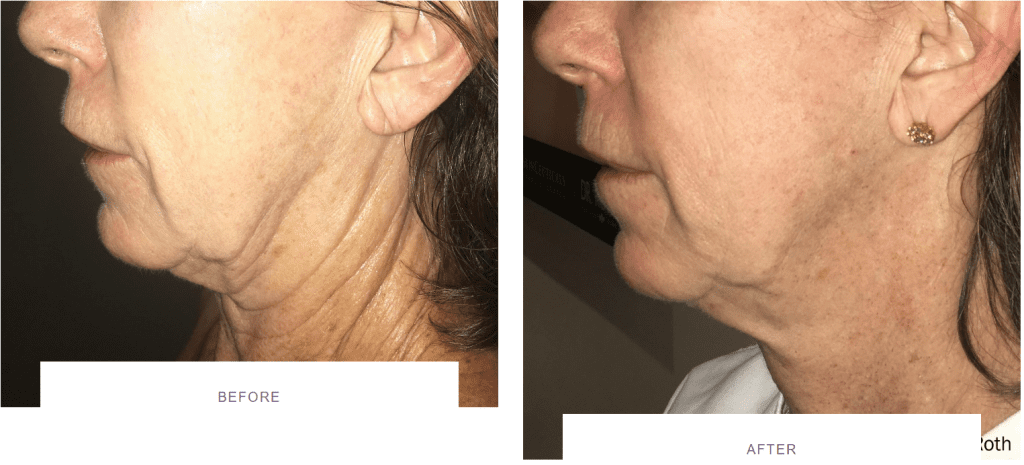 Morpheus8 for wrinkly neck treatment performed at The Cosmetic Skin Clinic.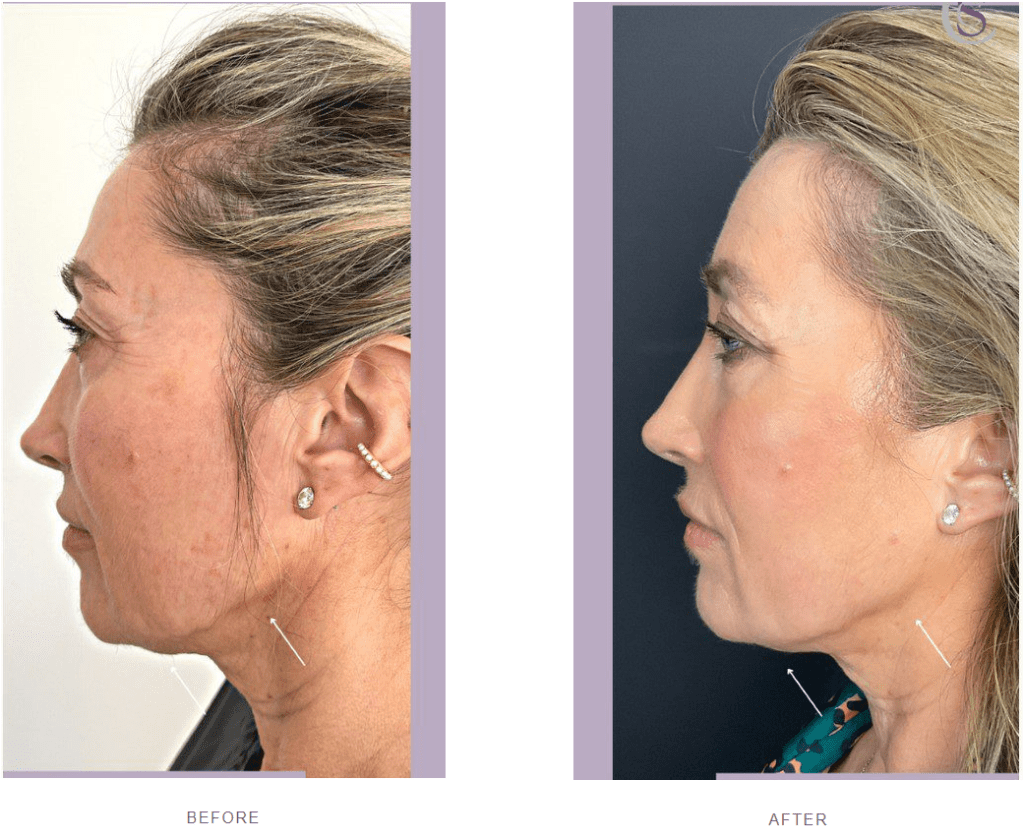 Morpheus8, full face treatment performed at The Cosmetic Skin Clinic.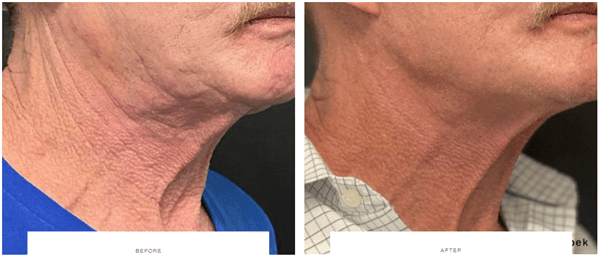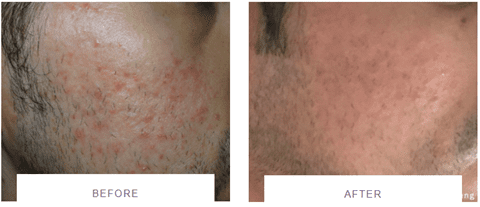 Why is The Cosmetic Skin Clinic the best for Morpheus8?

 
Morpheus8 treatments are customised to your skin and body concerns at The Cosmetic Skin Clinic by our highly trained practitioners. Getting great Morpheus8 results is our expert's goal. With the Morpheus8 non-surgical treatment, you can regain or retain a youthful appearance with ease in our relaxing clinic. You'll see from our Morpheus8 reviews, Morpheus8 before and after results, experience, and patients, just how effective we are at rejuvenating and recontouring yet keep you looking like yourself. 
How to find us – Morpheus8 clinic UK

 
Our London clinic and Stoke Poges clinic offer expert Morpheus8 treatments.  
Our London clinic is located at Devonshire Place, London, W1G 6HP

 

Our Stoke Poges clinic is located at 84 Rogers Lane, Stoke Poges, SL2 4LF

 
You can reach our London clinic from the following surrounding boroughs: Battersea, Hampstead, Soho, South Kensington, Hyde Park, Islington, Kensington, Kings Road, St Johns Wood, Highgate, Holland Park, Knightsbridge, Marylebone, Mayfair, Notting Hill, Primrose Hill, Regents Park, Victoria, West Brompton, Belgravia, Chelsea, Earls Court, Bayswater, Fitzrovia, Fulham, Green Park, Westminster and West End.  
The nearest tube stations to our London clinic.  
You can reach our Stoke Poges clinic from the following surrounding boroughs: Chalfont St Peter, Chesham, Chinnor,  Marlow, Oxford, Princes Risborough, Slough, Thame, Uxbridge, Wallingford, Watlington, Wembley, Chorleywood, Henley-on-Thames, Farnborough, High Wycombe, Kingston upon Thames, Little Chalfont, Maidenhead, Wendover, Weybridge, Cowley, Gerrards Cross, Great Missenden, Haddenham, Harrow, Hayes, Windsor, Cookham, Hazelmere, Amersham, Richmond, Rickmansworth, Sunningdale, Ascot, Aylesbury, Beaconsfield, Chalfont St Giles, Headington and Woking.  
Directions to our Stoke Poges, Buckinghamshire clinic.  
Book your Morpheus8 consultation here or give our London or our Stoke Poges, Buckinghamshire clinic a call on 0330 057 9713.