By Dr. TRACY MOUNTFORD, MBBS MBCAM
Patients often ask us about the key differences between Ultherapy and Hifu technologies, and which of these treatments is better.
Both treatments offer a relatively painless and completely non-invasive way to rejuvenate and tighten the skin without surgery. This is why they have risen in popularity as non-surgical alternatives to the standard anti-ageing facelift.
Patients can expect firmer, tighter and more luminous skin thanks to their collagen and elastin stimulation. But Ultherapy and Hifu machines differ in several key ways, from the types of technology they use to their skin tightening and lifting results. In this article, we explore these differences between Ultherapy and Hifu, explaining which treatment is worth your time and money.
Skin Tightening and Lifting with Ultherapy vs Hifu
Ultherapy and Hifu offer a non-surgical way to achieve facelifts and skin rejuvenation. Collagen and elastin proteins are the essential fibres that make up the connective tissues of our skin. They support the structure and foundation of the skin to maintain its elasticity and firmness. But both decline with age, leading to sagging skin, looseness and the formation of fine lines and wrinkles.
Stimulating Skin Renewal
Hifu and Ultherapy technologies force our bodies to start reproducing these skin lifting proteins again. Ultrasound waves pass through the connective tissues of our skin, before heating up and damaging the tissues at a deep level. Our skin then fights back by automatically re-generating fresh collagen and elastin stores to restore skin strength and firmness. This leaves fresher, tighter and lifted skin that looks more youthful, supple and replenished. The treatments can:
Minimise fine lines & deep-set wrinkles
Lift sagging jowls
Smooth neck creases
Correct early signs of ageing
Tighten loose skin
Sculpt and contour the face shape
Is Hifu the same as Ultherapy?
Many people think that Hifu and Ultherapy are the same treatment. Ultherapy is similar to Hifu, but with the added benefit of real-time imaging. Additionally, while the treatments both use ultrasound to activate natural skin rejuvenation, they use different types of ultrasound beams. Aesthetic medicine involves the use of two types of ultrasound:
High-intensity focused ultrasound (HIFU): used mainly for medical purposes
Micro-focused ultrasound (MFU): utilises highly focused energy to target a specific skin layer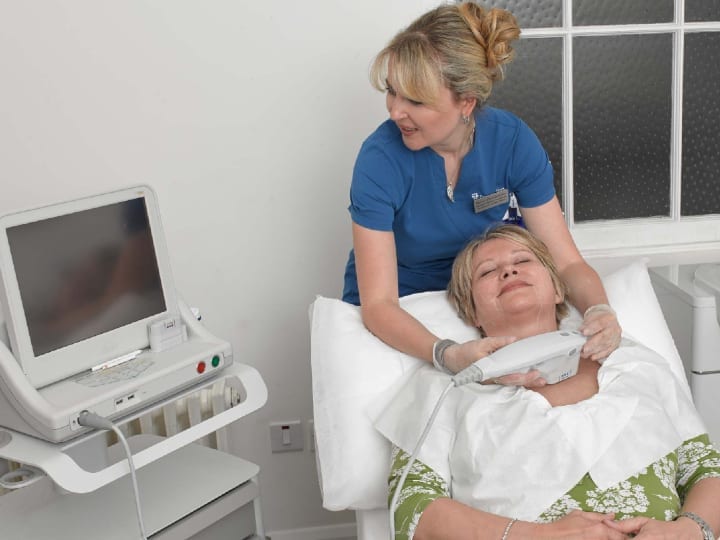 Treatment Temperatures
Both methods apply specialised heat energy to stimulate the production of collagen. The optimal temperature for stimulating collagen production ranges between 60°C and 70°C. Skin tissues are disrupted at these temperatures, and the body kickstarts a repair process by producing new collagen and elastin proteins. Ultherapy uses micro-focused ultrasound (MFU) beams to do this, whereas Hifu uses High-Intensity Focused Ultrasound. The key difference between these two techniques is how the beams are delivered to the deeper layers of the skin. The MFU method is sharply focused, whereas Hifu applies multiple beams that can hit bone and fat tissues as well.
What is Hifu?
High-intensity focused ultrasound (Hifu) is a relatively new treatment for clinical skin tightening. Approved by the FDA for brow lifts in 2009, it was first used to treat tumours back in 2008. Clinicians now also use it for skin tightening and wrinkle reduction.
How does Hifu work?
Hifu works by using an acoustic lens to concentrate several beams of ultrasound energy on targeted areas. The energy is applied to a depth of between 1.5 and 4.5mm beneath the skin to stimulate new collagen and elastin.
Hifu doesn't use imaging technology. This means that clinicians cannot see the layers of skin they are treating or the effects that the beams are having on the skin. This is why Hifu has become known as a "blind" skin tightening treatment, as clinicians cannot see the layers of skin they are treating, or how it is making an impact.
How does Ultherapy work?
The Ultherapy machine, on the other hand, uses micro-focused ultrasound (MFU) energy with real-time ultrasound imaging. The FDA approved it in 2004 for non-invasive skin tightening and lifting. Widely recognised as the ultimate Gold Standard in skin lifting and tightening, it is the only device of its kind to visualise the layers underneath the skin using ultrasound visualisation technology. The procedure uses a specialised applicator to transmit ultrasound energy to the same skin depths that cosmetic surgeons treat during surgical facelifts. The ultrasound energy then heats up the skin tissues through thermocoagulation to stimulate new collagen and elastin proteins.
Ultherapy's patented DeepSEE™ visualisation technology guides the entire process. This unique imaging device allows clinicians to see the structure of the skin, muscles and bone as they apply the treatment. This allows the practitioner to zone in on depleted areas of collagen, allowing them to treat the skin precisely and safely in the areas that need it most.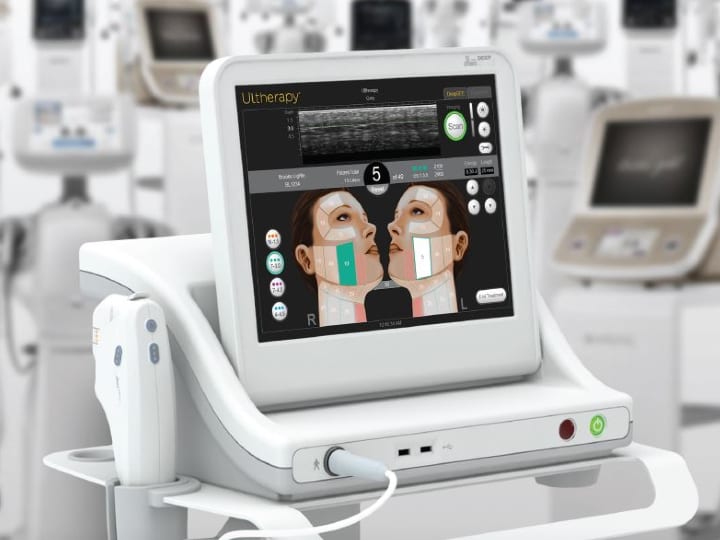 DeepSEE Image Visualisation
What makes Ultherapy® really stand out from Hifu and other treatments is that it gives practitioners the advanced ability to see the deeper layers of skin being treated. This is a treatment game-changer as it shows us exactly where to target to ensure optimal collagen stimulation- and the best results! We understand when it comes to stimulating collagen that seeing every detail matters. This is why DeepSEE visualisation is so important for skin tightening enhancements, and why Ultherapy excels as the gold-standard treatment in the skin tightening arena.
Real-time visualisation allows our practitioners to:
Evaluate the pre-existing collagen levels in a patient's skin
Target the desired tissue layer for optimal collagen stimulation
Avoid targeting areas inappropriate for treatment (bones / blood vessels)
Minimise discomfort
Minimise fat tissue loss
Ultherapy vs Hifu Treatment Areas
Another key difference between Ultherapy and Hifu lies in the treatment areas they work on. Ultherapy lifts and tightens the neck, chin and brow, and improves lines and wrinkles on the chest. It is also the only FDA-approved and CE-marked treatment of its kind. Unlike Hifu, it has been used to treat over 1.75 million patients globally and it is FDA approved to treat a wider range of areas than Hifu. Many Hifu machines available in the UK don't have both FDA and CE-marked approval for skin tightening and lifting across the face, neck and decolletage. This creates potential risks for patients, which is why Ultherapy is known as the more reliable treatment choice.
Ultherapy vs Hifu Treatment Depths
Both HIFU and Ultherapy treatments target the skin at deeper levels. We can adjust the depth depending on a patient's own unique needs. If a patient has severe skin laxity, we may need to target deeper levels to renew the skin's foundations. We can apply ultrasound waves at depths of 1.5mm, 3.0mm, and 4.5mm.
Hifu vs Ultherapy Results
Both treatments produce skin tightening and face lifting results. However, as they initiate a cell renewal process in the body, the visual effects are not immediate. Best results take 2-3 months to show through, as collagen and elastin production takes time to build back up. You can expect the results to last between 6 months to 18 months with both treatments.
However, Ultherapy has been around much longer than Hifu treatment machines. This makes it one of the most researched skin enhancement and anti-ageing technologies of its kind. Its results have been independently verified and supported by over 110 studies and research papers (60 peer-renewed papers and 50 clinical studies). This greatly exceeds Hifu products, which have only been studied a small number of times for their efficacy and patient satisfaction. This is why Ultherapy has been recommended by most doctors and cosmetic specialists as the gold-standard skin tightening treatment, and why celebrities including Tess Daly and Jennifer Aniston have verified its transformative results with their personal testimonials.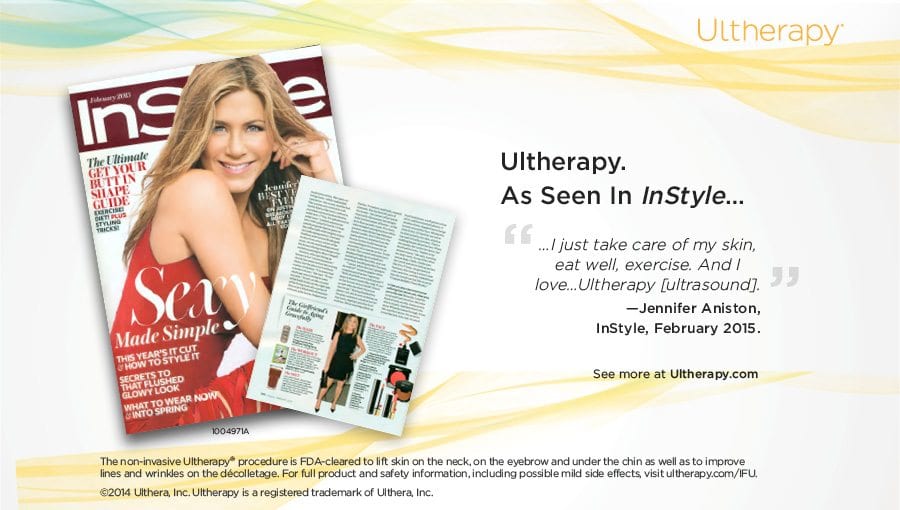 Why is Ultherapy safer and more effective than Hifu?
Ultherapy's unique DeepSEE technology makes it an extra safe treatment. There is no risk of hitting fat cells, blood vessels or muscles in the process. By contrast, during Hifu treatments, there is no visual screen to guide the treatment process, meaning that clinicians can actually destroy fat cells or damage bone nerves and muscle tissues when applying the treatment. This can lead to more lines and wrinkles forming, making the face hollower and less volumised. In a recent Ultherapy webinar, Dr Tracy Mountford summarised why this direct visualisation matters, and how it leads to better patient results all-round: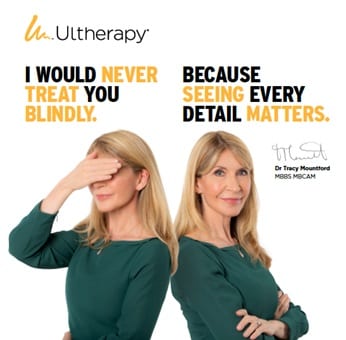 "Hifu is not under direct visualisation. What makes Ultherapy a safer and more sophisticated outcome is that we can see what we treat. It's a bit like driving with a blindfold on. With Ultherapy, you can directly see the muscle, dermis and bone nerves that you want to avoid, and that's the difference. It gives you a safe, more predictable and effective treatment." Dr Tracy Mountford
Precision and accuracy
While Hifu can target the same depth of tissue as Ultherapy, there is simply no way of a practitioner knowing whether they are hitting the correct tissues at this depth if they don't have the visualisation technology. This is why Ultherapy is so much safer and stimulates collagen and elastin much more precisely in areas that have lost the most volume.
Another key reason why Ultherapy is safer and more effective than Hifu is device regulation. Hifu is often cheaper than Ultherapy. But this has meant that some UK clinics are actually offering Hifu treatment machines that haven't received the same level of medical authorisation as Ultherapy. The popular Ultraformer HIFU doesn't have medical FDA-approved for example. If safety and efficacy are critical concerns for you, then selecting Ultherapy is a much better choice.
Which is better: Ultherapy or Hifu?
Ultherapy® has been around much longer than Hifu and has been more rigorously tested and verified for its efficacy. It is also much safer than Hifu thanks to its patented ultrasound imaging technology. As a gold-standard lifting and tightening treatment, backed by a host of celebrities and influencers alike, it lifts, sculpts and tightens skin from the inside out, which is why we recommend this treatment for our patients at The Cosmetic Skin Clinic.
We believe that it is always better to stay safe and stick with a tried-and-tested technology that has been internationally recognised for its safety and precision over the long term. Our patient results speak for themselves by showing just how you can achieve a naturally revitalised look with this one-of-a-kind technology.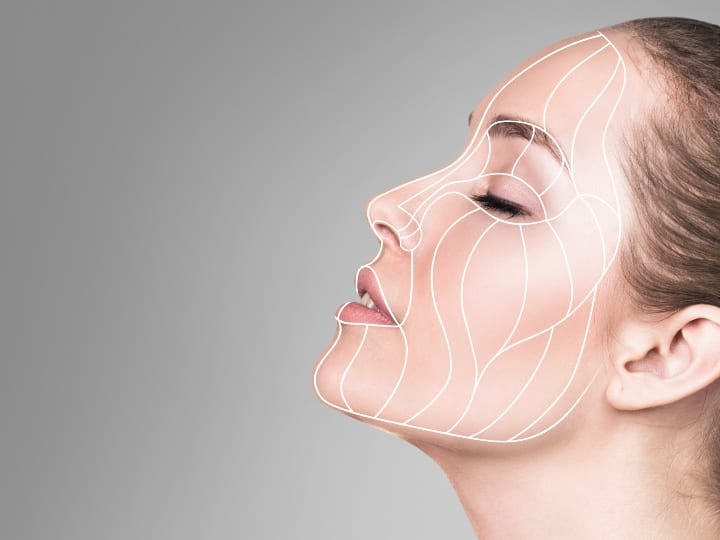 Ultherapy Excellence
The Cosmetic Skin Clinic is passionate about boosting your collagen, and as a result of our expertise in this field, we have been named the No1 Clinic for Ultherapy® in the UK & Ireland for nine years in a row. We have also earned the acclaimed title of "Ultherapy® Centre of Excellence," which recognises our expert knowledge and exceptional treatment standards. Many of our practitioners are also official UK Ultherapy trainers, and we have a 5-Star patient satisfaction rating as well.
To find out more about our Ultherapy treatment, fill out our online contact form. Alternatively, contact our London and Buckinghamshire clinics on the following number: 0330 311 4589.