By Dr. TRACY MOUNTFORD, MBBS MBCAM
This week, I'm talking all about the chin. Over the years I've noticed that people usually come into the clinic with a rough idea of what they want. But very few people ask about the chin, passing over how it fits into the greater structure of the face.
However, the chin is a very important part of beautification for both men and women. There are a lot of different features that we perceive to be beautiful. But the secret lies in the balance of the face, and the chin helps to provide this facial balance. Chin augmentation treatments give the face proportion and define the chin so that the facial features are in harmony. Patients can often benefit greatly from improving the shape and skin texture of their chin with the use of non-surgical tools like chin fillers and CoolSculpting. These can help to minimise signs of ageing across the chin while giving the chin a sculpted and youthful shape.
How can we improve the look of the chin?
In the video below, I explain why patients should consider the chin as a key area of opportunity when it comes to improving your appearance. I detail a range of ways that we can augment the chin non-surgically to restore balance to the face:
Understanding the relationship between the areas of the face and how they contradict and complement each other is essential for providing optimal treatment results.
The secret to a balanced, symmetrical look lies in making sure that all three sections of the face align. These sections are the 'upper third' (forehead), 'mid-face' (cheek area) and 'lower third' (lips and chin). If the balance and harmony between these areas are perfect, we perceive the face to be very beautiful.
Chin Augmentation treatments
We can improve the chin in several beautifying ways; from targeting sagging, wrinkled or loose skin, to correcting chin irregularities like jowls, a pointed chin or a double chin.
Chin dermal fillers
Individuals who want to bring back a youthful shape to their chin, or to correct shape abnormalities can use dermal fillers to restore volume, hydration and structural support to the chin and jawline area.
For men, we can achieve a defined and chiselled jawline look by adding a small amount of jawline filler into the lower face to make the chin 'pop' and give it a stronger and more structured definition.
For women, fillers can reshape the chin along feminine, graceful lines. By creating a beautifully curvaceous appearance, women can attain a chin that highlights their natural beauty.
Patients who need to correct asymmetry or irregular chin shapes, like the pointy or 'witchy' chin can also use dermal fillers. Their hydrating and moisture restoring properties can remodel and refresh skin layers while adding internal structure and support to areas that need it most.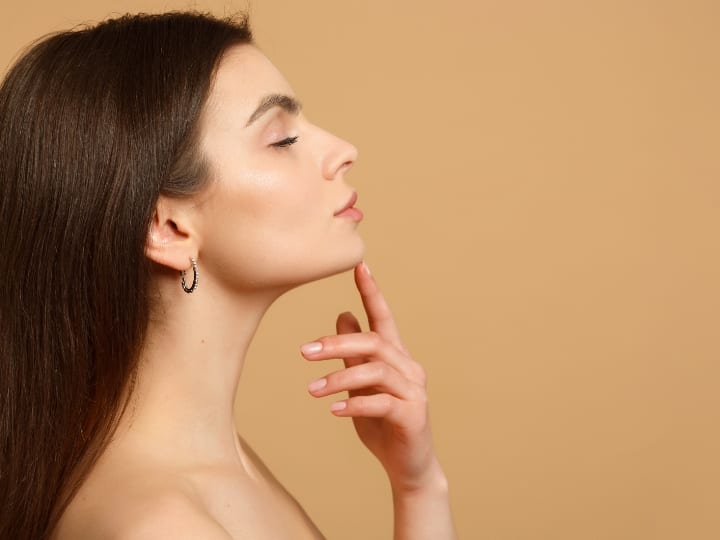 For individuals who want to minimise their double chins, our non-surgical fat freezing treatment is ideal. CoolSculpting is an FDA-approved fat freezing treatment that utilises advanced ultrasound technology to remove fat stores in the double chin. Ultrasound technology freezes the double chin fat stores to break then down.
It is a great non-surgical method to use for patients who want to reshape and redefine their chins. It can give you a streamlined and sculpted look that enhances your beauty without any invasive surgery or downtime.
Experience counts
At The Cosmetic Skin Clinic, we know that the subtlest changes to the chin can have the biggest impact. Our award-winning clinicians have treated hundreds of patients to give them the beautifully sculpted chin they each deserve. Dr Tracy Mountford has been named as one of the best dermal filler clinicians in the UK by Tatler magazine, and we are proud to have been voted as the number 1 CoolSculpting clinic in the UK for the sixth consecutive year.
Discover our chin filler before and after photos! If you are interested in finding out more about our chin augmentation treatments, then call us on 0203 319 3637 (London clinic) or 01753 646 660 (Buckinghamshire clinic) or email us at [email protected].