By Dr. TRACY MOUNTFORD, MBBS MBCAM
Let's focus on hyperpigmentation. Sometimes called age spots or liver spots, or as the French call it 'les madallions des cemitiere' or Cemetery Medals, these dark areas of the skin can make us feel aged and tired-looking. Thankfully, in most cases, you can prevent this pigmentation from occurring. But if it's too late and you already have hyperpigmentated skin, then we can still help you with our non-surgical treatments. 
If you are 45 years plus and unhappy with your skin quality and condition, it is probably due to damage caused over time by the sun, known as 'Photo damage' or 'Photo ageing'. In this article, we explain how this process occurs, and why it results in the majority of skin pigmentation cases. We also explain how to get rid of existing skin pigmentation using a range of clinically proven non-surgical treatments. 
What is Skin Pigmentation?
Skin pigmentation is one of the most visible signs of skin ageing. Pigmentation and age spots are all largely attributable to long term sun damage, excessive sunbathing or sunbed use, or even simply just not using a high enough SPF sunscreen daily. All of these actions can have a dramatic effect on the way we age, accelerating old looking skin and negatively impacting our overall skin health.
Photoageing is entirely preventable. As an environmentally induced condition, it compromises the natural structure and function of our skin. However, we are all predestined to the effects of photoageing as we are all exposed to the sun every day. Whether through our office window or driving a car, even on a cloudy day at any time of year, the damaging UVA and UVB rays are constantly penetrating through glass and clouds, subsequently damaging our skin. Consider a timeline continuum; one end of this spectrum line is a tan or worse sunburn! At the other end, skin cancer! However, we can limit this damage and quite subtly or moderately reverse the signs of ageing.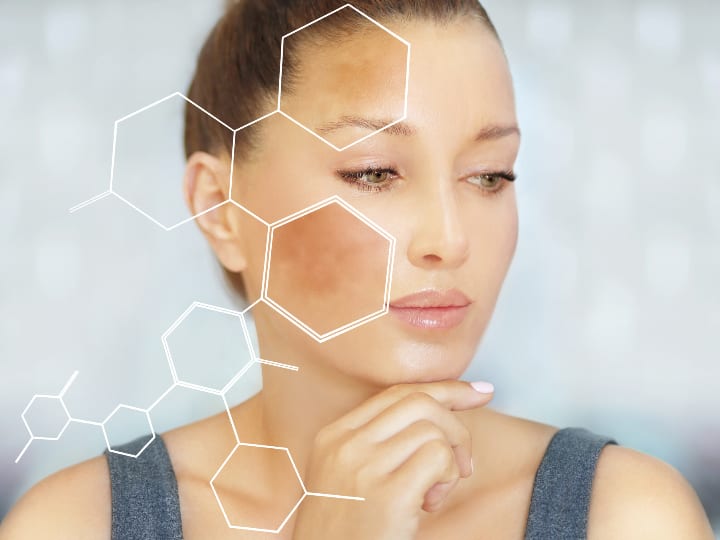 What causes Skin Pigmentation?
Hyperpigmentation refers to patches of skin that have become darker in colour than normal, healthy skin. Some forms of hyperpigmentation, like freckles, do not present any problematic symptoms. But in some instances, spots or patches of skin can become very dark when compared to the rest of the skin. This unbalanced darkening often occurs because there is an excess of melanin, our skin's natural sun defence mechanism, which forms deposits in the skin to protect it against the sun's harmful rays.
However, the sun is not the only cause of hyperpigmentation. If patients have suffered inflammatory skin conditions like spot breakouts or acne, post-inflammatory hyperpigmentation can also occur. Hyperpigmentation can also occur during pregnancy when hormonal changes can take their toll on the skin. A condition called melasma is a common condition during pregnancy. It causes dark, discoloured patches to appear across the skin, and men can sometimes get it too, although this isn't common. It isn't clear what causes this condition, but factors like stress and increased sun exposure have been identified as potential causes.
Although most of the sun damage to our skin has been done well before we are aware of it, it's not too late to correct some of this damage and prevent further damage by using standard correct sunblock and sun safety methods.
Skin Pigmentation on the face
Hyperpigmentation occurs commonly across the face, as this is the area that is most exposed to the sun. When individuals spend a long time in the sunlight, UV radiation from the sun can cause the skin to defend itself against the radiation by forming melanin deposits across the face. These can occur as large brown patches of skin, darkened freckles or very dark spots in certain areas of the face. Many patients are most concerned about reducing the appearance of skin pigmentation across the face because it is often the most obvious area, and an area that is most vulnerable to overexposure.
Age spots on the face and hands
A common symptom of hyperpigmented skin is age spots. Also known as liver spots, they happen after increased exposure to UV light. They usually appear as unsightly and ageing brown spots that appear across the face and hands, but they can also show up on the neck, decolletage and arms (the areas that get the most sun exposure). These spots can look like anything from light brown freckles to large varying degrees of dark brown splodges. They can appear at any time during adulthood, although they are most common in patients over 50.
What can be done to correct pre-existing Skin Pigmentation?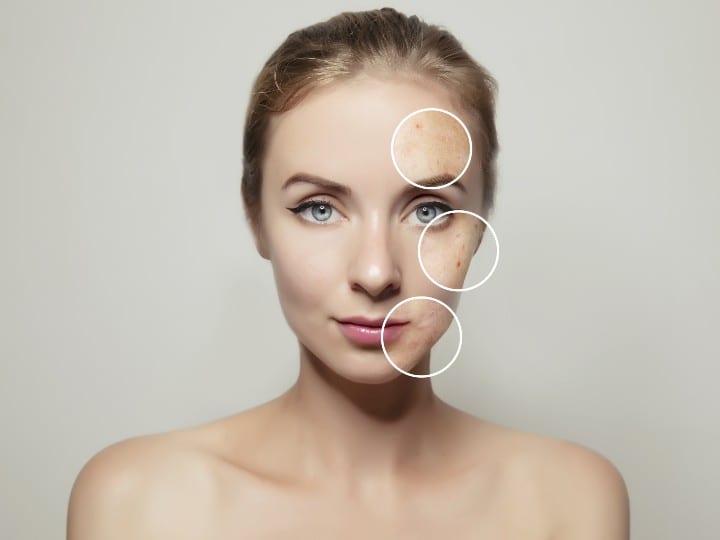 With recent advances in aesthetic medicine, most types of skin pigmentation are treatable. We can do a lot to help visibly improve the signs of ageing to improve the overall texture and quality of the skin. Our leading non-surgical treatments can rapidly improve damage that has already taken place and prevent any further damage from happening:
IPL is highly effective at lightening and removing pigmentation. This treatment is ideal for age spots and improving skin quality for facial imperfections and abnormalities. The IPL technology will create clearer, smoother looking skin. After a series of treatments, you will see a significant reduction in unwanted pigmentation. Use the treatment across the face neck, décolletage arms and hands. A cold gel is applied to the area first before the IPL handpiece is gently applied. We then transmit pulses of light, which can cause a slightly stinging sensation. But we can apply an anaesthetic cream pre-treatment to prevent this if needed. 1 to 3 sessions about 3 weeks apart are the norm to provide excellent long term results. The treatment takes approximately 20 minutes each time and prices start from £90.
Obagi Nu-Derm System
The Obagi Nu-Derm skincare system is a prescription-strength, physician-dispensed advanced skincare system. Obagi contains the most potent and effective skin lightening ingredient (Hydroquinone) and is one of the most efficacious skincare ranges on the market. Used together with a high factor sunscreen, this skincare programme greatly improves cellular skin function, minimizes the signs of premature ageing, reduces future photodamage, helps skin look and act younger and healthier and reduces acne flares. Our highly experienced practitioners will prescribe a specific and adaptable programme for you, and typically achieve visible and highly satisfying results within 16 weeks, whilst hand-holding you through a dramatic and powerful skin health improvement revolutionising process. For a full skincare pack, prices start from £330.
Genuine Dermaroller therapy is a natural skin regeneration and scar repair treatment. The procedure can also significantly improve the appearance brown spots – age spots from sun-damaged skin on the face neck and décolletage. It is also a great treatment for acne scarring and post-inflammatory hyperpigmentation. This advanced micro-medical skin-needling procedure stimulates the skin to regenerate and repair itself naturally and safely. It creates smoother, brighter, healthier and younger-looking skin in the process.
Your practitioner will use a topical anaesthetic to numb the skin, making the procedure more comfortable. It will take approximately 30 minutes for the topical anaesthetic to work and 20-30 minutes to complete the Genuine Dermaroller therapy. Immediately after, you will look as though you have moderate sunburn and your skin will feel tighter than usual. But this side effect will start to subside after 1 to 2 hours, and will normally recover within the same day with only slight redness the following day. We recommend 2-3 treatments for best results. A course of treatment starts from £350.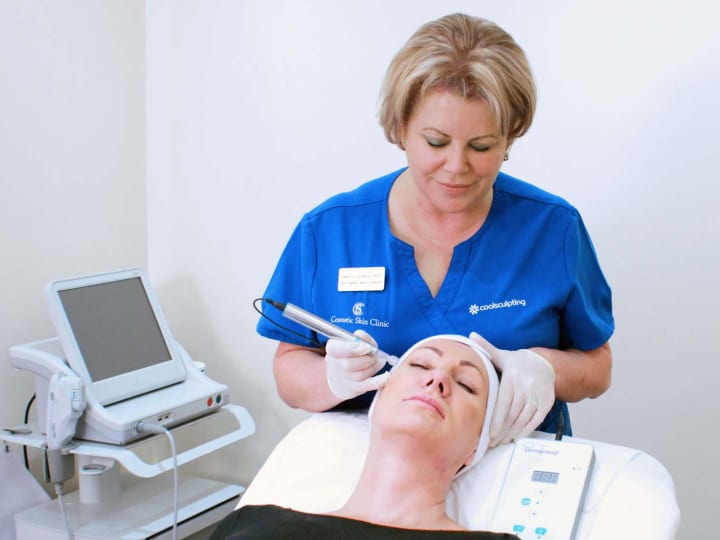 Forever Young BBL is a laser treatment that targets skin imperfections and signs of ageing. As one of the world's most powerful skin rejuvenating lasers, it works by stimulating healthy skin renewal. This helps to dramatically reduce classic signs of hyperpigmentation like age spots or over-darkened freckles in as little as 15-30 minutes. Using its leading BroadBand Light (BBL)™ therapy laser, the skin is remodelled on a molecular level to not only even out skin imperfections, but also help the skin to appear more luminous and smooth. Wrinkles and fine lines are also reduced as the laser heat energy contracts collagen proteins in the skin while causing new ones to form. The result is smoother, strengthened and clear skin with a more youthful texture and glow.
The above treatments can only be performed and recommended by one of our highly skilled practitioners. We would always recommend a thorough consultation before embarking on any new skincare programmes. For further information on these or any other treatments at The Cosmetic Skin Clinic, fill out our online contact form. Alternatively, you can contact our London and Buckinghamshire clinics directly on the following numbers: 0203 319 3637 (London) or 01753 646 660 (Bucks).