By Dr. TRACY MOUNTFORD, MBBS MBCAM
We are so proud to have been voted No1 Ultherapy Clinic in the UK and Ireland for 8 consecutive years!
Merz Aesthetics UK founded Ultherapy's ultrasound skin lifting technology. Since then, we have made it our mission to shout about the amazing results. With over 299k hours of treatment time – we have loved every second of it.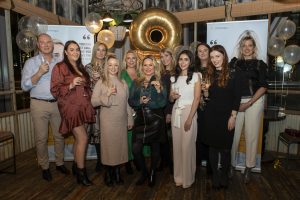 The Cosmetic Skin Clinic have worked hard to be the industry leader of the innovative Ultherapy treatment. Founder of The Cosmetic Skin Clinic – Dr Tracy Mountford – is a key UK ambassador for the treatment, and along with the team has worked tirelessly to promote the high standard of Ultherapy benefits.  
How does Ultherapy work? 
It can treat the upper and lower face, neck and decolletage. With the use of micro-focused ultrasound with visualisation (MFU-V) energy, it can target deeper layers of skin but doesn't damage the skin's surface. This begins the skin's repair process by stimulating the production of collagen and elastin – the building blocks of plump young-looking skin and strengthening existing collagen. 
As we age, we lose collagen which visibly shows in the forms of lines and wrinkles. By strengthening and creating new collagen, we can reverse the signs of ageing. 
What does Ultherapy treat? 
This FDA-cleared treatment can tackle areas on the upper and lower face, neck and decolletage. So, say goodbye to sagging skin, jowls, skin laxity, drooping eyelids, sagging bottoms, turkey neck and those tell-tale signs of lines and wrinkles or crepey skin on your decolletage.  
What are the benefits? 
As a world-class non-surgical treatment, Ultherapy is renowned for being able to give our patients flawless, rejuvenated skin with no downtime. 
Boosts your natural collagen and elastin production to lift the skin

 

One treatment is all you need – and results can last a year depending on your lifestyle

 

Non-invasive and non-surgical skin tightening and skin lifting treatment

 

Little to no downtime required

 

It can be tailored to suit your collagen needs

 

Suitable for just about everyone, from skin type to age

 

Tightens and firms skin texture

 

Lifts saggy and drooping skin

 

No injections or scarring

 
As the gold standard treatment for skin tightening and lifting, Ultherapy is popular even amongst celebrities like Jennifer Aniston and Tess Daly.  
See what Tess Daly has to say about her Ultherapy treatment

 
For more information about our 8 years in a row, award-winning Ultherapy treatment, book a consultation. Or give our London clinic a call on 0203 319 363 or call our Buckinghamshire clinic on 01753 646 660.