By Dr. TRACY MOUNTFORD, MBBS MBCAM
Traditional microneedling has been around for a long time, with it being used commercially in Germany as early as the 1900s.
Traditional microneedling has developed giving us an advanced combination microneedling and radiofrequency treatment called Morpheus8. To help you make an informed choice in the world of microneedling, we explain the differences from how it works, to the benefits.
Microneedling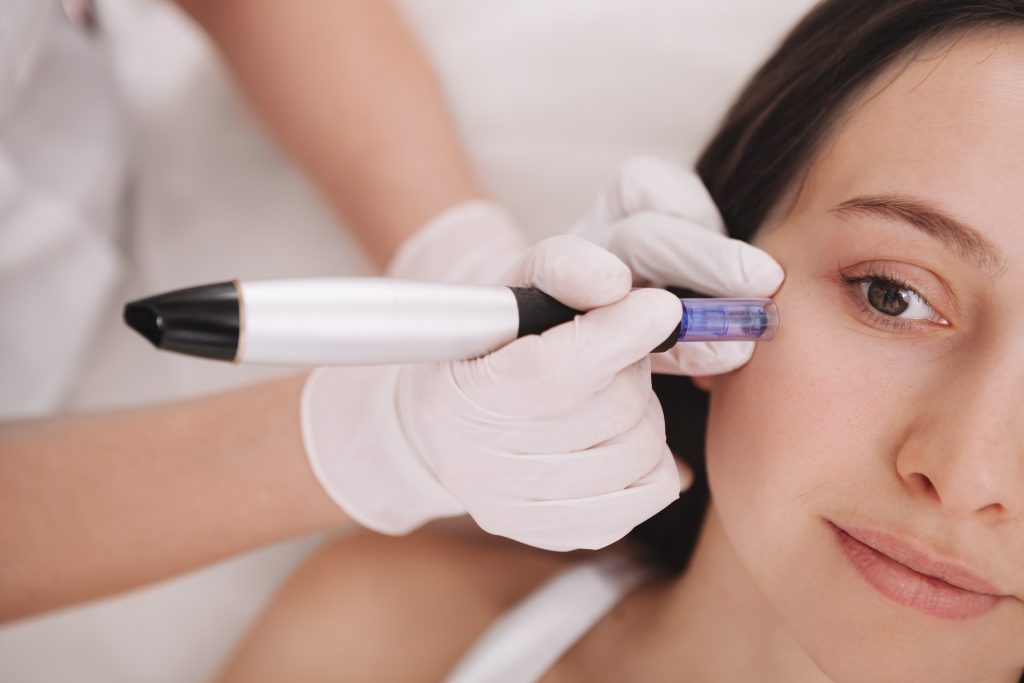 How does traditional Microneedling work?
Microneedling is also known as collagen induction therapy. It involves super fine needles pricking your skin. These miniscule wounds trigger your bodies healing process, and it produces more collagen and elastin. Collagen and elastin are often referred to as the scaffolding for healthy, young skin.
What concerns can be treated with microneedling?
Microneedling is great for skin renewal. It helps to improve on skin tone and texture whilst also improving the appearance of the following concerns:
Hyperpigmentation
Fine lines and wrinkles
Sun damaged skin
Stretch marks
Scarring (inc. acne scarring)
Enlarged pores
Treatment areas that can be targeted with microneedling:
Microneedling is primarily used on the face area to treat scars, wrinkles, pores etc, however, it can also be used on the neck, decolletage, legs and even buttocks.
Traditional microneedling benefits
Microneedling treatments have many benefits including:
The appeal of it being a non-surgical treatment
Minimally invasive
Stimulates collagen production
Enhances texture of skin
Reduces the appearance of wrinkles
Can help to reduce scars and hyperpigmentation
Smoother, brighter, healthier, and younger looking skin
Morpheus8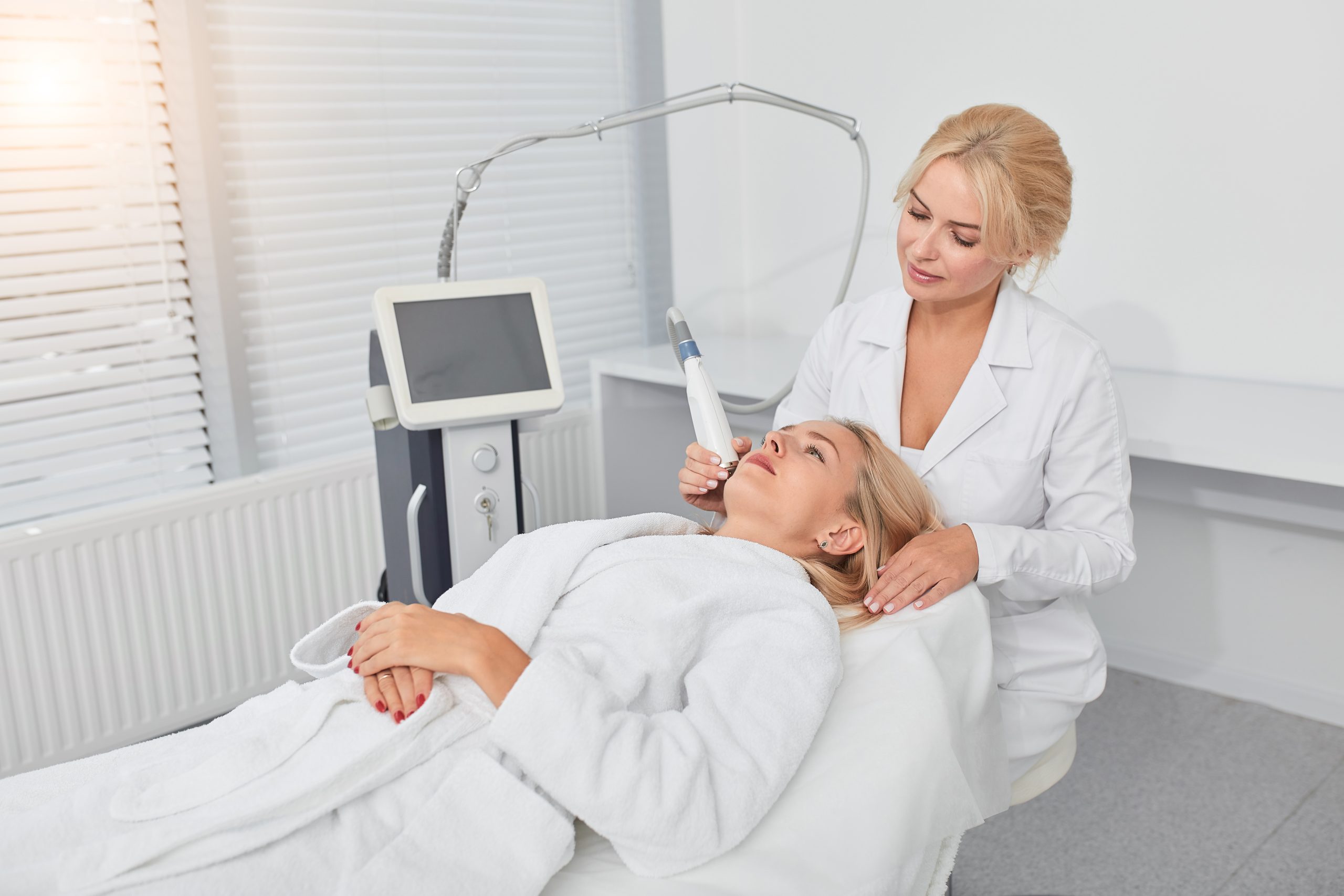 How does Morpheus8 work?
Morpheus8 is different to traditional microneedling thanks to its combination of microneedling and radiofrequency (RF) energy. By combining the radiofrequency and microneedling technology, this treatment tightens and plumps the treated skin. By combining the benefits of both technologies, Morpheus8 kicks our skin into gear to give a firm and revived appearance.
Morpheus 8 is a minimally invasive fractional treatment that remodels and contours the face and body. The head of this innovative device has 24 coated microneedles. When applied to the skin, it stimulates a healing response where our skin produces more elastin and collagen. Simultaneously, the radiofrequency energy heats the tissue under the skin and works to tighten the connective fibres, moulding the fat to lift, and firms the contours. The skins appearance will be smooth, sculpted and rejuvenated.
What concerns can Morpheus8 treat?
Multiple factors including age, weight loss, sun damage and weight gain can put our appearance under stress which can physically translate into loose skin, saggy and uneven texture. Morpheus8 has risen in popularity for its ability to tackle these concerns including:
Fine lines and wrinkles
Skin laxity
Uneven skin tone and texture
Acne scars
Skin irregularities
Appearance of stretch marks
Hyperpigmentation
The Morpheus8 can be used to reduce fine lines and wrinkles, tighten areas that have skin laxity on the face and body, improves skin tone and texture by also improving discoloured skin. This treatment is also great for anyone suffering from acne scars.
Treatment areas that can be targeted with Morpheus8
Morpheus8 can treat multiple areas of the face and body including:
FACE
BODY
Arms
Chest
Thighs
Legs
Buttocks
Abdomen
Morpheus8 benefits
Through combining microneedling and radiofrequency (RF) energy, Morpheus8 benefits can pack double the punch.
Promotes collagen production in the underlying dermis layers
Targets loose skin leaving you with contoured, lifted, and tightened skin
Reduces the appearance of fine lines and wrinkles and skin irregularities
Fades acne scarring and reduces the appearance of stretch marks
Improves hyperpigmentation
Suitable for darker skin tones (skin type VI), with minimal risk of post-inflammatory hyperpigmentation (PIH) because of specialty colour-blind technology
Improves and smooths uneven skin texture
Through tissue and collagen remodelling, Morpheus8 transforms fine lines and wrinkles, treats scarring, and improves skin tone. As a result, many opt for the minimally invasive and non-surgical option that is Morpheus8.
With a final treatment plan of 1-3 sessions over time, your skin concerns will continuously improve. Applying fractional skin treatments like the Morpheus8 treatment, will give your skin that natural yet radiant contour you want.
Traditional Microneedling or Morpheus8 at The Cosmetic Skin Clinic
We're the clinic for your microneedling needs, whether you want traditional microneedling or a combination radiofrequency treatment like Morpheus8. From sun damage, hyperpigmentation, skin laxity, scarring, pores and more, our traditional or combination treatments can remedy these skin concerns.
Start your treatment journey and book your consultation today via our enquiry form. Alternatively, why not give our London or Buckinghamshire clinic a call on 0343 252 8240.