By Dr. TRACY MOUNTFORD, MBBS MBCAM
Morpheus8, a minimally invasive fractional treatment is on the rise. Both men and women are booking this treatment thanks to its visible results.
It is a great treatment for men to try, as it is effective at sculpting and toning areas including the jawline. Men are looking to have a tighter or leaner appearance and the Morpheus8 helps you achieve that. From being able to reverse sunspots, wrinkles, loose skin and more, Morpheus8 is becoming a staple treatment in men's aesthetic grooming routine.
How does Morpheus8 work?
Morpheus8 activates the anti-ageing process by combining microneedling and radiofrequency (RF) energy to remodel and contour the face and body. How does it do this?
At the head of the innovative device, there is 24 coated microneedles. Not to worry – these microneedles are miniscule. These tiny needles stimulate the skins healing response to increase elastin and collagen production. Collagen and elastin are the building blocks to youthful looking skin.
Simultaneously, the radiofrequency energy heats the tissue under the skin which tightens the connective fibres and moulds the fat to lift and firm the contours.
What problem areas can Morpheus8 be used to treat?
With the amazing results Morpheus8 can give, we're excited to say it can be used on a number of areas around the body. The Morpheus8 treatment is most often used on sagging or wrinkled skin of the face and neck. However, it can also be used to treat enlarged pores, skin discolouration, stretch marks and acne scars. In addition, the treatment is also beneficial for tightening loose skin on the thighs, stomach and above the knees. A full list of areas that can be treated include: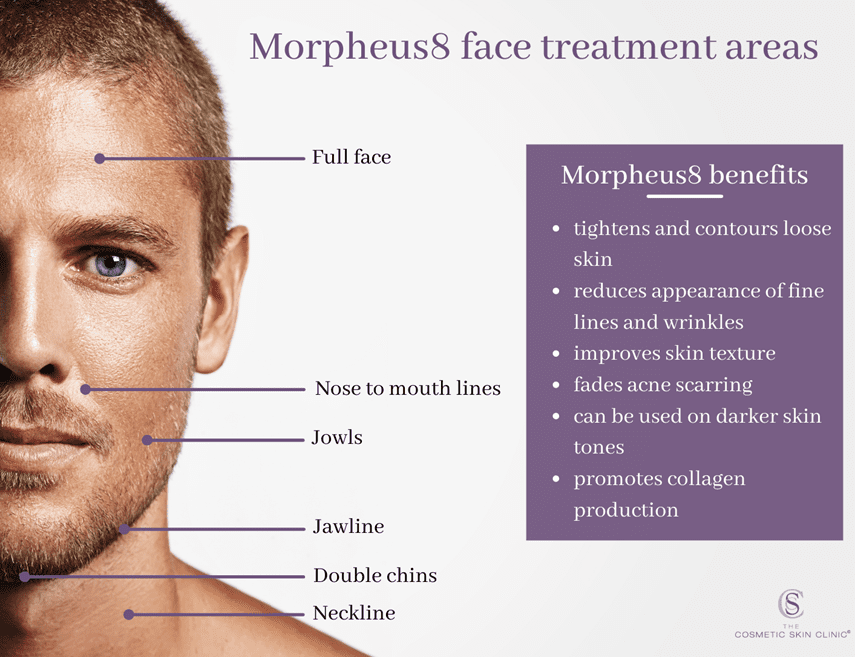 Are men good candidates for Morpheus8?
Morpheus8 treatment is not exclusive to women. So, yes, men are good candidates for Morpheus8. Morpheus8 can sculpt and tone jawlines which is a common concern for many male patients. This treatment is versatile in being able to contour, slow the ageing process, increase collagen levels, reduce scars and is suitable for all skin types. Men suffer from these concerns too, making Morpheus8 a great treatment to combat these issues.
What are the benefits of Morpheus8 treatment?
Thanks to its speciality colour-blind technology, everyone can experience and enjoy the results of Morpheus8. The benefits of this treatment include the following:
Does the treatment hurt?
There may be slight discomfort during the procedure. To help with any pain factor depending on the patient's sensitivity levels, we use numbing cream.
After the procedure, there is a small chance of slight swelling and/or bruising, but this can be easily managed with an ice pack to subside. In fact, with Morpheus8 treatment, there are such few side effects that many of our patient carry on with their day-to-day activities by the next day or even immediately after their treatment.
What is the recovery time for Morpheus8?
Morpheus8 treatment has minimal downtime. At The Cosmetic Skin Clinic, we understand that everyone is different. Therefore, the recovery time differs per patient, as it is dependent on the area being treated and the sensitivity of that area. Expected downtime factors in the patient's general standard of health and wellbeing.
There may be potential redness and miniscule pinprick bruising, as a result we recommend you avoid touching the treatment area or wearing make up on the area for 24 hours to prevent infection and irritation.
At your consultation, your practitioner will answer any questions you have and give you all the advice you need.
How noticeable are the results?
With Morpheus8 treatment results are not immediate, which is why many patients prefer it for it is more natural results. Within just a few days, you can see visible skin tightening results. The more noticeable results typically appear after three weeks. Over a period of 3 months improvements will also continue.
Morpheus8 treatment at The Cosmetic Skin Clinic in London and Bucks
At The Cosmetic Skin Clinic, our expert practitioners will provide a bespoke Morpheus8 treatment for your specific concerns. Trained to the highest standard, our medically qualified practitioners will help you to achieve the best Morpheus8 results.  The Cosmetic Skin Clinic's reviews, results, experience and patients show how effective we are at keeping you looking like you, just refreshed.
Morpheus8 treatment is available at both our London clinic (8 Devonshire Place, London, W1G 6HP) and Stoke Poges (84 Rogers Lane, Stoke Poges, SL2 4LF). Book your consultation or give our clinic a call on 0333 920 1650.