By Dr. TRACY MOUNTFORD, MBBS MBCAM
A receding chin or weak chin can cause patients to feel that their face is not in proportion, but often they may not realise what the issue is. Having a weak chin may cause your nose to appear larger, your upper lip may protrude outwards and the skin underneath the chin may just slope directly down to the neck with no outwards protrusion.
What is a weak chin?
A weak chin is also known as an under-projected chin or a receding chin and it is where the chin does not project forwards enough to balance out the other parts of the face such as the nose, forehead, and lips.
What causes a weak chin?
A weak chin can be a genetic trait that has been passed down by your parents but in some cases, it could be a congenital defect or maybe the results of an injury where the lower jaw bone may have been damaged.
Do I have a weak chin?
Some patients don't realise that they have a weak, soft chin and instead focus their attention on their nose or lips not being right. A good way to see if your chin is weak is to get a photo of yourself from a profile view.  You will be able to see the shape of your face and identify a weak chin or weak jawline.
How do I treat a weak chin?
Our best weak chin treatment is dermal filler injections. This minimally invasive treatment can give you the same results but without the need for chin surgery, an anaesthetic, scars, or downtime.
Dermal filler treatment for a weak chin is a specialised filler treatment. Your expert aesthetic doctor or nurse will firstly carry out an assessment of the whole face to determine the most effective areas to place dermal filler. As well as treating lines and wrinkles, dermal filler is a great treatment for restoring and reshaping the face. When injected into the chin it adds volume to the area bringing it more into proportion to the rest of the face.
Receding Chin Filler Before and After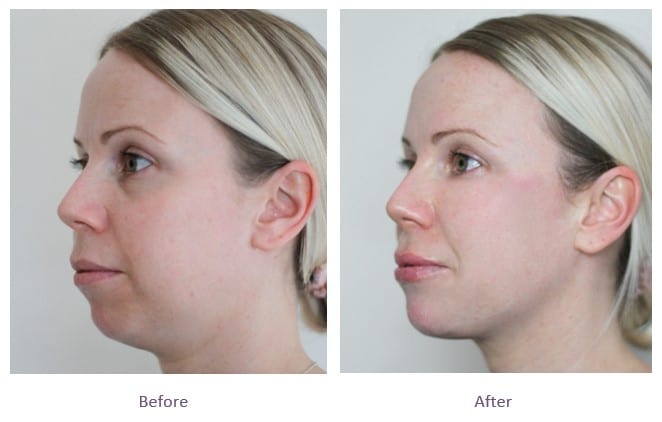 This patient was unhappy with the appearance of her face from the side and worried about looking tired. She came to see us at The Cosmetic Skin Clinic, and we spent some time assessing her face and came up with a personalised treatment plan that she felt would give her the results that she was after. The patient had dermal filler to the temples to open up her eyes, along the jawline to give support, the lips to remove downturned corners and then into the chin to add projection. The result is a more balanced and fresh appearance to the face which the patient was very happy with.
What are the benefits of weak, receding chin filler?
Dermal filler to the chin can help:
Create a more defined chin and jawline
Achieve a more balanced face
Male patients can achieve a more masculine chin and jawline
Can help to make your nose appear smaller
Can make your lips look more in proportion
 Dermal filler chin treatment can also improve jawline definition.  By moving the chin forward the jawline is tightened which helps to make the jawline more visible and decreases the appearance of mild jowls.
Weak chin treatment at The Cosmetic Skin Clinic
Our expert practitioners can help you to come up with a weak chin filler treatment plan that is best suited to your needs. After examining your face and overall skin condition during an initial consultation, our practitioners will be fully equipped with the information they need to put forward an effective treatment plan to give you the best results.
To find out more about any of our weak chin filler treatment, fill out our online enquiry form or contact our London and Buckinghamshire clinics directly by phone 0333 363 6573.