By Dr. TRACY MOUNTFORD, MBBS MBCAM
Varicose veins are a common medical condition, affecting up to 3 in 10 adults. Known for their swollen, lumpy appearance, and blueish purple colour, they typically occur on the legs, ankles or feet and are caused by damage to vein walls and valves.
For many patients, varicose veins are not just an aesthetic concern, but also a physical one too. They can present a range of detrimental physical symptoms including pain and swelling, throbbing sensations, muscle cramps and dry, itchy skin.
However, unless the patient is suffering from severe symptoms, the NHS is unlikely to treat the problem, especially in cases where the patient is only concerned with cosmetic symptoms. But thanks to modern medical advances, patients can now benefit from a range of best-in-class private healthcare treatments for varicose veins that not only address the physical symptoms, but the cosmetic ones too.
At The Cosmetic Skin Clinic, we have partnered with The Private Clinic of Harley Street to deliver a range of exceptional minimally invasive varicose vein treatments at our Buckinghamshire clinic.
How to remove varicose veins
A trained vascular surgeon will determine the most suitable process to treat your varicose veins. During a detailed consultation, the surgeon will assess your veins first to determine their exact structure. The surgeon will use an ultrasound scan to diagnose vein abnormalities and determine why the swelling is occurring.
The vascular surgeon will then advise on the best vein removal treatment that is most suited to your condition. Some procedures work better for certain types of veins, like spider veins or those that are particularly large, while others involve injections or lasers rather than surgical incisions. By gaining a detailed assessment of the vein structures in the consultation, the surgeon can put forward the best treatment that suits your unique circumstances.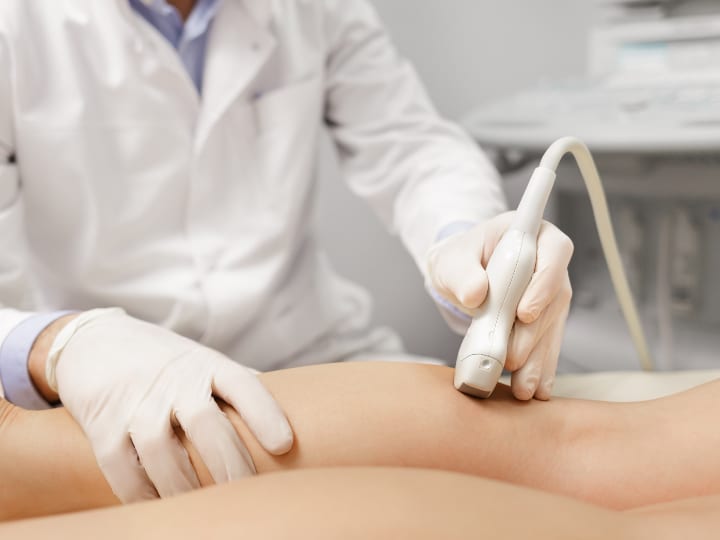 Removing varicose veins with EVLA
One of the best treatments for varicose veins is EVLA, or Endovenous Laser Ablation. It's a quick 'walk-in, walk-out' procedure that takes roughly 45 minutes to perform under a local anaesthetic. It uses a specialised laser to gently blast the affected vein with pulses of heat. The heat then seals up and closes the affected vein before the body removes it naturally. This treatment is one of the most popular varicose vein removal methods because of its speed and minimally invasive approach. This means that patients often leave with minimal pain or scarring. The National Institute for Health and Care Excellence (NICE) has labelled EVLA as the Gold Standard vein treatment, demonstrating why it is such a smart choice.
Removing varicose veins with VenaSeal
Venaseal™ is another rapid procedure that only takes 30 to 60 minutes to perform. This procedure closes the problematic vein with medical-grade glue under a local anaesthetic. The surgeon guides a small catheter into the affected vein, before a superglue called 'Sapheon' is dispensed inside. Once the vein is closed, it gradually disappears from the body via natural processes. When this happens, the healthy veins around the surrounding area will re-route the blood, which fixes the flow.
Foam Sclerotherapy removal treatment
Foam Sclerotherapy removes varicose veins using an advanced foamy substance that shrinks and dispels the affected vein. It's another fantastic way for patients to rid themselves of varicose veins quickly and painlessly. It takes only 30 minutes to perform under a local anaesthetic. When injected into the targeted vein, the sclerotherapy foam coats the vein walls, pushing out blood from the channel. The vein walls then become sticky and close, before shrinking and naturally passing through the body. This procedure is perfect for patients who need to remove smaller varicose veins or thread veins.
Removing larger varicose veins
When patients suffer from large bulging varicose veins that are close to the leg's surface, a Phlebectomy procedure is ideal. The procedure involves making tiny cuts to allow the surgeon to physically remove the vein using a tiny hook-shaped device. While this procedure is more invasive than others, it is still fast and effective. A typical treatment takes between 30 minutes to an hour, with no stitching required.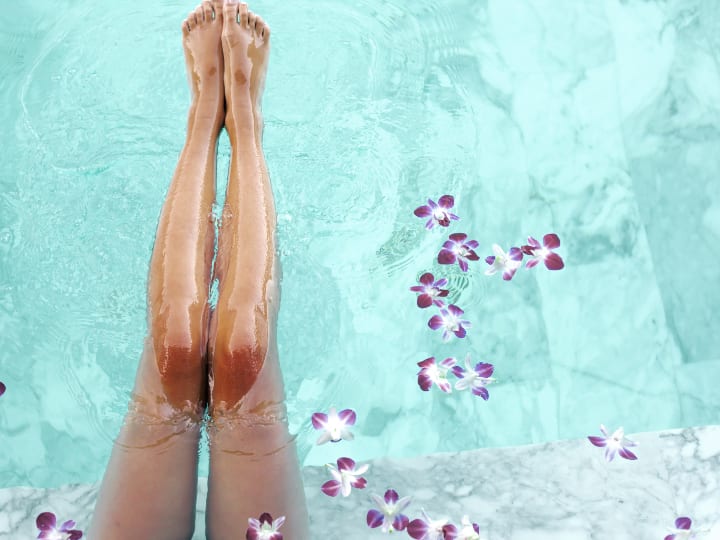 Why remove varicose veins with us?
As part of our official collaboration with The Private Clinic of Harley Street, we can remove varicose veins and thread veins in a convenient and minimally invasive way at both our London and Buckinghamshire locations. When it comes to medical excellence and exceptional results, The Private Clinic is the UK leader in varicose vein removal, having performed over 7,000 vein treatments. With over 35 years' experience in the field, we are delighted to offer you their medical expertise and multi-award-winning services.
Leading Consultant Vascular Surgeon Tahir Hussain MBBS, FRCS, MS (GMC no 324266) leads our varicose vein removal service. Having worked in the field for over 10 years, he has received multiple industry awards recognising his outstanding contribution to vascular surgery.
Consultations are available in our Stoke Poges, Buckinghamshire clinic.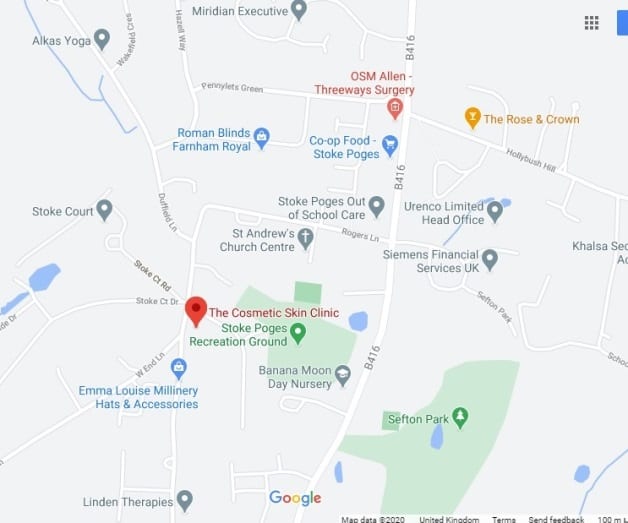 To find out more about the removal of varicose veins with our leading varicose vein removal treatments, or to book a veins consultation with our vascular surgeons, use our varicose vein online contact form. Alternatively, you can call our  Buckinghamshire clinic on 01753 646 660.