By Dr. TRACY MOUNTFORD, MBBS MBCAM
EMSculpt is a non-surgical treatment that builds muscle and burns fat fast without any downtime or needles.
It's one of the quickest and easiest ways to build more muscle and reduce more fat at the same time. Here, we showcase before and after treatment images for the EMSculpt procedure, while discussing how to maximise your muscle-building and fat-loss results after having the EMSculpt treatment.
After just 4 treatment sessions, patients can increase their muscle mass while losing fat at the same time. This makes the treatment different from fat reduction treatments like CoolSculpting, as it stimulates muscle growth while also fast-tracking your fat loss. After just 30 minutes of the treatment, its non-invasive electromagnetic (HIFEM) technology induces thousands of muscle contractions equivalent to 20,000 squats or sit-ups. This results in a 19% loss of fat, and a 16% increase in muscle mass, as verified by 7 independent clinical studies.
EMSculpt Results – Does EMSculpt work?
EMSculpt contracts 90% of your muscles versus the 20% to 30% that you can tone up during a gym session.
This enables patients to cut through fat and tone up their muscle mass much more quickly and effectively than the traditional gym routine. After 4-6 weeks post-treatment, patients should start to experience a significant visible improvement to the areas that have been treated, with full results noticeable after 6 months.
The muscle mass built up by 4 EMSculpt procedures should last for an average of 6 or more months. Independent studies have also shown that most patients are still happy with their treatment results up to a year after their treatment sessions. Maintaining a healthy lifestyle and partaking in regular maintenance treatments will give you maximum visible results that are sure to impress.
EMSculpt Before and After 4 Sessions Photos
Discover how EMSculpt has redefined and reshaped the bodies of multiple patients in our gallery of EMSculpt Before and After pictures below. Patients are able to minimise fat and build up their muscles across diverse areas of their body, including arms and legs, as well as problem-prone areas like the butt, belly or abs. Head over to our dedicated EMSculpt treatment page for further EMSculpt Before and After Photos, and more detailed information about this advanced treatment.
EMSculpt Before and After Buttocks
Achieving a butt lift with Emsculpt: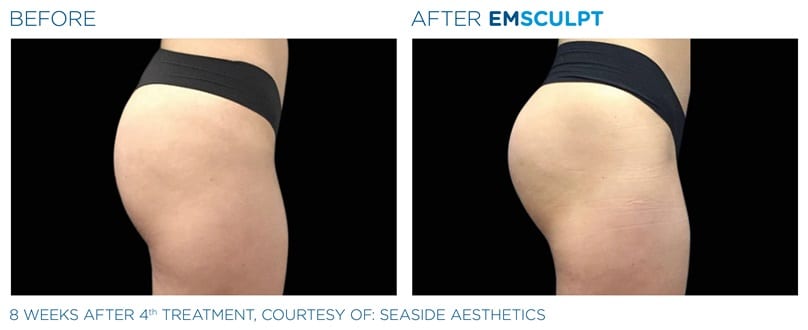 EMSculpt Before and After Abs
Improving definition around the 'six-pack' abdominal muscles with EMSculpt:
EMSculpt Arms Before and After
Increasing definition of the biceps with EMSculpt: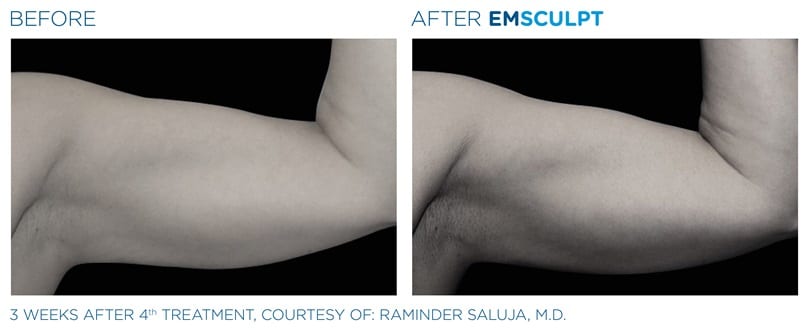 EMSculpt Before and After Stomach
Flattening and trimming fat deposits around the stomach using EMSculpt: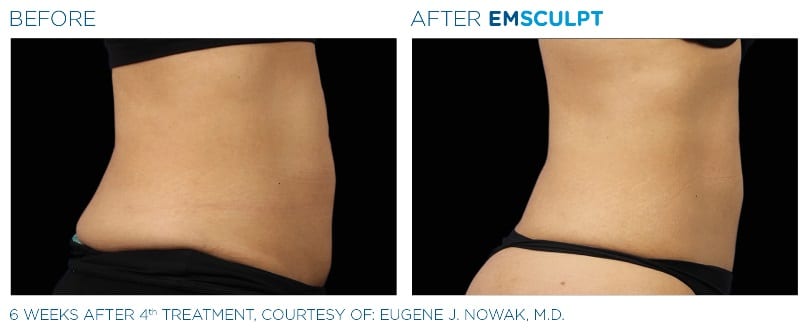 EMSculpt Thighs Before and After
Strengthening and tightening the thigh muscles while lifting the butt with EMSculpt: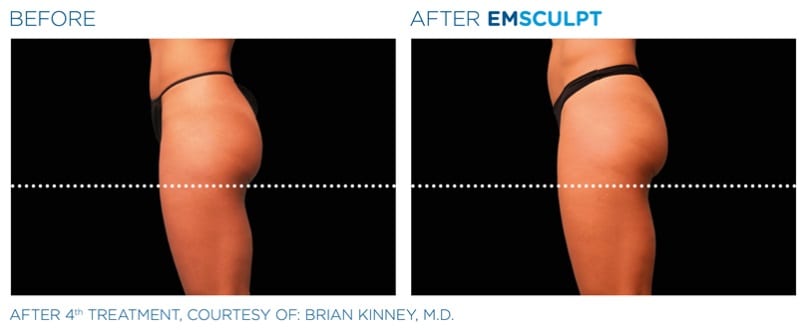 EMSculpt Before and After 4 Sessions Legs
Improving and sculpting the calve muscles with EMSculpt:
Maximising your EMSculpt results
Maintaining EMSculpt's transformational body sculpting results is all about adopting healthy habits to maximise visible results:
Maintain a healthy diet – Eat a well-balanced diet that is high in vital nutrients and low in saturated fat.
Drink plenty of fluids – Keeping hydrated helps the body to flush away fat cells. Drink at least 8 oz. glasses of water a day.
Exercise regularly – Focus on cardio and muscle-building activities to strengthen and maintain the treated areas.
EMSculpt Reviews
Many patients achieve better toned and slimmer physiques after undergoing EMSculpt treatments with The Cosmetic Skin Clinic. Celebrity hairdresser Andrew Barton has taken many treatments with us and swears by EMSculpt's amazing body sculpting results. As an active man who exercises regularly, he has been able to target body areas that have been tougher to improve using standard techniques. This is why EMSculpt has been such a game-changer for him:
"I've had 4 treatments and I've been amazed at the results. Even after my first treatment, I could see a difference. I could feel a difference, I felt more toned. I look more toned and I felt more comfortable wearing my clothes." Andrew Barton, Award-Winning Professional Hairdresser and EMSculpt advocate
EMSculpt side effects
EMSculpt puts your body through its paces like a super-intensive workout, but it does not produce any major side effects. As one 30-minute session is equivalent to 20,000 squats or sit-ups, you may feel a little tender post-treatment. But EMSculpt doesn't rip the muscles like weight-lifting workouts at the gym do. This means you won't experience Delayed Onset Muscle Soreness (DOMS) like you could do after a rigorous gym session.
You may just feel some tenderness in the treated area for about 1 – 2 days afterwards, so some patients choose to relax during this time, although gym-goers are able to return to their normal activities straight away if needed. The results will be felt almost immediately and will show through strongly after 4 to 6 weeks. Your practitioner will go through the EMSculpt side effects with you at your detailed consultation, so you are fully prepared.
EMSculpt at The Cosmetic Skin Clinic
The Cosmetic Skin Clinic is one of the most experienced EMSculpt clinics in the UK and Western Europe. With our 96% patient satisfaction rate and our 5-star Trustpilot rating, you will benefit from our leading industry expertise and our reputation for high standards.
Find out more about our world-class EMSculpt treatments by getting in touch with our helpful team today. We can tailor your treatments to enhance areas that you care about most, from the abs, tummy or thighs to the arms and buttocks.
Book an EMSculpt consultation with our team using our contact form, or call our clinics directly – 0330 433 2175 (London and Buckinghamshire).