By Dr. TRACY MOUNTFORD, MBBS MBCAM
Chin fillers are a non-surgical solution to redefine and sculpt the shape and condition of your chin with impressive results. In a quick 30-60-minute session, patients can instantly streamline and define their chin's appearance while minimising signs of ageing. Remove drooping skin and wrinkles and contour the chin's shape without any surgery or downtime. Here, we showcase before and after chin filler treatment images, while explaining how to maximise their visible results.
Chin fillers are comprised of FDA-approved hyaluronic acid, a naturally occurring sugar protein that supports and hydrates our skin cells. When we inject this into the chin, it fills our fine lines and wrinkles while giving us a dewy glow. Hyaluronic acid also stimulates our own natural collagen and elastin production deep within our skin. This gives us longer-lasting visible results for up to 12 months after treatment. Chin fillers are ideal for both men and women who want a perfectly shaped or chiselled jawline.
Chin Filler treatment results
Benefits of chin fillers 
Quick results: Lift and sculpt the chin and jawline

 

Achieve contoured side profile and flattering chin curvature

 

The chin can be more projected and prominent (to correct a receding chin)

 

Achieve a strong chiselled jawline, more angular in appearance

 

Add lost volume due to ageing

 

Long lasting results 9-12 months

 
Chin Filler before and after pictures
Discover how chin augmentation with fillers can recontour and redefine your chin by viewing our chin filler before and after photos. See how patients have corrected sagging skin, jowls and wrinkles across their full chin area. Or head over to our dedicated chin fillers treatment page for detailed information.
Chin filler before and after – definition
Defining and contouring the shape of the chin and jawline: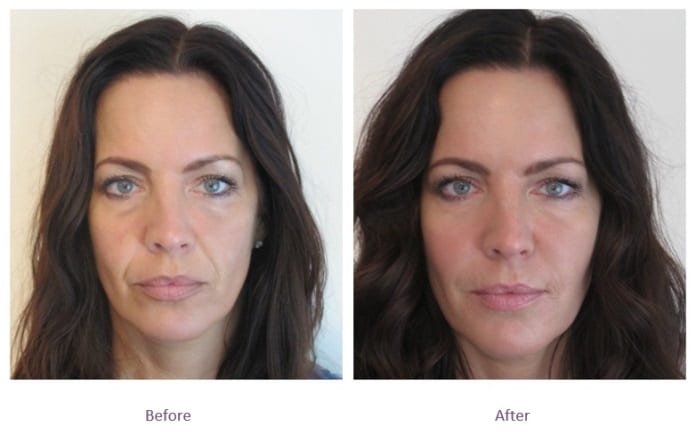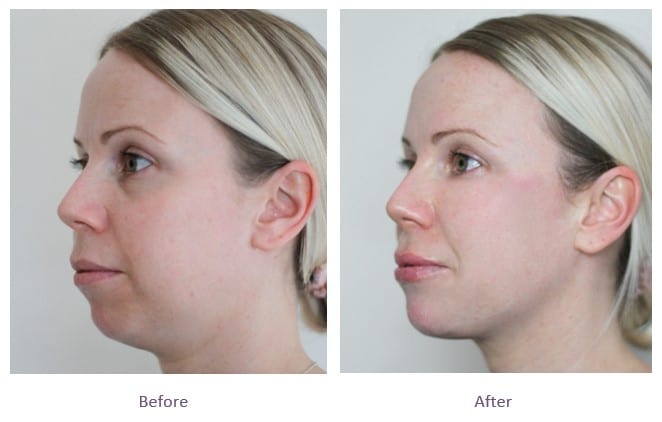 Chin and Jaw filler before and after – volume
Restoring volume to the chin's shape: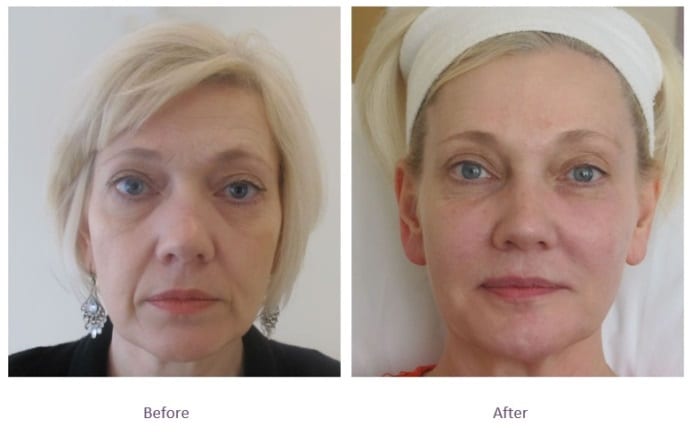 Chin filler before and after – sagging skin
Correcting sagging skin and smoothing chin wrinkles: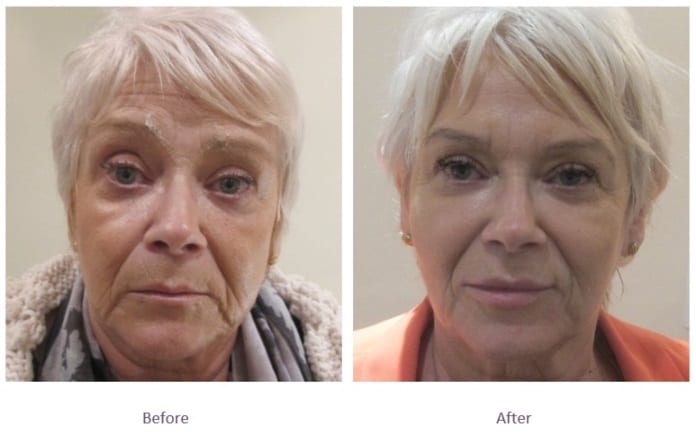 Maintaining your Chin Filler results
Patients can maximise the longevity of chin filler results by taking a smart approach to skincare and combination treatments:
Maintain a healthy diet: By minimising the consumption of unhealthy foods, saturated fats and sugars, your body won't become as inflamed as it might do. Inflammation speeds up the rate that your body metabolises fillers. By eating a balanced diet rich in vitamin C and amino acids, you can retain the filler effects for longer. These nutrients also naturally stimulate our collagen and hyaluronic acid levels, keeping our results looking better for longer.
Invest in premium topical skincare: Applying premium-quality skincare treatments like UV-blocking daily sunscreen moisturisers and hyaluronic acid serums can also boost collagen and elastin stores in our chins. These also provide protection from sun damage, a key cause of wrinkled and sagging skin.
Embrace combination or top-up treatments: Combining treatments can maximise the visual impact of chin fillers. Ultherapy is a fantastic complimentary solution that deeply stimulates chin collagen using advanced ultrasound energy. CoolSculpting can also be used to sculpt the chin by freezing pockets of unwanted fat in the chin area, giving patients a much more streamlined and defined look for months on end.
Chin Filler reviews
Many of our patients have been impressed by our naturally flattering approach to chin dermal fillers. Dr Tracy Mountford is renowned for her light touch and her subtle but impactful approach to chin filler treatments, having been named as one of the UK's Top Filler Doctors by Tatler Magazine.
We seek to shape and contour the chin delicately and discreetly by placing the right volume of filler in the most impactful places. This has left many of our patients amazed with the results, which highlight natural beauty rather than creating an overfilled or overly angular jawline. Famed actress Rula Lenska has had a range of filler treatments with us, including chin fillers, and was astounded by her refined and natural-looking results:
"I'm astounded. I never expected that work on the chin could make the beginnings of these jowls lessen. It has really made a difference. I am absolutely thrilled." Rula Lenska, Chin filler patient, Cosmetic Skin Clinic
Jackie, another one of our patients also underwent a chin filler with us and has been overwhelmed by the revitalising and lifting effects that it has had on her overall face:
"Looking at my face in the mirror beforehand, you could see that it was a lot hollower and sunk… Now the volume has been completely restored and it looks softer as a result so I am really happy with it." Jackie, Chin filler patient, Cosmetic Skin Clinic
Chin Filler side effects
Most patients experience limited and short-term side effects when having a chin filler treatment. As they are injectable treatments, some patients may notice a dull ache or slight swelling in the treatment area for a few days after having a chin filler. But these symptoms should quickly resolve themselves in time. The treatment also requires zero downtime, so patients can have a chin filler injection and return to their normal activities immediately without any issues.
Some patients can be concerned about experiencing pain during a chin filler. But thankfully our fillers come with a built-in anaesthetic. We can also apply a topical anaesthetic cream to the treatment area to minimise this side effect and make the treatment as comfortable as possible.
Chin Fillers at The Cosmetic Skin Clinic
We are proud of our outstanding reputation as one of the most experienced chin filler clinics in the UK. With our 95% patient satisfaction rating and our 5-star Trustpilot score, you will benefit from our industry expertise and unrivalled knowledge.
Learn more about our world-class chin fillers by getting in touch with our friendly team today. We can tailor your chin fillers to enhance areas and issues that you care about most, from asymmetry or receding jawlines to wrinkles, sagging skin or a lack of definition in your side profile.
To find out more about our chin filler treatments, take a look at our blog where we look at the popular chin filler trend and explain more about sculpting your perfect jaw using chin fillers.
Book a consultation with our expert team with our contact form. Or call our London and Buckinghamshire clinics directly – 0330 057 9047.